As I originally wrote on Saturday, IHG Rewards Club (the Holiday Inn, HI Express, Crowne Plaza, InterContinental etc group) will release a new list of PointBreaks redemptions this afternoon.
These rooms are a fantastic deal.
All of the 129 hotels below will be available for just 5,000 IHG Rewards Club points per night from Monday, saving up to 25,000 points per night in some cases.
PointBreaks availability is very limited so book ASAP if you are interested, as soon as bookings open up on Monday. Bookings are refundable as with a standard reward reservation so there is nothing to lose.  IHG works on US time so I would not expect the offer to be available until mid-afternoon in the UK.
You can book via the IHG PointBreaks page here or via the standard booking page here.  If the PointBreaks page has not yet been updated, it does not necessarily mean that the special deals below will not already be bookable – do a search on the hotel you want to check.
You will be able to book these hotels for dates up to 30th April.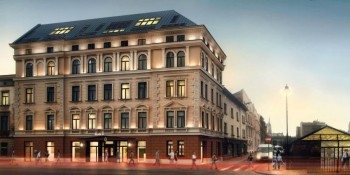 You allowed a maximum of two bookings per individual hotel. Each booking can be for as many nights as you want.
Remember that if you attempt to amend your booking later by dropping a night or two the whole booking will reprice at the full rate.
This list is, frankly, not great.  My personal favourite is the Hotel Indigo in Krakow (photo above) which is brand new and has a great position in the old town.  If I had to pick one, I'd go for that.  The Crowne Plaza in Bratislava also looks interesting.
However, as I always say, the world doesn't work like that.  We all have our individual travel schedules for the next three months and – if any of these hotels prove suitable for your itinerary – you've got a great deal.
The list: (remember that you cannot book until early afternoon on Monday):
United Kingdom
Holiday Inn Express Antrim – M2, Jct.1
Holiday Inn Barnsley M1, Jct.37
Holiday Inn Darlington – A1 Scotch Corner
Holiday Inn Express Middlesbrough – Centre Square
Holiday Inn Northampton West M1, Jct 16
Europe
Belgium
Czech Republic
Holiday Inn Prague Airport
France
Holiday Inn Calais – Coquelles
Germany
Holiday Inn Dresden – City South
Holiday Inn Frankfurt Airport
Italy
Holiday Inn Nola – Naples Vulcano Buono
Macedonia
Poland
Hotel Indigo Krakow – Old Town
Russia
Holiday Inn Moscow – Seligerskaya
Holiday Inn Samara
Slovakia
Crowne Plaza Bratislava
Holiday Inn Trnava
Spain
Holiday Inn Express Madrid – Rivas
Asia & Australia
China
Holiday Inn Express Baoji City Centr
Holiday Inn Beijing Shijingshan Parkview
Crowne Plaza HangzhouOneThousandIslandLak
Holiday Inn Express Nantong Xingh
Crowne Plaza Tianjin Jinnan
India
Holiday Inn Amritsar Ranjit Avenu
Holiday Inn Express Chennai Old Mahabalipuram Road
Indonesia
Holiday Inn Express Jakarta Thamrin
Japan
Thailand
Holiday Inn Bangkok Silom
Africa & Middle East
South Africa
Holiday Inn Sandton – Rivonia Road
Holiday Inn Express Pretoria – Sunnypark
Zimbabwe
South America
Argentina
Brazil
Holiday Inn Belo Horizonte Savassi
Colombia
Holiday Inn Bucaramanga Cacique
Holiday Inn Cucuta
Venezuela
Intercontinental Maracaibo
Mexico & Central America
Costa Rica
Crowne Plaza San Jose Corobici Conference Center
Dominican Republic
Intercontinental Real Santo Domingo
Honduras
Crowne Plaza San Pedro Sula
Panama
Mexico
Staybridge Suites Chihuahua
Holiday Inn Express Saltillo Zona Aeropuerto
Holiday Inn Tuxtla Gutierrez
Holiday Inn Express & Suites Irapuato
Crowne Plaza Villahermosa
North America
Canada
Alberta
Staybridge Suites Calgary Airport
Holiday Inn Express & Suites Edmonton-International Airport
British Columbia
Holiday Inn Express & Suites Terrace
Newfoundland and Labrador
Holiday Inn St. John's Conference Centre
Ontario
Holiday Inn Hotel & Suites London
United States
Alabama
Candlewood Suites Birmingham/Homewood
Holiday Inn Guin
Holiday Inn Express Jasper
Arkansas
Holiday Inn Express & Suites El Dorado
Holiday Inn Express & Suites Pine Bluff
Holiday Inn Express & Suites Russellville
Arizona
Holiday Inn Express & Suites Globe
Candlewood Suites Nogales
California
Candlewood Suites Anaheim – Resort Area
Holiday Inn Express Calexico
Holiday Inn Victorville
Colorado
Holiday Inn Express La Junta
Candlewood Suites Parachute
Connecticut
Holiday Inn Danbury-Bethel @ I-84
Crowne Plaza Stamford
Florida
Holiday Inn Express & Suites Perry
Georgia
Idaho
Holiday Inn Express & Suites Boise Airport
Illinois
Holiday Inn Express & Suites Morton Peoria Area
Holiday Inn Express & Suites Rock Falls
Holiday Inn Express & Suites Jacksonville
Indiana
Holiday Inn Express Kendallville
Holiday Inn Express & Suites Tell City
Iowa
Candlewood Suites Waterloo- Cedar Falls
Kansas
Holiday Inn Express & Suites Garden City
Kentucky
Holiday Inn Express & Suites Garden City
Candlewood Suites Fort Campbell – Oak Grove
Holiday Inn Express & Suites Pikeville
Louisiana
Candlewood Suites Denham Springs
Holiday Inn Express & Suites New Iberia-Avery Island
Holiday Inn Express & Suites Raceland – Highway 90
Maryland
Holiday Inn Express & Suites Lexington Park-California
Massachusetts
Holiday Inn Express Providence-North Attleboro
Candlewood Suites West Springfield
Michigan
Holiday Inn Express & Suites Dearborn SW – Detroit Area
Holiday Inn Express & Suites Lansing-Dimondale
Holiday Inn Express & Suites Farmington Hills – Detroit
Minnesota
Candlewood Suites Bemidji
Holiday Inn Hotel & Suites Maple Grove NW Minneapolis-Arbor Lakes
Missouri
Candlewood Suites Columbia Hwy 63 & I-70
Holiday Inn Express Marshfield (Springfield Area)
Mississippi
Holiday Inn Express & Suites Corinth
Holiday Inn Express & Suites Fulton
Holiday Inn Express McComb
North Carolina
Holiday Inn Express & Suites Raleigh NE – Medical Center Area
Holiday Inn Express & Suites Reidsville
Holiday Inn Express & Suites Rockingham
North Dakota
Candlewood Suites Dickinson
Staybridge Suites Minot
Nebraska
Holiday Inn Express Kearney
Staybridge Suites Omaha West
New Jersey
Crowne Plaza Edison
Candlewood Suites Philadelphia – Mt. Laurel
New Mexico
Holiday Inn Express Albuquerque South – Belen
Candlewood Suites Roswell New Mexico
Nevada
Holiday Inn Express Fallon
New York
Holiday Inn Express & Suites Ithaca
Holiday Inn Express Olean
Candlewood Suites Vestal – Binghamton
Ohio
Candlewood Suites Carrollton
Holiday Inn Express & Suites Medina
Holiday Inn Express Salem
Oklahoma
Holiday Inn Express & Suites Blackwell
Holiday Inn Express & Suites El Reno
Staybridge Suites Oklahoma City – Quail Springs
Pennsylvania
Holiday Inn Express Bentleyville
Staybridge Suites Stroudsburg (East) Pocono
Rhode Island
Holiday Inn Express & Suites Smithfield – Providence
South Carolina
Tennessee
Holiday Inn Express Athens
Holiday Inn Express & Suites Covington
Holiday Inn Express Memphis East I-240
Texas
Holiday Inn Express & Suites Raymondville
Holiday Inn Express & Suites Shamrock North
Staybridge Suites Tomball
Holiday Inn Express & Suites Zapata
Utah
Holiday Inn South Jordan – Salt Lake City South
Virginia
West Virginia
Holiday Inn Express & Suites Logan
Wisconsin
Holiday Inn Conference Ctr Marshfield
Wyoming
Candlewood Suites Sheridan
(Want to earn more hotel points?  Click here to see our complete list of promotions from the major hotel chains or use the 'Hotel Promos' link in the menu bar at the top of the page.)