Links on Head for Points may pay us an affiliate commission. A list of partners is here.
Back in June 2014 Tesco Bank launched its current account.  There was a lot of hype about the account at the time but Tesco was, probably correctly, keen to play it down whilst the IT bedded in.
I expected that, after a few months, there would be a major push with a substantial bonus for moving your banking across.  That has not happened.
M&S Bank and First Direct have long standing offers of £100+ bonuses for new customers.  The current M&S offer is actually £170 if you keep your account for two years.  It seemed logical to me that Tesco Bank would offer 10,000 Clubcard points (24,000 Avios or 25,000 Virgin miles) at some point.  But, apart from a couple of very tightly targetted trials, nothing has happened.
Instead of a 'big bang' sign-up deal, Tesco Bank has been quietly finessing the day-to-day benefits of the account.  The latest changes, announced this week, mean that it is worth a look.  This is especially true if you are a heavy Tesco shopper.
(PS.  I have run this article across both Head for Points and Shopper Points today.  I apologise to those of you who get emails from both sites and will receive it twice.)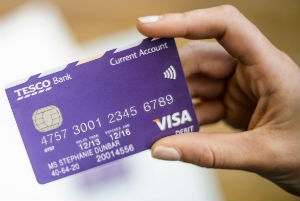 Here is the Tesco Bank website promoting the current account.
As of a year or so ago, you no longer need to pay in £750 per month in order to get free banking.  The £5 monthly fee for dormant or low value accounts has been removed.
How do you earn Avios with the Tesco current account?
You will earn Clubcard points on all of your debit card transactions:
1 point per £1 spent in Tesco (2.4 Avios per £1 / 2.5 Virgin miles per £1)
1 point per £8 spent elsewhere (0.3 Avios per £1 / 0.31 Virgin miles per £1)
The '1 point per £1' spent in Tesco is a new benefit, launched this week.  If you are spending £100 per week in Tesco, which appears to include Tesco Fuel, you would earn 12,480 Avios or 13,000 Virgin Flying Club miles per year if you put all of this spending onto your debit card.  That is on top of the base Clubcard points you would receive irrespective of how you pay.  This is a pretty attractive deal.
Even the '1 point per £8 spent elsewhere' is attractive.   Whilst you would be better off in most circumstances using a loyalty credit card instead, there are places where you are expected to pay a fee for using a credit card.  Earning 1 point per £8 and not paying any sort of fee may work out better than using an American Express card or an alternative miles MasterCard or Visa which would incur a fee.
There is 'small print' attached to the '1 Clubcard point per £8 spent on the debit card'.  All payments to 'banks and financial institutions' are exempt.  This means that you cannot pay your mortgage, pay off a credit card bill or pay money into a savings account.  It DOES work with payments to the Inland Revenue but that is not something that most people can benefit from.
As with the Tesco Clubcard MasterCard, it is worth noting that debit card spending is rounded down to the nearest multiple of £8.  A £7.99 lunch payment will earn you exactly zero Clubcard points.  This is a major deterrent unless you are using the card for large transactions.
And a subsidised interest rate
Current account holders receive 3% interest on the first £3,000 in the account.
Whilst there is no sign-up bonus, the 3% interest paid on sums of up to £3,000 is – given current interest rates – an incentive to get an account.  You would receive £90 of interest per year, triple the rate of a decent instant access savings account.
Foreign exchange use of the debit card incurs a 2.75% fee.  This is market level, I admit, but Tesco could have made this free in order to score some marketing points.
And these benefits are guaranteed
Tesco Bank is guaranteeing to retain both the 3% interest rate on £3000 balances and 1 Clubcard point per £1 spent in Tesco until at least 1 April 2019.
If you switch your banking, you are not at risk of the two most attractive benefits being taken away.
However, you do NOT need to close your existing current account to open a Tesco Bank account.  You can also open two accounts per person – so a couple could shelter £12,000 at 3% interest.
Conclusion
The Tesco Bank current account was not competitive when it launched.   Dropping the monthly fee for low earners and introducing the new Tesco earning rate has improved it.  If we're honest, it has also benefitted from competitors reducing the benefits on their products.
The lack of a moving bonus remains problematical.  It would be a disaster to open an account only for Tesco Bank to offer 10,000 Clubcard points the following week.  I doubt they would offer both a sign-up bonus and 3% on your first £3,000, however, and in the long run the '3% on £3,000' – which has been in place since the account launched almost three years ago – would be more valuable unless interest rates elsewhere improve.
Is this product worth the trouble of moving your current account to Tesco Bank?  For me, I'm not sure.
I have VAT, PAYE and income tax payments which I could pay fee-free and earn 0.3 Avios per £1, but personally I would prefer to pay the 0.4% HMRC credit card fee and use a more generous MasterCard or Visa card.
I don't spend a lot in Tesco – perhaps £5 per week at our Tesco Express – so the new '1 point per £1 on the debit card' isn't worth much.  And it would mean I could no longer send our 9-year old out to do the shopping as I doubt the staff would let her pay with my debit card!
I would have no problem keeping a £3,000 balance on the account, but £90 of annual interest (which is £60 more than I would get elsewhere) – less income tax – is not a big enough incentive. That said, most people would be under the £1,000 tax free interest cap.  If I was under the cap, opening four accounts between the two of us and getting £360 tax free interest would be more interesting.
For some people, however, this package may well stack up.  If you're sick of your current account provider it may be time to switch – although, for clarity, you can keep your old account open and still take advantage of this deal.
(Want to earn more Avios?  Click here to visit our home page for the latest articles on earning and spending your Avios points and click here to see how to earn more Avios from current offers and promotions.)
Click here to join the 14,000 people on our email list and receive the latest Avios, miles and points news by 6am.