EXCLUSIVE: Launch information for Club Europe on British Airways domestic flights
Links on Head for Points may pay us an affiliate commission. A list of partners is here.
I've managed to get my hands on the launch date and operational details of the changes to British Airways domestic flights. As was first flagged in a BA investor presentation last year, domestic flights are going to be split into a two cabin service.
This is what is going to happen.
The launch date for Club Europe and Euro Traveller on domestic flights is 1st April.
From this date, UK domestic flights (excluding Jersey, which already has Club Europe) will begin operating with a two-class cabin. For those sat at the front, it will be an identical offering to what is offered on 'Band 1 / Very Short' Club Europe services at present, such as flights to Paris, Dublin or Amsterdam.
The launch of 'domestic Club Europe' is almost certainly linked to the introduction of 'buy on board' catering last month. BA's biggest nightmare is that someone paying £7,670 for a fully flexible Club World ticket from Edinburgh to Tokyo decides to switch to a Middle East carrier or KLM because they are insulted at paying £2.30 for a cup of coffee on the connection.
This is an easy change to implement. At present, BA sells a product called 'Business UK' which is a fully flexible domestic economy ticket. If you buy one of these you get lounge access, fast track security and 20 tier points each way but no seating benefits – it is still 3 x 3.
Bringing in Club Europe only requires 'middle seat' blocking and the loading of a few Club Europe meals – there is minimal capital investment apart from some IT and website changes.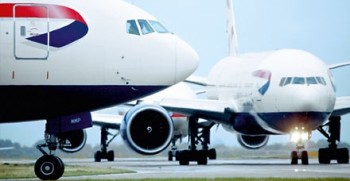 This is what is going to happen to your existing bookings:
Is your current flight booked in classes B, H, K, M, L, V, N, Q O, S, G or X?
You will be seated in Euro Traveller.
Nothing else changes although you will lose any seat allocation you currently have at the front of the aircraft. If you paid for a seat reservation, you can either ask for a refund or move to a reserved seat elsewhere.
Food and drink will remain 'buy on board' except for services from London City which will retain free catering for a few more months.
You will receive the same Avios and tier points as you were originally due.
Is your current flight booked in classes C, D, J, Y, R, I or U?
You will be seated in Club Europe.
You will gain access to the standard Club Europe benefits which were not previously part of your ticket – unless you had a Business UK ticket, in which case you would have already got lounge access, fast track security and priority boarding.
These benefits include – where available – 2 x 32kg checked bags, dedicated check-in, priority boarding, fast track security, lounge access, a blocked middle seat and free food and drink.
If you paid for a seat reservation, you can either ask for a refund or move to a reserved seat elsewhere. If you paid for an extra baggage allowance, this will be refunded.
The tier point situation is not yet fully clear. I will let you know if I get clarification.
There is clear upside here for those travelling on Club World Avios redemptions from regional airports as the connections will book into Club Europe. It might even make the prospect of changing planes in Heathrow a little more appealing.
Another upside is that the minimum number of Avios seats per domestic flight would increase from the current four to six, as there would be a minimum of two Club Europe seats released as well.
There is also clear downside for travellers who can buy fully flexible economy tickets (Business UK) under their corporate travel policy and so get lounge access and Fast Track. They may lose this because their employer will not pay for Club Europe, even if the price is the same – bar the additional Air Passenger Duty. It will no longer be possible to get Fast Track or lounge access with any domestic economy ticket.
There is obviously more to come on this, but you now know the main facts.