Review: Etihad's A380 First Class Apartment, the second time around
Links on Head for Points may pay us an affiliate commission. A list of partners is here.
This is my review of Etihad's A380 First Class Apartment on a flight from London to Abu Dhabi.
My article yesterday reviewed the Etihad First & Business Class at Heathrow – click here for that.
With the possible exception of the First Class Suites on the Singapore Airlines A380 fleet, there is little doubt that Etihad's First Class Apartment on its A380 aircraft is one of the top experiences that any frequent flyer would want to try.
When I flew it back in 2015, however, I was in two minds about it. It started badly when my house keys slipped out of my trouser pocket and into the mechanisms of the seat, requiring it to be taken apart to retrieve them! I had also chosen a bad seat which was not directly next to a window and – with no in-suite lighting – my 40-something year old eyes struggled to read.
Taking the flight for the 2nd time was different. I left my house keys in my hand baggage and I picked a suite (3A) where I was immediately adjacent to the window. How did I find it this time?
Etihad's official A380 First Class Apartment website is here and it is worth looking there for 'official' photographs and more service information.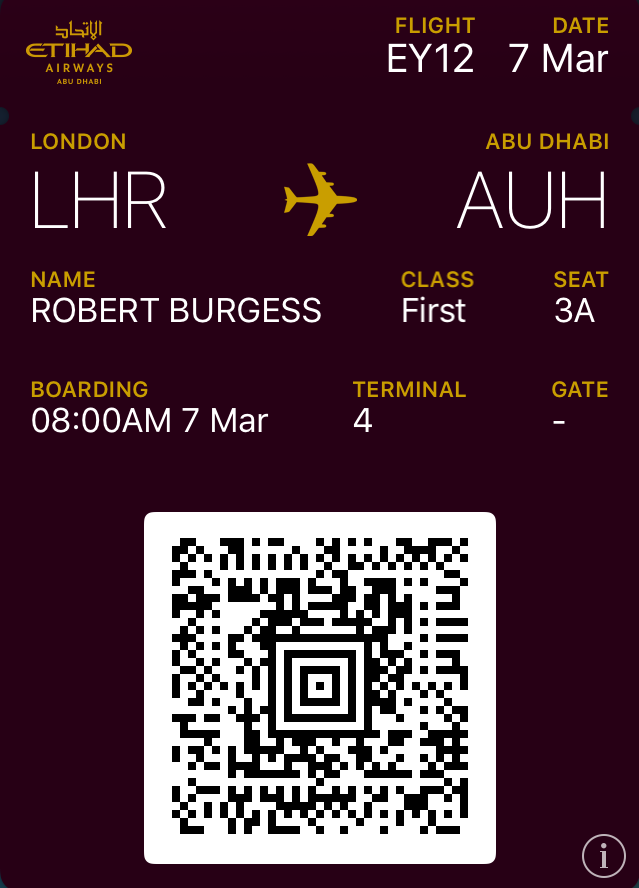 Inside Etihad's First Class Apartment
There are no two ways of putting it. The apartments are huge in the context of anything else you may have flown. It is impossible not to be impressed if you have never been in one before.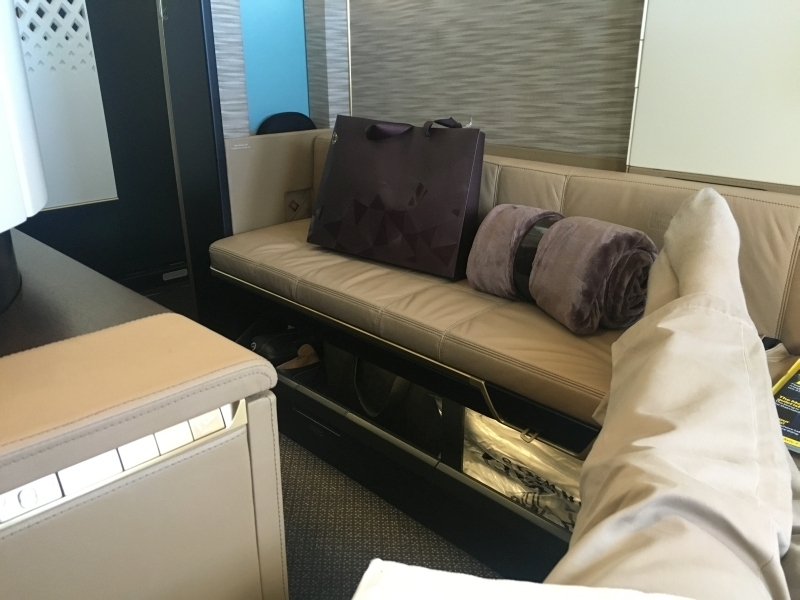 The suites are arranged in a 1-1 fashion on the top deck of the A380. It is the only A380 seating on any airline which is 1-1. The Residence, which comprises a bedroom and a separate living room, is to the left at the far end, in a space where Emirates puts its 2nd shower.
The apartments are so big that you cannot actually photograph them in one shot. One side is made up of a 6 foor 10 inch long couch but which, on a night flight, flips out to become a surprisingly wide bed.
If you watch the video below, you can see the seat unfolding into bed mode.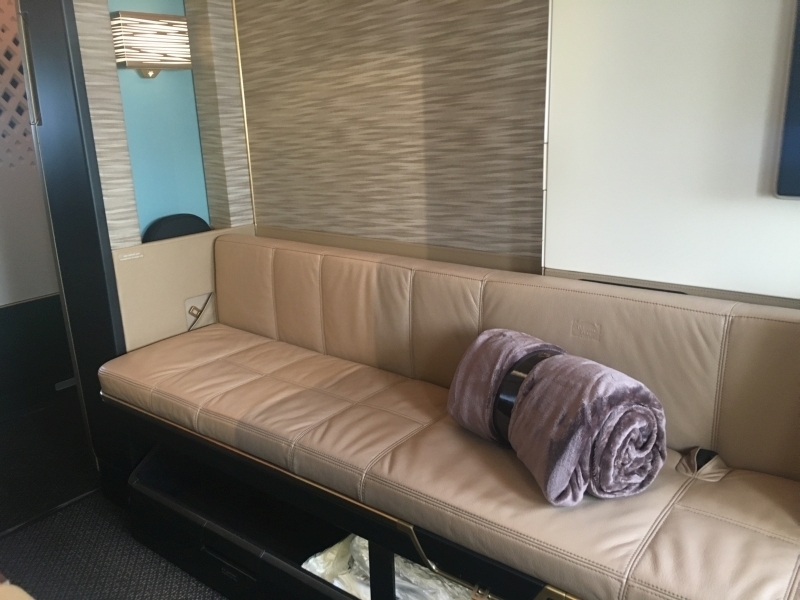 On the other side is the wide seat: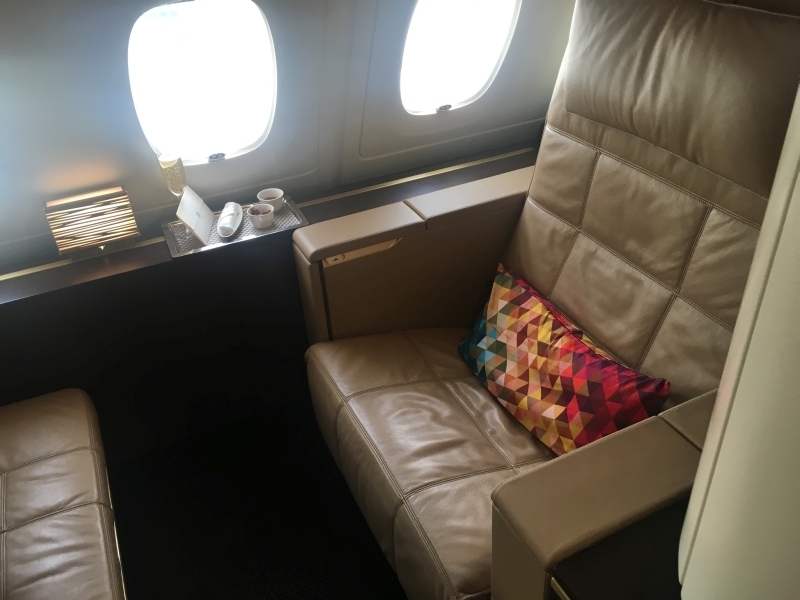 …. and a cabinet which includes a large mirror and various toiletries. You are given an almost-empty Christian Lacroix branded bag and you simply take whatever bits and pieces you want and pop them in. Unlike Qatar Airways First, which had (now discontinued I think) Armani-branded products when I last flew it, these are not heavily branded.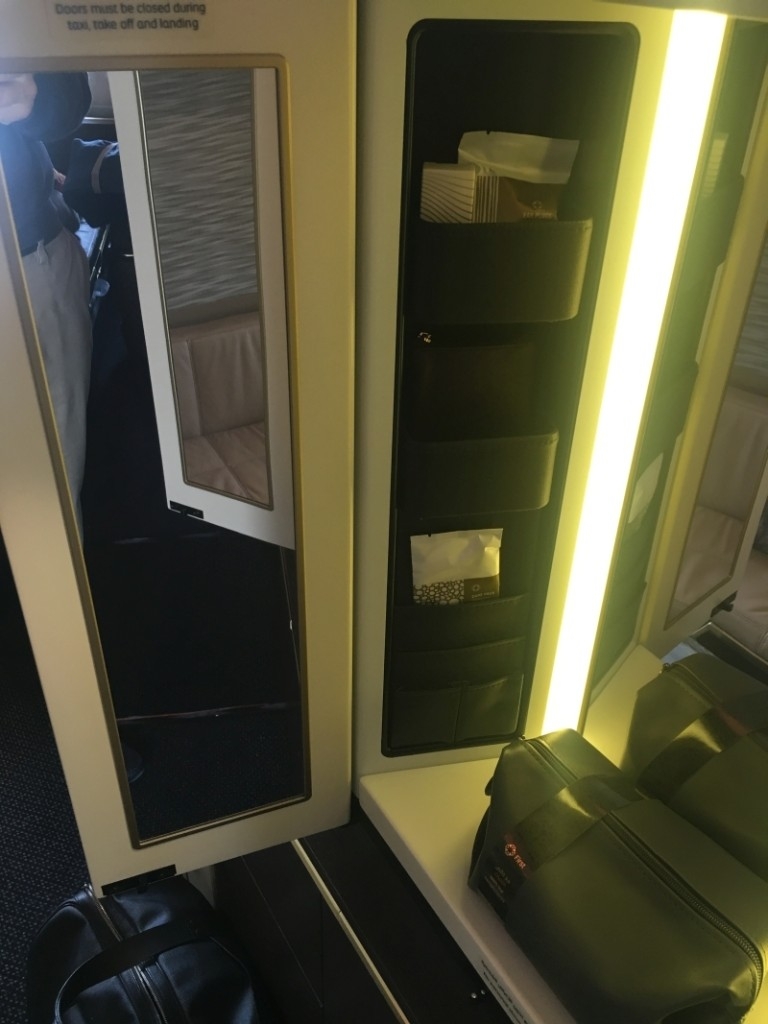 In a drawer under the mirror is a small selection of soft drinks: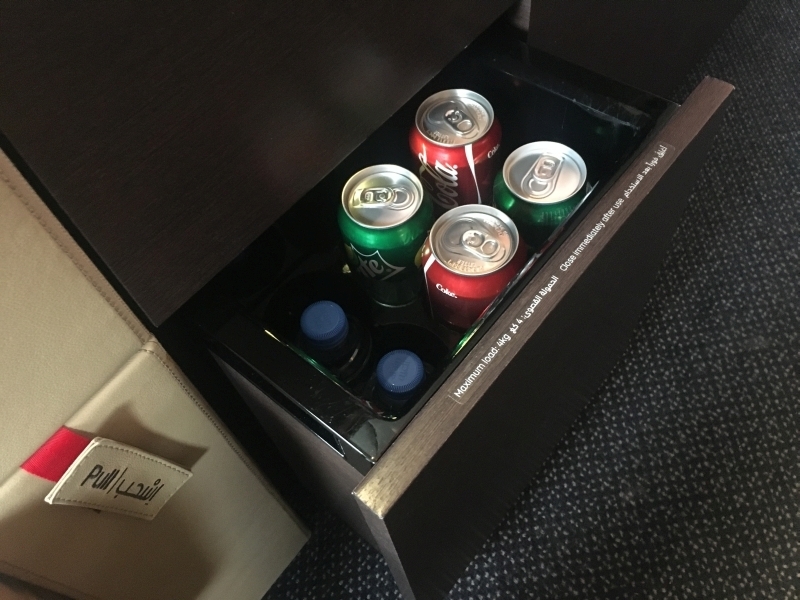 More appealing was the tray left for me containing a welcome note, a hot towel and some dates. The champagne was Billecart-Salmon's 2007 vintage which sells for around £40 – Etihad does not push the boat out with the food or drink: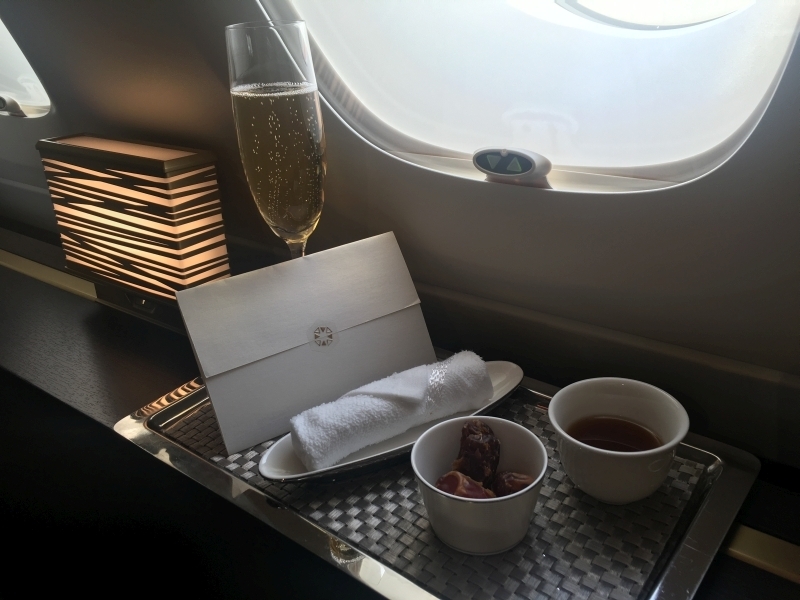 The chef was soon along to offer me some welcome arabic coffee: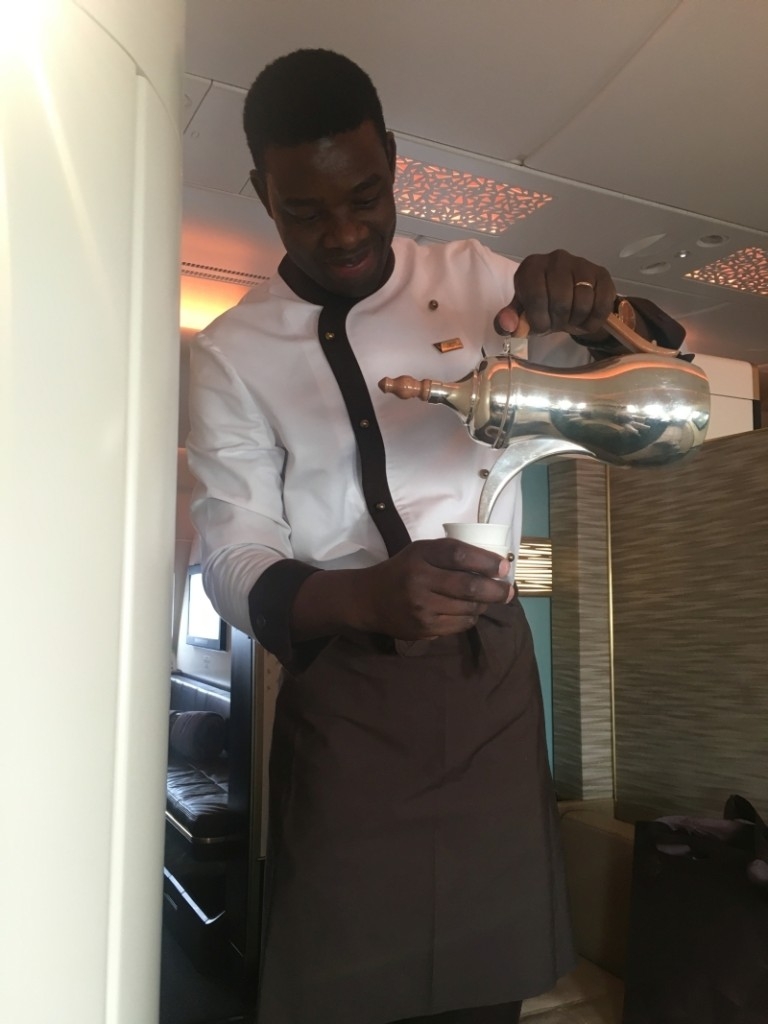 I also received a bag containing Etihad pyjamas: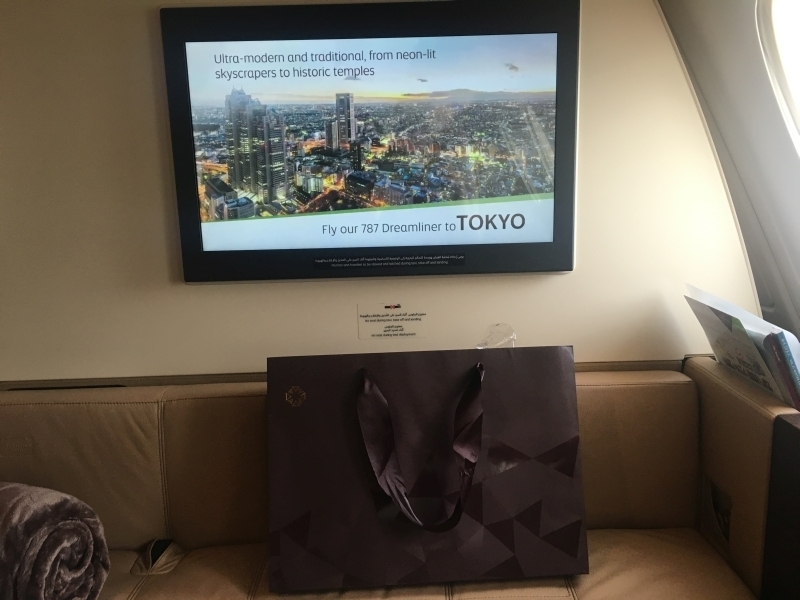 As it turned out, I still hadn't picked the perfect seat. Whilst I was in 3A and directly next to the window this time, I was still facing backwards. A better seat is 2A where you are both forward facing and directly next to the window.
The seats I do not like are those where the mirror / toiletries cupboard is next to the window, blocking out light from the seat which is directly adjacent to the suite door: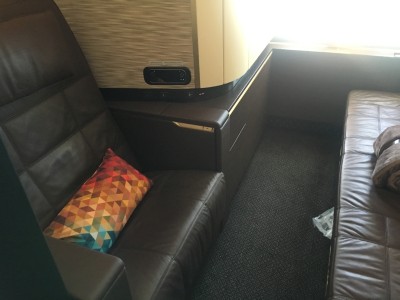 I also don't like the darker leather on those seats which makes the apartment feel more oppressive.
Power was an issue. I was expecting to find a UK / Middle East plug socket but there wasn't one. There was a USB charger so I could keep my phone topped up.
Wi-fi was chargeable – I paid $12 I think for three hours. It would have been good to be given it for free as a First Class passenger. At least their wi-fi provider now accepts PayPal, which meant that I didn't have to search for a credit card.
But but but ….
This is a huge space. And yet ….. it is a bit odd to fly it on your own. On a night flight I would have set up the bed and would have appreciated the sleeping space and the privacy. On my own, on a day flight, it seemed like too much space.
With only nine suites – and there were only two of us actually flying on that day – even the crew don't come along very often. You are very much alone, which might not be what you want. It obviously isn't a great hardship, sipping champagne and watching your big screen TV for 7 hours, but it is rather solitary.
It is worth noting that Etihad does not allow guests from other cabins to visit First Apartments. You cannot book the rest of your family into Business Class and then have them join you. In some ways, it is simply too much space for one person when used on a day flight.
It is still very cool though 🙂
Etihad's First Class shower and bathroom
People always ask about the showers ….
On the way home, on Emirates, I finally cracked and agreed to have a shower, after having turned down the opportunity on my three previous Etihad and Emirates First Class flights. I have it on video as well 🙂
The Etihad bathrooms are less than half the size of the Emirates ones – frankly, most people have smaller bathrooms at home than the Emirates A380 F bathroom! – and the shower wasn't too appealing.
This is the best photo I could get of the shower, because I couldn't get much of an angle: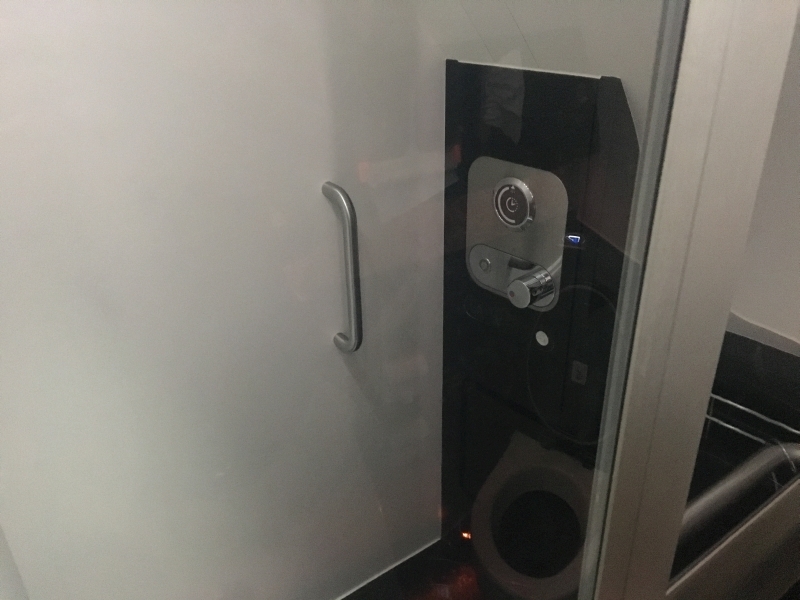 Food and drink
I will cover food and drink in Part 2 of this review tomorrow (link at the bottom of this page).
What did it cost?
I booked my flight with Etihad Guest miles.
A one-way First Class Apartment from London to Abu Dhabi costs 90,341 miles plus £313. This includes the chauffeur journey from your home to Heathrow and from Abu Dhabi to wherever you are going, including Dubai.
I had got 60,000 or so miles from a credit card sign-up promotion and associated spending a couple of years ago, and topped them up at 1:1 with some American Express Membership Rewards points.
Is it worth it? Of course it is. It would require 80,000 Avios for a similar one-way flight on British Airways in First Class and this product blows it out of the water, especially when you factor in the lounges and the chauffeur cars.
Etihad also partners with selected other airlines. If you have American Airlines miles it is an exceptionally good deal – you need fewer miles and the taxes are lower as American does not impose the fuel surcharge that Etihad adds if you book direct. You do not receive the chauffeur service if you book via AA, however (this is a new rule as of August 2016).
All three of the daily Etihad services out of Heathrow are operated with an A380 and it won't be a problem finding availability if you book a few months ahead. American appears to see the same availability as Etihad makes availabile to its own members.
If you get the chance to try this out then you really, really should. Without prejudicing Part 2 tomorrow, it isn't the best food or drink you will ever have in First Class but it is, overall, an amazing experience just to stretch out in all that space.
See the Etihad First Class Apartment on video
You will find a short video of the First Apartment experience below. Unlike some flight videos which go on forever, we have kept this to a concise 2 minutes 13 seconds!
If you can't see the link above, click here to visit our YouTube page. You can also sign up to our channel on that page.
Part 2 of my Etihad A380 First Class review is here.
You can find out more about Etihad's First Class Apartment on their website here.
---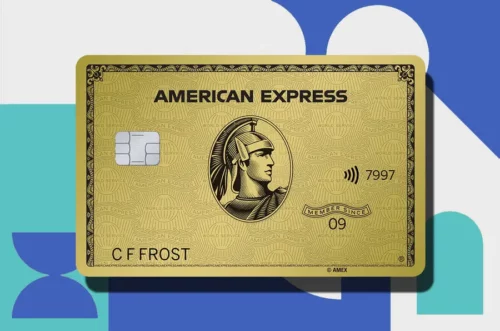 How to earn Etihad Guest miles from UK credit cards (December 2023)
Etihad Guest does not have a UK credit card. However, you can earn Etihad Guest miles by converting Membership Rewards points earned from selected UK American Express cards.
Cards earning Membership Rewards points include:
SPECIAL OFFER: Until 9th January 2024, you will receive 30,000 Membership Rewards points (convertible to 30,000 Avios) with American Express Preferred Rewards Gold. You receive 25,000 points if you spend £3,000 in three months and a further 5,000 points if you hold the card for 15 months. You can apply here.
SPECIAL OFFER: Until 9th January 2024, you will receive a huge 100,000 Membership Rewards points (convertible to 100,000 Avios) with The Platinum Card. You receive 75,000 points if you spend £10,000 in six months and a further 25,000 points if you hold the card for 15 months. You can apply here.
Membership Rewards points convert at 1:1 into Etihad Guest miles which is an attractive rate. The cards above all earn 1 Membership Rewards point per £1 spent on your card, which converts to 1 Etihad Guest mile. The Gold card earns double points (2 per £1) on all flights you charge to it.