Review of ANA's business class service from London – Tokyo Haneda (Part Two)
Links on Head for Points may pay us an affiliate commission. A list of partners is here.
This is the second part of my review of the ANA's Business Class service between London Heathrow and Tokyo Haneda.
Part One of my ANA Business Class review, which looked at the seating and IFE, is here.  This is Part Two which is focusing on the food and drink on offer.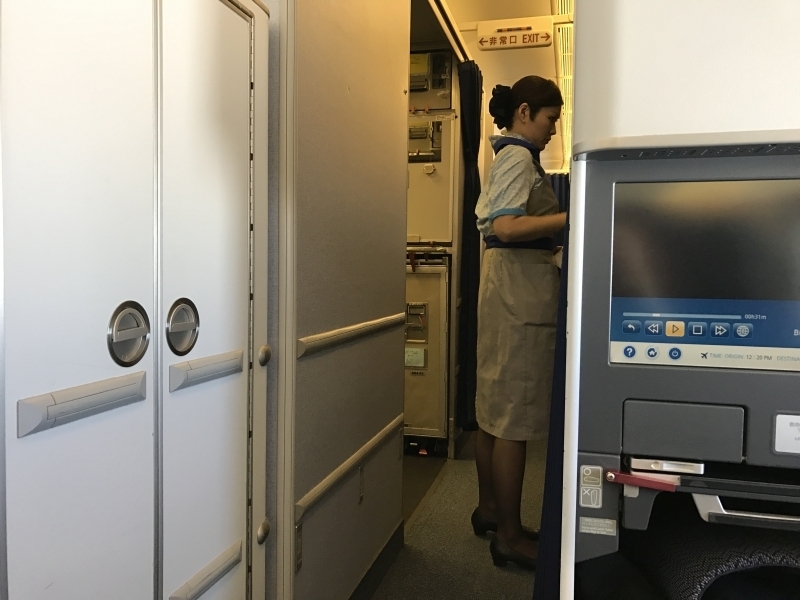 Once settled in my seat I was offered a drink (orange juice or sparkling wine) by one of the very friendly flight attendants.
We were given a food and drink menu and had the choice of either Japanese or International cuisine.
The drinks menu had everything from a selection of red and white wines to sake, shochu and umeshu.  There was only one Japanese Whisky which was slightly disappointing. The champagne served was Canard Duchene Cuvee Leonie Brut which retails in the UK for £27 and is not exactly a premium brand.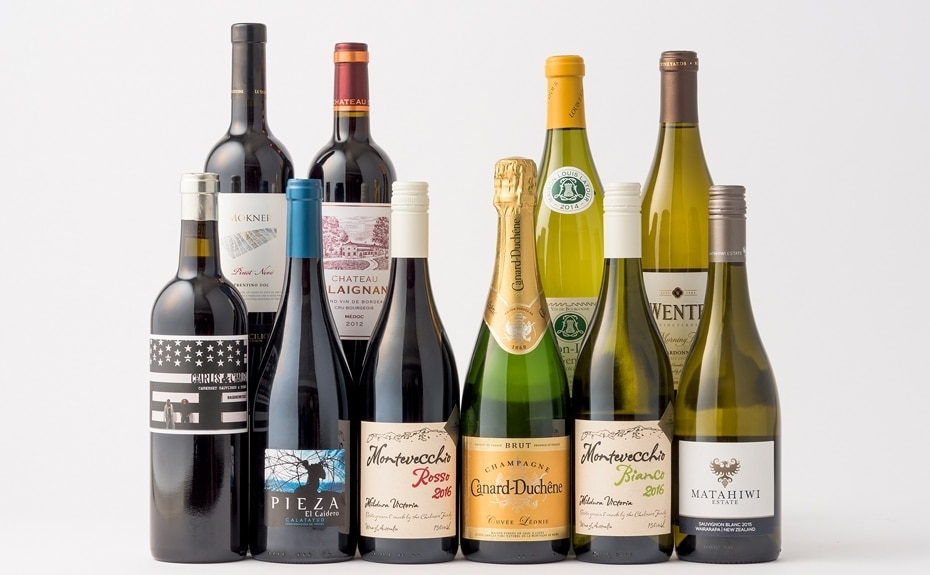 On my outbound flight I chose the International Cuisine option.  It came with an amuse bouche: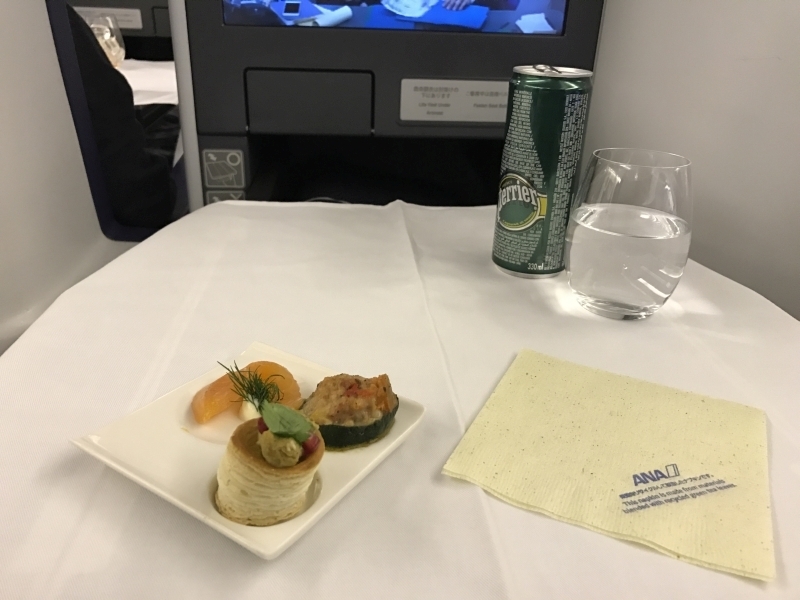 The starter was a terrine and smoked salmon rillettes rolls served with bread rolls and corn soup.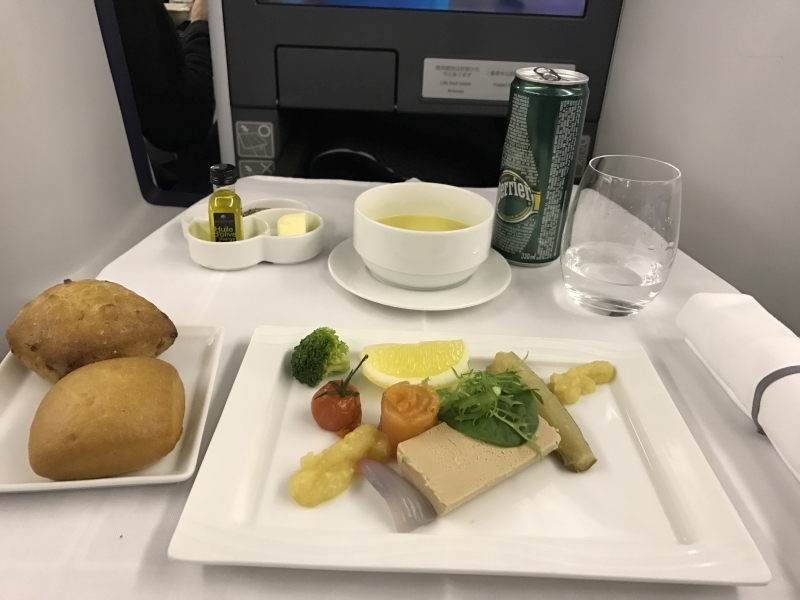 As my main I chose the fillet of beef steak with morel mushroom cream sauce. Unfortunately it was rather rare and I do prefer my steak less bloody. The sauce was very tasty though.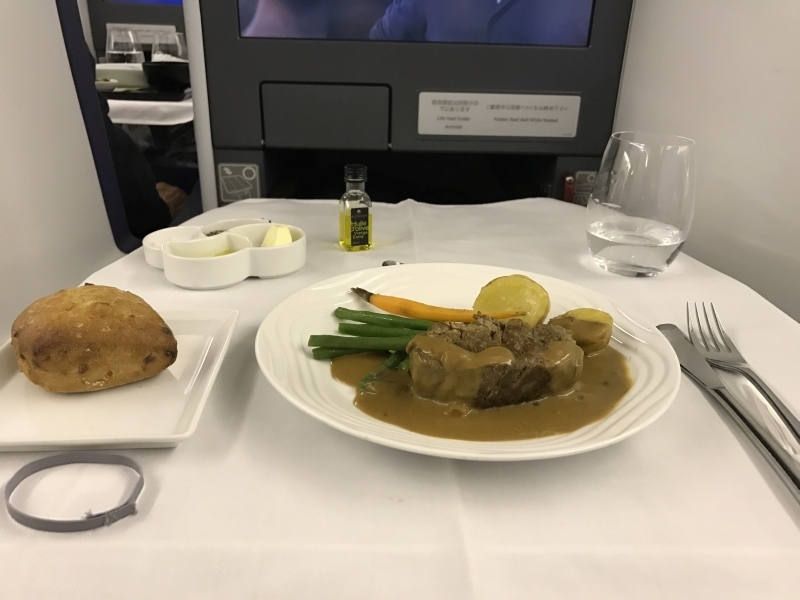 I chose a tasty lemon tart for dessert. The other options were chocolate and salted caramel cake, cheese and fruits.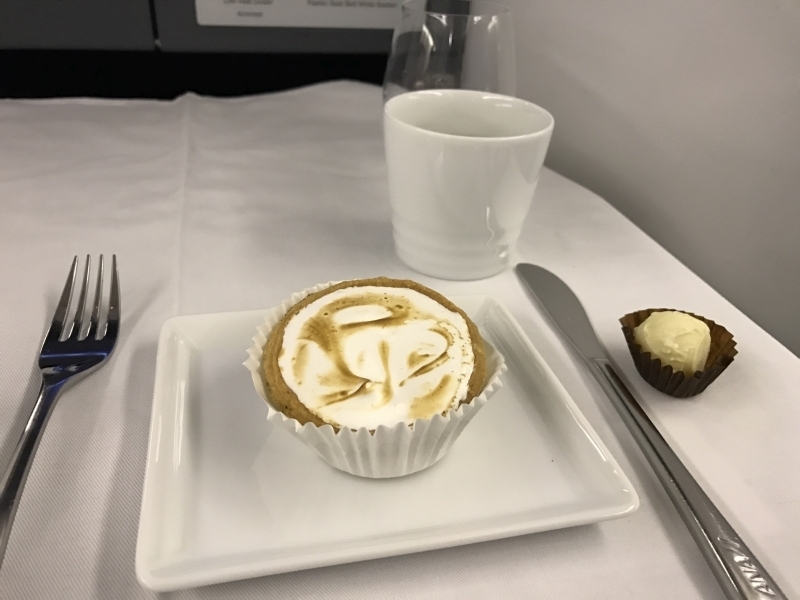 The only issue I had with my meal on the outbound flight was the time it took to be served.  I was already pretty tired when I boarded the plane and would have loved to go to sleep pretty soon after, but the dining service took about two hours and it seemed an age from take off until the lights were turned off.
Breakfast the next morning was a vegetable frittata with tomato braised kidney beans and broccoli as well as yoghurt, a croissant and a bread roll with jam.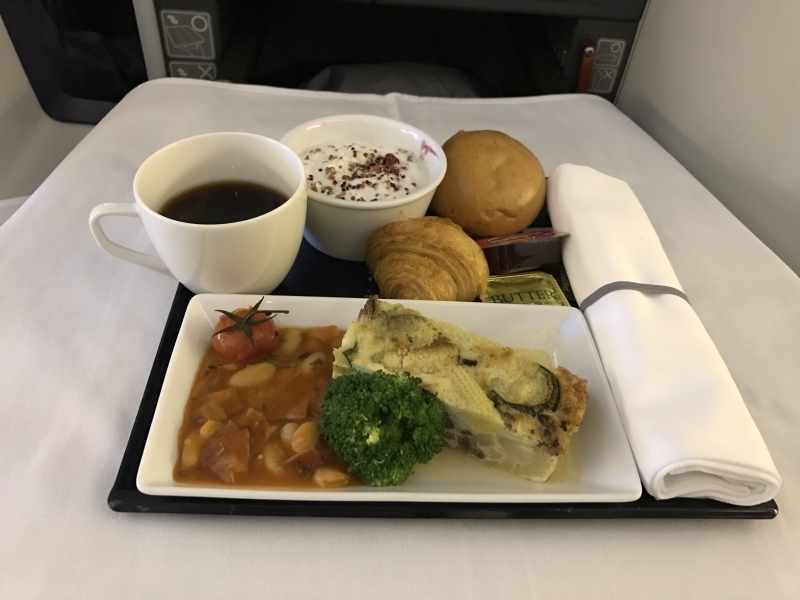 On my inbound flight I pre-ordered the vegetarian menu. I used to be vegetarian (until bacon happened) and thought I'd see how ANA interprets vegetarian cuisine.
I had a pastry appetizer.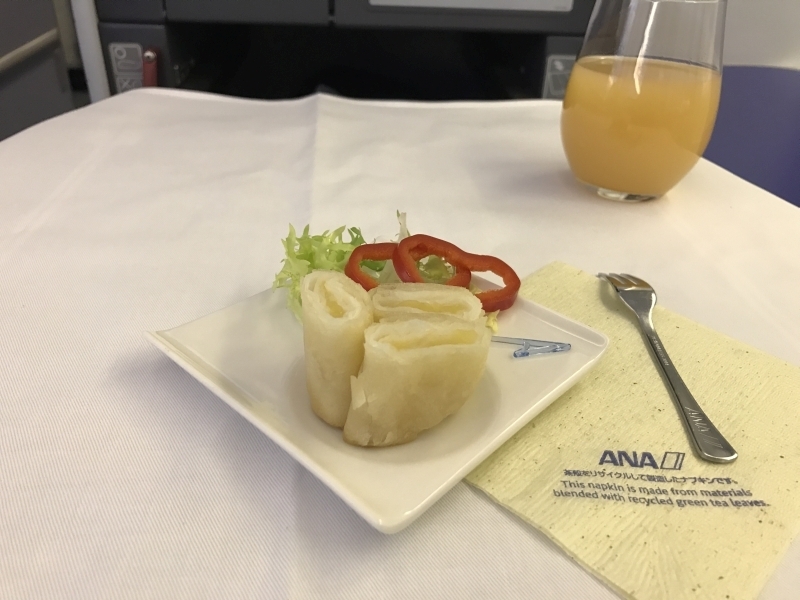 The starter was half an avocado with ratatouille and vegetables. I'm slightly obsessed with avocados and was rather happy with this option.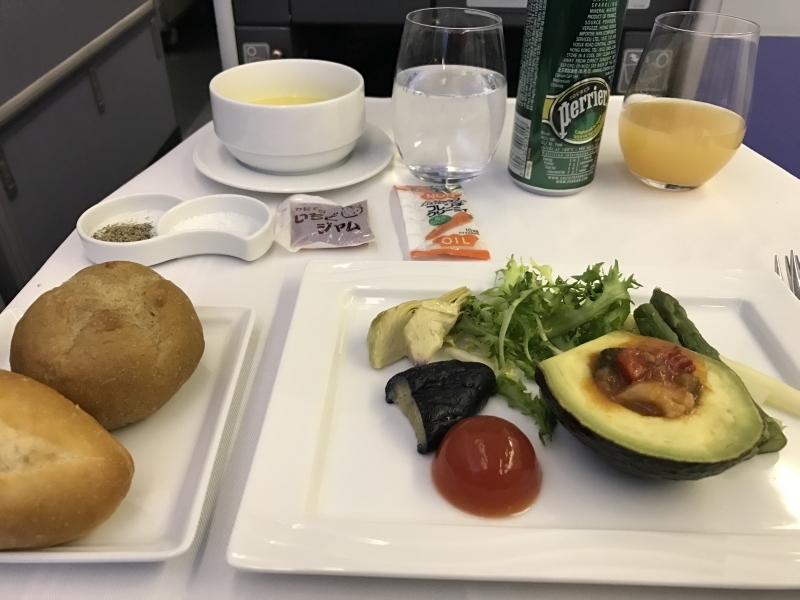 Now, the main dish was interesting.
Tagliatelle with a creamy mushroom sauce and a very doughy dumpling on top. The pasta sauce worked well, but the dumpling was a bit salty and I didn't really understand what it was doing on top of the pasta in the first place.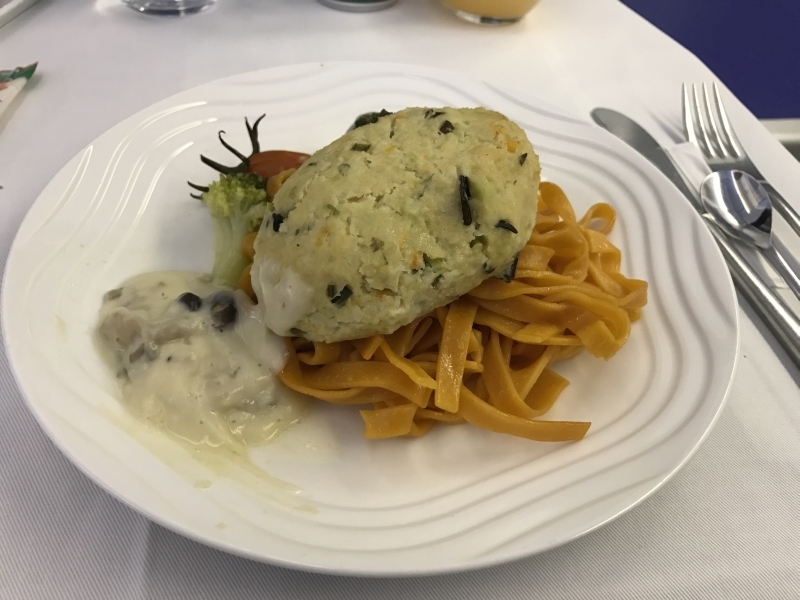 I was hoping for a nice chocolate desert, but for some reason the vegetarian menu included a small bowl of fruit. I'm sure I could have asked for a different dessert, but took it as a sign and ate the fruit.
My breakfast on the way into Heathrow was a potato pancake with fried eggs, lentils and vegetables which worked well.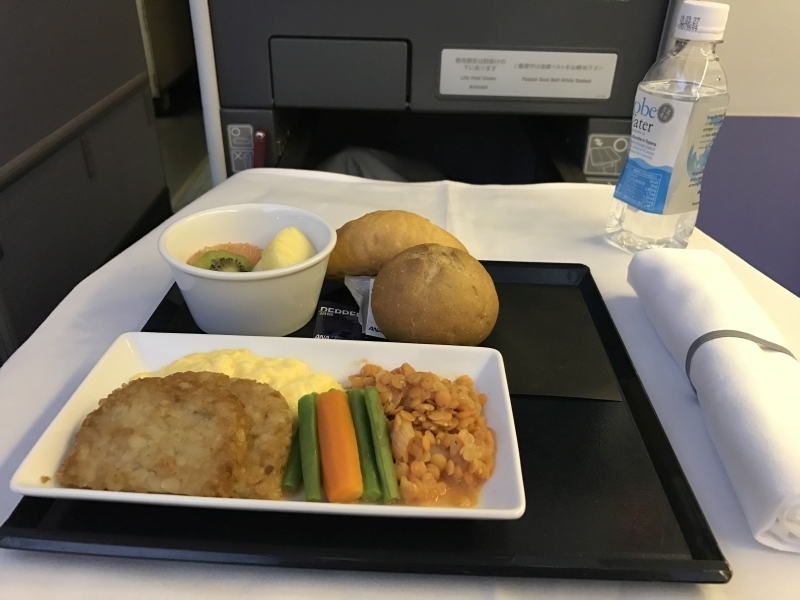 Just before we landed I had another coffee whilst watching BBC News.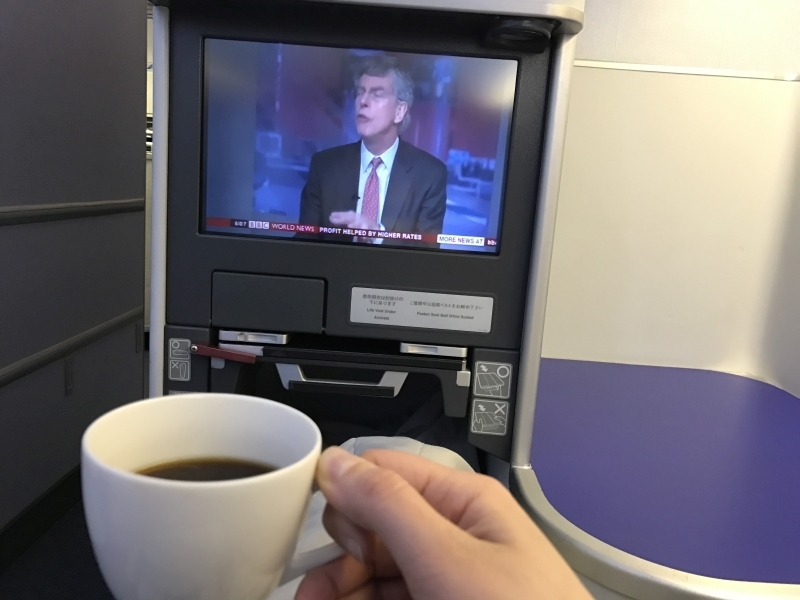 Conclusion
To be honest I don't look forward to being in the air for 12 hours, even with a Business Class seat, but ANA did a good job at making this flight pleasant.
The cabin crew was very attentive and friendly. After boarding they came around introducing themselves, asking how I'd like to be adressed and to discuss the menu. I loved how they kept exchanging my empty water bottles for full ones throughout the night without me having to ask them for it.
There were a few small communication issues with the Japanese crew during my two flights but nothing major, and no worse than I have had with Middle Eastern airlines.
The seats on both flights were very comfortable with a good amount of storage space and the staggered seat configuration gave enough privacy. I'd happily choose ANA's Business Class over British Airways Club World.
If you are interested in trying ANA's Business Class as a mileage redemption, you can use either Star Alliance miles or – at a very attractive rate – Virgin Flying Club.  We discussed how to do this in an article yesterday.
There is another article in this series to come tomorrow which looks at ANA's impressive lounge in Tokyo Haneda.
Thanks to the ANA team in London for their help in putting this trip together.