Review of ANA's business class service from London – Tokyo Haneda
Links on Head for Points may pay us an affiliate commission. A list of partners is here.
ANA, Japan's largest airline, invited us to review their Business Class flight from London to Tokyo Haneda.
Whilst British Airways and Japan Airlines both offer daily services from Heathrow to Tokyo, ANA also flies the route. As we explained yesterday, ANA is both a Star Alliance member and a Virgin Flying Club partner so there are plenty of options for earning and spending miles with the airline.
As I had never been to Japan I was more than happy to finally get that stamp in my passport. For clarity, ANA provided me with a complimentary Business Class return flight to Tokyo. HFP paid all of its own expenses, including my hotel and transfers.
ANA uses the United Club lounge at Heathrow Terminal 2B which was almost opposite the gate. Rob reviewed this lounge last year so I had a bite and a drink instead of running around taking pictures. You can read his United Club review here.
United Club is one of the best lounges anywhere in Heathrow and is our recommended choice as well as the 'official' ANA lounge. You also have the option of using the Singapore Airlines or Air Canada lounges in 2B or the Lufthansa lounge in the main Terminal 2 building.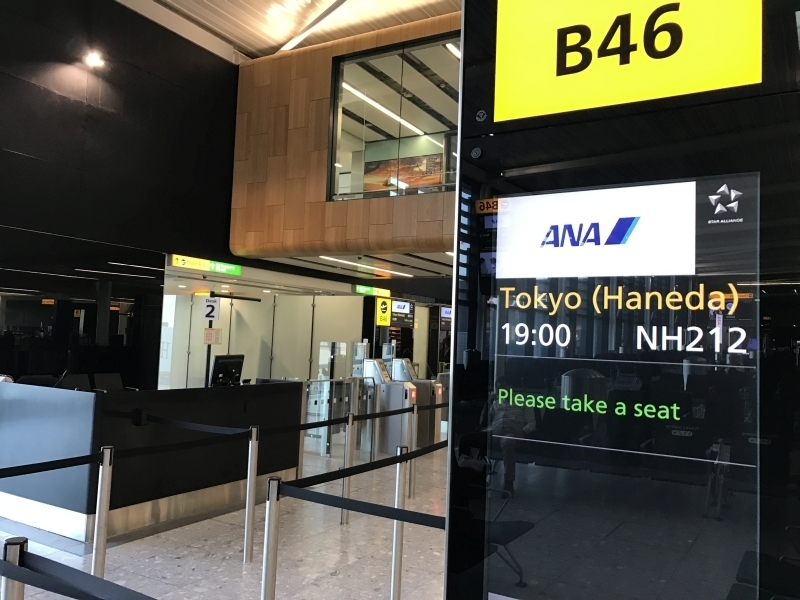 The flight was opperated with a B777-300 with four cabins (First, Business, Premium Economy and Economy). ANA has a fleet of new B787 aircraft but they are not in use on the Heathrow route.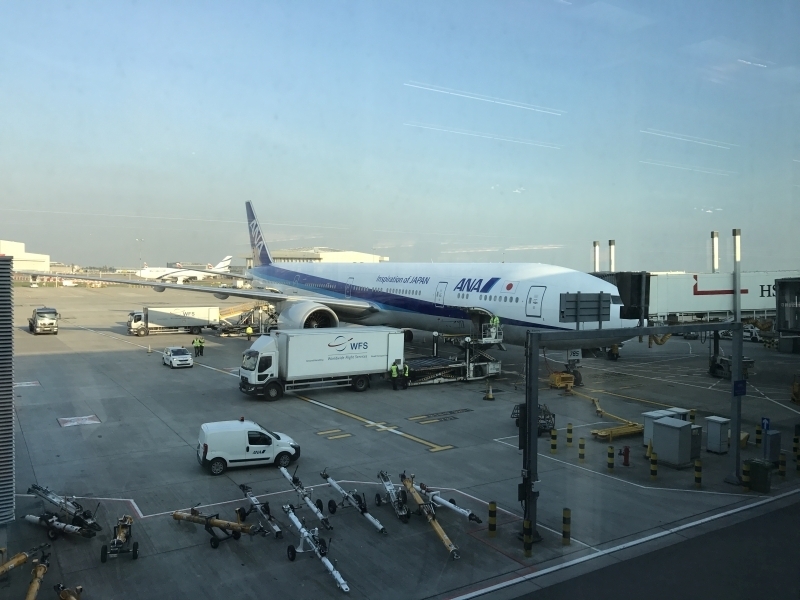 This is a shot of the main Business Class cabin. There are a further two rows of Business Class seats inbetween the kitchen area and First Class. In total there were 68 business class seats in the cabin.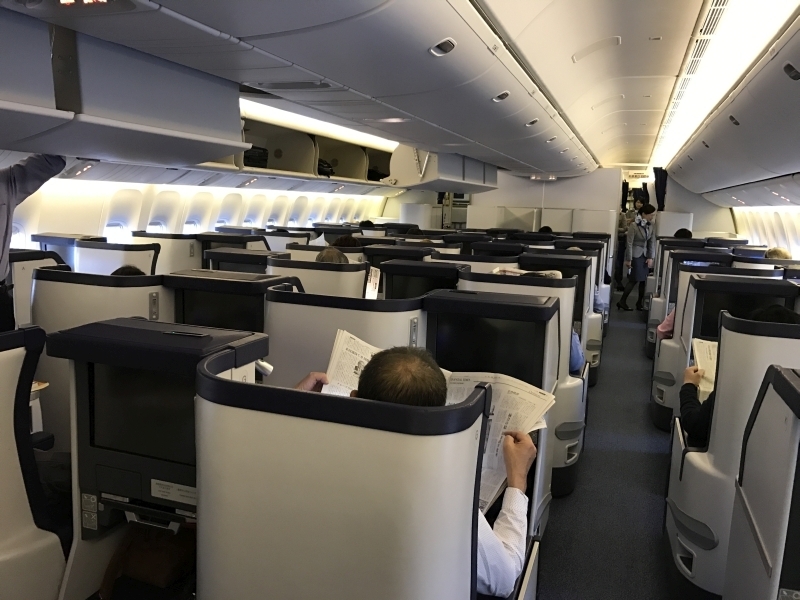 The seating was 1-2-1. Unlike British Airways Club World, all seats face forward.
Another key benefit over Club World is that all of the seats have a high level of privacy. The window seats are fully private and even the centre two seats are more private than you would expect from a 'middle pair'.
Whilst the F and D seats (as well as the E and G seats) are next to each other, and there isn't a wall in between the seats, you still cannot see your neighbour due to the design of the seat – except for their legs!
Every seat had direct aisle access so there was no climbing over other passengers as you would get with British Airways.
This is an extract from Seat Guru's seating plan which shows how the seats are arranged: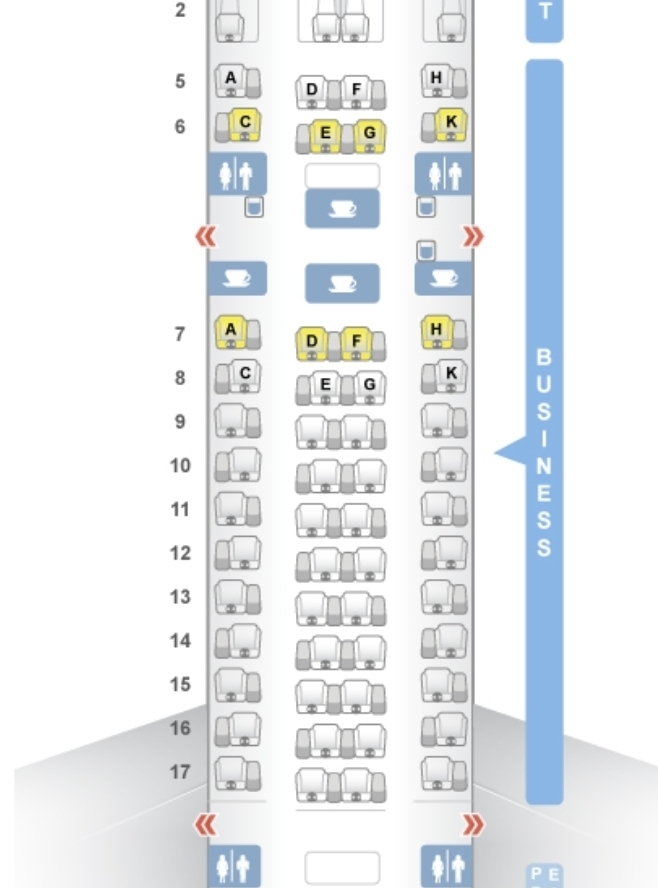 My seat on the outbound flight was in the middle block.
The picture below was NOT my seat because I confused the letters. Instead of 13F I sat down in 13D and only realised this when I turned on the screen. However my seat was a mirror image of the one in the picture.
The seating area was very spacious. There was a relatively large side table with a storage box to store your phone, headphones or other smaller items.
As well as a duvet and pillow there was a mattress topper waiting on the seat that turned the fully reclined seat into a comfortable bed.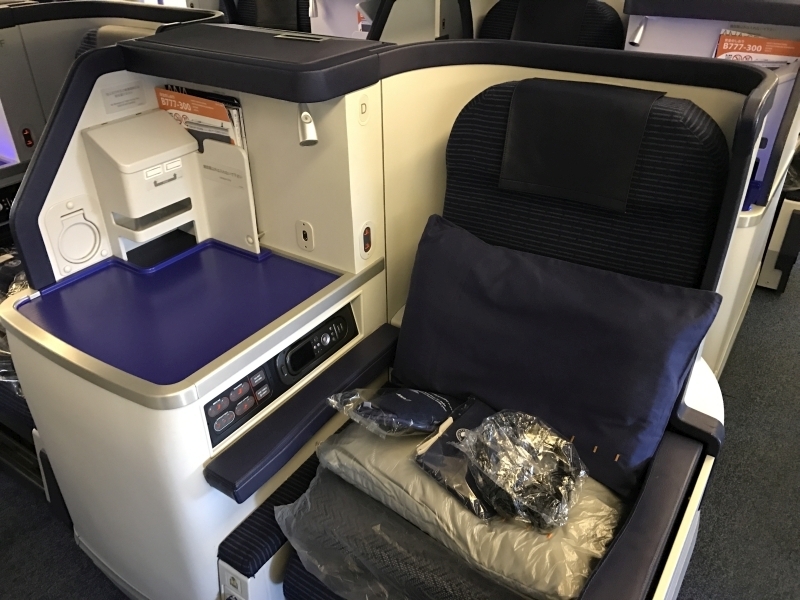 The toiletries bag was by Neils Yard with a face spray, lip balm and hand cream as well as toothbrush, earplugs and an eye mask. No complaints there.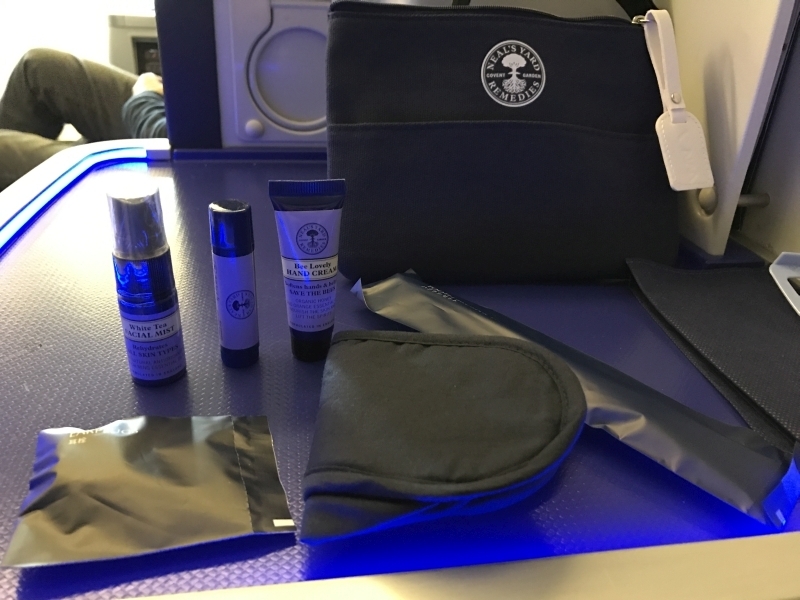 These were the slippers I got on the plane. They came in a little pouch with a little shoehorn.
My shoes and backpack fitted perfectly underneath the foot rest. When reclined, your feet disappear into the space above where my backpack is sitting: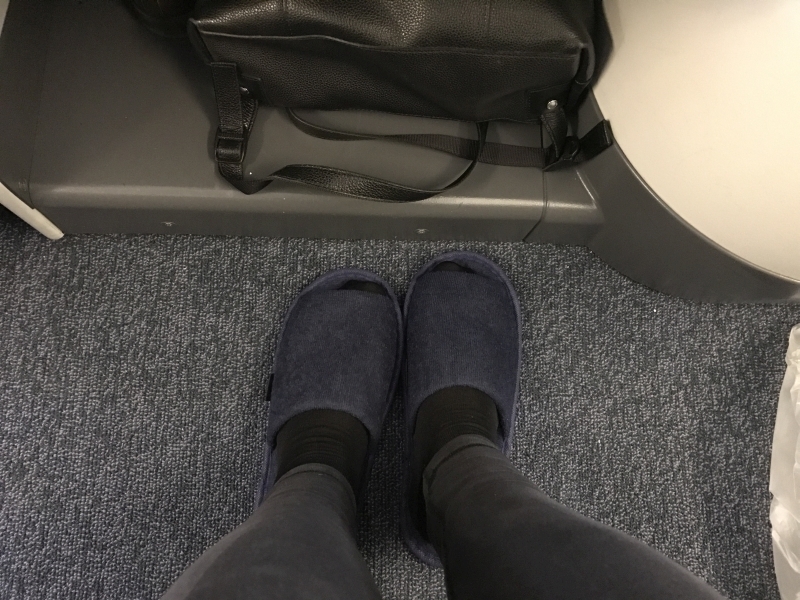 The IFE was via a 17 inch touch screen with a controller next to the seat. The entertainment selection was ok – perfectly acceptable but not up to the ludicrously huge selections offered by Emirates, Qatar etc. I watched La La Land and Passengers on my outbound flight and, on my inbound flight, Doctor Strange and a weird Austrian movie with Japanese subtitles about three couples in their 30s who all got pregnant at the same time ……
Connectivity was good. If you opened the little flap underneath the screen, you'd find a UK/US plug socket as well as a USB socket and an iPod dock.
ANA also offers on board wifi on most of their flights. This service is not free of charge but it is substantially cheaper than the upcoming BA service:
30 minutes costs $4.95 (up to 15mb)
60 minutes costs $8.95 (up to 30mb)
full flight costs $19.95 (up to 100mb)
I was planning to try the wifi on my inbound flight, but ended up sleeping most of the way and decided to go cold turkey on internet access for 13 hours.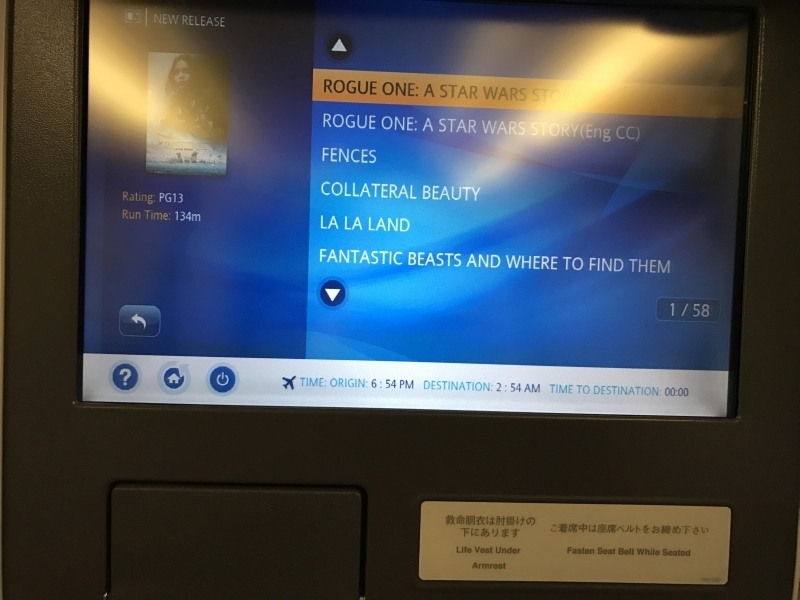 This was my bed in fully flat mode. It was very comfortable and I did appreciate the mattress topper and thick duvet.
I will cover the food and drink in Part 2 of my ANA business class review. Roughly two hours after take off the trays were cleared away and the lights dimmed.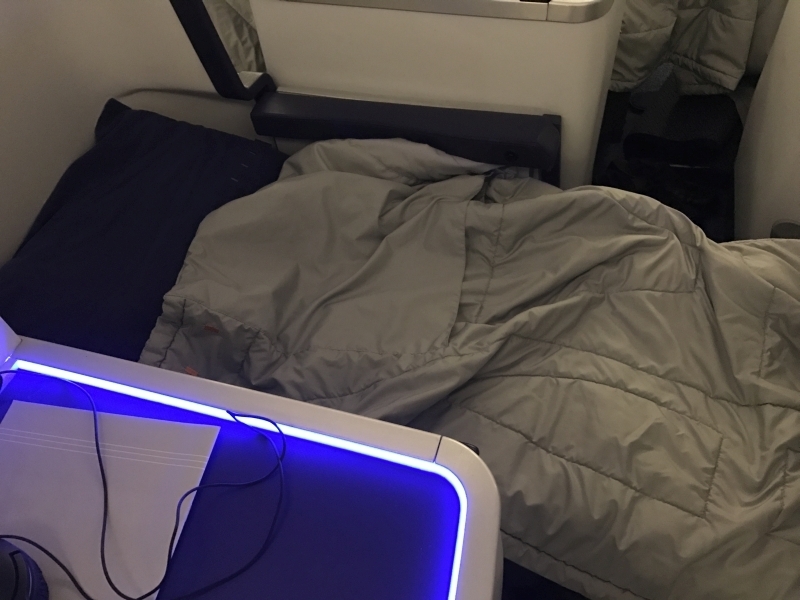 On the flight back to London I had a 'window' seat: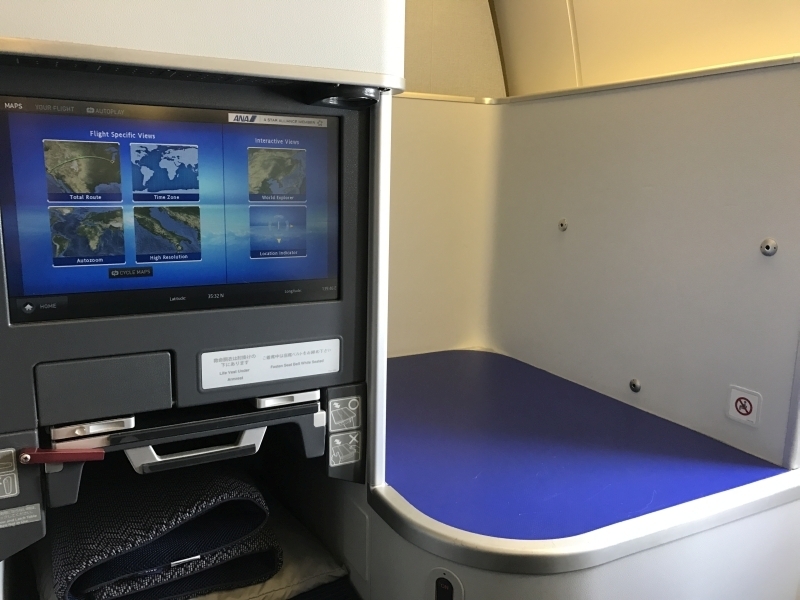 I put 'window' in quotes because my seat was next to the aisle and there was quite a gap between my seat and the window itself. I couldn't open or close the blind without getting up. Half of the 'window' seats are arranged like this.
The other 50% of the 'window' seats are arranged in a mirror configuration with the seat directly by the window and the storage area on the aisle. If you specifically want to look out during the flight then you should ensure you get one of these – they are clearly identified on the seat plan above.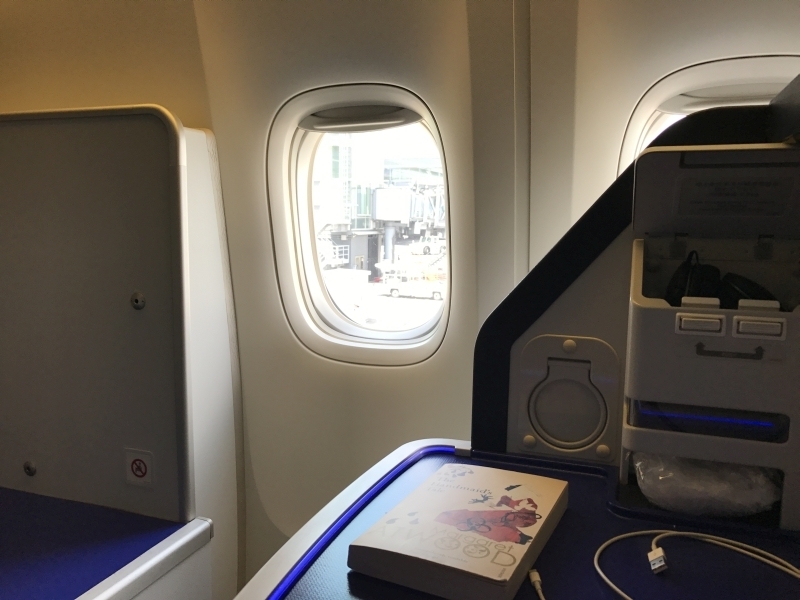 The washrooms had toothbrushes, mouthwash and wet towels: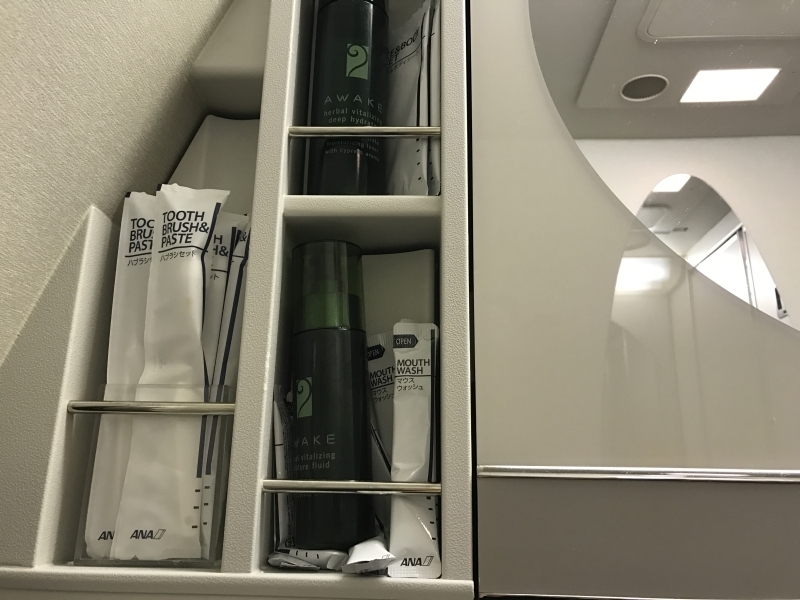 ….. but the highlight was the Toto style toilet. If you've never tried a Toto toilet before, which will automatically wash and dry you, you're in for a treat.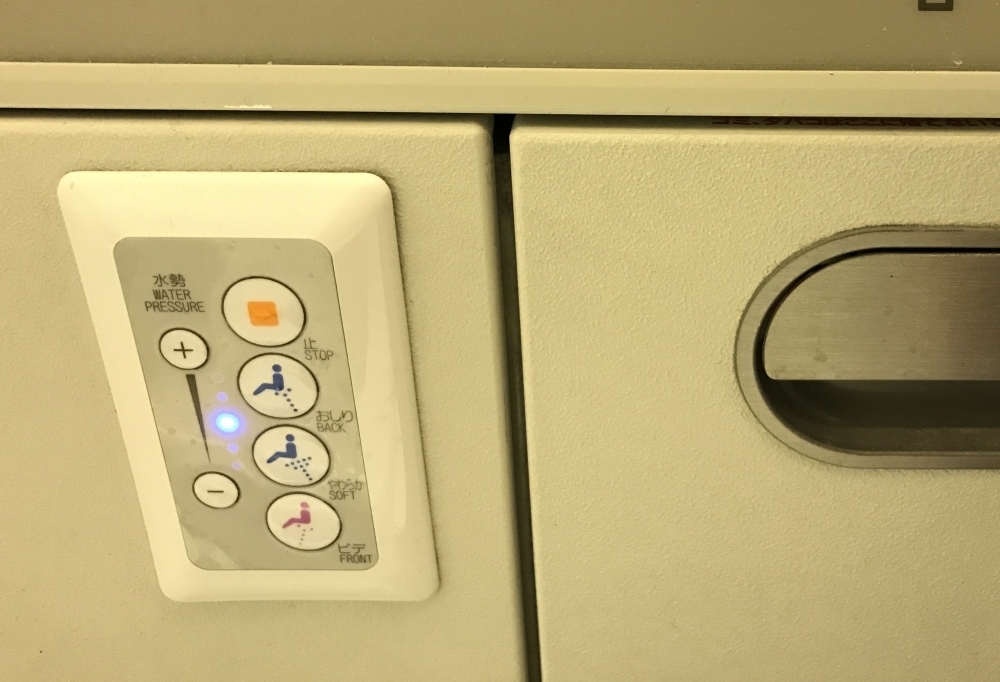 I took a few short video clips of my flight that you can see here. You can subscribe to our YouTube channel via this page – this is the same link to visit if the video does not automatically appear below.

That was part one of my review.
Part 2 of my ANA London Heathrow to Tokyo Haneda business class review, also published today, can be found here
.