Which is the best hotel at Vienna Airport? NH or Moxy?
Links on Head for Points may pay us an affiliate commission. A list of partners is here.
This is my review of the NH Vienna Airport Conference Center hotel.
I wasn't actually planning to review the two nights I spent at the NH Vienna Airport Conference Center hotel this week. However there is a new MOXY (Marriott brand) hotel directly behind the NH and I wouldn't want you to make the wrong choice.
About once every two years I have a major falling out with a hotel. It looks like this will be my 2017 one.
Let's see what is the best hotel at Vienna Airport.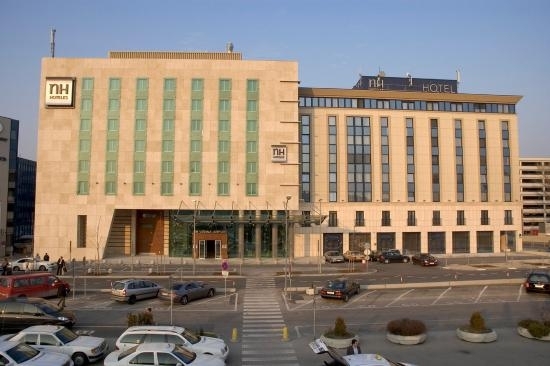 The NH Vienna Airport Conference Center hotel is not directly connected to the airport but the walk outside takes less than 30 seconds. If you come from the airport you need to walk through the CAT (airport train) station to reach it. It isn't a stretch.
It's not an attractive building. The lobby is large but nondescript. It was 2pm and I was checked in to my Double Superior room, book via American Express Travel when they were running their £50 cashback promotion recently.
Up on the 7th floor, it was a trot to get there. When I arrived, it was clear that I had either been given a smoking room (no ashtrays though) or that the previous guest had smoked heavily anyway. When this happened, it should have been flagged up by the room cleaner and the room taken out of inventory. Instead, the cleaner had ignored the strong smell of smoke and carried on regardless.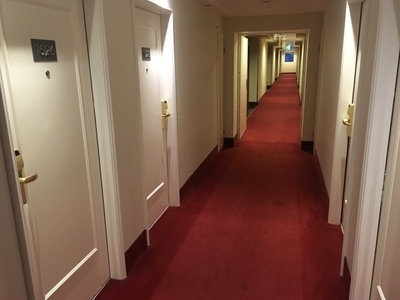 I went back down and was given another Double Superior room. Except it wasn't – this room had two small single beds in it. Not a lot use when you are as tall as me.
I went back to the front desk for a 3rd time. The clerk said that he had no Double Superior rooms left but there would be one available at 3pm. He said that he would block one for me and I headed off into the city centre.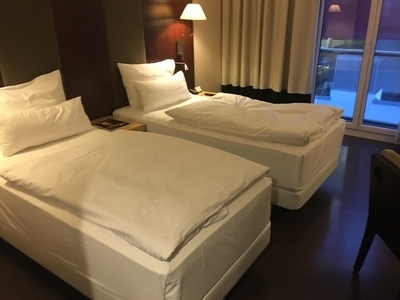 At 6pm I returned. Guess what. No Double Superior rooms available. I therefore volunteered to be downgraded to a standard (smaller and not refurbished) double bedded room in return for some sort of compensation, either money or a food and drink credit. The hotel refused.
The front desk manager, Dirk, then started the most bizarre argument that I have had in a hotel for a long time. He claimed that a Double Room has nothing to do with a double bed. A Double Room, according to the NH Vienna Conference Centre hotel, is simply a room that sleeps two people.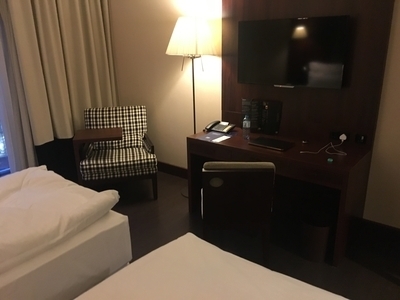 So, I asked – if I was here with my wife, or even for some bizarre reason on the first night of my honeymoon before flying out, and I book a Double Room, I have absolutely no guarantee of a double bed? No, said Dirk, because ("and I have worked in hotels for years" etc etc) a Double Room doesn't means that it has a double bed. It only means that it sleeps two.
It was just weird. He would not accept that a Double Room implies that the room has a double or king sized bed. He even told me to ring American Express Travel – through whom I had booked the room – and ask them was a Double Room was, and they would prove me wrong.
So, there you are. If you stay at the NH Vienna Airport Conference Hotel, you cannot guarantee your bed type and may end up with two single beds separated by a table.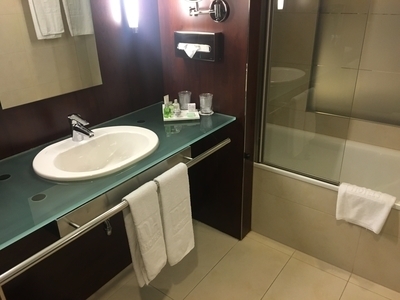 Eventually I gave up. As it happens, I then received an invitation to head over to the MOXY Vienna Airport Hotel for dinner with a senior Star Alliance manager and the event organisers. I realised that I had made a mistake by staying at the NH.
We wrote yesterday about IHG's new 'avid' brand, which is set to compete with ibis Styles and MOXY. Whilst these hotels are, theoretically, a budget product – avid will be cheaper than a Holiday Inn Express for example – they are packaged in a way that doesn't feel budget. The MOXY was somewhere, to be honest, that I would be happy to stay despite its 2.5 star rating.
When I got to the MOXY – not a long walk, it is directly behind the NH – I was very impressed. Whilst the rooms are apparently small, the MOXY Vienna Airport is a smart budget hotel. In fact, you should forget the budget price tag. It had a funky design, an impressive open communal bar / eating area and a big 'help yourself' cafeteria. It was also buzzing with people, unlike the NH. It felt a bit like the lobby of our WeWork office back in London.
(The only odd thing is that clientele did not match the funky vibe of the interior. It was the same random diaspora that you find in any hub airport – all ages, all races, all nationalities. I freely admit that our dinner table was not exactly the 'cool kids' corner either!)
The only complaints I heard about the rooms were about the wardrobe. There isn't one. There isn't even a rail. There are just TWO pegs in the wall with a single coat hanger on each. Pack light.
Here is a library photo of the MOXY lobby area where we had dinner: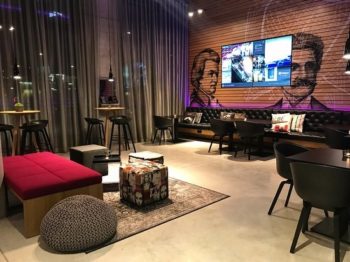 and here is a library photo of a room: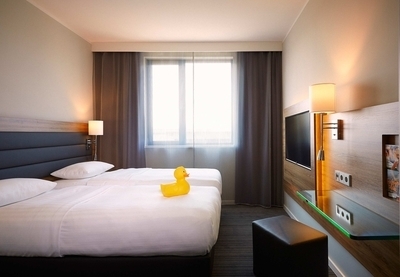 I felt bad that I had turned down the chance to book the MOXY at €87 and had instead paid considerably more for the NH Vienna Airport next door. Please don't make that mistake if you need a hotel at Vienna Airport.
As you can see from the room photographs scattered throughout this review, the NH Vienna Airport isn't actually bad. The Superior and some of the Standard rooms have had a partial refurbishment, mainly in the bathroom. The corridors are astoundingly ugly as the top photo shows but, when you're in your room, it is perfectly acceptable. Areas like the lift interiors also need help.
I liked the glass sink and the toiletries and I had a coffee machine. The shower had a weird rotating feature inside which meant that the water came out in pretty patterns, although it also meant that you had to keep moving around to stay under it! I also had two single beds however …..
I should also mention, although this is not necessarily common, that I had no internet in my room on the 2nd day of my stay (but I could tether my phone, so it wasn't a problem) and that my key card had to be reset twice requiring a trip back to the lobby and 5 minutes of queuing each time.
Compared to the MOXY, the NH Vienna Airport felt like something from a different generation which of course it is. If you had no choice I'd tell you that the NH would do the job, albeit nothing more, and would be OK. You do now have a choice, however.
The NH Vienna Airport website is here.
PS. One upside of booking an NH hotel is that they are an Iberia Plus partner and you can earn a few Avios in Iberia if you stay with them.
---
Hotel offers update – August 2022:
Want to earn more hotel points? Click here to see our complete list of promotions from the major hotel chains or use the 'Hotel Offers' link in the menu bar at the top of the page.
Want to buy hotel points?
Hilton Honors is offering an 80% to 100% bonus when you buy points by 18th September 2022. The annual limit is doubled to 160,000 points plus your bonus. You can buy here.
Marriott Bonvoy is offering a 25% bonus when you buy points by 15th September 2022. You can buy here.