Links on Head for Points pay us an affiliate commission. A list of our partners is here.
The "Avios Redemption University" series is a good starting point for beginners, although I hope everyone will learn something from them. Click here to see the other articles.
This article looks at whether it is worth using your Avios points to book a hotel.
Is it worth using Avios for hotel bookings?
I generally try to stay away from the eternal question of 'what is an Avios worth?'. Because, at the end of the day, it is a 100% personal decision. It is a decision based on numerous factors – where you fly, what cabin, whether you normally use a 241 voucher and (the one rarely considered) what class you would pay for if Avios flights were not available.
Click here to read an article which is my best effort at answering the 'what is an Avios worth?' issue.
What you can do, though, is put a floor of the valuation of an Avios. One way of doing this is to look at what they are worth if you redeem for hotel bookings since this is an easy way to cash out of your Avios pile if you had to.
You can book a hotel with Avios miles via this page at ba.com (log-in required) or avios.com – the avios.com page is here.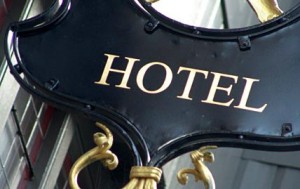 As an experiment, I randomly picked four hotels in four cities for Saturday 17th February 2018. This is what I found, picking a random four star hotel for two adults. I took the top 'recommended' option in all cases. Cash prices included all taxes.
Hamburg – The Westin – 46,350 Avios or '2,250 Avios + £240'
London – Hilton Bankside – 39,400 Avios or '1,900 Avios + £216.75'
New York – W at Lexington Avenue – 25,550 Avios or '1,250 Avios + £135'
Singapore – InterContinental – 49,800 Avios or '12,450 Avios + £210'
10 seconds with the calculator shows that these all give you a value per Avios of 0.54p – 0.56p.
It is not quite that simple, of course.
Is the ba.com 'cash price' fair? I turned to Expedia to check, adjusting the Avios price to assume 0.56p per Avios. The results were interesting.
Hamburg – Avios price £255, Expedia price £240.12
London – Avios price £216.75, Expedia price £159 (sale price)
New York – Avios price £140.50, Expedia price £228 (one category up as lowest unavailable)
Singapore – Avios price £269.75, Expedia price £260
As you can see, the Avios price is often higher than you can find elsewhere.
Finally, I went direct to the hotel websites:
Hamburg – Avios price £255, hotel price £256
London – Avios price £216.75, hotel price £149 (sale price)
New York – Avios price £140.50, hotel price £197
Singapore – Avios price £269.75, hotel price £176.29
So …
What we have seen here is two things:
Based on the hotel prices at avios.com, you get 0.54p – 0.56p per Avios when you book a hotel with them.
The prices charged at avios.com, though, bear no relation to those charged by Expedia or by the hotels themselves.  Based on my sample, avios.com often charges more than the hotel does if you book direct elsewhere.  I should stress that I have done this exercise many times over the years and you always get a similar result – avios.com is expensive for some hotels, occasionally cheaper, but rarely the same.
If the avios.com hotel prices are always going to be 'above market' then you cannot consider 0.55p per point to be the genuine value. The real value is probably closer to 0.5p which is the value you tend to get when redeeming for other 'non flight' redemptions.
If you earn your Avios points from credit card spend, converting Tesco points etc, then you are unlikely to find 0.54p – 0.56p acceptable. If, however, you earn all of your Avios from business travel then you have no 'opportunity cost' for your Avios and you may find a hotel redemption worthwhile if you are struggling to find suitable flights.
(One final point. Redeeming Avios for a chain hotel via Avios.com, or paying for one via Expedia, is likely to mean that you will not earn hotel points from your stay. You may also not receive any status benefits – Marriott is the only major chain to give status benefits on third party bookings. You should bear this in mind when booking, especially if your status would otherwise get you free breakfast or free internet.)
(Want to earn more Avios?  Click here to visit our home page for the latest articles on earning and spending your Avios points and click here to see how to earn more Avios from current offers and promotions.)
Click here to join our email list and receive all of the latest Avios, miles and points news by 6am.