Links on Head for Points may pay us an affiliate commission. A list of partners is here.
This is the fourth of our overview series of the main hotel loyalty schemes. Each scheme will be covered over two posts on consecutive days. One will list the basic facts of the scheme – basically "How does Marriott Rewards work?" – and the other will be my subjective view of what is of particular merit.
Important: Marriott bought Starwood Hotels & Resorts in 2016. From 2019, Marriott Rewards and Starwood Preferred Guest will be merged into a new combined programme. This article covers the existing Marriott Rewards programme only. However, you can transfer Marriott points into Starwood Preferred Guest (at a 3:1 ratio) and vice versa so you should also look at SPG redemption options.
Clearly not every aspect of the current Marriott and Starwood schemes will survive the transition to a combined programme. You should bear this in mind if you consider working towards a major redemption such as a Marriott Travel Package.
Marriott Rewards covers almost 4,000 hotels globally. The brands included are The Ritz-Carlton, JW Marriott, Edition, Marriott, Renaissance, Autograph Collection, Gaylord Resorts, Moxy, Marriott Executive Apartments, Residence Inn, Courtyard, Fairfield Inn, Springhill Suites, AC Hotels, Delta, Protea (South Africa) and TownePlace Suites. The Marriott Rewards home page is here.
If you are not currently a member of Marriott Rewards, I can refer you via the refer-a-friend scheme – email me at rob [at] headforpoints.co.uk. You will receive 2,000 bonus points on your first five stays.
What is the geographic spread?
Marriott has a decent spread of UK and European properties, although the lower cost Courtyard chain has generally been rebranded in recent years. Wherever you are in the world, you probably won't be far from a Marriott-operated hotel.
The Autograph and Edition brands are 'adopting' interesting boutique properties such as Threadneedles in The City and this is giving Marriott a much-indeed shot in the arm in term of luxury properties. When the Starwood properties are fully integrated Marriott will have a vastly improved high-end portfolio.
Do I use them?
Historically, no. They had very little that excited me, although I did have the occasional stay at The Ritz-Carlton.  Things changed with the opening of the JW Marriott in Venice which is pretty good (our JW Marriott Venice review is here). We have visited three times now and are booked in again for later this year.
Last year I also visited the new Ritz-Carlton desert resort outside Ras Al-Khaimah, just north of Dubai (reviewed here) as it is excellent value as a redemption. I also visited The Ritz-Carlton Kyoto in 2017 (reviewed here) and it was astonishingly good – on a par with the best of the Four Seasons portfolio.
More down to earth, I had a recent excellent stay at the Berlin Marriott (reviewed here).  This allowed me to benefit from the free executive lounge access and guaranteed 4pm check-out that I now get as a Marriott Gold, matched from my Starwood  Gold.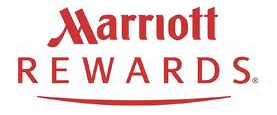 Elite membership levels
You can now match your Starwood Preferred Guest status to Marriott Rewards, online and instantly. This also works in reverse. As Starwood Gold status is a benefit of American Express Platinum, this offers a backdoor route to free Marriott Gold.
Being able to get a Gold status card for free, via Amex Platinum, which gives guaranteed executive lounge access and guaranteed 4pm check-out (except at resorts and conference hotels) is an excellent perk.
Silver – requires 10 nights. Benefit is a 20% bonus on base points.
Gold – requires 50 nights. Benefits are 25% bonus on base points, room upgrade, high-speed internet, guaranteed late check-out (not at resorts and conference hotels) and lounge access (JW Marriott, Autograph Collection, Renaissance, Marriott Hotels and Delta Hotels only, one guest allowed, resorts are excluded) or, if no lounge, free continental restaurant breakfast.
Platinum – requires 75 nights. Benefits are 50% bonus on base points, room upgrade, high-speed internet, lounge access, guaranteed late check-out (not at resorts) and a welcome gift.
The full table of elite benefits is here.
There is an additional level called Platinum Premier for very heavy stayers. This appears to require around 125 nights. There are no specific additional benefits.
Note that, whilst the Gold benefits are decent, the number of nights required is higher than competing programmes and so it is not directly comparable with, say, Hilton Honors Gold which can be earned with just 20 stays.
Free internet is given to all guests as long as they book direct. Gold and Platinum members receive high-speed internet for free.
In North America, it is common for executive lounges to be closed at weekends.
Marriott has a joint venture with United Airlines, whereby Marriott Platinum members receive Silver status in the United programme. United members who are Gold or higher receive Marriott Gold status. This is a very attractive offer for United members, given the usual 50-night requirement for Marriott Gold.  As Starwood has a similar relationship with Delta and Emirates, this is a backdoor way of earning more Marriott Rewards points when flying with those airlines.
Suite upgrades are NOT an elite benefit.
Reward nights DO count for status but not for any promotion bonuses.
Marriott Rewards does offer lifetime status at Silver, Gold and Platinum level. You need to achieve targets for both nights stayed and points earned. Details can be found here.
Marriott Rewards vs The Ritz-Carlton Rewards
Confusingly, The Ritz-Carlton has a separate version of the scheme called The Ritz-Carlton Rewards. The benefits are identical, but the programmes offer different promotions. It is possible to switch between the schemes with a telephone call if you want to take advantage of a certain offer.  This article explains further.  I do not expect The Ritz-Carlton Rewards to survive as a separate scheme when Marriott Rewards and Starwood Preferred Guest are combined.
Earning points
Marriott Rewards gives you 10 points per $1 spent, plus any elite status bonus. The only exceptions are Residence Inn and TownPlace Suites which offer 5 points per $1. The full breakdown per chain is here.
Note that The Ritz-Carlton, AC Hotels, Edition, Courtyard, Springhill Suites, Fairfield Inn, Moxy, Protea and Gaylord Hotels only award points for your room rate. Food and other charges on your bill do not quality. At other brands, you will receive points on all of your spending.
Marriott runs regular promotions, targeted to individual members. These tend to run back-to-back so there will usually be some offer worth signing up for. For light stayers, this is often a variant of the MegaBonus promotions, with a free night in Category 1-4 hotel for two stays, or bonus points for every night you stay. Details of the current promotion can be found on our 'Hotel Promos' page.
Spending points
The room redemption chart is here (click 'Turn your points into free hotel stays').
Redemption rates for hotels run from 7,500 points in Category 1 to 45,000 points in Category 9.  The Ritz-Carlton hotels are priced separately, at between 30,000 and 70,000 points per night. Marriott is well-known for 'category creep' – moving hotels from category to category to increase their redemption cost without announcing any official devaluation.
All members receive 'five nights for the price of four' when redeeming.
A 5-star 45,000 point redemption would typically require a Silver member to spend $3,750. This more than double the equivalent spend required with Radisson Rewards although it would come down when good bonus point promotions are running.
There is an ongoing PointSavers promotion which offers rooms at selected hotels at a 33% points discount. However, the list of participating properties is so small as to be almost useless.
Marriott offers 'instant redemption' for in-hotel benefits. At selected hotels, these lets you redeem points for a cash credit against incidental charges on your room bill. 2,500 points is worth $5 through to 190,000 points being worth $1,000.
Marriott Rewards lets you book reward nights WITHOUT having the points in your account. This is a very valuable feature. It allows you to lock in the rooms you need today whilst giving you plenty of time you earn the points required. You have until 8 days before your arrival date to earn the required points.
Points expiry
According to the programme rules, if you do not accrue points during a 24 months then your points will be removed (see paragraph 8). In the past this rule has not been enforced but from February 2016 Marriott has been taking a harder line.
I wrote a full article here on different ways to stop your Marriott Rewards points from expiring.
Can you upgrade using points?
Yes. Marriott Rewards allows you to redeem an additional 5,000 points at selected properties for an upgraded room.  Only certain properties offer this. It can only be used in conjunction with a reward booking, not a cash booking. Some hotels offer upgrades on cash bookings as an 'instant redemption' at check-in.
Are 'cash and points' redemptions available?
Not for standard rooms.
At many hotels, you can book a higher level room for a cash premium on top of the standard reward night price. This makes Marriott Rewards very attractive for families or anyone who prefers a larger room. In August, for example, our Junior Suite at the JW Marriott Venice is costing €200 plus the usual 40,000 points per night for a standard room. The same room would be over €600 for cash.
Airline redemption options
Marriott Rewards points can be transferred to a large number of airlines including Avios. There is a sliding scale. For most airlines, it goes from 10,000 points = 2,000 miles (5:1) through to 140,000 points = 50,000 miles (almost 3:1).
The 'best' Marriott redemption option is generally seen as their travel packages. Starting at 200,000 points, these let you redeem for both hotel nights and airline miles in the same package, and offers a large saving over ordering the two components separately.  They are an even better deal if redeemed when Avios is offering a conversion bonus for points transferred from a hotel scheme.  I wrote a full article here explaining why Marriott Travel Package redemptions are so generous.
Can I earn Avios directly without collecting points?
Yes, see ba.com here. You can earn Avios by showing your British Airways Executive Club or avios.com card at check-in. The amount will depend on which brand you are staying with, but is usually 2 Avios per $1.
You will not earn any Marriott Rewards points. However, you must still be a member of Marriott Rewards in order to do this.
Credit card partnerships
Can you get elite status with a UK credit card? Yes, indirectly. Amex Platinum gives you Starwood Gold which you can match to Marriott Gold instantly online. Marriott had a UK credit card, issued by Creation, which gave Silver status but it was withdrawn in 2015.  It is still active for people who applied before it closed.
As Starwood has a UK-issued American Express card, it is not clear what will happen when the two programmes merge next year. The Starwood Amex gives double Starwood points (2 per £1, so equivalent to 6 Marriott points per £1) when used at a Marriott or Starwood property.
Is Marriott Rewards an Amex Membership Rewards partner?  Not directly. However, you CAN transfer Membership Rewards points to Starwood Preferred Guest at 2:1 and then onto Marriott at 1:3. This means the effective Marriott conversion rate from Amex is 2:3.
Purchasing and transferring points
You can buy Marriott Rewards points for $12.50 per 1,000 via this link.
You can transfer your Marriott points to anyone up to a cap of 50,000 points per year. This is free to Gold and Platinum members and $10 for everyone else, although there are reports of the fee being waived for everyone after the Starwood merger. Transfers must be done by telephone.
My opinion
Part Two of this article – click here – gives my personal view of the pros and cons of Marriott Rewards.
(Want to earn more hotel points?  Click here to see our complete list of promotions from the major hotel chains or use the 'Hotel Promos' link in the menu bar at the top of the page.)
Click here to join the 14,000 people on our email list and receive the latest Avios, miles and points news by 6am.