What are the best IHG Rewards Club hotel points redemptions in London?
Links on Head for Points may pay us an affiliate commission. A list of partners is here.
On 25th January, IHG Rewards Club increased the points required at many of its hotels.  With that in mind, I thought it was worth another look at my preferred choices if you are looking for a free night in the capital.
IHG Rewards Club – the InterContinental, Holiday Inn, Crowne Plaza etc rewards scheme – has a huge portfolio of hotels in London.  If you are looking to redeem your points here you will be spoilt for choice.
Importantly, the points cost of a hotel often bears no resemblance to the quality of the hotel.  Given that IHG is constantly opening new hotels and changing the points required for others, I thought it was worth taking another look at the best IHG Rewards Club options in London.
These are my personal thoughts – I don't know the exact location of every IHG property or its physical condition although I have stayed, or had family stay, at most of the ones I discuss below.  In particular, I've not visited the new Indigo in Leicester Square (the chat is small rooms and I can't imagine how it is worth 60,000 points) or the Holiday Inn Kensington High Street (very bad early feedback after rebranding but I believe it has been refurbished, IHG rating 3.9).
I have also listed, for what it's worth, the score out of 5 that reviewers on ihg.com have given the hotel.  The highest rated hotels in Central London are Crowne Plaza Albert Embankment (a new one, 4.8), Staybridge Suites Vauxhall (another new hotel, 4.8) and the Indigo at Tower Hill (4.8).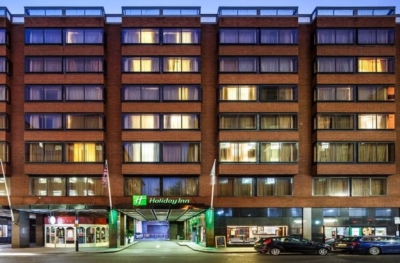 50,000 points per night is a great deal for a hotel which has the perfect location, almost opposite The Ritz.  The rooms are very large, by London standards, with some having two double beds.  The rooms have not been refurbished since the mid 1980's based on my last visit but I would trade that off for the location and space.  Website.  IHG rating: 4.2.
At 55,000 points, there is now a noticeable gap between this hotel and InterContinental Park Lane and Kimpton Fitzroy at 70,000 points.   Whilst the location is pretty dead at weekends, being just a few minutes walk from Tate Modern and St Paul's is not bad.  The rooms are bigger than the tiny ones at Kimpton Fitzroy whilst the location is better than InterContinental London O2.  IHG rating: 4.5
This is a very nice hotel indeed, with an excellent pool too.  The only issue is the odd location, directly behind the O2 Arena.  At 45,000 points it is EXCEPTIONAL value when you consider that the Holiday Inn Express at Victoria is 40,000 points.  It is also worth pointing out that the Jubilee Line extension – the newest part of the system – moves a lot faster than most tube lines and the trip into Bond Street or Green Park is surprisingly quick.  I reviewed the InterContinental O2 here.  IHG rating: 4.7
These are the four 'high end' hotels in the portfolio – don't be fooled by any of the other Crowne Plaza properties.  In 2016 we reviewed, back to back, Park Lane and the O2.  O2 is a nicer hotel, by a long way – including an excellent pool – but you need to be happy with the location.  Park Lane, despite the £75m refurbishment a few years ago, has uninspiring rooms.  Kimpton Fitzroy had an £80m refurbishment recently and looks amazing, but the standard rooms are small – see our Kimpton Fitzroy review here.  Kimpton Fitzroy is 70,000 points per night.  Park Lane is 70,000 points per night (IHG rating 4.4).  Crowne Plaza The City is 55,000 points (IHG rating 4.5).  InterContinental London O2 is 45,000 points. (IHG rating 4.7).
You pass this hotel, in a row of converted houses, on the drive out to Heathrow.  Sitting, as it does, near an easyHotel and similar places, you might think it is dreadful.  It isn't.  Following a huge refurbishment it has incredibly nice interiors and – amazingly – a huge garden.  It will set you back 55,000 points per night though.  I reviewed it here.  Website.  IHG rating: 4.6
We had our two Head for Points reader parties here in 2018.  At 45,000 points per night, this hotel does not score well on a 'quality per point' basis, especially compared to the InterContinental O2 at the same price.   It has a funky new lobby but the standard rooms are basic – although you can often get the impressive Penthouse Studios on points.  What I like about it – and my brother stays here sometimes with his family – is that you are directly overlooking Camden Market with its literally hundreds of food and merchandise stalls.  To be able to walk out of the hotel and be in the market within 30 seconds via a bridge over the canal is quite cool.  Others may find it a bit too 'lively' in the evenings, however.  Some redemption rooms have two double beds.  Website.  IHG rating: 4.6
At 40,000 points per night, this hotel – very close to Earls Court tube (forget the Kensington name) – is a not a bad deal, although Holiday Inn Mayfair would be better on a pure location basis.  Why pay 40,000 for a Holiday Inn Express in Victoria when you can have this?  Room sizes can be quirky as you'd expect from converted Victorian housing but the hotel is fairly new and the Indigo brand is modern.  You even get a free soft drinks mini-bar.  Website.  IHG rating: 4.6
At 40,000 points per night, this fully refurbished Holiday Inn should be OK.  It also has a pool.  The location is a bit out of the way, however, and calling it 'Kings Cross' is a bit optimistic although it is walkable if you don't have luggage.  I've not been inside but feedback from HFP readers is generally positive although rooms are small.  Website.  IHG rating: 4.1.
Whilst no longer the bargain of 15,000 points, it is still good value compared to other options at 25,000 points per night. It is directly opposite Colliers Wood tube station on the Northern Line.  Website.  IHG rating: 4.1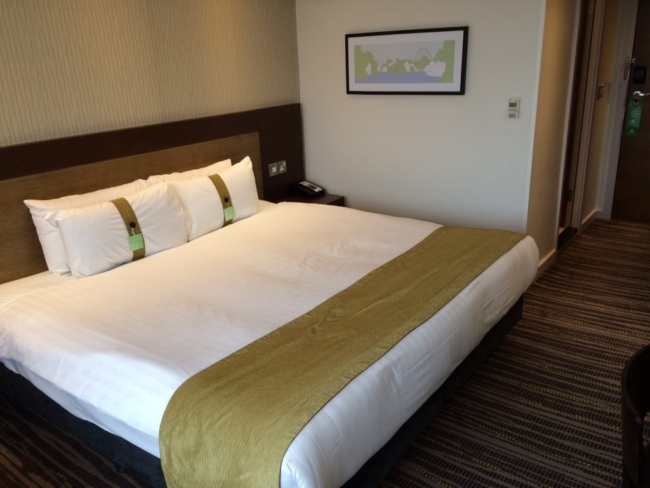 Whilst the cost has gone up in recent years to 30,000 points (five years ago it was 10,000 points), this hotel still has a lot going for it.  You are looking at a tube ride into Central London each day but, once back at night, you have a refurbished room, a pool and a cinema / leisure / outlet complex directly opposite.  Website.  IHG rating: 4.2
At 35,000 points, in the shopping centre next to the Olympic Park, this is a modern hotel which is exceptionally well connected to central London.  I reviewed Holiday Inn Stratford City here.  Website.  There is a Staybridge Suites above it for an extra 5,000 points.  IHG rating: 4.6
35,000 points per night is a decent deal for a very modern hotel – it is only a couple of years old.  The East End location is a bit odd but OK if you want to explore Shoreditch etc.  Website.  IHG rating: 4.6
These are brand new hotels which I reviewed here – they are very nice.  You're out at Heathrow, of course, but you could take the tube in each day.  The hotels are attached to the terminal so no shuttle bus is required.  The Crowne Plaza is 30,000 points whilst the Holiday Inn Express is 20,000 points.  CP website, IHG rating: 4.5.  HIX website, IHG rating 4.6
This is a new hotel and is just 20,000 points per night.  As a HIX you will receive free breakfast.  I reviewed it here because it was a pilot for the new style of HIX design – and I was impressed.  This is probably the best value hotel in Central London if you are low on points but you need to be in good shape as it is quite a walk to the nearest station, and the 'pound shops' surrounding the hotel are not inspiring.  Website.  IHG rating: 4.7
If you have any other suggestions for London redemptions, please let me know in the comments below.  Suggestions for the worst value redemption are also welcome ….
---
IHG One Rewards update – December 2023:
Get bonus points: Our article on IHG's current bonus promotion is here. You will receive 2,000 bonus points for every two cash nights you stay until 31st December. Nights do not need to be consecutive. Click here to register.
New to IHG One Rewards? Read our overview of IHG One Rewards here and our article on points expiry rules here. Our article on 'What are IHG One Rewards points worth?' is here.
Buy points: If you need additional IHG One Rewards points, you can buy them here.
IHG is offering a 100% bonus (some members may be offered less) when you buy points by 30th December 2023. Click here to buy.
Want to earn more hotel points? Click here to see our complete list of promotions from IHG and the other major hotel chains or use the 'Hotel Offers' link in the menu bar at the top of the page.