Review: the new Emirates First Class suite on a Boeing 777-300ER (Part 2)
Links on Head for Points may pay us an affiliate commission. A list of partners is here.
This is the 2nd part of my review of the Emirates First Class suite on a Boeing 777-300ER.
Part 1 of my Emirates First Class Suite review, which ran on Tuesday and which you can find here, talks about how I managed to book this 'unbookable' redemption and what it cost. Today I want to look at the suite. In part 3 tomorrow I will look at the food and IFE.
You can take a look at the official website for the new suite here.
The new Emirates First Class Suite
I ran a few PR pictures of the suite in Part 1. Here are a couple more, which give a far better view than my shots ever will.
The project is billed as co-operation with Mercedes, with the suites 'influenced' by the design and materials used on the S-Class.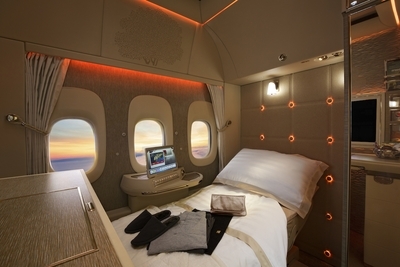 It is a 1-1-1 layout, with just six suites in total (there are currently eight seats in First Class on a 777 so, whilst this is a step up, the new suites are not Etihad-style huge).
The trade off for getting all this, apart from having to fly to/from Stansted, is that the Boeing 777 fleet does not have an on-board bar or a shower – you will need to pick an A380 route if you want those. (For comparison, my review of the Emirates A380 First Class seat and shower from 2017 is here. Do check out the in-shower action in the video …..)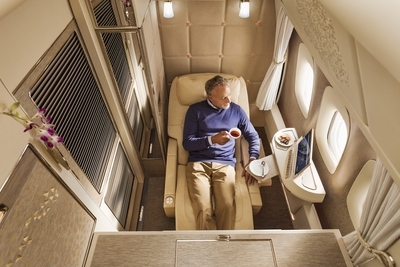 What you can't do with the new layout is form a double bed with your partner. If you travel with someone else, you will each be in your individual suites separated by your 'floor to ceiling' walls and door ….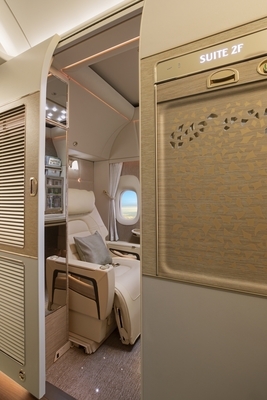 A reader called Alan sent me this impressive 'fish eye' photo that he took when he flew the suite and does a good job of fitting it all in (click to enlarge):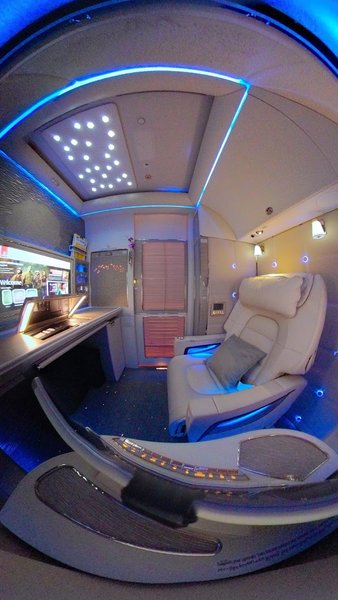 Let's take a look at some real photos. This is possibly the coolest thing about the whole set-up (click to enlarge):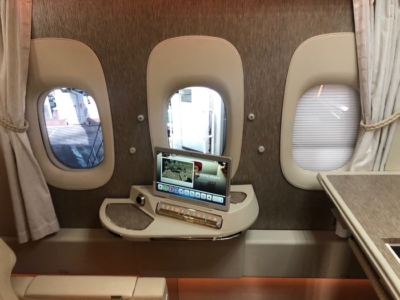 Look through the windows in the picture above, taken just before takeoff. You can see the walkway positioned outside the plane. Except …. this is a MIDDLE suite in the 1-1-1 layout. The three 'windows' are actually three TV screens. There is a camera filming the view from the side of the aircraft and displaying it on fake 'windows' in the middle two suites. There are even blinds on the fake windows as you can see on the right.
It is just so loopy you can't help but be impressed. You won't see anything more bizarre on a mainstream aircraft anytime soon.
My Emirates First Class Suite, 1K
I wasn't in a middle suite. I had 1K, right at the front with a real window: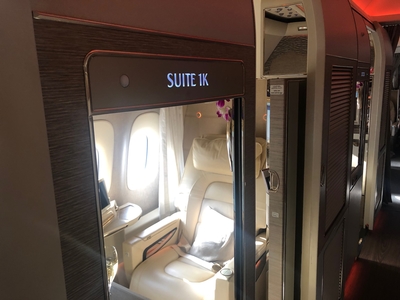 This was a MASSIVE mistake. Directly outside your suite are the crew seats. There were two crew members sat on these seats for much of the flight. They talked … and they talked … and they talked. On and on and on.
There is nothing I don't know now about their personal lives, the working condition of Emirates crew, what you do if you find a couple getting, ahem, over-excited in one of the suites or the career plans of the two women. It was very painful to sit through. Five minutes would have been OK but I had it for literally HOURS during the eight hour flight back. I was eventually forced to watch some IFE, which I rarely do, just to block out their voices.
There was one other problem about 1K, and about the suites in general, pre departure. The plane boarded Business and First Class passengers from the front set of doors. This meant that there was a lot of traffic, much of it curious, by my suite as the Business Class passengers came through.
The seat itself is fairly traditional although you quickly notice that the leather is of the highest quality.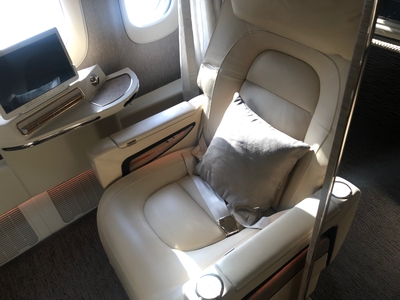 Note the iPad sized console which you can use to watch TV if you don't want to use the huge 32 inch screen in front of you. It also acts as a video phone if you want to call the crew.
Then it gets a bit odd. You get binoculars: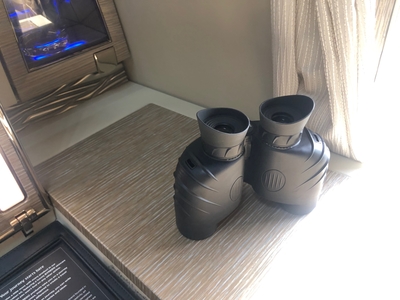 … your own flower: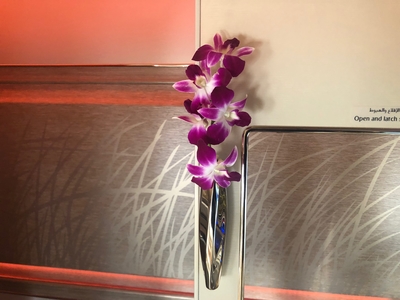 … and a very eclectic set of toiletries from a brand I didn't know, Byredo, which wasn't stuff I actually wanted – facial toner spray? I'm not sure what happened to the Bulgari amenities promised when the suite was launched (EDIT: comments below suggest the Bulgari amenity kits are still available on overnight flights).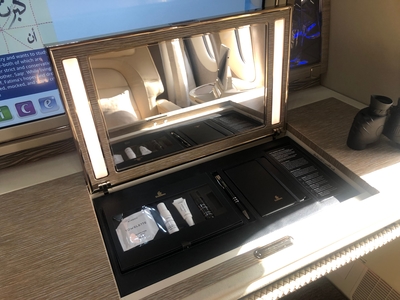 The usual selection of snacks: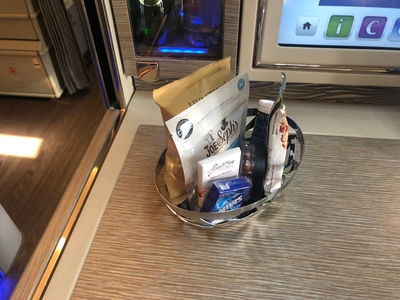 There are no overhead lockers in First Class. My bag went into this cupboard.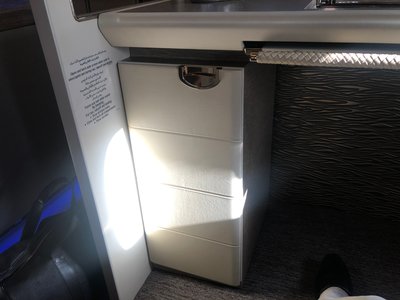 There is also a wardrobe by the seat: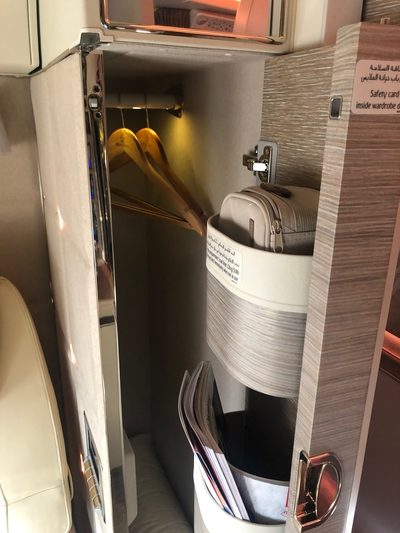 This shot gives you a better impression of what you see in front of you from the seat. Note the huge TV, the decoration on the back wall and the mini bar to the side of TV.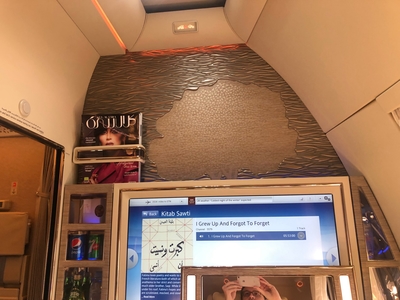 To the left in the image above is a serving hatch. It is open in the picture. If you close the door of your suite, the crew will pass your meal to you through the hatch!
It is all completely bonkers, of course. Here I am settled in with a glass of Dom Perignon 2009 (a reassuringly expensive £120 per bottle) which was available on free flow throughout the flight: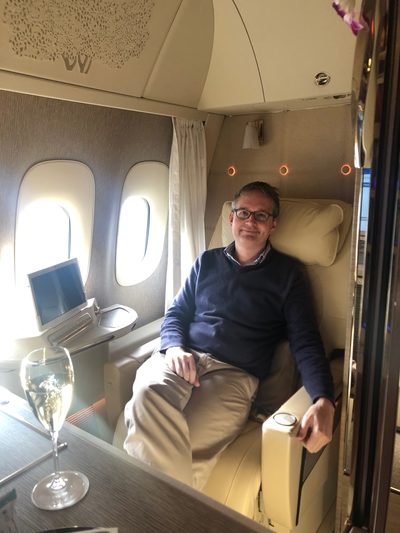 If you look by the seat, you'll see that the windows have curtains you can pull across. You have the automatic blinds but Emirates clearly decided that additional curtains added a homely touch.
Emirate First Class Suite in video
I made a short video of the flight. This will show you how the door and blinds close, amongst other things! Luckily it doesn't include any commentary from the two over-chatty crew members …..
If you don't see the video below, click here to visit our YouTube page. You can also subscribe to our channel via that page.
To be continued ….
In the final part of my review of the Emirates First Class Suite on the Boeing 777-300ER which is here, I will look at the food and drink available. We're talking £790 bottles of cognac and £250 bottle of wine – and those are shop prices, not restaurant prices.
You can find out more about the Emirates First Class product on the new 777 fleet on their website here. There is also an official video on that page.
---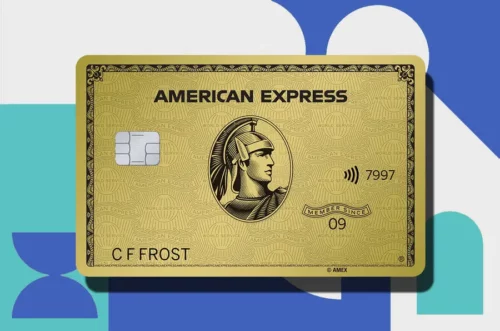 How to earn Emirates Skywards miles from UK credit cards (September 2023)
Emirates Skywards does not have a UK credit card. However, you can earn Emirates Skywards miles by converting Membership Rewards points earned from selected UK American Express cards.
Cards earning Membership Rewards points include:
Membership Rewards points convert at 1:1 into Emirates Skywards miles which is an attractive rate. The cards above all earn 1 Membership Rewards point per £1 spent on your card, which converts to 1 Emirates Skywards mile. The Gold card earns double points (2 per £1) on all flights you charge to it.