£250 wine, £790 cognac – part 3 of my review of Emirates First Class suite on a Boeing 777-300ER
Links on Head for Points may pay us an affiliate commission. A list of partners is here.
This is the final part of my review of the Emirates First Class Suite on a Boeing 777-300ER.
Part 1 of my Emirates First Class Suite review, which you can find here, talks about how I managed to book this 'unbookable' redemption and what it cost.
Part 2 of my Emirates First Class Suite review, which you can find here, looks at what you will find inside your First Class Suite.
Today I want to look at the food, drink and IFE. You can take a look at the official website for the new suite here.
Wi-Fi and IFE in Emirates First Class
Emirates has a complex series of wi-fi payment options which you can find here.
However, the bottom line is simple – if you are in Business Class or First Class, and you are an Emirates Skywards member, wi-fi is free. Even base level members get free wi-fi.
Whilst you may think "and so it should be", the truth is that very few airlines offer free wi-fi in premium cabins. There is some logic to this, as if people use it heavily then the signal will be weak, but it still annoys me.
The signal strength on my flight was excellent. These are new aircraft and presumably have the latest technology installed. I have never done so much work on a flight as I did here, although there are obviously downsides to that!
In terms of sockets, the suite has the usual minimum you would expect: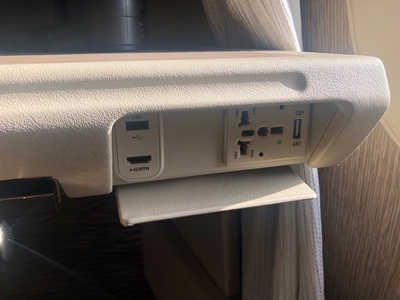 Turning to IFE, Emirates claims that its ICE system has the biggest selection in the world. Full details are on their website here.
This is clearly true but it is not the whole truth. Unlike BA where the vast majority of content is in English, Emirates covers all the language bases across its global route network. English-language content does not dominate.
There may be 4,000 'channels' on the system – a film counts as one channel, an album of music would also be one channel – but the two films I wanted to finish off from recent non-Emirates flights, Tinker Tailor Soldier Spy and The Talented Mr Ripley, were not there. These are not recent films, of course, but you'd expect them to creep into a list of 4,000 options if it was all in English. You will find something to watch but it's not Netflix.
What I should say is that the Bowers & Wilkins noise cancelling headphones, which are an exclusive Emirates model, were excellent. They feel genuinely luxurious and had great sound quality.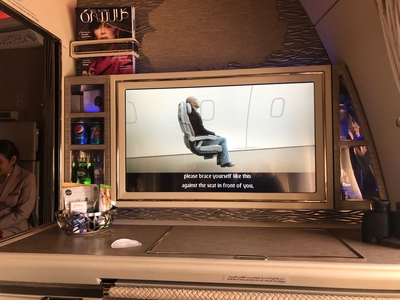 Emirates First Class food and drink
Emirates doesn't mess about with its food and certainly not with its drink. In Part 2 I was sipping Dom Perignon 2009 for take off, which I continued to drink throughout the flight.
Wine, beer, cocktails, spirits …. Emirates has a lot to offer and all of good, often exceptional, quality. The spirits list includes Johnnie Walker Blue Label, The Dalmore King Alexander III single malt (£175) and Chivas Regal Royal Salute 21 Years Old whisky, for example. There is also Hennessy Paradis cognac (£790 per bottle, I should probably have tried it!) and Tesseron Cognac Lot 29 XO Exception (£495 per bottle).
Emirates also has an unrivalled wine cellar with an astonishing 4.7 million bottles sitting in a facility in Burgundy.
To pick one at random, for example, my flight included a Chateau Haut-Brion Graves from 2004 which sells for around £250 per bottle. Perhaps I shouldn't have stuck with the Dom Perignon, but it was still fairly early in the day.
If you are a serious wine buff on a limited budget then a trip in Emirates First Class is basically your dream come true, apart from the taste impact of altitude.
The Emirates First Class lunch
Let's take a look at the food. We started with a canape plate of sweet potato tartlet, houmous with lamb baharat and smoked salmon crepe parmentier with poached pear. These were designed to pair with the Dom Perignon.
Appetisers consisted of caviar plus a few boring options, all of which would have been a waste when caviar was also available.
We're talking tomato soup, beef consomme, a mezze plate, cold-smoked ocean trout, roasted beef carpaccio and a seasonal salad made to your specifications. I'm sure it was all great but it seemed a shame not to have caviar. Only once in my life, I think, have I had a full portion of caviar like this on the ground as opposed to in the air.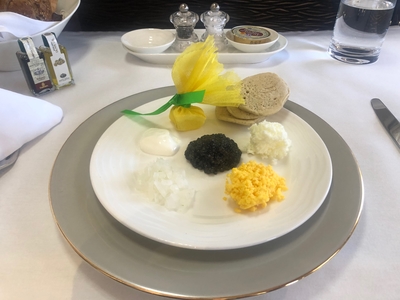 When it came to main courses I took a conservative option which was a bit dull in retrospect. Options were:
pan-fried beef fillet steak, served with beef jus, creamy mashed potatoes and seasonal vegetables (would have gone down well with the £250 per bottle Haut-Brion ….)
roasted lemon chicken with chimichurri, barley risotto with tomato and olives, baked potatoes and steamed broccoli (see photo below, my choice)
prawn machbous, prawns marinated in a traditional Emirati spice blend, served on fragrant rice
wild mushroom and ricotta ravioli, with creamy mushroom sauce and sauteed vegetables
chicken with Moroccan spices, served with tomato and lemon salsa, steamed broccolini and moghrabieh with olives
pan-fried beef tenderloin with emmental and caramelised onion marmalade in focaccia, served with coleslaw and potato crisps
Side dishes included roasted new potatoes, sweet potato mash with onions, blanched baby carrots with green beans and steamed basmati rice.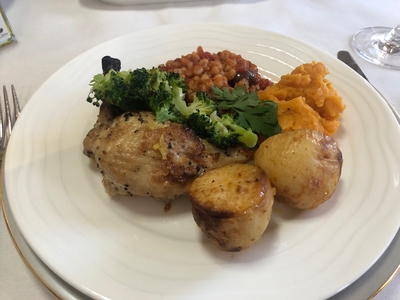 Desserts were relatively unambitious, with a plum cake, raspberry pistachio feuilletine (see below), Arabic pastries and seasonal fruit.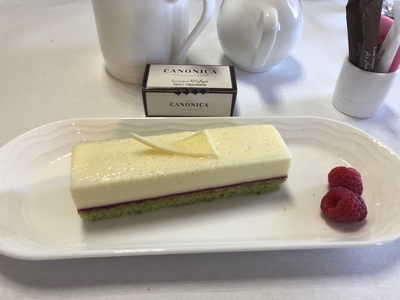 If you are a cheese person there was a cheese board with six options to try.
There was no formal second meal service, although the menu listed a number of 'on demand' light bites, both hot and cold, which were available. Having had a decent breakfast in the lounge then lunch, I didn't feel the need for anything else.
And finally …..
And finally, since this part of the article doesn't really give a proper feel for how bonkers the First Class Suite is (in a good way), this is what pops up on your TV screen after landing: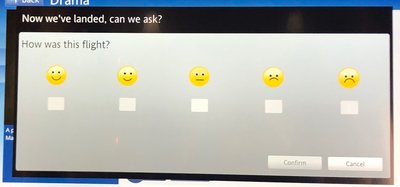 Madness or genius …. you really can't tell.
Landing at London Stansted
It is a l-o-n-g time since I flew through London Stansted. It must easily be 13 years as it would have been before Ryanair dropped their Luebeck service.
Landing at 13.20 on a Thursday, it wasn't a busy period although we did have to take the train to the main building.
I arrived at passport control to find the usual egates and a 'premium' egate line with no queue. It wasn't clear who this was for – no-one had mentioned it to me – but as I joined the main line I heard the martial tell someone else it was for Emirates premium passengers. I left the normal line, went through the premium line and, with no queue and no baggage to collect, was in the arrivals hall within a couple of minutes.
There was a meeting point in the hall for Emirates chauffeur car passengers. The airline has just announced the cancellation of free chauffeur cars on Business and First Class reward tickets, but if you book your ticket AND your car before 1st March you will still get one irrespective of flight date. It remains a perk on cash tickets.
It was a surprisingly clear drive to West London and I was home within 70 minutes of getting into the car.
Here's another plug for our Emirates First Class Suite video
This is the video which I also inserted into Part 2 and gives you, in 160 seconds, a pretty good feel for the new Emirates First Class Suite.
If you don't see the video below, click here to visit our YouTube page. You can also subscribe to our channel via that page.
Conclusion
The Emirates First Class Suite is a great product. It isn't clear if it is just a gimmick or not, since there are no firm plans at the moment to roll it out beyond these nine Boeing 777-300ER aircraft, but if it is a gimmick it is a hugely expensive one.
Even without the new suite, Emirates First Class still gets you access to the best wines and spirits you'll ever see on an aircraft. It is a shame that the experience is a little uneven, with the dull First Class Lounge in Dubai's Concourse B losing it points. The loss of the chauffeur car on redemptions is also a disappointment given the out-of-line taxes and charges added by Emirates.
If you are into luxury travel then you really need to add this to your bucket list. With reward seats only opening up three days in advance, and the outbound flight from Stansted being overnight and so best avoided, you will need to get down to Dubai and hope a return seat pops up.
85,000 Emirates Skywards miles, which would convert from 85,000 American Express Membership Rewards points, plus £321 of taxes and charges for the one-way flight isn't cheap.
Of course, a one-way Avios First Class seat on British Airways on a peak date is 80,000 Avios plus £191 and hardly compares. If you value your Membership Rewards points at 1p each and add in the £321 of taxes it gives you a "cost" for the Emirates flight of £1,171. That is a deal for a unique experience like this.
You can find out more about Emirates First Class on its website here.
---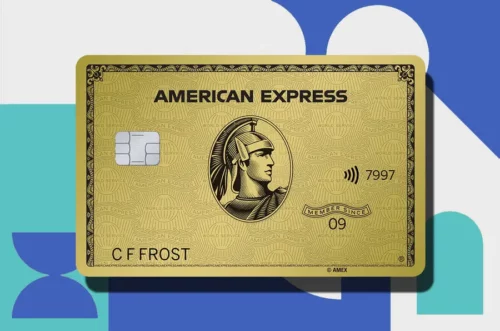 How to earn Emirates Skywards miles from UK credit cards (October 2023)
Emirates Skywards does not have a UK credit card. However, you can earn Emirates Skywards miles by converting Membership Rewards points earned from selected UK American Express cards.
Cards earning Membership Rewards points include:
Membership Rewards points convert at 1:1 into Emirates Skywards miles which is an attractive rate. The cards above all earn 1 Membership Rewards point per £1 spent on your card, which converts to 1 Emirates Skywards mile. The Gold card earns double points (2 per £1) on all flights you charge to it.