We review LNER's new Azuma trains – how is the ride? (Part 1)
Links on Head for Points may pay us an affiliate commission. A list of partners is here.
This is our review of LNER's new Azuma trains, launched this week and now running on the East Coast mainline.
HfP is not just about planes. We know that our readers also let the train take the strain at times.
We were invited on Wednesday's inaugural service of the new Azuma trains that are entering service with LNER, officially London North Eastern Railway (formerly Virgin Trains East Coast). As the second most important intercity line in the UK, we thought you'd be interested.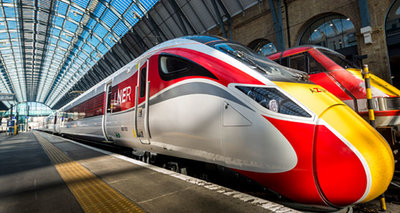 With my daughter at university in Leeds, this seemed like an excellent opportunity for a day trip to visit her and bring her some stuff from home she had asked for.
This is a historic moment for the East Coast mainline, since the trains that the new Azuma fleet is replacing are over 30 years old. The train technology is the same as the new Intercity Express Trains that have been running on the Great Western Railway since 2017 and similar to the Javelin trains on the High Speed 1 routes to and from East Kent. The Azuma trains are manufactured by Japanese train-maker Hitachi and assembled in County Durham.
The launch has not been without its issues: these trains were originally meant to launch in December but had to be postponed due to signalling interference.
The train operators, Great Western and LNER, also inherited Government-written plans for the number and type of seats which they could not change, even though they are the ones who will take the flak from passengers. If a camel is a horse designed by a Government committee, what could we expect from a Government-specified high speed train?
One benefit of LNER being 'second' to get the Azuma fleeet is that the initial teething problems which hit GWR are unlikely to be replicated. The downside is that the trains have already accumulated some excess baggage, primarily complaints about the comfort and size of the First Class seats.
Despite all this, there was much excitement that the launch day had finally come. Azuma, (the name is Japanese for 'East') was set for its full-service maiden journey.
The Azuma launch event
The launch event began at Kings Cross. All guests of LNER were invited to collect their tickets from The Parcel Yard pub. The pub's vintage décor was complimented by charmingly old-fashioned crockery and original Thomas Crapper lavatories and sinks to marvel at.
I spotted a sign to the Azuma First Class Lounge next to Little Waitrose, just along from platform 9 ¾. We have reviewed this lounge on HFP before – Anika was the last person to review the LNER lounge here – and those travelling on premium Azuma tickets will be able to relax in relative peace and comfort. Our group did not go inside but I assume that it has still not had a makeover from the Virgin East Coast days.
Click on any image to enlarge:.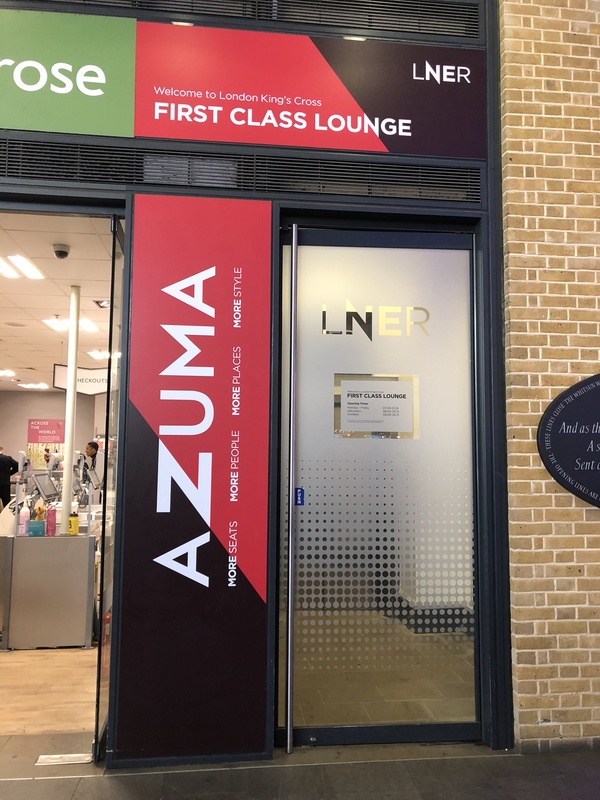 The Parcel Yard 'waiting room' quickly filled with guests, and at 10.15 we were invited down to platform 8 to see the Azuma pull into the station. It certainly has a more visually impressive profile than the '225' fleet it is replacing.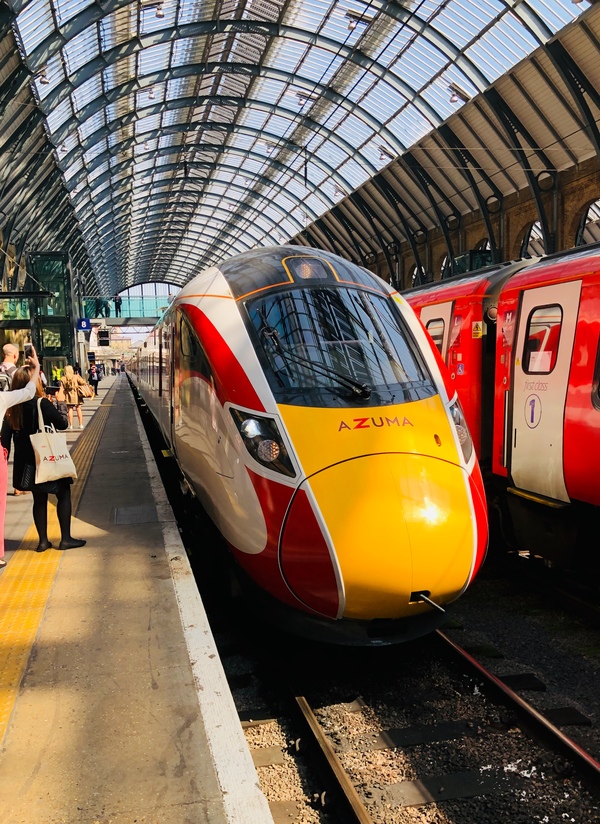 A lively brass band was on hand as all the guests and train enthusiasts waited for the moment when Azuma would glide down the platform for the first time.
LNER's Managing Director David Horne gave a speech, telling us a little about the history of the trains. In total, 65 train sets will be delivered, each of which will provide additional seating capacity compared to the current trains. Better acceleration will also result in shorter journey times.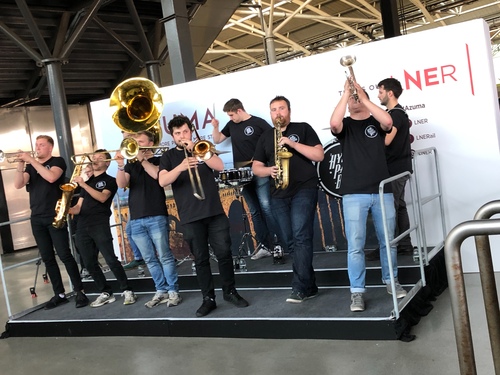 David went on to recognise the team behind the new service including Hitachi, the Department for Transport (who paid for the trains, making it easier to swap franchise holders mid-life), Agility and the staff at LNER. This has been a five year project, including six months to extensively test the trains and the new service. He then invited us all on this inaugural service to enjoy the new Azuma experience.
Without further ado, we all set about finding our way to our respective carriages and seats, guided by the state-of-art electronic reservation displays.
Standard Class on LNER's Azuma fleet
Here is a PR picture of Azuma Standard Class: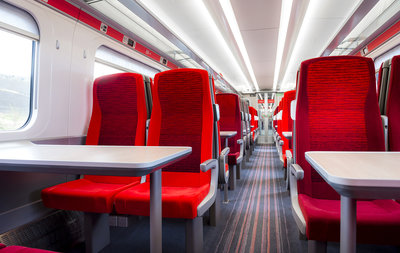 …. and this is how it looks in the flesh: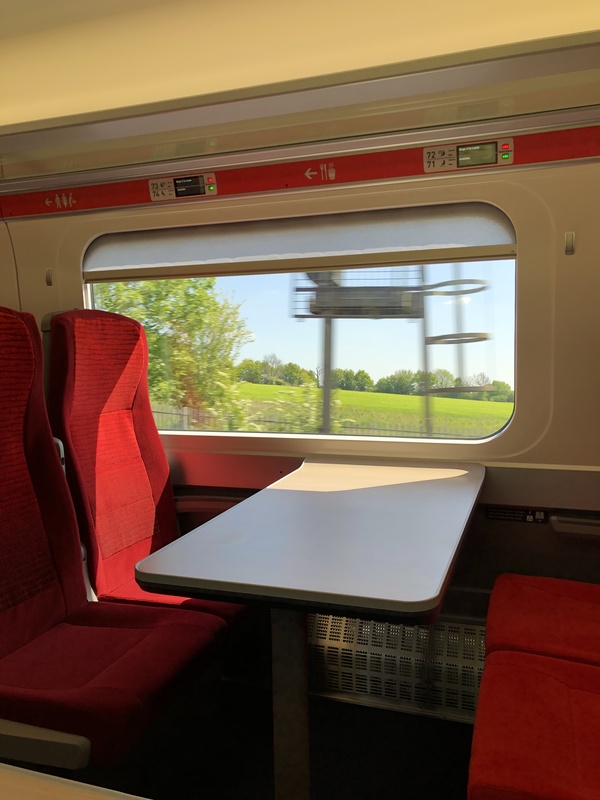 On boarding the train, I was struck by the size of the carriages and impressed by the spaciousness of the train overall. My (Standard Class) seat was in carriage J but I was disappointed to find it was adjacent to a join in the windows affording a very poor view of the outside world. The seats are not designed to align with the windows and regular travellers will soon start noting their preferred ones.
Luckily there were plenty of free seats in the carriage, so I found a lovely table arrangement and chose a forward-facing seat with a fantastic view – once we left London – from a crystal-clear window. I settled into the seat and were soon on our way.
Despite the 'fanfare' about the train's acceleration, I can't say it was particularly striking – at least not compared to a Japanese Shinkansen bullet train which, in my experience, takes your breath away as it pulls away from each station. That said, it was very smooth and quiet and made for a very pleasant journey.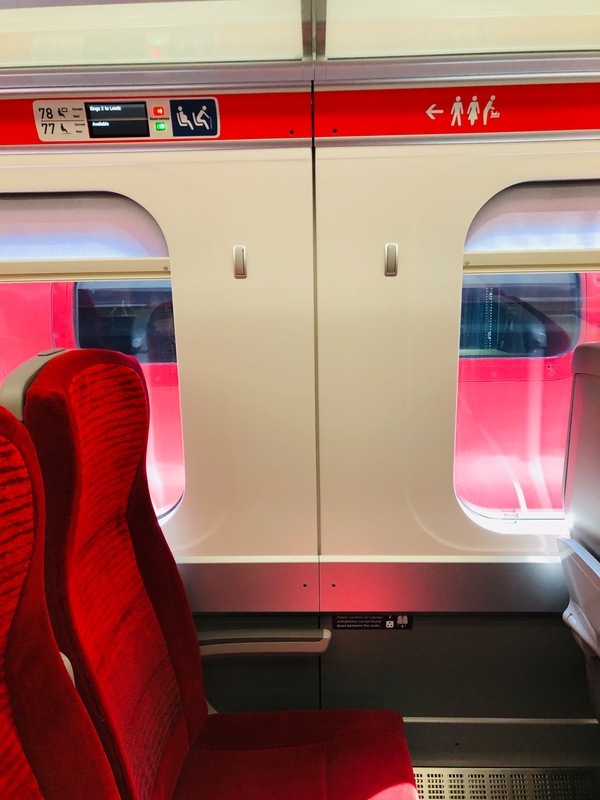 Being brand new and quite thin – the Department for Transport has been taking lessons from the airlines – the seats felt very firm. I hope they will soften up over time, and the initial complaints online from GWR passengers appear to have dropped off. They are spacious, well appointed and upholstered in an attractive and vibrant red theme.
Like most long distance trains, the seats were four across with a central aisle. Each seat is served with its own three pin power socket.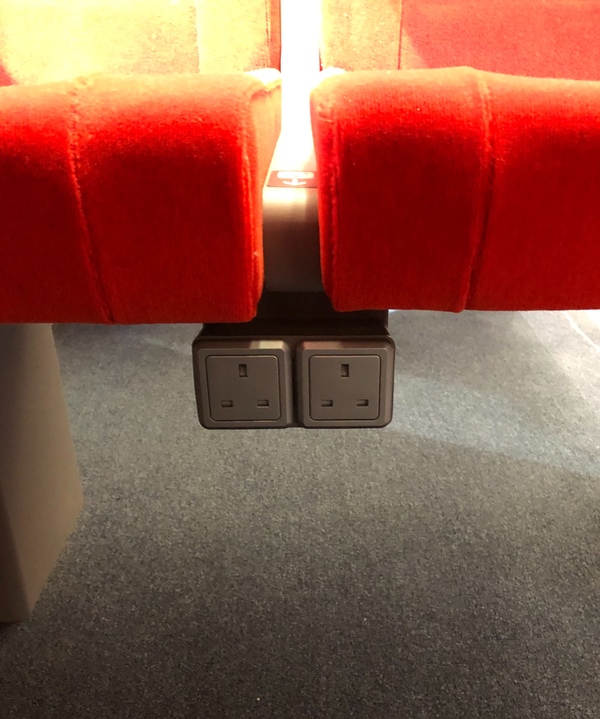 Each seat also has a coat hook – some on the walls between the windows, and for aisle seats positioned between each pair. Another impressive feature are the window blinds that can be manually adjusted up and down, covering about 5/6 of the window when fully deployed. These are perfect for sunny mornings or evenings when you don't want to be blinded by the low sun!
The lack of clear signage was one of the major criticisms of the identical GWR trains when first launched. There are no such problems with the LNER trains with regular signs indicating which way to turn to find the cafe/bar as well as the nearest loos. Seat maps at the start of each carriage are also a nice touch.
There is a significant amount of space available for luggage and other belongings at both ends of the carriage, as well overhead. The overhead luggage shelf is constructed with clear toughened glass so you can easily see your baggage.
Hopefully this will reduce the incidents of people leaving random items on board. It might also help dissuade the practice of standing on the seats (guilty) by short people like me to check the overhead storage compartment. A win for both passengers and those concerned with keeping the train looking nice!
In addition to the cafe/bar on board, a regular food trolley services the carriages. LNER is particularly proud of the food offering on the trains and has been sourcing locally produced ingredients for their all new menus.
As is usual on trains nowadays, WiFi is freely available. It is fast enough for checking emails and basic browsing but unable to stream video. The Azuma website does advise that you download any content that you may want to access during your journey before you travel.
Part 2 of our Azuma review, which covers their loyalty efforts and First Class seating, is also published today and can be read here.