What is the future of business class and premium economy (including my BBC TV interview)?
Links on Head for Points may pay us an affiliate commission. A list of partners is here.
As I mentioned the other day, I appeared on 'Talking Business with Aaron Heselhurst' for BBC World News earlier this week.
We were talking about the future of business class in the light of the new British Airways and Virgin Atlantic seat launches.
You can see the interview below. It is only six minutes long, and you get the fun of watching me cope – on live TV – with incorrect photographs being shown of the seats I am trying to discuss! If you think any of it was pre-planned in detail, it wasn't. Aaron and I chatted for about 30 seconds before the show and that was it, although we had agreed a broad outline with the producer.

There were two themes I wanted to draw out in the interview:
that we may be reaching 'peak business class', with airlines running out of ways to make their seats better, and
that premium economy will be the next battle ground, because at the moment airlines are taking passengers for a ride given the steep premium over Economy for very little extra benefit
As I couldn't talk about everything in six minutes, I thought I would expand on my ideas in this article.
Have we reached 'peak business class'?
This all comes back, I suppose, to the Qatar Airways Qsuite and the fabled door. It is hard to underestimate how impressive we found this three years ago and – to be fair – how impressed we were in March when we found out that BA has created its own version. (Here is my first look at the British Airways Club Suite.)
Qsuite is the seat which, in the interview, I call the best on the market.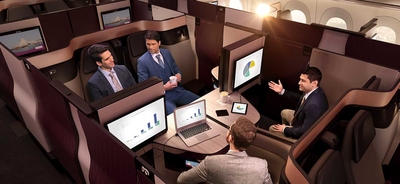 Overall, taking into account the high quality of Qatar Airways food and the number of aircraft it will go on, I meant what I said. Other products impress me as well – look out for my Oman Air Boeing 787-9 review next week – but these are usually only on a handful of planes. Qsuite is now on close to 50 aircraft and there are more to come.
Is the door a gimmick?
Fly the new Emirates First Class Suite on the Boeing 777-300ER and you have a real door as this picture shows: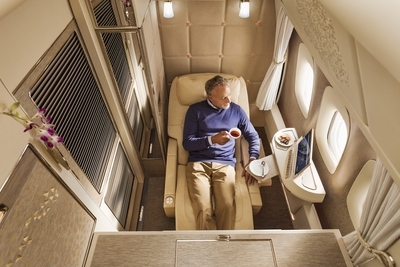 My review of the Emirates First Class Suite on the 777-300 is here if you want to know what it is like. You can have your food passed through a hatch if you want, like a 1970's kitchen.
Qsuite, and BA's Club Suite, have doors that are 3-4 feet high. They get in the way of cabin crew service and anyone walking down the aisle can see you as clearly as ever. Here is the best image so far of Club Suite: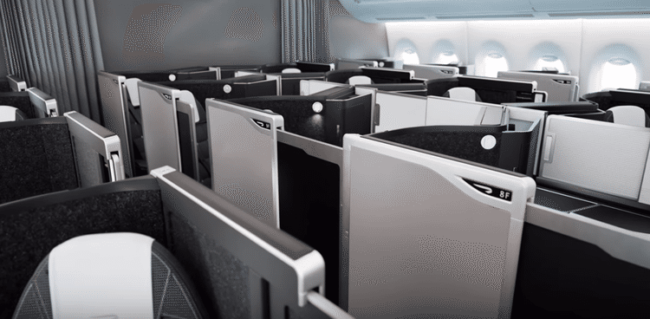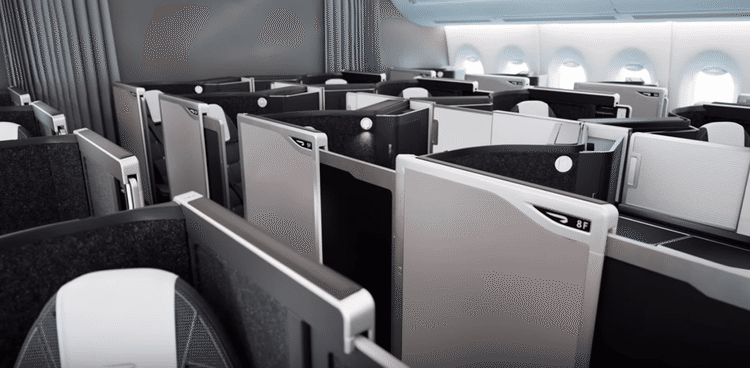 Are they a great marketing gimmick? Absolutely. I'd love to know what the team at Virgin Atlantic said when they first saw Club Suite. It took the shine off the Virgin Atlantic 'half a door' which they are launching as Upper Class on the new A350 (see our first thoughts here), although you would be foolish to write off the new Virgin seat in comparison.
Once people try it, I think they will like it, especially the warm seat and cabin colour scheme – and don't forget 'The Loft' social space. This is the new Upper Class Suite: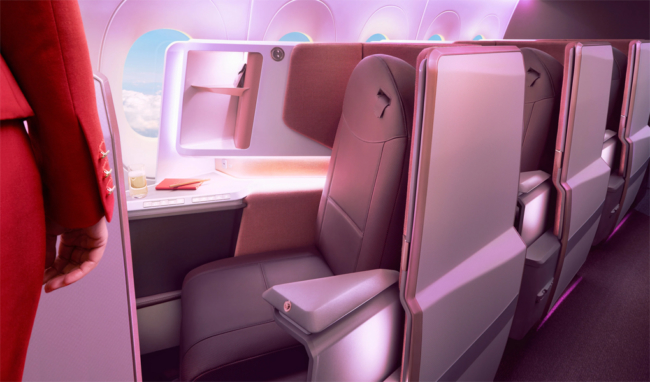 There are issues with doors. If you are travelling in a group, Qatar Airways can remove internal partitions from Qsuite to create a private space for two or four. BA cannot.
Club Suite looks like it may not be too great if you are travelling with your partner. As well as high-sided seats, the partition you can open between adjacent seats appears to be only about 15cm wide – far smaller than the current one which must be nearer 60cm. If you have young children to manage I don't know what you would do.
The dirty secret about Club World is that, whilst it is disliked by the people who buy hugely expensive fully flexible tickets, it is probably the best business class layout in the world for anyone who wants to fly with young children. The lack of privacy means you can see them at all times and if you have two children they fit nicely into the 'double bed' in the middle block – unless you're on a Boeing 787 where it is 2-3-2.

Has British Airways made an error by creating a seat which may not appeal to families or couples? Increasing wealth amongst the richest 5% in the UK and US is a boon for premium cabins, with more people – especially retirees – willing and able to pay for business class during sales.
Doors are not going away, at least just yet. At Aircraft Interiors Expo in Hamburg last month, every seat manufacturer was showing off concept seats with doors. Even Recaro, which is best known for its super thin economy seating, has developed a business class seat with a door. If this is a bubble, it is one which will take a while to burst.
Where does business class go next?
Space on aircraft costs money. This is the unavoidable fact.
The genius of the 'cubby hole' business class seat is that you create a lot of extra personal space for the modest trade-off of putting your feet into a hole.
This is the model now adopted by virtually everyone, including British Airways and Virgin Atlantic on their new A350 seats. This idea has won the war, which is a shame for passengers who simply don't like having their feet squeezed in.
As I said in the interview, the pendulum may be about to swing back in terms of 'soft' benefits.
In recent years we have seen airlines cutting back on business class benefits left, right and centre even though the seats are better. Chauffeur cars have been cut. Wine lists have been downgraded. Menus have been thinned out. Amenity kits have been shrunk and often removed entirely from day flights.
Airline cost bases are at the mercy of:
the finance or lease costs for their aircraft
their crewing costs (with international rules dictating the number of crew required) and
oil prices
With such a huge percentage of your cost base fixed, you have two choices as an airline CEO. One view is that you don't waste time chopping passenger benefits – because the saving is pitiful when compared to three cost items above – or else you go all out to wreck the passenger experience, a la British Airways circa 2017.
If I were a CEO and so much of my cost base was outside my control, I wouldn't even waste my time looking at the savings from switching to £5 bottles of wine or stripping out courses from the menu. You save less than the impact of a $1 move in the oil price. Yet CEOs do it, because they want to be seen to be doing something to keep shareholders happy, even if that means alienating customers.
It is possible that the industry wakes up and we see the soft product moving in line with the improved hard product. Fingers crossed that Do&Co's new catering contract with British Airways – to be delivered from a huge plant currently under construction outside Terminal 4 – represents a genuine step forward. If you want impressive airline food, Do&Co are the people you call.
Is premium economy the new battleground?
I didn't know that this would come up during the interview, but it did. My view is that premium economy will become the new battleground.
In essence, I think a lot of airlines have been taking passengers for fools with their premium economy cabins. They know that employers who have cut business class travel are still prepared to pay for something better than basic economy.
Airlines without premium economy – which primarily means the 'Middle East 3' – are leaving money on the table as passengers are forced to fly economy even though their budget would allow premium economy.
What have the airlines given us? Seats which are a few inches wider, with a TV a few inches wider and with a few inches more legroom. You will often get an economy meal but with a better quality main course, and the same 2nd meal as Economy. For this, you're expected to pay at least double what an economy ticket would cost.
Is premium economy pricing really so stark?
Yes, much of the time.
Look at British Airways to New York. BA's Low Fare Finder – click here – shows £277 as the cheapest World Traveller fare currently available over the next 355 days. The cheapest World Traveller Plus fare is £769. By comparison, the cheapest Club World flat bed seat is £1,367. Premium Economy is by far the poorest value for money here.
The premium economy revolution may be coming. Take a look at this: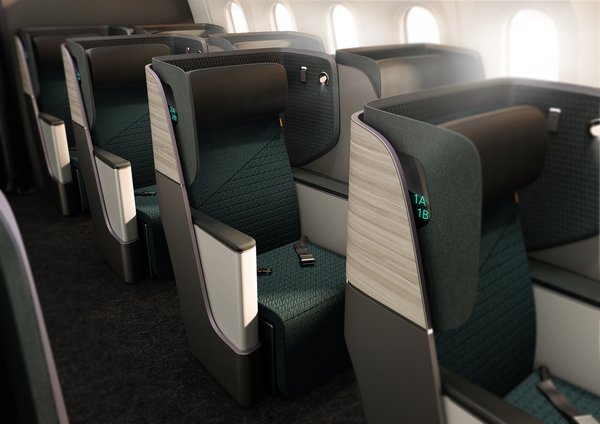 In theory, this is a 'concept' seat developed by a company called HAECO (Hong Kong Aircraft Engineering Company). In reality, it is the seat that the industry believes Emirates is going to launch next year – HAECO has already said publicly that it will be used by a Middle Eastern airline from 2020.
It is still premium economy, but a real step forward. A seat which offers some real privacy. HAECO describes this as a seat 'between premium economy and business' but in reality this will become the reference point for PE cabins going forward.
Critics can, of course, point to Air New Zealand. As we reviewed back in 2015 – see this article – Air New Zealand genuinely did introduce a premium economy seat which was as near as we've ever seen to being half-way between economy and business class.
It was called the Spaceseat and was used on the Boeing 777-300 fleet. You can see how it looks here: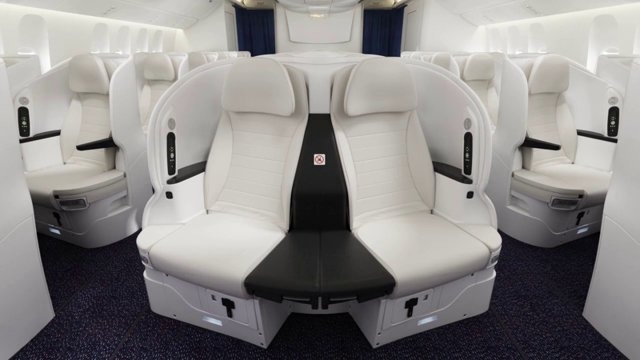 It failed, or at least ANZ felt it wasn't paying its way. This is because it was very inefficient in terms of the number of seats which could sit in the cabin. ANZ had to remove a row of seats in 2011 after complaints about the lack of legroom, and the revised layout could not wash its face financially.
Spaceseat was scrapped in 2016 and a standard premium economy seat introduced, which Rhys reviewed positively back in January. It is now boringly traditional, although Rhys enjoyed it: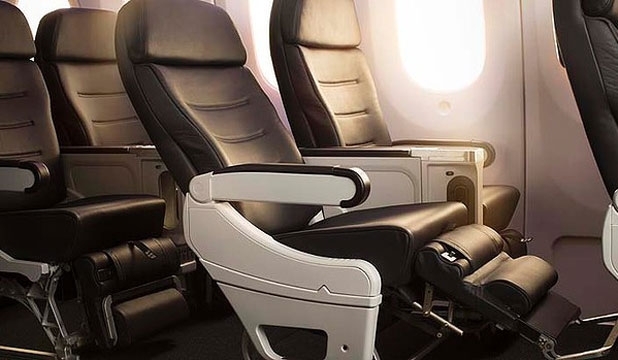 The rest of the industry hadn't been rushing to copy the Air New Zealand Spaceseat. It was only ever really tested on Heathrow-LA and LA-Auckland, however, which was potentially too niche a market and not one which generates high yields.
More recently, we have also seen Norwegian cutting back in its Premium cabin. Norwegian Premium is, undoubtedly, the best premium economy seat flying from the UK in quantity but the airline stripped out lounge access last Autumn.
Norwegian hasn't been helped by the problems with its Boeing 787 fleet, since the replacement aircraft it has chartered do not have premium economy at all. Book more than a few weeks in advance and you genuinely can't be sure what you will get on the day – although some lucky Norwegian passengers end up on aircraft with fully flat business class seats instead of premium economy.
Has Emirates got it right with the HAECO seat? Here is another mock-up of the HAECO cabin: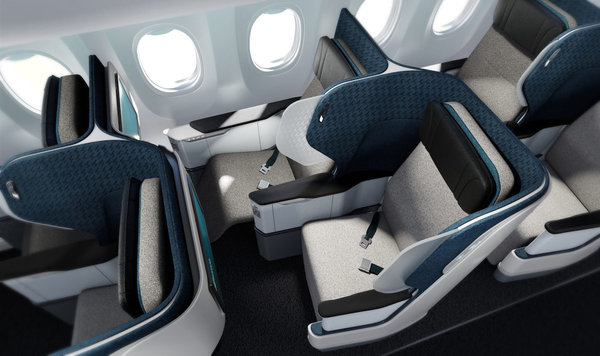 We are potentially looking at a seat which offers privacy and potentially the ability to recline somewhat inside a fixed shell, meaning no disturbance to the person behind you. If Emirates can show there is demand for this then others will surely follow.
Final thoughts
Airlines move slowly.
In many ways it is odd to write about 'peak business class' when it is still going to take five years to get Club Suite onto the majority of British Airways aircraft. Qatar Airways still needs a few years to complete the Qsuite roll-out on its 777 fleet, with fewer than 50 planes completed so far.
I'm not hugely convinced that I am going to see any further leaps forward in Business Class my lifetime, however. There may even be a backlash against doors and the high-sided seats which are required if you introduce them.
Premium Economy is where the real change will take place and I think the typical PE cabin in 20 years time will be substantially different from where we are today.