A look at Air New Zealand Premium Economy – how PE should be done
Links on Head for Points may pay us an affiliate commission. A list of partners is here.
Until September 27th, Head for Points is running a fantastic competition in association with Air New Zealand to win a trip for 1-3 people to Los Angeles!  If you haven't entered yet, you will find full details and the entry form on this page.
The competition doesn't close for another 12 days so you have plenty of time to forward the link to your friends as well.
As part of the competition, I am running a series of article to introduce HfP readers to the on-board product that Air New Zealand offers on its daily Boeing 777-300 flights from Heathrow to Los Angeles (for which you can buy stand-alone tickets) and then on to Auckland.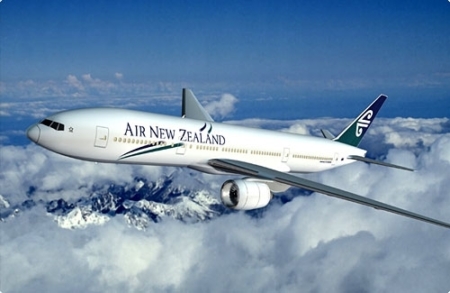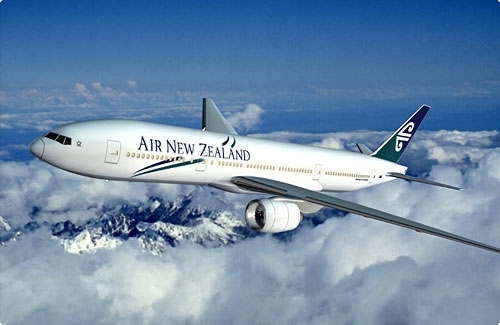 Today, I am taking a look at Premium Economy.  I had a tour of the Air New Zealand plane whilst it was on the ground at Heathrow a few weeks ago so I could see for myself what is on offer.
Premium Economy – usually more 'economy' than 'premium'
I have never flown Premium Economy on any airline, as I have mentioned on HFP before.  When I was flying Economy in my 20's it didn't exist, and by the time it had become widespread I had learnt how to use frequent flyer miles or cheap ex-Europe tickets to keep myself in Business.  When travelling for work I benefited from a generous company travel policy which kept me up front.
If it had looked more appealing, though, I may have done it.  The problem is that you are usually only getting a slightly wider and slightly longer version of an Economy seat, potentially with an upgraded main course and the benefit of being in a small semi-private section of cabin.
Here is the latest version of the British Airways World Traveller Plus seat, for example: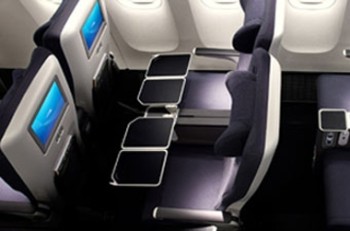 …. and here is the Virgin Atlantic version: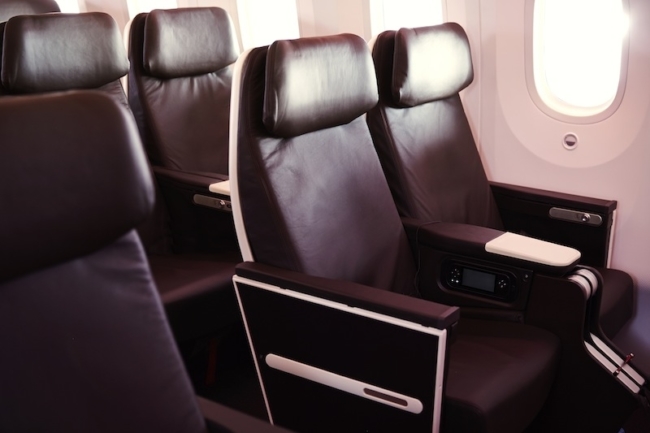 It is definitely better than Economy but it doesn't get anyone excited.  Here, on the other hand, is the Air New Zealand Boeing 777-300 version: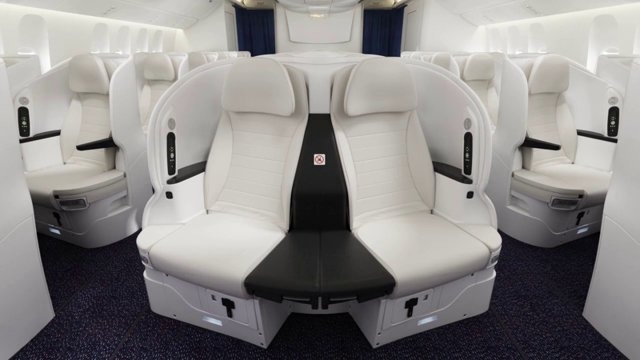 Now we're talking.  They call it the Spaceseat.  To be honest, when I first saw it in person, I thought I was in a rather average Business Class cabin!
There is a sleek 50-second You Tube video available here if you click.
Here are a couple of 'real life' pictures I took.  Remember that the cabin had not been cleaned from the incoming flight at this point: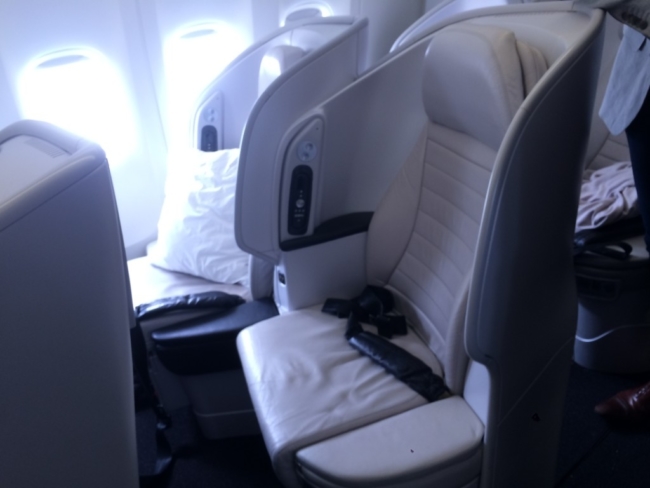 and
What differentiates ANZ Premium Economy from the BA and Virgin products is the 'fixed shell' design which gives a far greater sense of privacy, as does the herringbone layout of the seats.  The pitch is 42 inches, the seat width is 20 inches and IFE is provided by a 10.6 inch screen.
This compares to 38 inch pitch and 18.5 inch width on BA and 38 inch pitch and 21 inch width on Virgin.
The food and drink offering is entirely different from the Economy offering.  You will also receive a higher baggage allowance – 2 x 23kg bags in Premium Economy as opposed to 1 x 23kg bag in Economy.
In the current Air New Zealand sale, which ends on 23rd September, prices start at £870 return for Premium Economy to Los Angeles.  That compares to £449 for Economy and £2,327 for Business Premier, which I will look at next week.
If you want to find out more, there is a dedicated Premium Economy page on the Air New Zealand website here.  If you haven't yet entered our ANZ competition, click here.