Good KLM Business Class flight sale from UK (inc regional departures) from £1,400
Links on Head for Points may pay us an affiliate commission. A list of partners is here.
KLM is running a comprehensive business class sale for departures from the UK.
It is not as generous as the recent Lufthansa / SWISS sale but still has some very good fares – and, like that sale, you don't have to position yourself somewhere in Europe to start your trip.
It is especially good for readers outside of London since these sale prices are valid for departures from 16 UK airports, via Amsterdam or (on Air France) via Paris.
Availability seems to be excellent on most routes and extends as far as April 2020.  This includes Easter 2020 (Easter Sunday is 12th April).  If you missed out on the Lufthansa/SWISS sale because it ended on 30th March, you could do better here.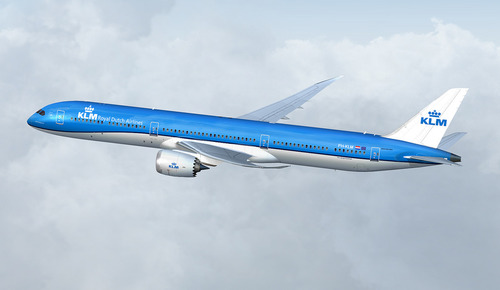 You won't earn Avios or tier points on these flights, as KLM and Air France are part of the SkyTeam alliance.
These flights are currently ineligible for Virgin Flying Club miles and tier points. However, Rob and I were with Virgin's CEO Shai Weiss on Thursday night (as you do) and US clearance for the KLM / Air France joint venture is expected in July.  If Virgin Atlantic moves quickly to integrate KLM into Flying Club, you may – if you fly from August onwards – find that you can earn Virgin miles and tier points.  There are absolutely no guarantees on this, however.
Fares start from around £1,400.  The sale page very helpfully allows you to sort the fares by UK departure airport, which gives a great overview of all the destinations available.
KLM / Air France's business class sale deals
These are the business class deals – there is also an economy sale but that isn't our main focus on HfP.
These are return prices from Heathrow although you can also fly from Aberdeen, Belfast, Birmingham, Bristol, Cardiff, Durham, Edinburgh, Glasgow, Humberside, Inverness, Leeds, London City, Newcastle and Norwich.  You can book these sale deals on the KLM site here – the site shows both Air France and KLM pricing if both airlines serve the same city.
Headline fares are (I have highlighted the lowest):
Abidjan – £1,677
Aruba – £1,662
Bogota – £1,449
Bonaire – £1,704
Cape Town – £1,851
Dubai – £1,415
Fortaleza – £1,730
Havana – £1,769
Hong Kong – £1,875
Johannesburg – £1,466
Kilimanjaro – £1,935
Lagos – £1,961
Mauritius – £1,831
Nairobi – £1,401
Panama City – £1,548
Quito – £1,783
Saint Martin – £1,549
Santiago de Chile – £1,849
Seychelles – £1,451
Shanghai – £1,985
Taipei – £1,796
Vancouver – £2,220
Windhoek – £2,109
It's unclear when the business class sale ends, but the economy sale ends on 11th June.The economy sale has a slightly longer list of destinations.
We have never reviewed the KLM business class product, although Rob did get a tour of a KLM Boeing 787 when he went behind the scenes at Schiphol last year.  This has an attractive 1-2-1 seat layout. The Boeing 777 and A330 fleet are 2-2-2, which seems very tight on the latter since it is a narrower aircraft than the 787.
Rob reviewed the impressive Air France Boeing 777-300ER business class product recently – see here.  Some Air France aircraft still have sloping seats in Business Class, including their A380 fleet, so research the aircraft type you are getting.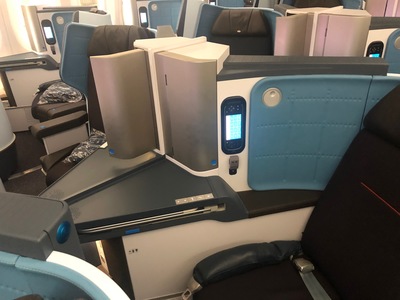 If you were thinking of using a credit card, be careful: the small print on the site says that a "credit card surcharge of 2% may apply up to a maximum of £20."
Looking at this Which? article, KLM is taking advantage of a loophole in the EU payment regulations to charge fees on American Express transactions.  Whilst the UK Government banned retailers from adding fees on Amex cards, KLM operates under the broader EU rules which only ban charges on Visa and Mastercard products.  The Which? article also shows that some Visa and Mastercard cards accidentally incur charges because KLM is using incorrect lists of which cards are (free) personal ones and which are (fee charging) corporate products.
The best way to book the sale is on this page here, which allows you to display the price by UK departure airport.