Links on Head for Points pay us an affiliate commission. A list of our partners is here.
News in brief:
British Airways cancels its 747 flights to Newcastle, Manchester and Glasgow
Last week we reported that British Airways was sending its three 'retro' repainted Boeing 747s in BOAC, Landor and Negus heritage livery to Manchester, Newcastle and Glasgow on 25th August.
Once these planes had been spotted in the timetable, people piled in to book.  Tickets were soon selling for many times the amount you would usually pay for a flight from London – in some cases as much as £400 for an Economy return which is, frankly, absurd for a thirty minute flight.
The general assumption was that, since the August bank holiday marks British Airway's 'official' 100th birthday, these flights would be involved in some sort of celebration event.
British Airways put out a statement yesterday saying there would be no 'celebrations' on these flights, and that passengers could have refunds if they wanted.  The flights were then switched back to the usual short haul aircraft to ram home the point!
In its statement, BA said that it is "still considering our options for that weekend and will release details in due course".  This suggests that something will happen over the late August Bank Holiday weekend, but these Boeing 747 flights will no longer be part of it.
(BA may also have been stung by criticism from some quarters that this was an environmentally unsound move, although as the flights were virtually sold out this seems a little unfair.)
The actual position here is clouded by the fact that BA's travel trade announcement blames:
"Some aviation websites [which] made a guess at what we were planning, but we were very clear that this was speculation."
However, a Flyertalk moderator and uber-heavy BA flyer claims that advance notice of the flights was given to some top customers – including himself – so that they could book straight away if they wished ……
HFP was not promising anyone a great spectacle.  Rob wrote:
"I am confused by the enthusiasm. These are all very old Boeing 747 aircraft which are, literally, on the way to the scrapheap.  They look good in the new liveries but inside there is nothing special about them.  I doubt British Airways can do anything creative on-board in such a short flying time – I doubt there is time to serve anything at all.
If you are SO keen to fly a British Airways long-haul plane on a short-haul route, remember that you can fly a Boeing 777 to Madrid every day of the week.  During August, although it is not yet in the timetable, you will be able to fly to Madrid on the brand new A350 with Club Suite in Business Class.  Now that is worth doing …."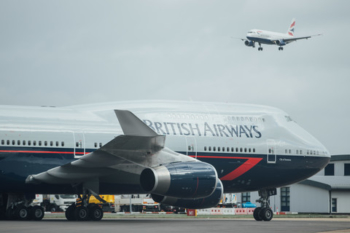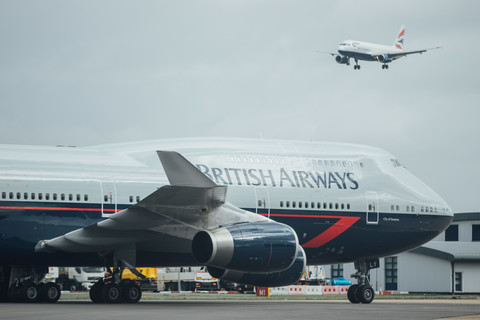 The first picture of BA's painted Airbus A350
Talking of the A350, British Airways posted a picture on Instagram last night of the first A350 exiting the paint shop, ready to roll.  Assuming that the interior has been fitted out, it should be delivered shortly.  We should then see the 'training flights' appearing in the timetable between London and Madrid.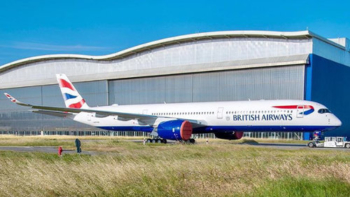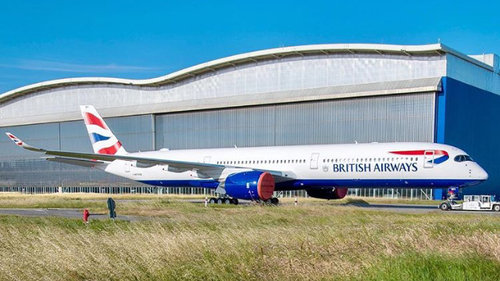 Lufthansa Miles & More pulls all hotel partners
A few days ago we reported that IHG Rewards Club had stopped all transfers to Miles & More.  On Thursday, Lufthansa suspended all transfers between its Miles & More program and hotel loyalty schemes including Marriott Bonvoy, Radisson Rewards etc. 
It is a big blow to Miles & More, which has also had to terminate transfers from a local shopping programme. It is unclear whether this is a temporary suspension or not.
It is related to the ongoing lawsuit against Miles & More in which a passenger is suing Lufthansa for €21,000 on the basis that his miles form an e-currency that he is entitled to withdraw as cash.
The Lufthansa defence is that Miles & More points have no cash value.  However, this defence is undermined by the fact that you can buy Marriott, Hyatt, Radisson, Hilton and IHG points and immediately transfer them to Miles & More, so the transfers had to be stopped.
If you can, indirectly, buy Miles & More points then they clearly have a value, it is argued.  This is not a new argument – Lufthansa stopped selling Miles & More miles directly a few years ago after similar issues arose – but this time it seems more serious.
Lufthansa is not licensed in Germany to issue 'e-currency', so any success in this court case is likely to have deep ramifications.
Not only is the withdrawal of transfers without notice, it is also backdated.  According to a statement from Marriott Bonvoy:
"Points to miles transfers from member accounts that were made through May 20, 2019 and any transfers occurring after that date will be returned to the member's account."
Bad news for anyone who has already transferred points in the last couple of weeks.
It will be interesting to see how this story develops.  Without the flexibility of earning via hotel loyalty schemes the program is significantly less valuable.   Because Miles & More now has revenue based earning, the miles you get from flying can be very low indeed – a recent Flyertalk post said:
"I was just credited 18 miles for my business class flight from Geneva to Zurich ……"
Click here to join the 13,000 people on our email list and receive the latest Avios, miles and points news by 6am.