Oman Air business class flight review: Muscat to London Heathrow (Part 2)
Links on Head for Points may pay us an affiliate commission. A list of partners is here.
This is Part 2 of our Oman Air business class review, flying from Muscat to London on a Boeing 787-9.
Part 1 of our Oman Air business class review can be found here, which focuses mainly on the cabin and seat layout.  Here we will look mainly at the food and IFE.
Oman Air uses brand new Boeing 787-9 aircraft
You shouldn't underestimate the general pleasure you get from flying on a brand new aircraft.  As well as the specific Boeing 787 benefits of larger windows and improved pressurisation, there is a lot to be gained from the little things. The loo looks like a brand new loo, which of course it is.  The galley areas have smart wood-effect flooring.
It is the same feeling you get from staying in a brand new hotel versus a 20-year old one, even if the 20-year old one has had refurbishment.
Oman Air amenity kit
As with First Class, Business Class passengers receive an amenity kit from Omani brand Amouage.
It comes in this VERY attractive deep red bag, which perfectly matched the orange and brown tones of the seats and cabin.  If you told someone that this was the First Class bag they would have no reason to doubt you.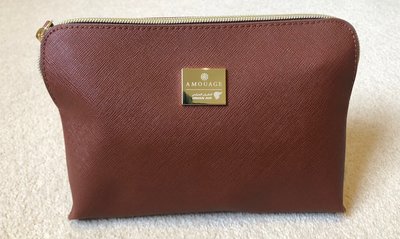 Inside was a very impressive selection which virtually matched the First Class bag, apart from the cologne.  You get:
10ml lip balm
Colgate mouthwash
30ml hand and body lotion
10ml facial moisturiser
eyeshade
socks
comb
earplugs
razor and shaving cream
toothbrush and toothpaste
At a time when many airlines don't even bother with amenity kits on day flights, this was a good haul.
IFE
Oman Air uses an IFE system called Aria.  You can find details on their website here.
As I noted above, the screen is huge but is a long way away from your face.  This makes it difficult to compare the size to far smaller screens which are basically in front of your nose!  What I can say is that the picture quality is outstanding.  Oman Air has also created a beautiful selection of Windows 10-style screensaver photographs which genuinely add to the cabin ambience.
For reasons even I don't fully understand, I ended up watching three episodes of the 1980's detective series Remington Steele, featuring a very young Pierce Brosnan.  I am old enough to have watched this the first time around.
You cannot see the IFE screen of your neighbour due to the design of the seat, which is a very positive point in my book.
The flight map is on the IFE system but is also shown on a separate screen at the front of the cabin, which was a smart touch.
Wi-fi
Whilst First Class passengers are given a voucher for free wi-fi – although mine didn't last long due to the data cap – Business Class passengers need to pay.
A 3 hour pass costs $30, although the data cap of 100MB means it won't last that long.  A 'full flight' pass is better value at $40, although you are likely to hit the 150MB data cap long before landing.  Whilst I understand the need for restrictions on streaming to allow all passengers to share the limited network capacity, the large number of images used by most sites today means that your 100MB will be gone before you know it.
Food and drink in Oman Air business class
I was offered dates and Omani coffee on boarding.
My outbound First Class flight had just served breakfast which – whilst a very good breakfast – did not really give Oman Air a chance to shine.  The return was looking more promising.
The drinks
The drinks menu is topped by Laurent Perrier champagne, which is decent option for a business class cabin at around £35 retail.  It was the wine list that threw up some pleasant surprises – a Chateau Laroque Saint-Emilion from 2012, for example, sells widely for £30+ in supermarkets.  Many airlines would not put a £30 bottle – at supermarket retail price – in their First Class cabins.
Some options were cheaper, such as a Chilean Escudo Rojo 2014 selling for around £15, but overall it was more than decent,
The food
In theory Oman Air offers 'dine on demand', although with a 2.30pm departure most people seemed happy to get tucked into a late lunch as soon as the crew came round.  Here was the menu:
Amuse bouche
Herb crusted scallops, with tomato, pineapple and chili relish (see below)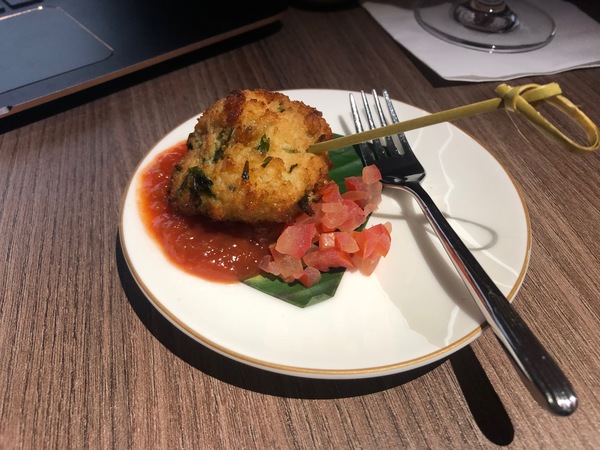 Appetiser
Pimiento and roasted artichoke cream soup
Roasted sweet potato, eggplant and zucchini salad
Smoken salmon and sliced kingfish (see below)
Classic arabic mezze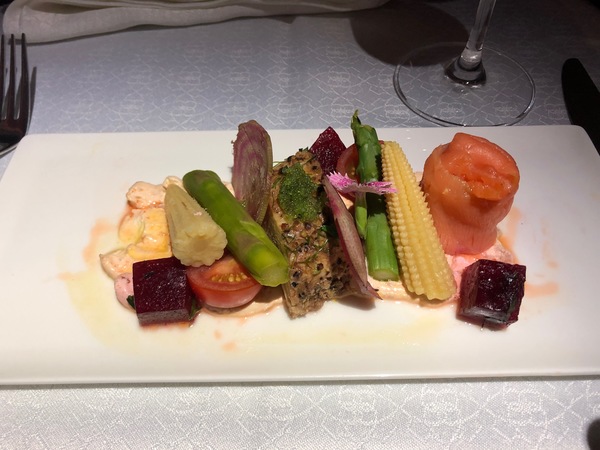 Mains
Roasted chicken breast stuffed with pimiento and dates
Crusted salmon with panko, pistachio and parmesan with lemon, tomato sauce (see below)
Roasted artichoke, mushroom and pimiento lasagna with basic cream sauce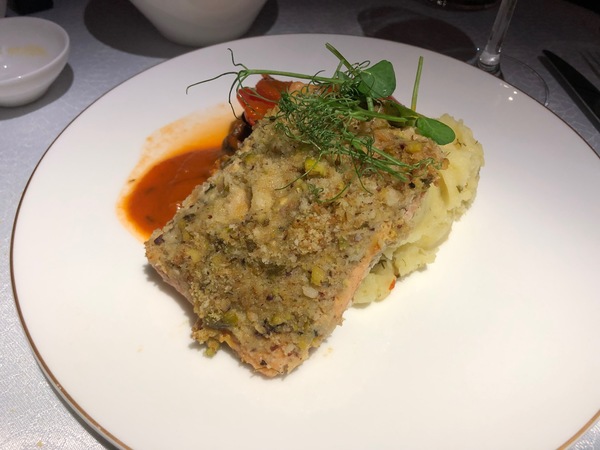 Cheese plate
Dessert
Warm strawberry cake with chocolate sauce (see below)
Vanilla and mango ice cream
Seasonal mixed fruits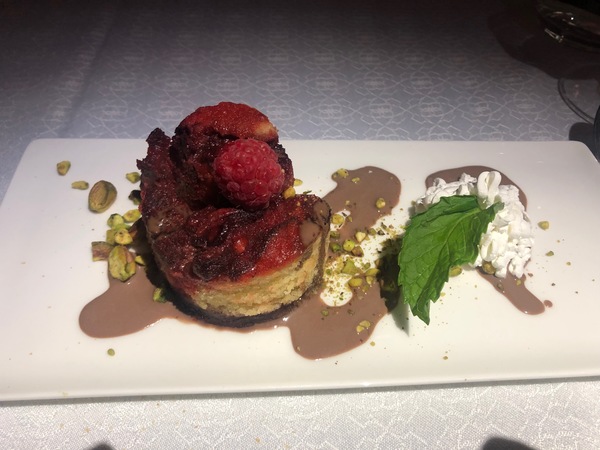 With the exception of my main (I'm not sure why half the plate was empty!), presentation was excellent.  This includes the cutlery and crokery used, although the crockery here does not have the intricate design of that used in First Class.
The food was certainly 'complex' (again, with the exception of the main) with various different items put together – the plates always came with more components than you were expecting!  It did taste good though, and obviously takes a lot of skill by the crew to put together.
I really enjoyed it, and it annoyed me even more that I didn't get to experience a 'full' meal on my outbound First Class flight.
I should also mention that your tray table pivots.  This means that, if your meal is in front of you, you can move the table out of the way if you need to get up.  This is handy if you need to go to the loo mid-meal or, more likely for me, deal with a troublesome child!  I am always surprised that more airlines don't install such tables.
Before landing we had a small snack.  This was actually very good, consisting of a mini burger and some other bits and pieces with a Middle Eastern slant.  It was the best 'second meal' I've had on a 6-7 hour business class flight in a long time.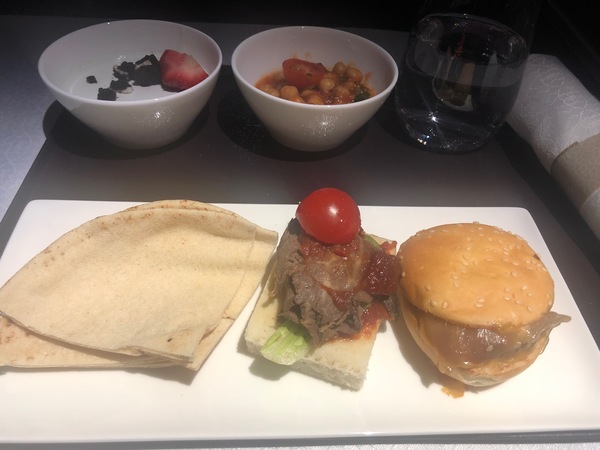 It wasn't night time …..
If you look at the meal pictures above, you might be thinking that I was on an overnight flight.  I wasn't.
We departed at 2.30pm and landed in London at 7.10pm.  It was daylight outside for the entire flight.
Despite this, the crew decided VERY quickly after take-off to put the plane into night mode.   All of the lights were turned off, and as it was a 787 the crew had control of the windows too.  This meant that I was basically sitting in darkness for the majority of the flight.
I found this weird.  I had only been out of bed for a few hours by this point and had no interest in going to sleep.  I would be back in my house by 8.30pm for a normal evening sleep.   I also didn't really want to eat in darkness.
Some people, I must admit, did decide to turn their seat into a bed and have a nap.  I haven't yet got to that stage of my life where a little nap at 4pm is something to target.
This was the only criticism I would have of the entire flight.
Conclusion
Oman Air has an excellent business class product.   You really don't need a First Class cabin when you have a business class seat as good as this one – which is why Oman Air had to create something as good as their First Class suite.
There are a lot of components coming together to make this work so well:
Apex Suite is an excellent seat – you will struggle to mess up if you have installed this
Having just two mini-cabins of two rows each on the Heathrow route means that you will always have a sense of calm and exclusivity
The colour palette used in business class is genuinely warm and inviting
Oman Air doesn't skimp on food and drink
Put these four elements together and you have a winner.  I strongly recommend giving Oman Air a try if the opportunity arises. 
If you buy your own business class seats, it is worth noting that Oman Air has regular sales with good fares, especially for departures from Paris.  We often write about these when they are running and they are worth a look for your personal travel.
This is the end of the 'official' part of this series.  I want to thank Oman Air for all their help in putting it together and to the Al Bustan Palace for my hotel.
There is, however, one additional article to come.  Whilst Oman Air is not in an airline alliance, and there is no easy way of transferring points into its Sinbad scheme, there IS one easy way of redeeming miles for the Oman Air First and business class seats I have reviewed.  This is via its one and only airline partner, Etihad.  You can read how to redeem Etihad Guest miles for Oman Air flights here.
The Oman Air webpage dedicated Boeing 787-9 Business Class can be found here.