Oman Air business class flight review: Muscat to London Heathrow (Part 1)
Links on Head for Points may pay us an affiliate commission. A list of partners is here.
This is my review of Oman Air business class on a Boeing 787-9, from Muscat to Heathrow.
It is the final part of our series on my recent trip to Oman as a guest of Oman Air and the Al Bustan Palace in Muscat.  My flights and hotel were complimentary but HfP paid for its own incidental costs. If you are not familiar with Oman you can read our overview here to set the scene.
My review of the Gulf Air lounge in Heathrow Terminal 4 – which is the one used by Oman Air – is here.  More importantly, my review of Oman Air's very impressive First Class Suite is here.  My hotel stay, at the Al Bustan Palace, is reviewed here.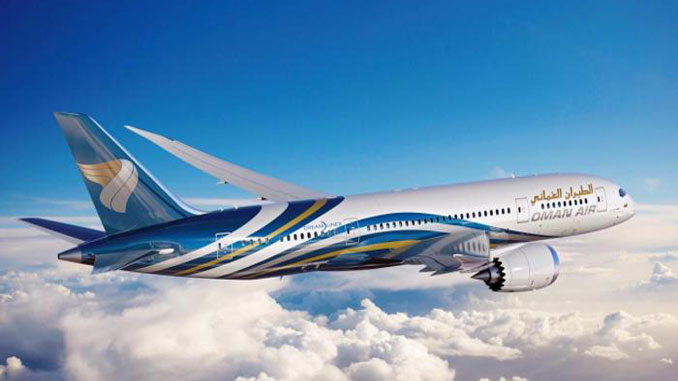 This review picks up from the previous part, which was my review of the new Oman Air business class lounge in Muscat.  With my gate showing, I headed down the escalator and into one of the wings of the new airport to find my Boeing 787-9.
Oman Air has a special page on its website dedicated to the Boeing 787-9 business class product which you can find here.
Overview
Oman Air flies twice a day between Muscat and London Heathrow.  The overnight flight leaves Muscat at 1.50am, arriving in Terminal 4 at 6.30am.  The day flight leaves at 2.30pm, arriving at 7.10pm.
As with my outbound trip, I went for the day flight in order to review as much of the service as possible.
It is worth noting that, whilst I flew during Ramadan, Oman Air was offering a full service including in-flight alcohol.  Whilst I was the only passenger in First Class on the way down, Business Class was busy on the return.
Oman Air also flies from Manchester to Muscat on a two-class Boeing 787-8.
Oman Air Business Class on a Boeing 787-9
Oman Air has two Boeing 787-9 aircraft which are dedicated to the Heathrow route.  These are the only two long-haul aircraft with First Class.  The rest of the Boeing 787-8/9 fleet is two class.
Here is a seat map of the Business Class section of the London-bound 787-9 aircraft from SeatGuru: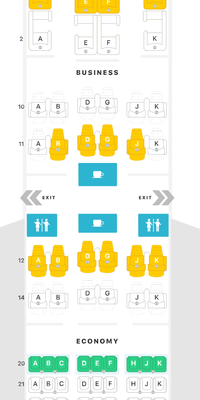 This is a 24 seat cabin.  SeatGuru gives the seat width as 22.8 inches with a pitch of 76-80 inches.  I was in 11D, in the centre block.
The Oman Air business class cabin
Here are a couple of official PR shots of the cabin on a Boeing 787-8, which is very similar.  This lets you see it with decent lighting and without any other passengers or scattered blankets, amenity kits etc.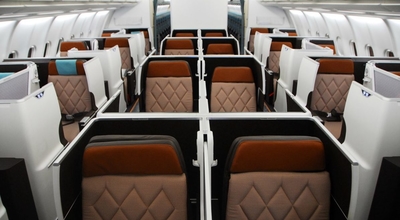 However, this is NOT what you get on the Heathrow route.  Because the London aircraft have First Class, the 24 business class seats are split across two mini-cabins of just two rows each.
This gives a VERY exclusive feel to the cabin.  It is a million miles away from the 'flying dormitory' feel of Club World on a British Airways 777, where you can have up to 56 seats IN THE SAME CABIN SECTION, with no dividers.  Oman Air has two sections, each with 12 seats.  The difference is very noticeable.
Here is a more posed official seat shot: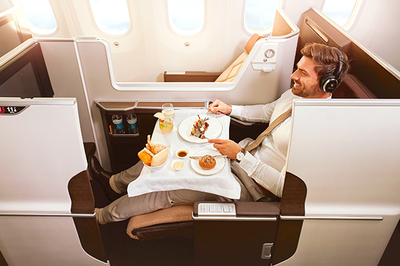 For those of you interested in the technical details, the seat is the Apex Suite manufactured by Collins Aerospace.  You can find a version of it flying with Korean Air and Japan Airlines.
I'm surprised it has not been more widely adopted, because this is a VERY impressive business class seat:
it is NOT a typical 'cubby hole' seat – whilst your feet are slotted in under the IFE screen, the area runs the full width of the seat.  You can't shake your legs up and down but you can move from side to side as much as you want.
all seats have direct aisle access
it has a very large IFE screen – although, because it is six feet away from your eyes, it doesn't fill your field of vision as much as you might imagine
Let's take a look at my seat
I had taken 11D, which if you look at the seat map above you will realise is a middle seat in the forwards cabin section, directly behind First Class.
I should have taken a window seat but, when I booked, I didn't realise that Oman Air business class seats all have direct aisle access.  I thought that the 2 x 2 x 2 layout meant that a window seat occupant had to climb over a neighbour to get out.  This is not the case.  The B and J seat are a little shorter than the A and K seats to allow a small private access route to the A and K seats.
This is how you get to the aisle from the window.  If British Airways had done this with Club World years ago, many of their current problems would have been avoided: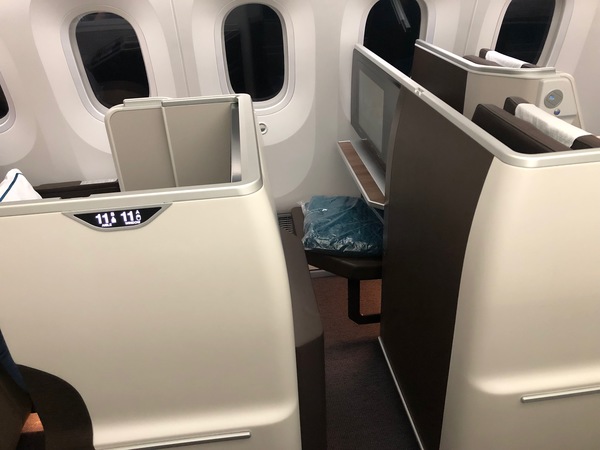 As well as being a little longer, the window seats are also more private.  I realised how good the window seats were on my outbound flight, when I walked down from First Class for a peek, but by then all of the window seats for my return had been pre-booked.
Here is 11D – note the full length divider, which means you can either block off your neighbour entirely or keep it down and be able to chat freely to your partner or colleague: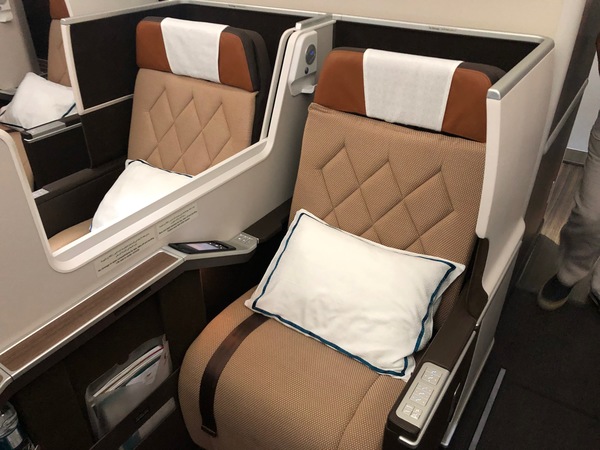 ….. and from the other angle – you can clearly see that your feet have a lot of space to move around: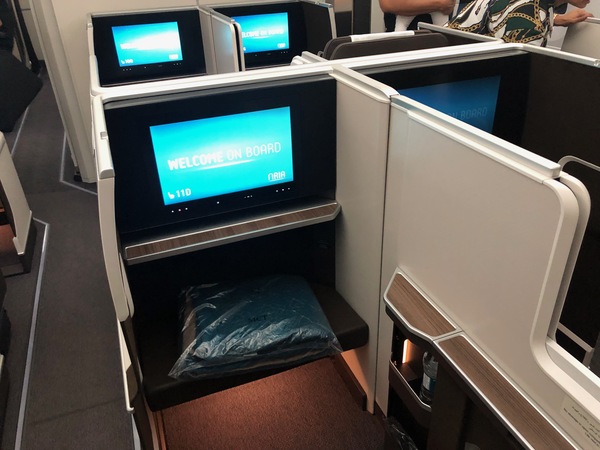 …. and when standing: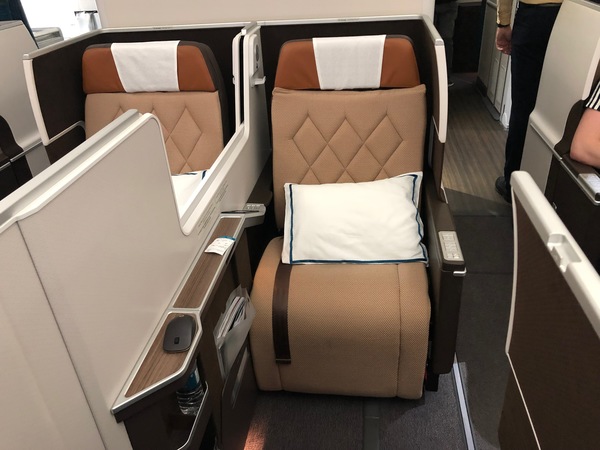 The seats are fabric, not leather.  I find this beneficial as it means you do not get as sticky during the flight, with perspiration absorbed by the fabric.
You can see from the seat shell around your head that you have a fair bit of privacy when sat down.  Your neighbours cannot see your face and you can't see them.  The seat clearly doesn't have the level of privacy of Qsuite, BA's new Club Suite or even the half-door on the new Virgin Atlantic seat,
I think that Virgin Atlantic has taken hints from Oman Air in the design of the new A350 cabin.  The warm colours used give a real 'bounce' to the cabin as soon as you walk onboard, and you will see similar shades coming to Virgin's A350 fleet.
Let's take a look around the seat.  There is no shortage of storage space.  Your water and headphones are already tucked away: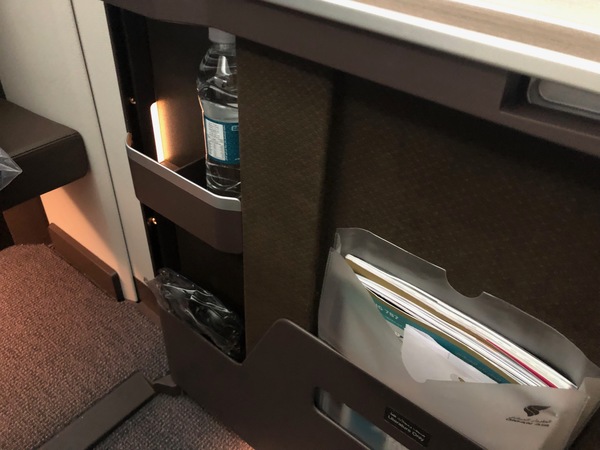 Talking of storage, whilst First Class has NO overhead lockers at all, the Business Class cabin has lockers above the windows.  There are no lockers in the centre of the plane, a move which more airlines are adopting in order to improve the look and feel of the cabin.
As in First Class, the IFE has a controller which contains a 2nd screen, should you want to watch something close up: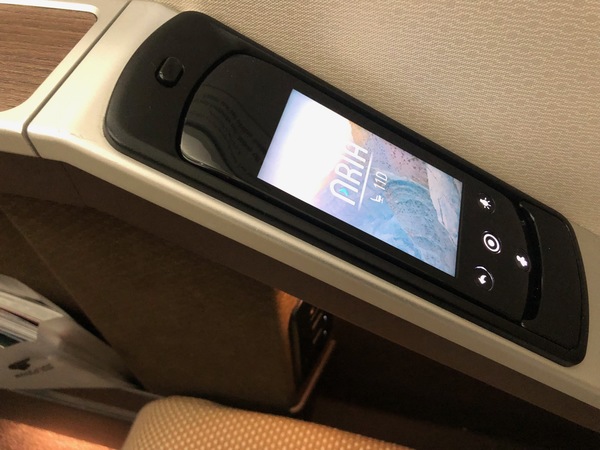 There is also a personal reading light, not pictured, and the standard mix of preset seating controls to move you quickly from take-off to sleeping to relaxing.
You are well served for power sockets, including a UK / Oman 3-pin plug and two USB sockets.
This is the view across the cabin.  You are looking across the divider in the middle pair towards the two J/K seats: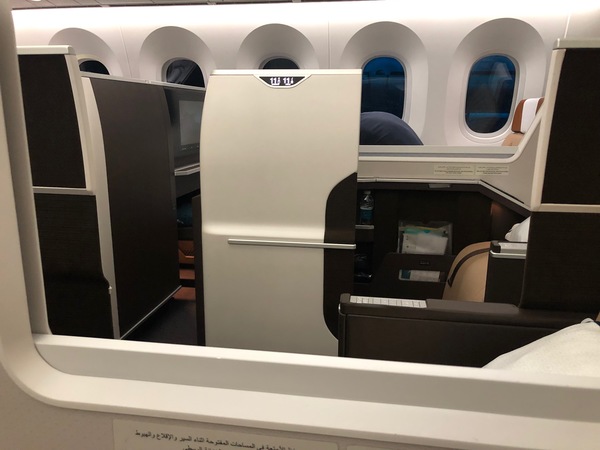 The seat looks like it has a closing door, but it doesn't!  It is just the way it is designed.
This is the end of Part 1.  Part 2 of our Oman Air business class review, which focuses mainly on the food and IFE, is also published today and can be found here.
You can learn more about the Boeing 787-9 business class product on the Oman Air website here.