Review of Oman Air's flagship Business Class airport lounge in Muscat
Links on Head for Points may pay us an affiliate commission. A list of partners is here.
This is our review of Oman Air's Business Class lounge at the brand new Muscat International Airport.
This review is part of our series on my recent trip to Oman as a guest of Oman Air and the Al Bustan Palace in Muscat. My flights and hotel were complimentary but HFP paid for its own incidental costs. If you are not familiar with Oman you can read our overview here to set the scene.
My review of the Gulf Air lounge in Heathrow Terminal 4 – which is the one used by Oman Air – is here. More importantly, my review of Oman Air's very impressive First Class Suite is here. My hotel stay, at the Al Bustan Palace, is reviewed here.
You can find out more about Oman Air's lounges on this page of the Oman Air website. This also includes details of the Arrivals Lounge in Muscat, which is free for Business and First Class passengers and with paid entry available for Economy passengers.
Inside Muscat's new airport
The new terminal building at Muscat International Airport opened in March 2018.
It is everything you would expect from a new international terminal, but without the crowds. The airport was definitely looking to the future when it specified the new terminal, and at present it is a breath of fresh air compared to Dubai. It has a very logical layout, with a central facilities building for check-in, shopping and lounges and then two wings to either side for the gates.
I was flying back to London in Business Class, having travelled down in First Class. If you are flying in Business or First Class, there is a dedicated check-in area you can use which is laid out like a mini-lounge in itself, with plenty of comfy seating. This is clearly marked outside the terminal so you can ensure your taxi drops you in the right place.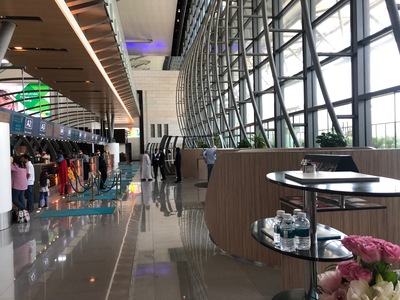 Once you clear security and pass through the shops, which are more varied than your average international airport, you should head for the escalators.
The upper level of the terminal, which is basically a ring overlooking the lower level, contains three facilities – Oman Air's First and Business Class lounges, a Primeclass independent lounge used by other carriers and Priority Pass, and an Aerotel transit hotel.
The entrance
Oman Air definitely wanted to make a statement with the entrance to the lounge: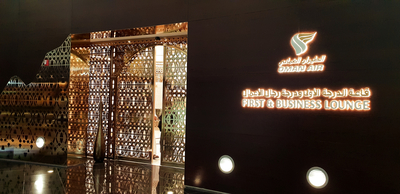 The doors, featuring traditional Omani lattice work, are closed as you approach, although you can see glimpses of the lounge beyond. Once the huge doors slide open you can head to the reception desk.
Once inside the Business Class area, the layout is a little odd. Once you are through the hallway, you come to a staircase which is blocked off by a tensa barrier. From what I can tell, this stairway has always been closed off since the airport opened last year, and no-one is clear what may eventually be upstairs!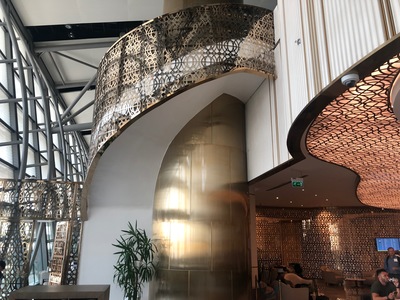 You come to a circular area with food stations around the edge: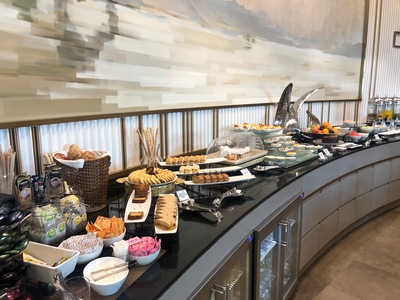 and a large amount of seating in the middle.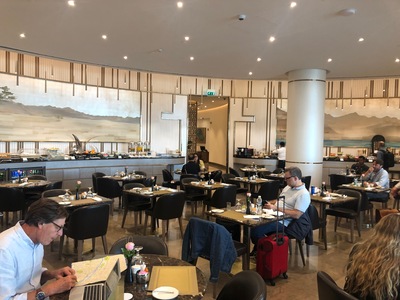 There is then a narrow area running past a window: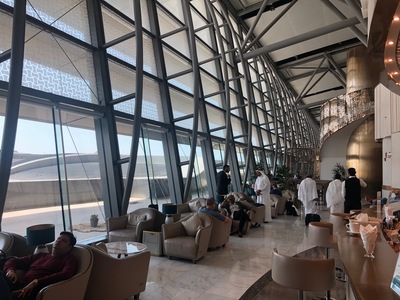 with a bar on the opposite side of you (closed during Ramadan).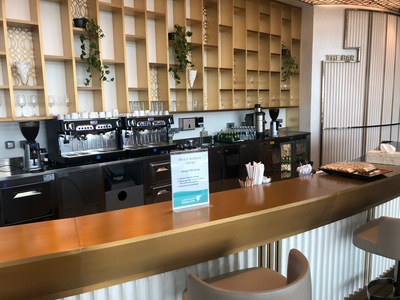 You then emerge in ….. another circular eating area! Like the first one, this has food stations around the outside edge: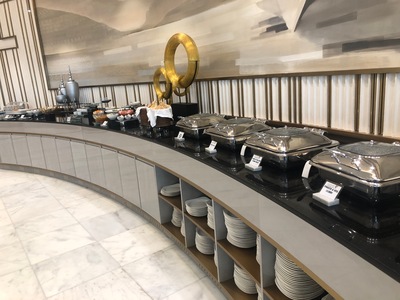 and a lot of seating in the middle: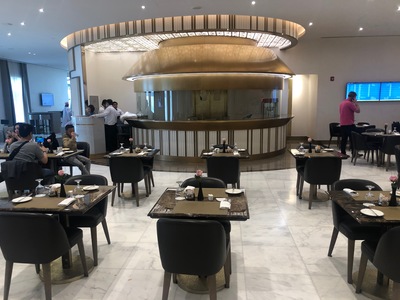 I grabbed a light snack. Options at the far end of the lounge included biryani rice, rigatoni pasta, paneer and vegetable curry, lamb in Thai red curry sauce and baked hamour creole. It was very good – a notch above what you would expect in a British Airways business class lounge – athough not on a par with what you'd get at the a la carte restaurants in Heathrow's Virgin Clubhouse or Qatar Airways T4 lounge.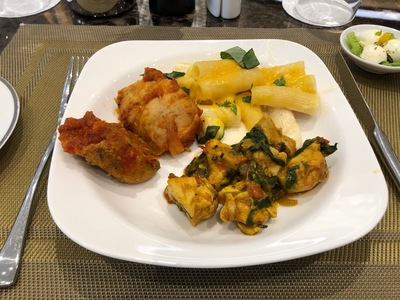 There was also a salad bar: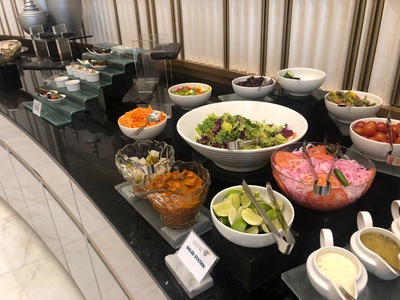 Just behind this area are the loos and showers. There is no spa area.
Tucked away in a corner were some day beds. These were not very private – privacy consisted of a curtain you could pull around the space – but were a good option for anyone looking for a deeper rest. On longer stopover, however, I would recommend the Aerotel opposite the lounge instead.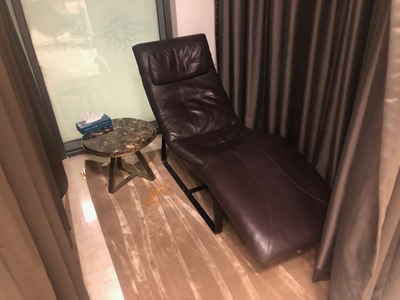 There is some more relaxed seating away from the food courts, but not much: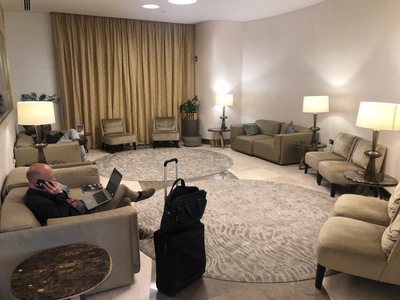 and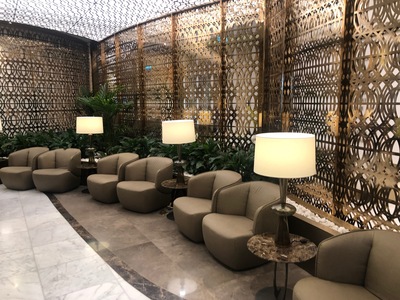 The newspaper and magazine selection in the lounge is very poor, unless you're a fan of Worldwide Golf ("The Middle East's No 1 Golf Magazine") or the local English-language Omani newspapers.
Conclusion
The new Oman Air business class lounge in the new Muscat International Airport does the job. It is light and airy, not too busy (although as I was leaving it was getting more crowded, with the European flight wave kicking in) and with high quality food. As it was Ramadan I can't comment on the bar.
The lounge is a perfectly pleasant place to spend an hour and you will eat well whilst you are there. If you have the choice between another hour on the beach and another hour in the lounge, however, I would take the beach.
You can learn more about Oman Air's lounge network on its website here.