Oman Air First Class Suite reviewed, London Heathrow to Muscat (Part 1)
Links on Head for Points may pay us an affiliate commission. A list of partners is here.
This is our review of Oman Air First Class on the Boeing 787-9, between London Heathrow and Muscat.
This review is part of our series on my recent review trip to Oman as a guest of Oman Air and the Al Bustan Palace, A Ritz Carlton Hotel in Muscat. My flights and hotel were complimentary but HfP paid for its own incidental costs. If you are not familiar with Oman you can read our overview here to set the scene.
My review of the Gulf Air lounge in Heathrow Terminal 4 – which is the one used by Oman Air – is here.
Oman Air has a special page on its website dedicated to the Boeing 787-9 First Class Suite which you can find here.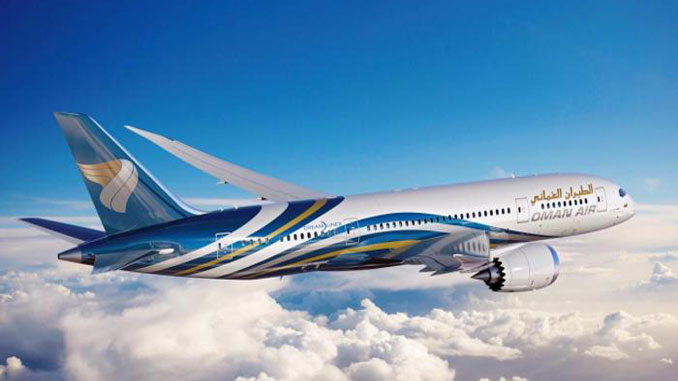 Overview
Oman Air flies twice a day between London Heathrow and Muscat. The morning flight leaves London at 8.25am, arriving at 6.50pm. The overnight flight leaves at 8.50pm, arriving at 7.15am the following day.
I went for the day flight in order to experience as much of the service as possible.
It is worth noting that, whilst I flew during Ramadan, Oman Air was offering a full service including in-flight alcohol. The only obvious impact of Ramadan was the very lightly loaded cabin – I had First Class to myself – because travel falls away sharply during this period.
Whilst Oman Air also flies from Manchester to Muscat, this service is on a Boeing 787-8 and does not have First Class.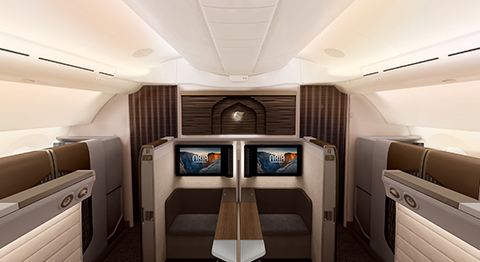 Oman Air First Class on a Boeing 787-9
Not many people will ever get to fly the Oman Air First Class Suite. The product I am reviewing is only used on the two planes which serve one route – Muscat to London. That's it.
The rest of the Boeing 787-8/9 fleet is two class. A poorer First Class seat exists on some older A330 aircraft but this is in the process of being phased out, I believe.
Oman Air First Class comprises of just eight suites, so there are just 16 suites in the entire fleet. SeatGuru quotes an 80-82 inch seat pitch, a 76 inch bed length and 30 inch seat width, although you shouldn't read too much into these numbers. Just accept that it will be more than big enough!
Here is a seat map from SeatGuru: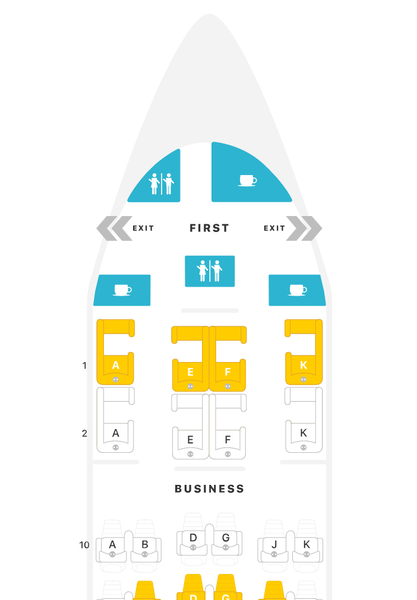 As I had the whole cabin to myself, there was obviously little noise or disruption in the cabin at any point. In general, you might prefer Row 2 because you are further away from the galley and loos. All suites have direct aisle access, of course.
My suite
The cabin photo higher up this page is a generic PR photo. I have dropped a few of these into the review because they give a different impression to my own images.
I was in 1A.
The first impression was an interesting one – the cabin has no overhead bins. None.
A lot of airlines have removed overhead bins from the middle of their cabins, because it makes the cabin feel more spacious. I don't remember seeing a cabin which has removed them entirely. Your hand baggage can be placed in a storage unit under the foot stool or stowed by the crew.
It is a very stylish aircraft. The colour scheme is not dissimilar to the one that Virgin Atlantic is going to be using on its A350 aircraft, with a lot of warm tones. Business Class gets the full effect, with First Class being more muted with a stronger use of brown and cream.
With just two rows of suites, you are not short of windows. I had three.
Around your Oman Air First Class Suite
Your suite has a door. The design is interesting, feature a traditional Omani lattice look which allows sunlight to stream through when the cabin windows are open.
As with the Qatar Airways Qsuite and the forthcoming British Airways Club Suite – both of which are Business Class products – the door is not full height. This is not the new Emirates 777 suite, where you are fully hidden away from the world. It does appear to be higher than the BA and Qatar Airways suite doors.
The door gives you additional privacy when sleeping, although anyone walking down the cabin can see you over the top. If you are sat in the middle pair of seats, there is a full width divider separating the two seats so that you can get the same level of privacy.
I kept my door open, except when I was filming it for our video – see here.
The PR picture below gives a slightly false impression before the door looks full height, which it isn't.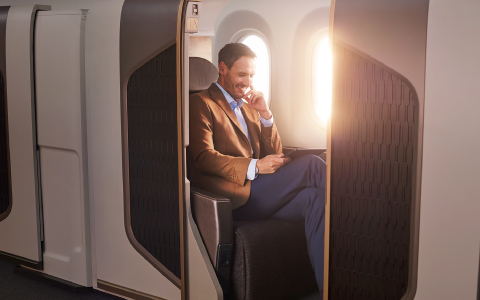 Let's take a tour of the suite
Here is a view of the middle pair, with the central divider down:
…. and from the other direction: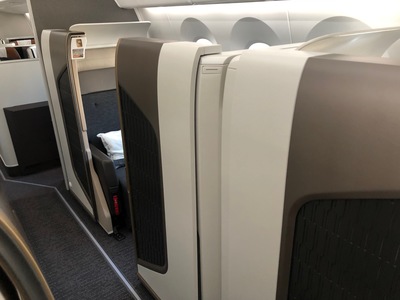 The 787-9 is a relatively narrow aircraft and the aisle seemed a little tight. All of the food was hand delivered from the galley, although as I was the only passenger this may have been purely for convenience.
Let's take a look at my window seat. You can see:
to the far right, a (closed) wardrobe for a jacket
to the far left (opened unit) a small minibar of soft drinks
the IFE screen
Here is a view in the other direction – what you can't see is the felt-like finish on the walls of the suite which as well as being cosy probably helps with sound insulation: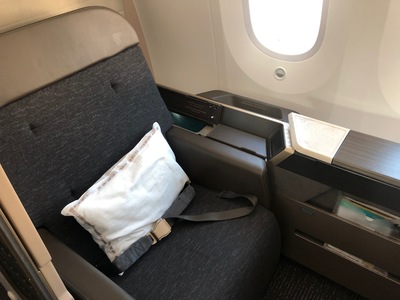 The next photo is looking forward when seated. Note the impressive imagery on the TV screen, which did add something to the feel of the cabin. The foot rest can act as a buddy seat if you want to dine with your partner or a colleague.
The foot rest flips up to provide storage space for your hand luggage if you want to keep it with you, given the lack of overhead bins.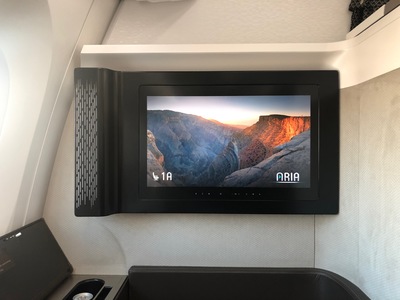 This shot shows the '1A' numbering, the catch to latch and unlatch the door and the closed wardrobe:
Here is the minibar and a small storage area close-up: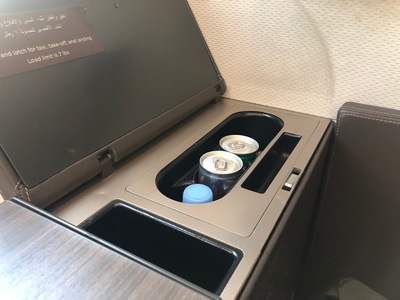 This image shows how narrow the aisle is: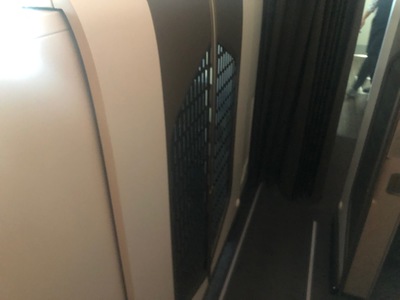 This view is from my seat, looking across the centre pair towards the single suite on the far side of the cabin. All doors are open and the divider is down: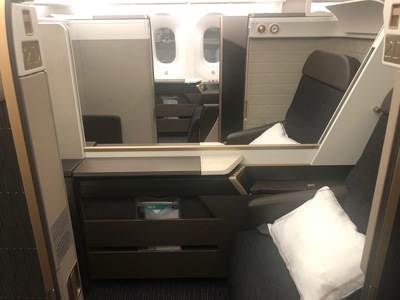 Making the seat into a bed
I wasn't keen to sleep as it was a morning flight. However, the crew generously agreed to make up a bed on the seat adjacent to mine so I could try it out. See: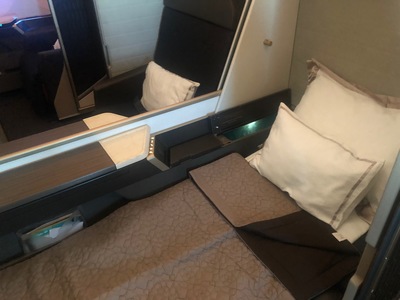 and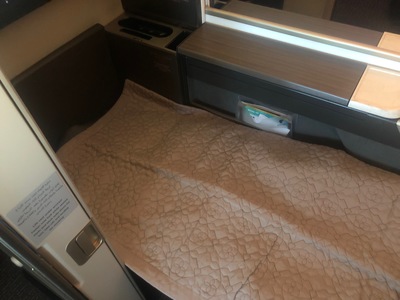 Despite my 6'2′ frame I was happy with the length of the bed. Your feet are free and not tucked in a cubby hole, which will come as good news to the people who find that layout impractical.
Oman Air First Class amenity kit
Whilst this was a day flight, a full amenity kit was provided. This was branded Amouage and came in a leather bag.
I had only ever seen Amouage at Jumeirah properties in Dubai and assumed it was a house brand. I was wrong. It turns out that Amouage is a very successful Oman-based business. Not only does Oman Air offer it but there was a large Amouage boutique at the Al Bustan Palace hotel and in Muscat Airport.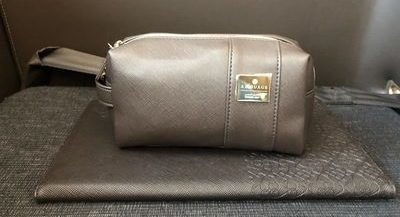 The contents were relatively standard although the containers were larger than average – especially the EDT – and will keep me going for a few trips in the future! You got a moisturiser, hand and body lotion, lip balm, Colgate mouth wash, EDT spray, razor, shaving cream, deodorant, toothbrush, toothpaste, a comb, socks, earplugs and an eyemask.
In terms of bag design – and I have both bags sitting in the office as I type – the burgundy one I got in Business Class on the return trip is more to my taste but both are very smart indeed.
Navy pyjamas were also provided. I didn't wear them on the flight but I did use them in the hotel and they fitted well.
I didn't take any photographs of the loo, but it is noticeably larger than you would expect – although clearly not in the same league as the combo shower / loos found on some A380 aircraft. The loo is a Japanese-style one that can act as a bidet if required!
Coming up in Part 2 ….
This is the end of Part 1. Part 2 of our Oman Air First Class review can be found here and looks primarily at the food and drink available. It is also contains a short video (the video can also be watched on our YouTube channel by clicking here).
You can find out more about Oman Air's First Class Suite on its website here.