Oman Air First Class Suite reviewed, London Heathrow to Muscat (Part 2)
Links on Head for Points may pay us an affiliate commission. A list of partners is here.
This is Part 2 of my review of the Oman Air First Class Suite, which you can only find on the Boeing 787-9 between London and Muscat.
Part 1 of my Oman Air First Class review, which looks at the cabin and the suite itself, can be found here.
This final part looks at the IFE and the food and drink options and concludes with a short video.
Oman Air has a special page on its website dedicated to the London-Muscat First Class Suite which you can find here.
Oman Air's IFE
I will cover the IFE system, called Aria, in more detail in my forthcoming review of Business Class.
What you need to know is that the screen is huge – although I can't find the exact measurement – and fixed in position at the foot of your suite. It can't be folded away but this isn't necessary as you can turn it off easily using the remote control or touchscreen. Whilst the screen is large, you are a fair way away from it and it doesn't dominate your field of vision.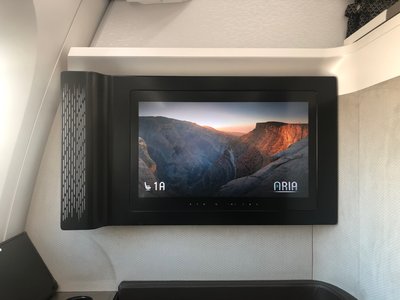 The system comes with a separate hand-held controller which can be used to control the main screen or be used as a mini-screen in its own right: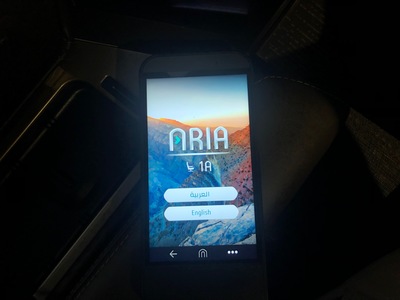 The headphones were unbranded. I don't use noise cancelling headsets enough to feel confident in giving a verdict, but they did the job for the short time I used them.
Wi-fi is available. Oman Air gives out codes to First Class passengers which allow them three hours of free use. I would have preferred full flight access, to be honest, especially as the cash price of 'full flight' is only $40 vs $30 for three hours.
The speed was good and I was able to work on the first draft of my lounge review whilst it was still fresh in my mind. The flight was very lightly loaded due to Ramadan, however, so my speed may have benefited from few other people logging in.
USB and plug sockets are available, although very hidden away to the side of the remote control panel, underneath an overhang.
Food and drink
I was on the morning flight to Muscat which left London at 8.25am.
Champagne was offered prior to take off. There were two options – a standard Laurent-Perrier Brut and the more exclusive Laurent-Perrier Grand Siecle, which you may recognise from British Airways First Class. This sells for around £125 – £140 per bottle in UK supermarkets.
The wine list featured a number of bottles which retail around the £30-£40 mark, with two reds including a Chateau Laroque Saint-Emilion 2012 and three whites, headlined by a Domaine Marc Morey 2014 Chasagne Montrachet. Excluding Emirates, this is about as good as you will see in First Class these days.
With a flight time of around 7 hours, you will usually only be offered one main meal on a premium cabin flight to the Middle East. Oman Air decided that it would offer breakfast.
I am not sure I agree with this. For a start, most people would have eaten something in the lounge or at home before getting on the aircraft. Secondly, with the best will in the world, it is difficult to impress your passengers with breakfast.
Whilst it is a little counter-intuitive, because most airlines like to start with their 'big splash' meal, I would have been happier to be offered a light breakfast and then a full 'all singing, all dancing' lunch three hours later.
The Oman Air First Class breakfast menu
Whilst it is hard to impress with a breakfast, Oman Air did a very good try. It was probably the best breakfast I've ever had on an aircraft although competition for that award is slim. The catering is apparently from Do&Co if you depart Heathrow, which is the 'gold standard'.
The quality shone through at every stage. Look at the exquisite design of the crockery used in the photos below.
Whilst Oman Air offers 'dine on demand' in First Class, it didn't seem sensible to delay breakfast any longer than was necessary once the seatbelts signs were off.
Appetiser:
Marinated prawns, smoked tuna, sous vide herb salmon
Muesli, berry compote and strawberry
Seasonal fruits with passion fruit coulis and vanilla panna cotta
Yoghurt – coriander and mango compote with toaster granola
I went for the first option. The photo does a bad job of showing how beautifully put together the dish is, and how many separate items of food are involved. It was a very classy act.
The crew let me have the yoghurt as well – after all, there were no other passengers to eat it.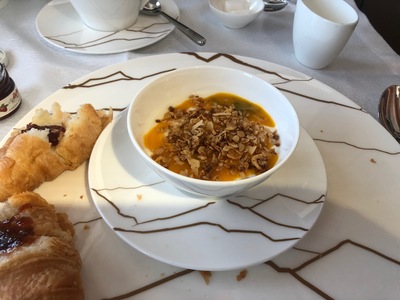 Mains:
Arabic breakfast
Cheese and spinach omelette with herb cream sauce
Bell peppers fried egg with hollandaise sauce
Vanilla waffle with raspberry compote, vanilla anglaise, whipped cream
Pindi cholle with paneer crumble and sauteed pickle onion
I moved on with the omelette. Given that it was served on a plane, it was impressive, but at the end of the day an omelette is an omelette: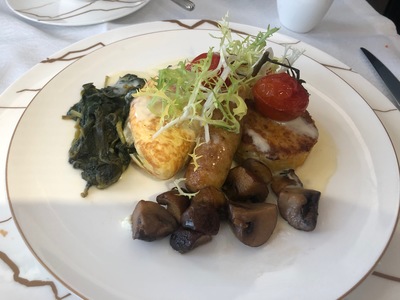 Bakery:
Selection of warm bakery items
The second meal
The snack later in the flight, which Oman Air calls 'Refreshment', comprised:
Shaved pastrami in brioche
Crab, celery and sundried tomato tart
Trio dessert – bakewell, fruit tartlet, avocado brownie
Here is the tomato tart: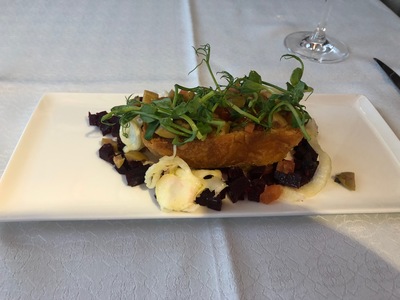 ….. and the desert trio: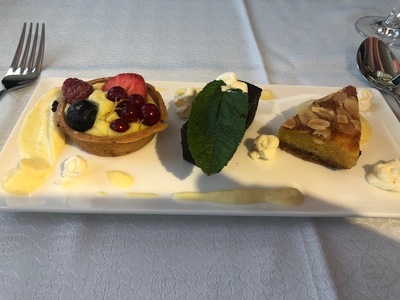 As snacks go, they were impressively done. Anyone who has been handed a pack of random British Airways sandwiches in Club World as a 'second meal' recently will be surprised.
One thing I should add is that the tray table is well designed. It has a wide range of movement so that, if you need to nip to the loo or get up to speak to another passenger during the meal service, you can easily slide the table back and stand up. If only all meal tables were so thoughtfully produced.
Arriving in Muscat Airport
Finally, a couple of shots of the brand new Muscat International Airport which opened in March 2018. Compared to Dubai and Doha this is a modest facility, shaped like a bird with a central terminal area and two wings running off to each side.
I'm not sure what the passenger throughput is, but it wasn't much in the early evening. Take a look at these two shots of the baggage reclaim area: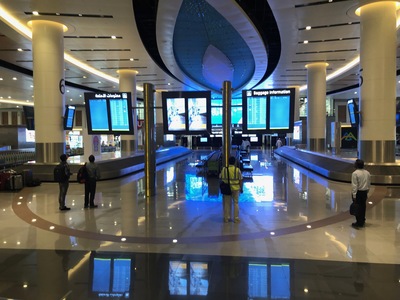 and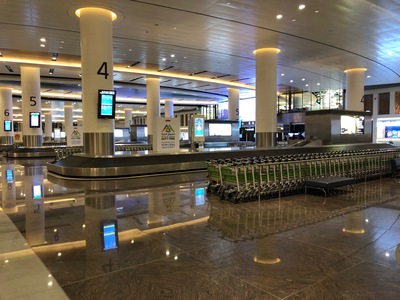 It felt like I had the whole airport to myself.
Conclusion
The Oman Air First Class Suite is an excellent product and we are lucky that London Heathrow is the one route where you can find it.
A lot of care and attention has been put into every detail, especially in the design of the seat and the materials used. The crew were excellent on my flight, although given that I was the only First Class passenger I was never going to be neglected.
My only regret is that I didn't get to have a proper lunch or dinner, which I think would have been a better demonstration of the quality of the food. That said, I've never had as classy a breakfast on a plane.
Once you get past the new Emirates First Class Suite (reviewed here, only on Stansted in the UK) and the new Singapore Airlines A380 suite (reviewed here), I think Oman Air has a product which beats most of what else is out there. You obviously don't get A380-style showers or a lounge because the aircraft is too small, but on a 7 hour flight it is hardly necessary.
The biggest problem for Oman Air is that, as you will see in a few days, it has an exceptionally good Business Class product on the Boeing 787-9. You can have a great experience without paying for First Class.
Annoyingly, Oman Air is not part of a major airline alliance so there is no easy way of booking this with frequent flyer miles. The airline does have ONE partner, however – Etihad. At the end of this series of articles I will look at how to redeem on Oman Air using Etihad Guest miles.
I made a short video …..
Here is a short (141 seconds) video of the cabin – including how the doors work – and the food, which has a different feel to my photographs. As there were no other passengers, I had a bit more flexibility than usual.
If you can't see the video below, click here to visit our YouTube page. You can also subscribe to our channel via that page.

Next up …..
As I left the immigration hall, there was a driver holding a board with my name on it. We were off to the beach-side Al Bustan Palace hotel, managed by The Ritz-Carlton, where I was to spend a couple of nights. My Al Bustan Palace review is here.
Thank you to the Oman Air team in London for providing my flight. A review of my return leg, in Business Class, can be found here.
Oman Air's website dedicated to the London-Muscat First Class Suite is here.