Review of the new Four Seasons Kuala Lumpur hotel
Links on Head for Points may pay us an affiliate commission. A list of partners is here.
This is my review of the new Four Seasons Kuala Lumpur hotel.
After leaving Four Seasons Langkawi – reviewed here – I took a Malaysia Airlines domestic flight (not reviewed) back to Kuala Lumpur for three nights. Malaysia Airlines works closely with Four Seasons and helped arrange a substantially reduced (but not free!) rate for my stay.
It is not often that we write about Four Seasons here at Head for Points. Primarily this is because Four Seasons Hotels and Resorts does not run a loyalty scheme and, being a points-and-miles collecting site, our focus is on schemes where you are rewarded for your loyalty.
However, many of our readers do stay with Four Seasons – we know this from your use of our luxury hotel booking service – and with my recent trip to Malaysia it seemed like the perfect opportunity to highlight why Four Seasons is so well regarded.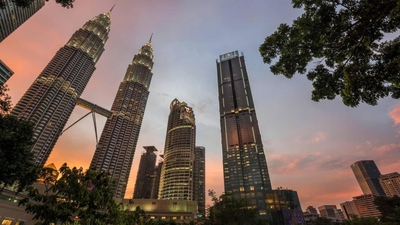 Introducing Four Seasons Kuala Lumpur
If you have ever been to Kuala Lumpur before you will know that the airport is 50km south of the city centre. While it is well connected via public transport links, by far the easiest way to get from the airport to the Four Seasons is using Grab, the south-east Asian Uber equivalent. Depending on the time of day and traffic levels you can expect it to take 45 minutes to an hour although, thankfully, it comes out fairly cheap at just under £15 one way.
Four Seasons Kuala Lumpur is a fairly new addition to the Four Seasons network, with preparations currently being made to celebrate the first anniversary of the hotel's opening. It is situated on floors 6 – 18 of a Four Seasons branded skyscraper situated directly next to the iconic Petronas Towers, possibly Malaysia's most famous landmark.
The building is a mixed use development, with the floors below the hotel containing a Robinson's department store and mall. Above the hotel are several floors of serviced apartments whilst the higher floors are private residences. In total there are 209 rooms and suites, which is significantly more than the Four Seasons Langkawi resort that I had just come from.
Upon my arrival at the hotel my bag was taken and delivered to my room whilst I checked in. Since I had a Club room I was escorted to the Executive Lounge reception for check in.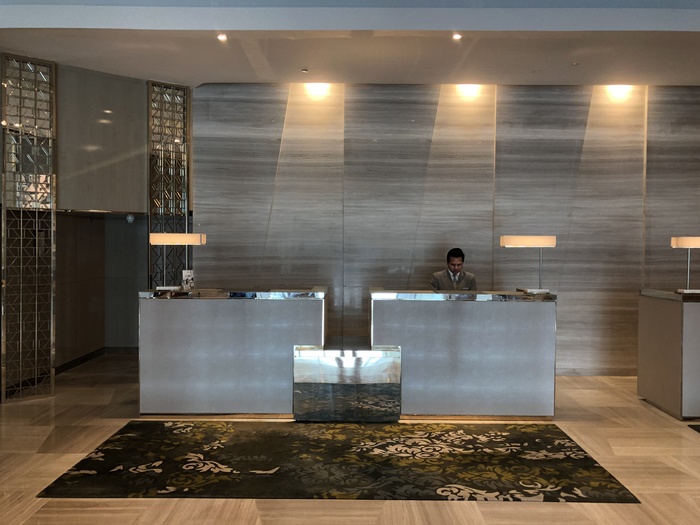 The room
Being a new hotel, the Four Seasons Kuala Lumpur comes with all the modern features you would expect. I was given a Club room on the 16th floor with a view overlooking the KLCC park. Since the Four Seasons building is adjacent, rather than opposite, the Petronas Towers my view of that particular landmark was limited, although I could see them. Of course, the best view for the towers is from the park or one of the other buildings around the it with a rooftop bar.
The rooms are generously sized. Directly upon entering you see luggage storage, wardrobe and drawers: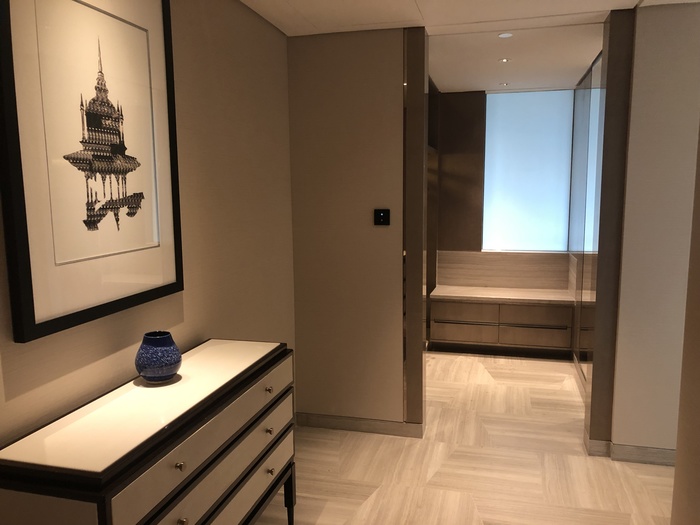 Before turning right for the bathroom and bedroom. The bathroom has a bath, sink, shower room: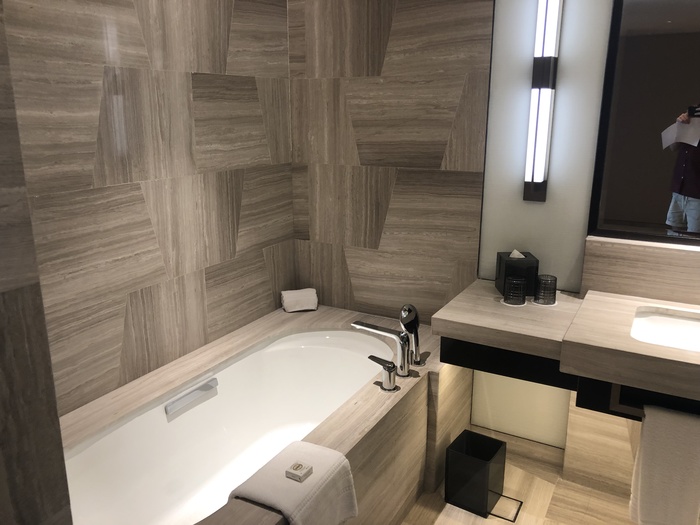 and
and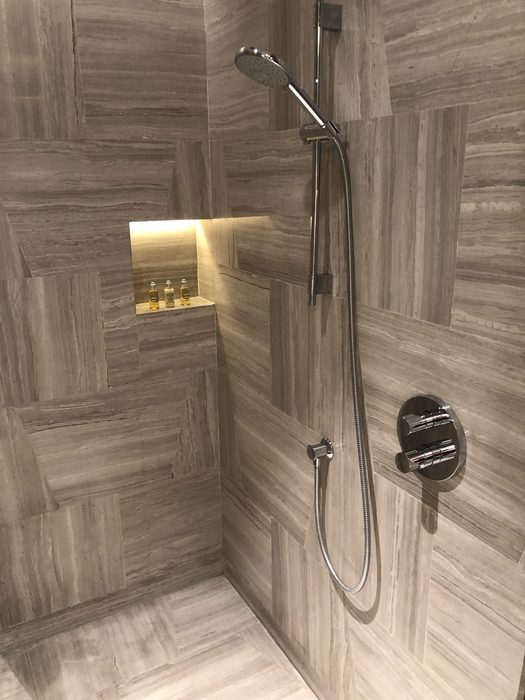 Amenities are Amande provided by L'Occitane.
The toilet is fitted with a Japanese style toilet with heated seats that can wash and blow-dry you. You can see the touch screen controls on the wall: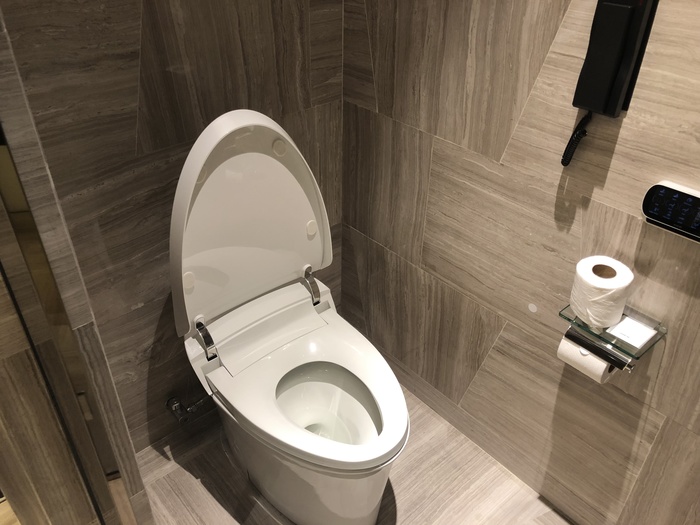 and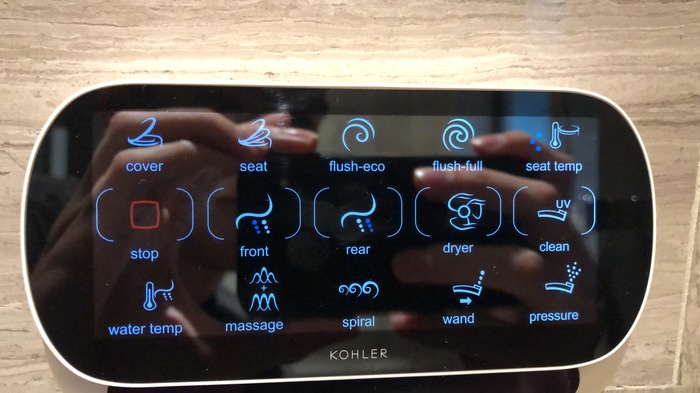 It was quite hard to photograph the bathroom thanks to all the corners and the copious amounts of partially mirrored glass used in the doors, but it looks stunning in person.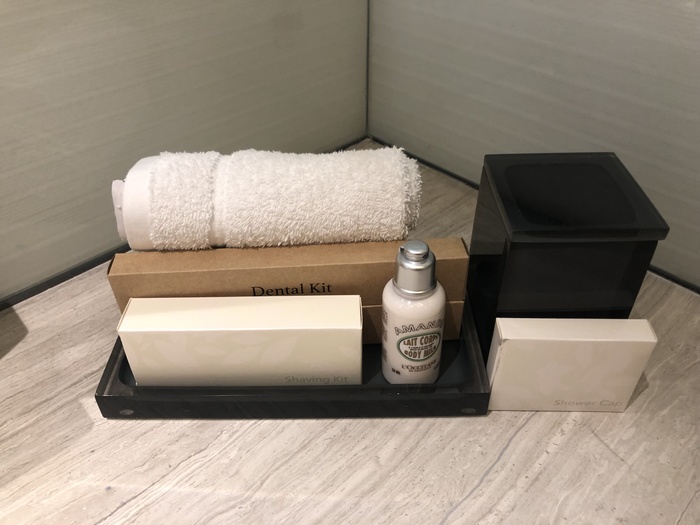 The bedroom, then, has the view: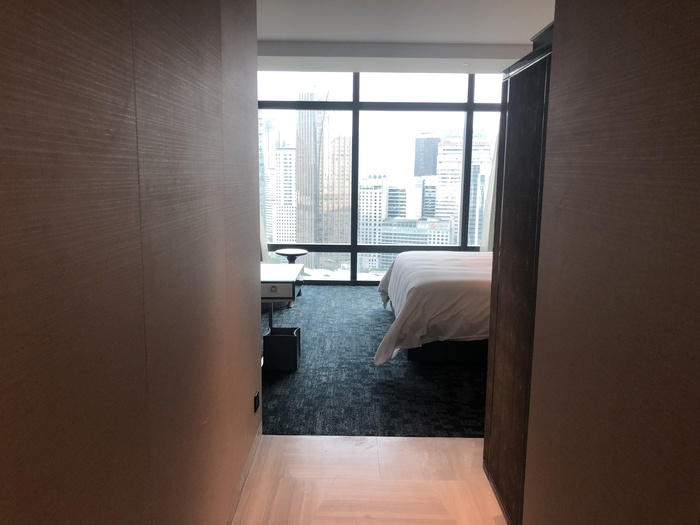 and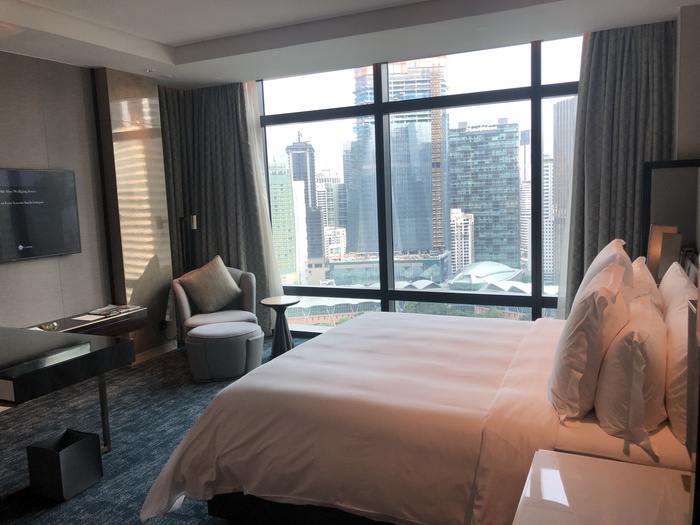 And of course a king-size bed with two bedside tables and plenty of connectivity options.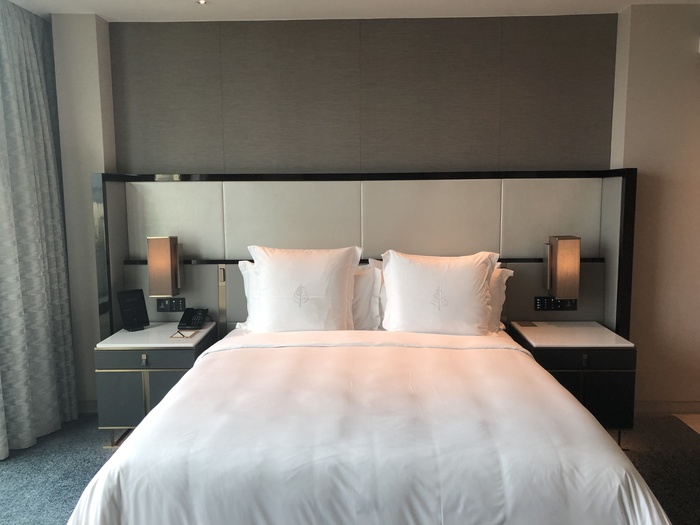 You can also control the lights and curtains from here, which includes a gauze privacy curtain as well as full black out curtains.
The large TV is wall-mounted directly opposite the bed and has Apple screen mirroring, although it was a bit buggy when I was playing music. To the left of the TV is a writing desk, with convenient connectivity including HDMI sockets for the TV, as well as a notepad, some letter writing paper and a postcard with a local jogging route.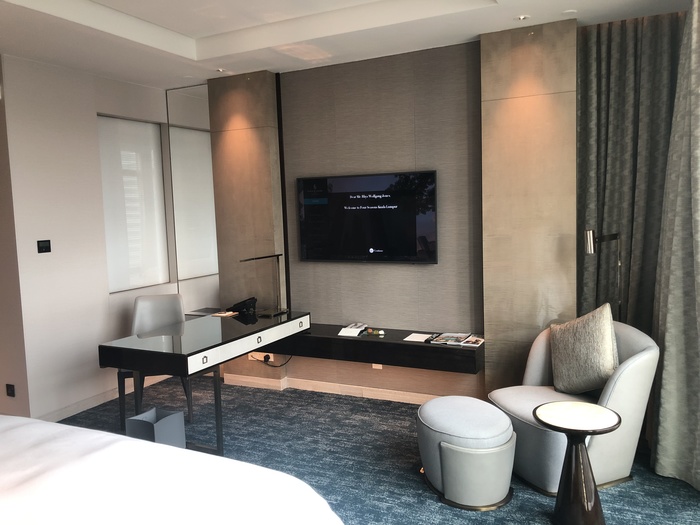 Under the TV was a small plate of sweet nibbles: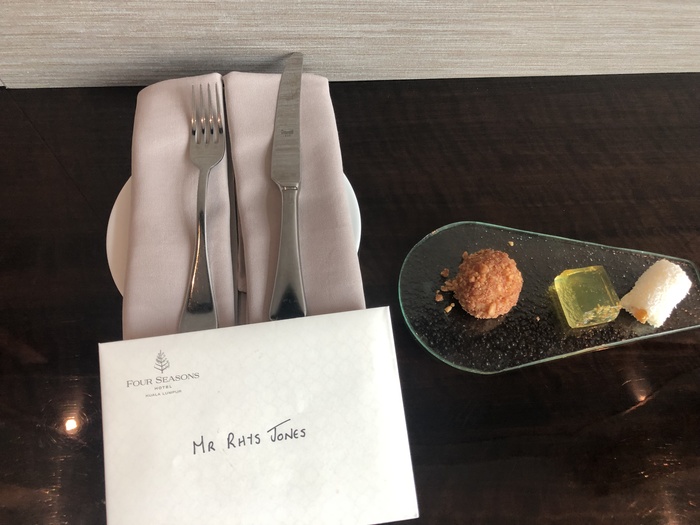 Finally, in a very classy looking wardrobe: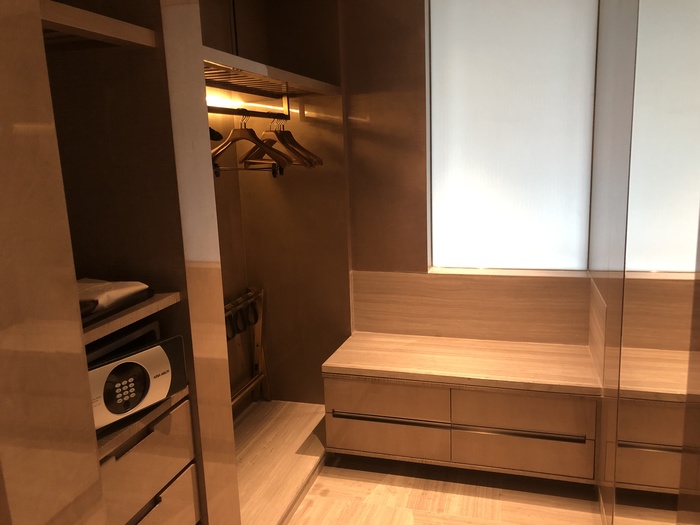 …… you can find the mini bar, Nespresso coffee machine and food and beverage related amenities. Only the hot drinks and water are free of charge here: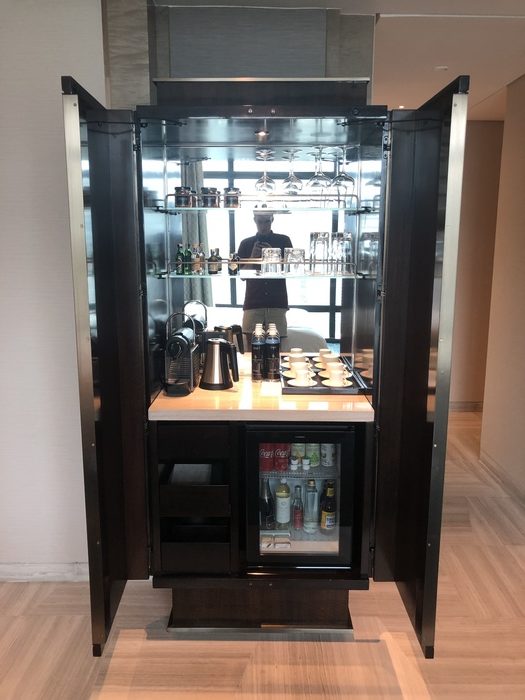 This is end of Part 1. Part 2 of our Four Seasons Kuala Lumpur review, which looks at the Executive Lounge, restaurants and the best ways to book the hotel, can be found here.
The official Four Seasons Kuala Lumpur website is here.