Review of the new Four Seasons Kuala Lumpur hotel (Part 2)
Links on Head for Points may pay us an affiliate commission. A list of partners is here.
This is Part 2 of our review of the new Four Seasons Kuala Lumpur hotel in Malaysia.
Part 1 of our Four Seasons Kuala Lumpur review, which primarily looks at my room and gives an overview of the facilities, can be found here.
In part two I want to look at the Executive Lounge, the restaurants and explain the best way to book.
The Executive Lounge
Four Seasons has a Club lounge, located on floor 7B, which is something which is not always seen in their hotels. It is only accessible with a keycard linked to a Club room.
You are greeted by the lounge reception, which is also where you will check in if you have a Club room. The lounge itself is divided into several zones. This is a view of the whole buffet: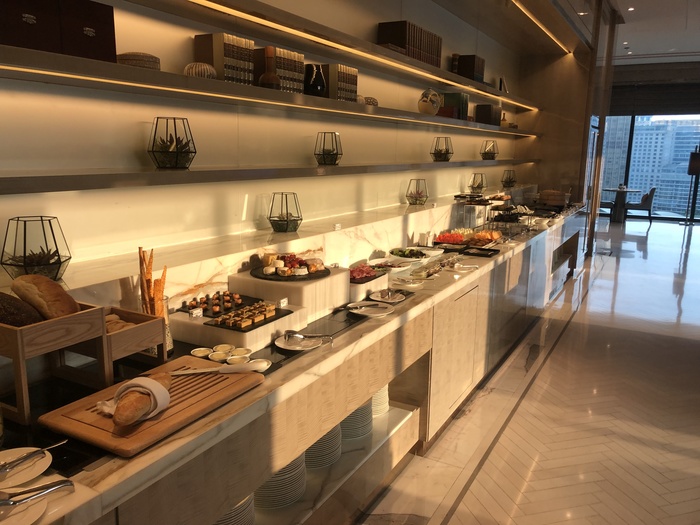 To the right of the buffet is one seating zone and features a range of casual seating and dining tables, and has restricted views due to the outdoor balcony: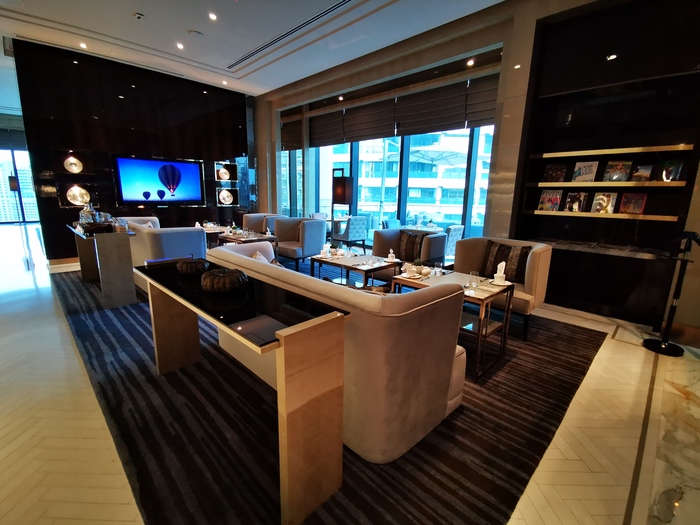 and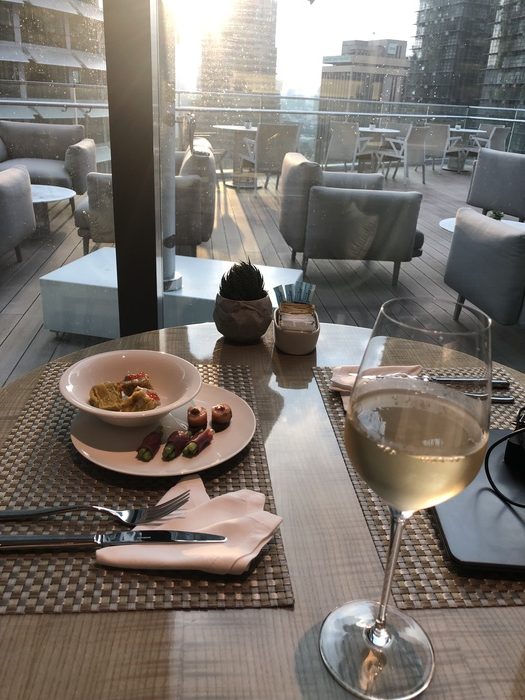 …… whereas the second seating area has views of the KLCC park and a similar mix of seating.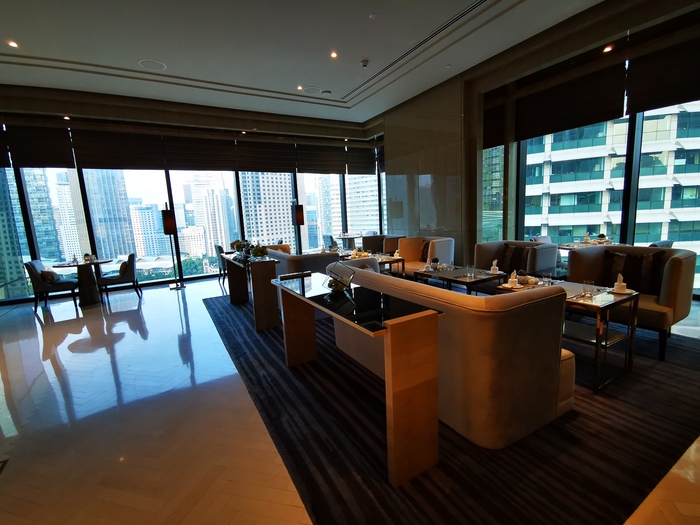 This is also the location of the mini-kitchen, which is staffed by a chef at certain hours to provide small fresh dishes. I had some very good ceviche here one night: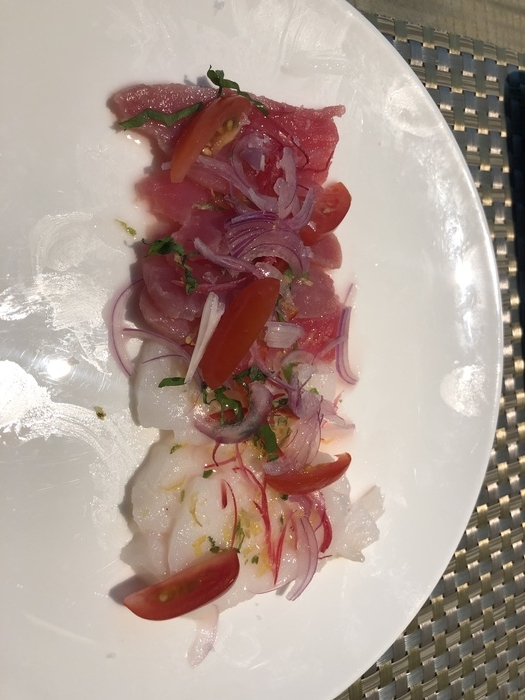 The food offering here is very impressive. Three meals are served each day: breakfast, afternoon tea and evening cocktails, and all feature significant hot and cold food. I could easily have got by with never visiting an actual restaurant – although that would obviously be a shame with so much choice locally – and I had my main meal here on the day of my arrival.
Here is a selection of the food that accompanies 'Evening Cocktails'. You get a variety of hot dishes, including dumplings and local dishes: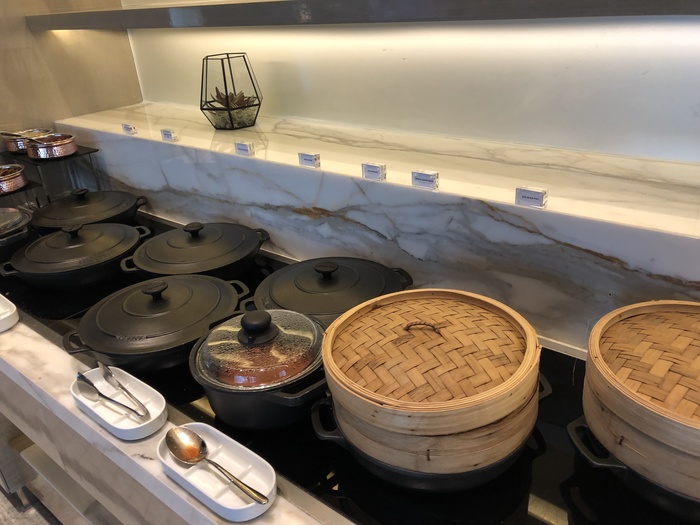 …. a deli section: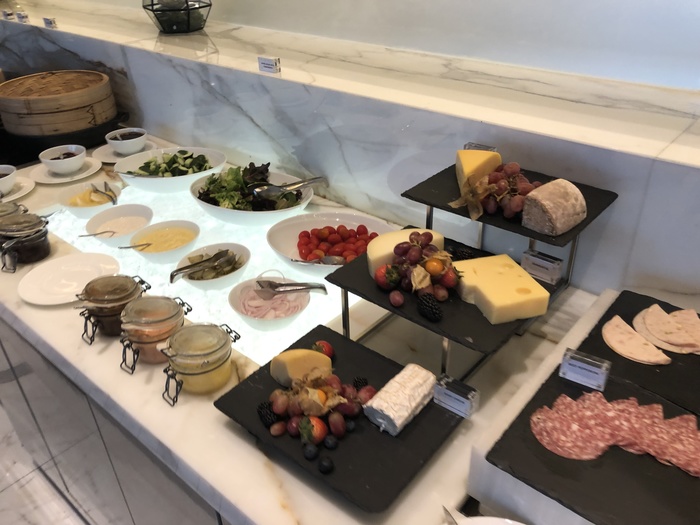 A variety of cut fruit and sweet dishes: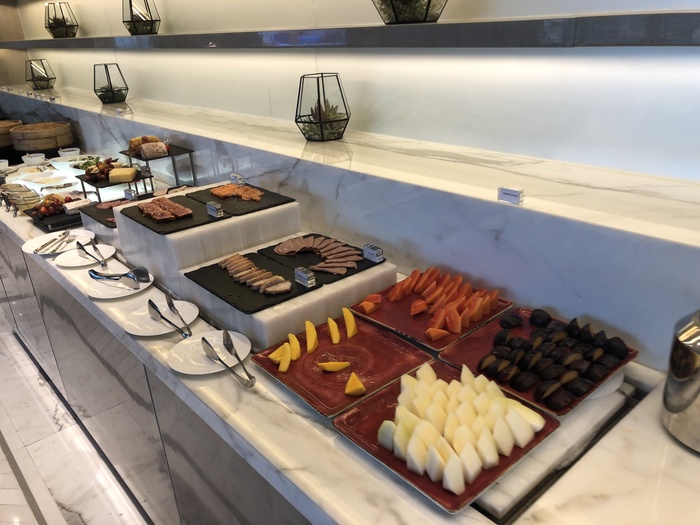 Breakfast and afternoon tea had equally as much food, all very good. It would be very, very difficult to go hungry here …..
One of the pleasant things about the Executive Lounge is that, even on nights when the hotel is completely full (as it was during my stay), the lounge is remarkably quiet.
The other pleasant thing, of course, is the service. In a hotel of 200+ beds the service is, in general, not quite as personal as in Four Seasons Langkawi (my review is here). This isn't surprising, given that the Four Seasons Kuala Lumpur is a large city hotel and has a higher guest turnover rate compared to a resort property.
In the Executive Lounge, however, I became familiar with the staff and they with me. There is something very pleasant about establishing a rapport with the staff and seeing familiar faces in an otherwise unfamiliar place, and, of course, they gave excellent service. The Executive Lounge was probably my favourite part of the whole hotel.
Breakfast and Dinner
Four Seasons Kuala Lumpur has several dining options in addition to those in the club. Next to reception is The Lounge, a casual dining place with an afternoon tea service: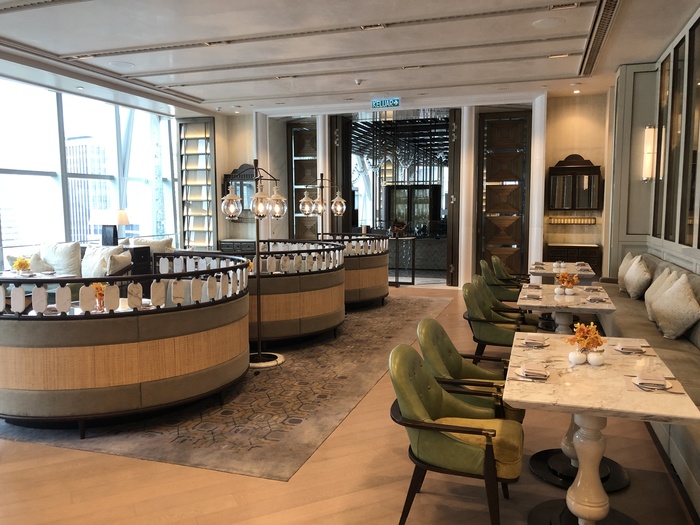 Beyond the lounge is the hotel bar, called Bar Trigona, which is a beautifully designed space with some excellent honey-bee inspired drinks which make use of a wide variety of honeys the hotel sources from local and international beekeepers.
Also on this floor is CurATE, the casual buffet dining experience where breakfast is served but which also has lunch and dinner options. The buffet is gigantic, and caters to Asian, European and Middle Eastern tastes. Here are some photos from the breakfast service stations although this is by no means exhaustive. There were cheeses, meats and gravalax salmon and other smoked fish: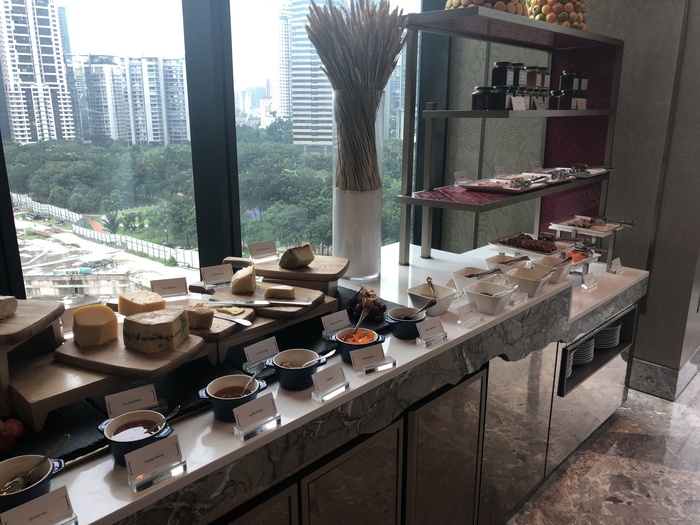 Breads and pastries: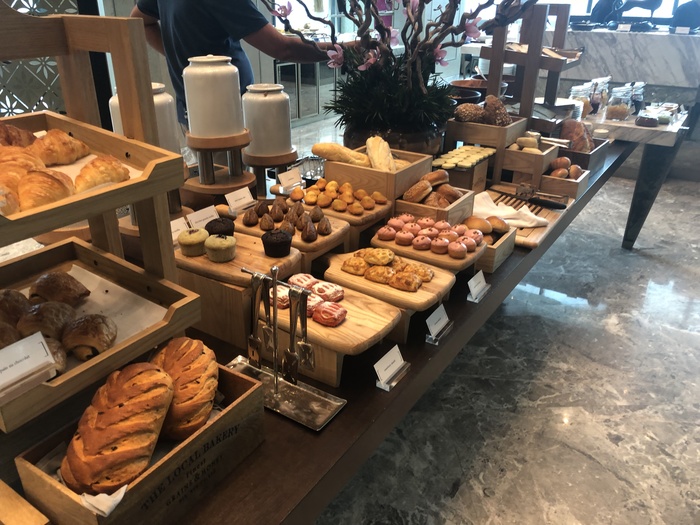 A salad station: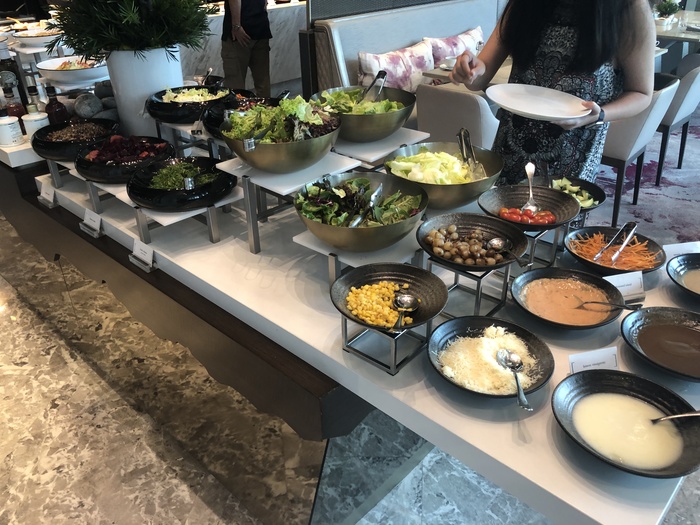 Hot dishes and meats: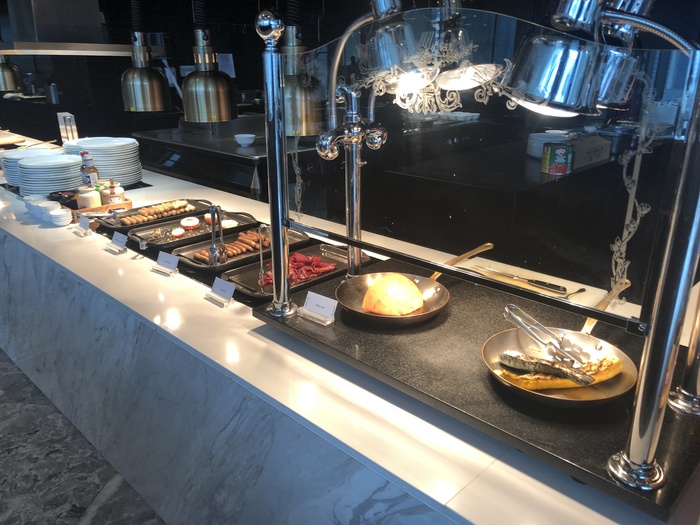 And more freshly cooked meats:
I also ate dinner here one night. Again, there was an absolutely gigantic spread including a seafood bar with lobster, tiger prawns, crabs legs and oysters: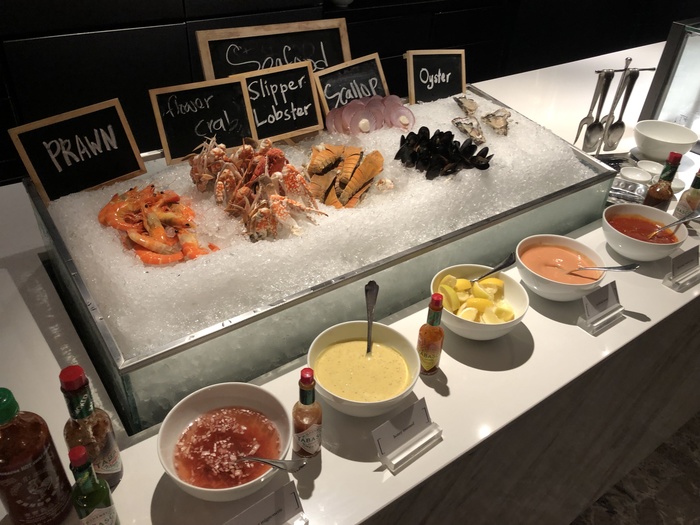 As well as a whole roast lamb: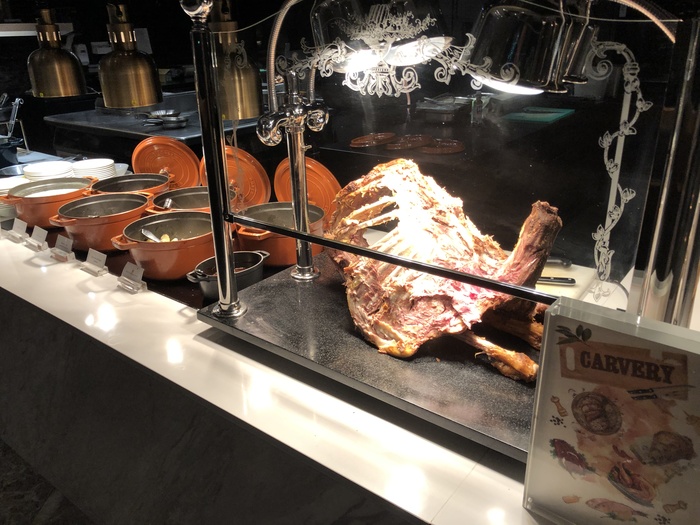 However, although it is a good buffet, it is just a buffet and, given that Kuala Lumpur is famed for its abundance of excellent restaurants and street food, I probably wouldn't stay here for lunch or dinner unless I really didn't want to leave the hotel. Whilst alcohol is served at CurATE, it is not offered and must be ordered from a drinks section. I was not aware of this at the time and assumed it was alcohol-free owing to its family-friendly nature and the fact that nobody else appeared to be drinking.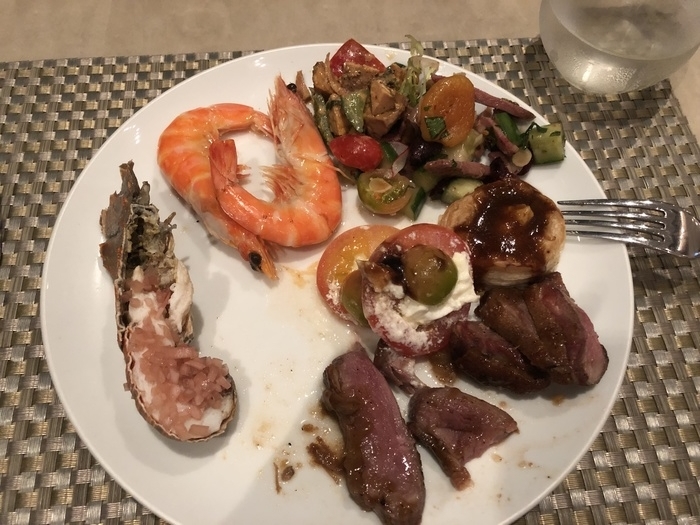 During breakfast I was craving Malaysian Kuih Lapis, and asked the staff if they had any. They did and brought me some especially: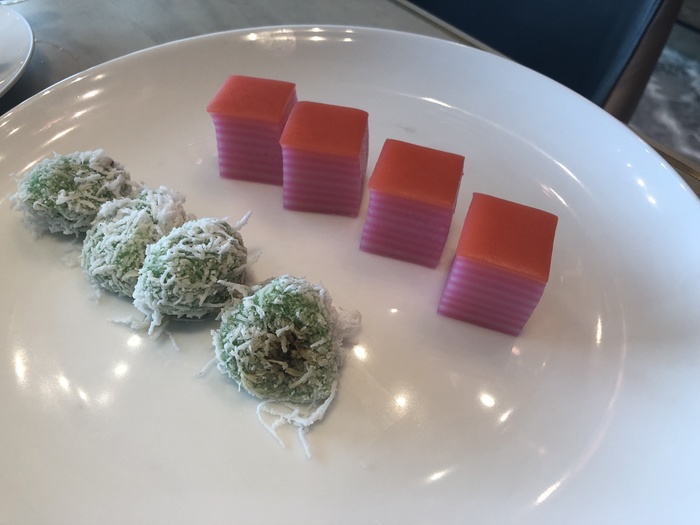 There is also an a la carte restaurant specialising in Chinese cuisine called Yun House, which is again in a beautifully designed space that can also accommodate private dining: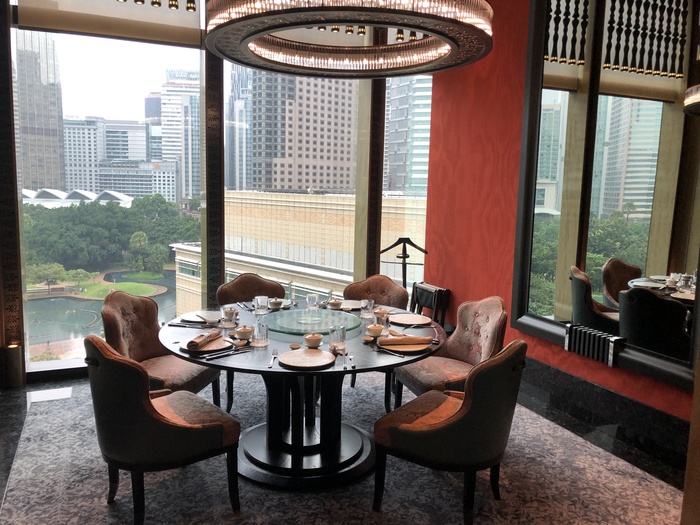 Whilst the hotel restaurants and bars are very convenient, Four Seasons Kuala Lumpur is not a resort and you should not restrict yourself to its dining opportunities. I had some amazing experiences with street-food vendors and Kuala Lumpur is well known for the quality of restaurants as well as food markets.
Other amenities
On floor 6A, Four Seasons Kuala Lumpur has a range of guest amenities including a 24 hour gym: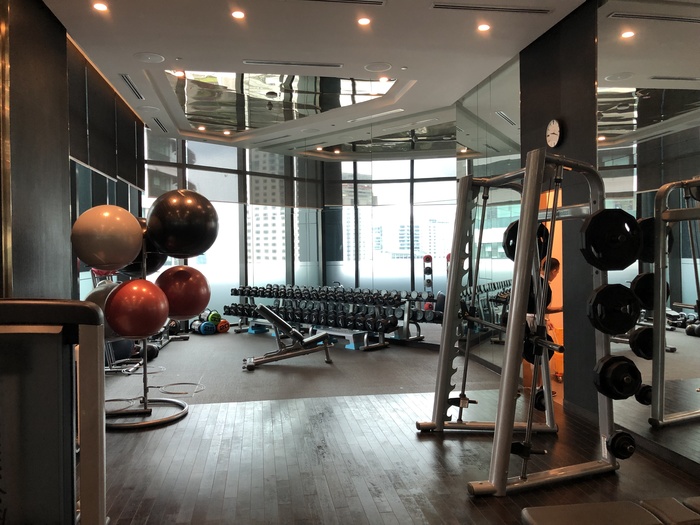 There is also a hotel pool with an infinity pool and beautiful sunset views: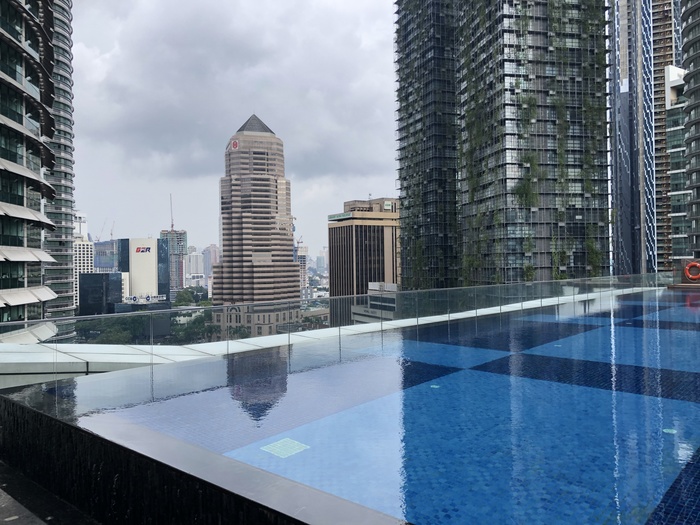 …. as well as a jacuzzi and poolside bar/grill: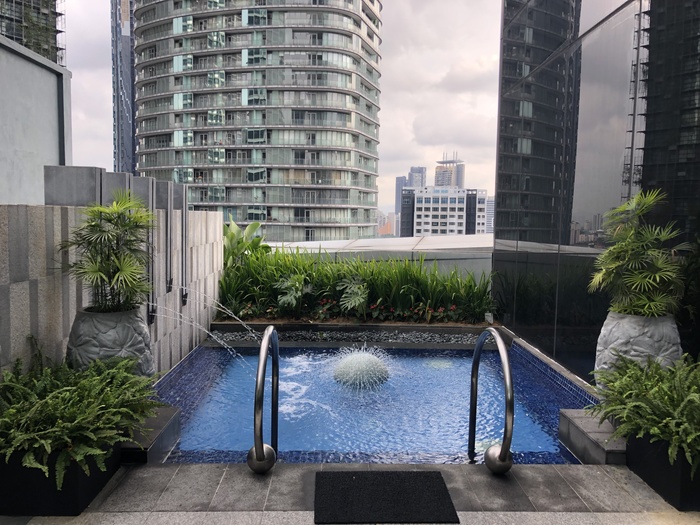 There is also a spa, sauna and steam room. Whilst the spa is at additional cost, the sauna and steam room are adjacent to the pool and also include changing rooms, showers and lockers which I used when I went to the pool.
Despite the relatively limited size of the pool given the size of the hotel, it was not crowded and there were several recliners available every time I went.
Conclusion
As you would expect, the Four Seasons Kuala Lumpur offers a very different experience to the Four Seasons Langkawi resort I previously reviewed. The larger size of the hotel, coupled with a faster rotation in guests means that you don't get quite the same level of personal service although, of course, the entire staff is excellent.
As a brand new hotel, all of the rooms and amenities are in excellent condition and the location by the Petronas Towers – with a shopping mall directly underneath you – can't be beat. I was particularly impressed by the Executive Lounge and the service I received there. You should give the hotel serious consideration next time you are visiting KL.
How to book Four Seasons Kuala Lumpur
Four Seasons does not run a loyalty scheme so there is no option to redeem nights.
Since 2017 we have partnered with Emyr Thomas who runs Bon Vivant, a London-based luxury travel agent. He works with Four Seasons (amongst others) as a Preferred Partner, and is able to guarantee a range of additional benefits when you book with him, including:
Daily full American breakfast for two people per bedroom, served through In-Room Dining or in the hotel restaurant (including buffets)
Spa credit of USD100 once during stay (not applicable to products)
Upgrade of one category, based on availability at time of check-in
Complimentary basic Internet in all guest rooms; complimentary premium Internet in all suites
Emyr can usually match any rate offered via the Four Seasons website and get you the above benefits added on. You can contact Emyr via our online form here.
Our partnership with Emyr has been going for over two years now and you will regularly see readers praising his service in the comments, so it is well worth booking with him.