Malaysia Airlines A350 Business Class flight review (Part 2)
Links on Head for Points may pay us an affiliate commission. A list of partners is here.
This is Part 2 of our Malaysia Airlines Business class review, flying from Kuala Lumpur to London on an Airbus A350-900.

Part 1 of our Malaysia Airlines Business class review can be found here, which focuses mainly on the cabin, seat and lunch first meal service. In this part we look at the IFE and meal service.
You can read about the A350 service on the Malaysia Airlines site here.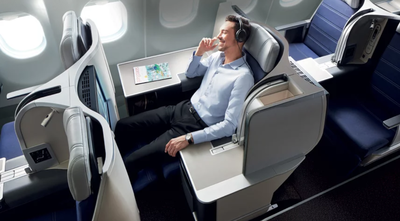 Food and drink
I was on the day flight, departing at 9:50am. The first meal service is brunch with a range of western and Malaysian / Asian style breakfasts.
Thanks to the air traffic delay on our flight, it was almost midday by the time the first meal service began. I had also had breakfast in the first class lounge in Kuala Lumpur. Instead of choosing a brunch item from the menu I selected one of the two meals I had pre-ordered as part of the 'Chef on Call' service that Malaysia Airlines operate.
I had a selection of fruit and a croissant as a starter: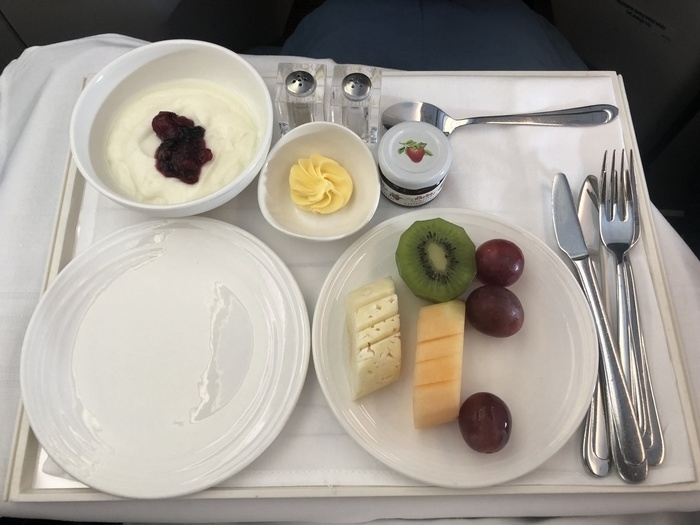 and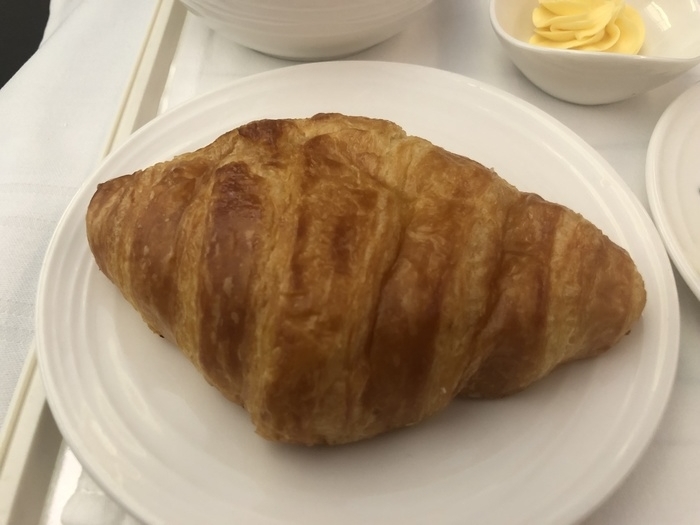 This was my pre-ordered 'Chef on Call' beef cheek, which was pretty good: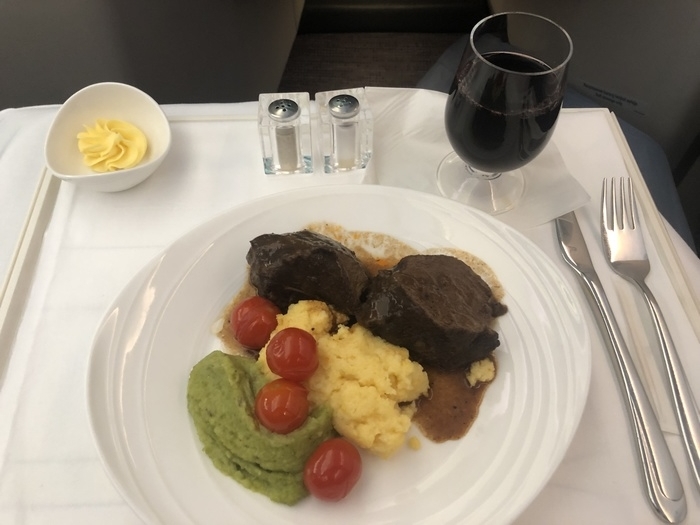 The cabin crew did not offer another drink to go with my main, so I had to call to order a glass of Chateau Les Ormes Sorbet 2008 Aoc Medoc red wine, which is around £15-£20 a bottle.
I had a tasty Chocolate Apricot Five Spice Cake for dessert. And finally, to round it all off, a selection of what appeared to be Wensleydale and Cheddar or Red Leicester cheese board: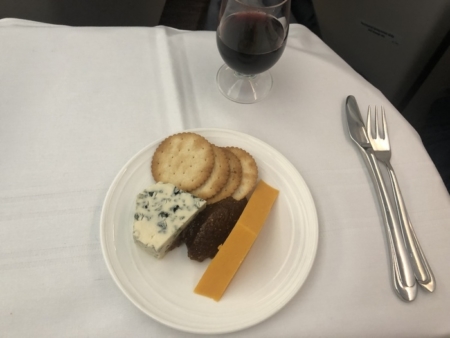 I was pretty full! Although, a few hours later, I was hungry again and decided to order something off the 'Dine Anytime' menu, which had a range of sweet and savoury snacks to tide me over before the second meal service. I went for the Hoi Sin chicken wrap and a pastrami, cheddar and tomato panini, both of which were a little disappointing, although I loved the guava juice I had them with!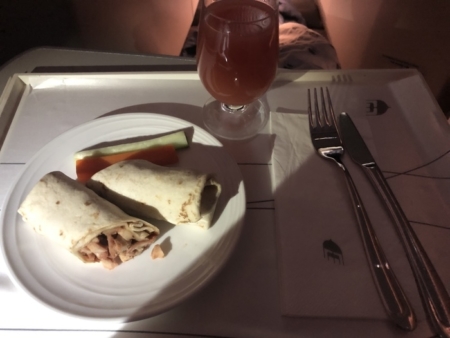 and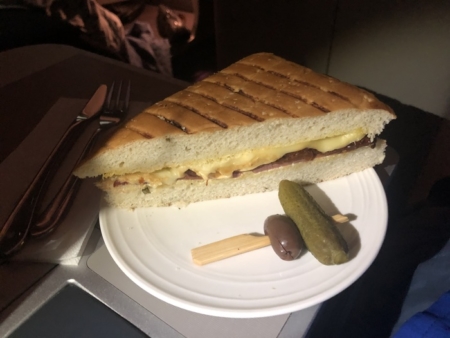 Just before landing we were served another full meal service. Cabin crew went through the cabin taking people's orders although I was not asked, and given my second 'Chef on Call' service.
Drinks and a light snack were provided first, so I had a G&T: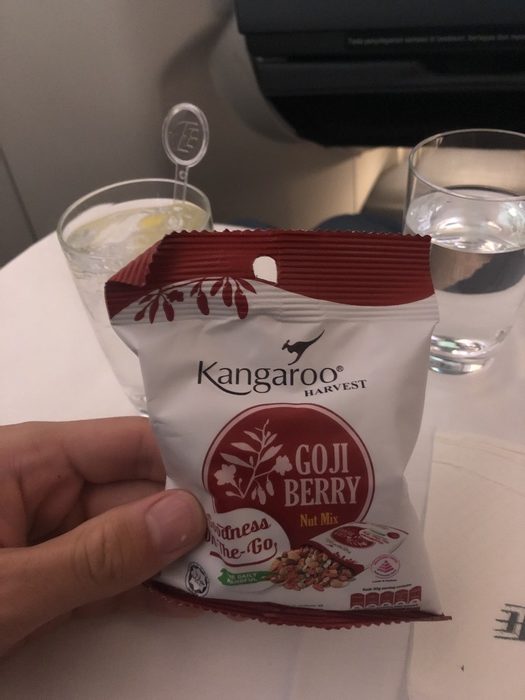 Before the meal the signature Malaysia Airlines satay was offered. As I said in my Business Suites review, I was very impressed by this satay offering – it matched and even beat some of the satay I had in Kuala Lumpur: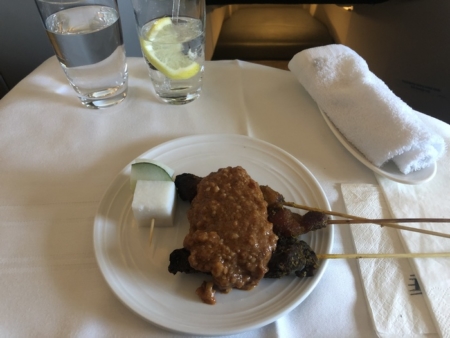 This was followed by 'Tataki of Salmon with Mango Salsa', which was good: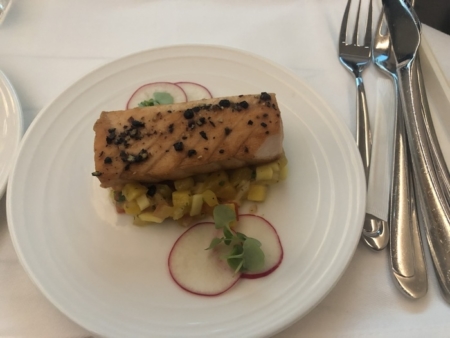 Finally, the Cod Papilotte I had ordered via Chef on Call. This was served in a paper lining on a ceramic plate, and did not look quite as fancy as in the photos provided. I was not particularly impressed by this dish: the fish wasn't particularly flavourful and was swimming in a sea of butter. It could have done with the addition of some fresh herbs to really pep it up.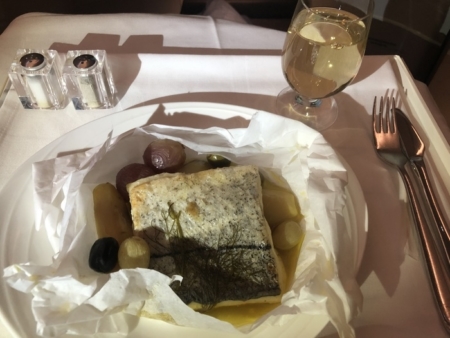 No alcohol was offered with the main course, so I asked for a glass of the M Chapoutier La Combe Pilates Viognier 2016, which is around £12 a bottle.
No desserts were offered, and I did not ask for any additional items.
In flight entertainment
The IFE system is best operated via the 16 inch touch screen, which is fine as the screen is close enough to touch. There is also a small remote if you prefer.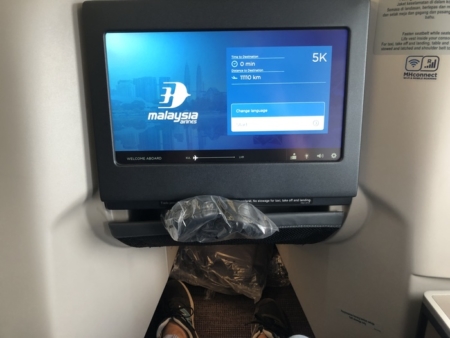 and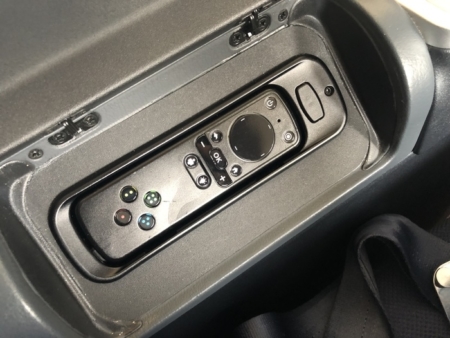 The headphones were the same as in the Business Suites (I think – although they didn't come in a fancy case). They were a Malaysia Airlines branded set with impressive noise cancelling capabilities although, as before, I used my own pair for better sound quality overall.
The entertainment catalogue had not changed in the week I had been away, and included a fairly limited range of new releases as well as classics. Some of the films are just bizarre, including all three Big Momma's House films which I'm not sure anyone calls a classic.
I chose to watch indie film Ruby Sparks. Malaysia Airlines is one of the few airlines that censors the language in its in flight entertainment selection, which can be frustrating at times when lines are badly over-dubbed. Some films also have hard-burned subtitles in English or Chinese, which is a little distracting.
Wi-fi
Malaysia Airlines' A350 aircraft are all outfitted with WiFi and roaming capabilities. As is usual across the industry, you do not get complimentary access in business class. You can purchase 10mb for $2, 50mb for $10 and 200mb for $25. The low data allowance on these packages means that none of them are particularly appropriate for streaming.
Conclusion
What I liked about Malaysia Airlines business class is that the 1-2-2 / 1-2-1 layout means means that you can tailor your experience. Several couples enjoyed the duo seats whilst solo travellers made the most of the individual seats such as the one I had. The seats are also far more private than you would get in Club World on British Airways.
If you need to travel to Malaysia, or indeed beyond, on business then Malaysia Airlines has a compelling product. You will still earn British Airways Executive Club Avios and tier points, whilst enjoying a far more private and spacious seat than you would in BA's Club World.
The cabin crew are friendly and polite, although the service was more reactive than proactive. Food was a little hit and miss, with the quality of mains, even using the 'Chef on Call' service, being variable. The inconsistency is frustrating since it is clear that Malaysia Airlines CAN do really good food if it wants to. To some extent, I think I was spoilt by flying Business Suites on the outbound leg where I was the only passenger in the cabin!
Don't let this put you off booking though. Malaysia Airlines has a very good product here, light years ahead of the current Club World seat, and it is well worth trying out if you get the chance.
You can learn more about the Airbus A350-900 Business Class product on the Malaysia Airlines website here. Thanks to Dan and Richard at Malaysia Airlines in London for putting this trip together for HfP.