Malaysia Airlines A350 Business Class flight review (Part 1)
Links on Head for Points may pay us an affiliate commission. A list of partners is here.
This is our review of Malaysia Airlines Business Class on the Airbus A350-900, between Kuala Lumpur and Heathrow.

This review is the final part of our series on Malaysia Airlines. You can read my review of the Malaysia Airlines Golden Lounge at Heathrow Terminal 4 here as well as my review of Malaysia Airlines 'Business Suites' here. Our review of the Malaysia Airlines First Class lounge in Kuala Lumpur is here and, in 2018, we looked at the Business Lounge in KL.
Malaysia Airlines is, of course, a British Airways partner in the oneworld alliance and you can earn and spend Avios – and earn British Airways tier points – when you fly with Malaysia Airlines.
Malaysia Airlines offered us complimentary flights on their flagship A350 service from London Heathrow T4 to Kuala Lumpur. HfP paid for all of its incidental expenses on the trip, although our hotel bill was partially subsidised by Four Seasons – FS Langkawi is reviewed here and FS Kuala Lumpur is reviewed here.
Malaysia Airlines A350 Business Class
On my return flight to London I was in business class. This is a considerably larger cabin than the Business Suite (previously branded First Class) cabin with its four seats! In total there are 35 business class seats, divided by a large galley: 22 in a larger cabin and the remaining 13 in a smaller cabin behind the galley.
As with the Business Suite cabin, the centre overhead bins have been removed to give a greater sense of space. This means only the window seats get air vents.
The seat
The Vantage seat used by Malaysia Airlines is the smaller sibling of the VantageXL seats in its Business Suites. The layout is very confusing, and alternates between a 1-2-1 and a 1-2-2 seat plan – you might be familiar with it if you've flown SWISS or Aer Lingus business class recently.
This means that there is a significant variation in the seat experience, including a handful of seats without direct aisle access.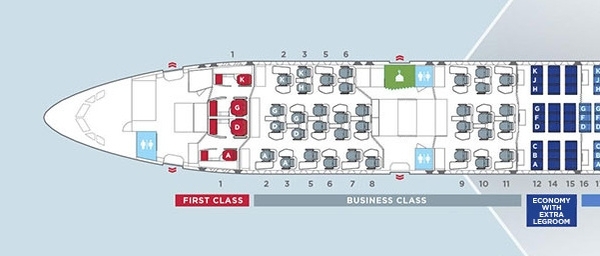 I was in a 'throne' seat: a solo window seat on the right hand side. It is called a throne seat because the seat is flanked on either side by side tables which disguised the cubby holes of the two seats behind me.
Here is a PR photo: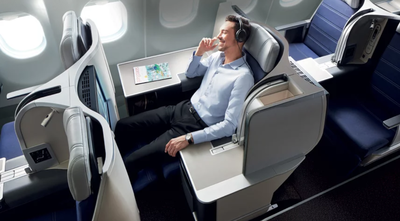 …. and here is the real thing: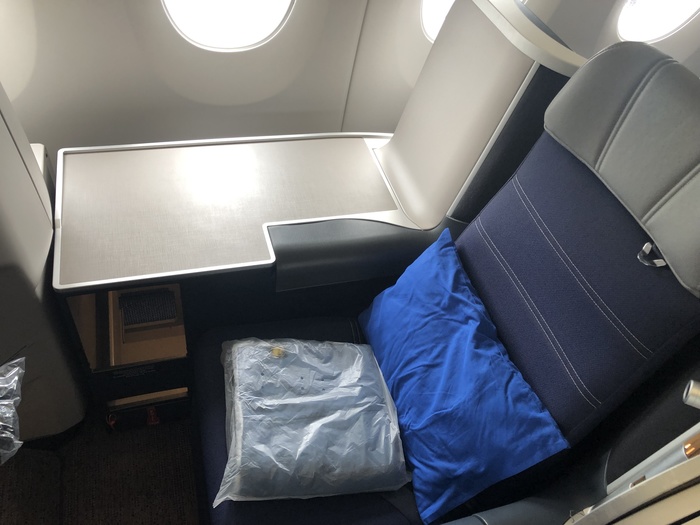 And yes – the seat Malaysia Airlines has chosen for its new business class offering is of the 'foot cubby hole' variety. Cubby hole seats are also coming soon to a British Airways and Virgin Atlantic A350 near you ….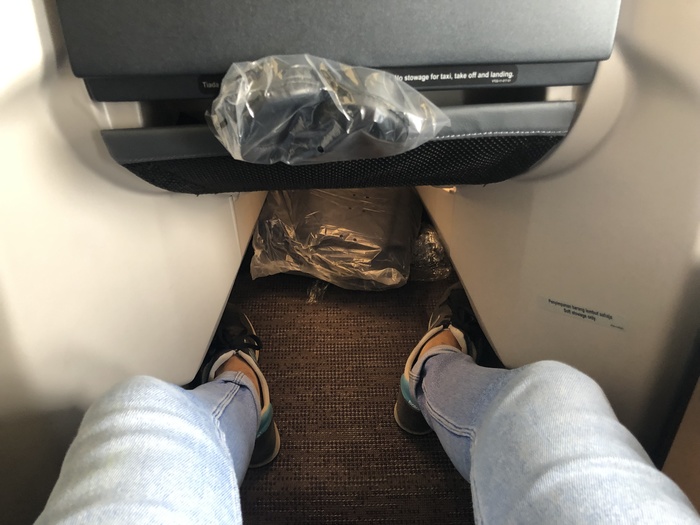 The throne seats appeared to a have slightly smaller cubby hole than some of the other seats and, crucially, it was fully enclosed. Those seated next to an aisle had an open partition which was slightly less restrictive.
Here is my cubby hole, complete with a rogue slipper that had been left from the previous flight.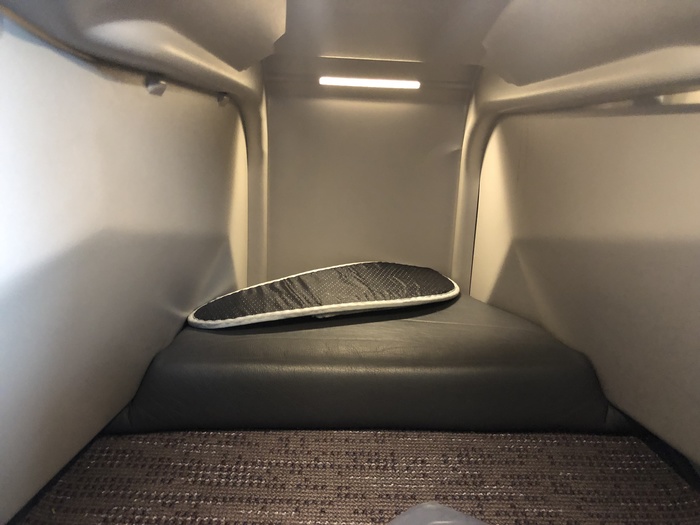 I was surprised by how tight the space was. It was just big enough for my feet (size 10.5!) although I wouldn't necessarily call it comfortable. If you think this will be an issue for you, I recommend a non-throne seat in the cabin.
The official seat dimensions state that it turns into a 78 inch (198 cm) bed with a width of 22 inches (56 cm).
In general, these seats were slightly narrower than the Business Suites. In bed mode I just about fit from head to toe at 6'2″. If you want to turn around you must shimmy over on your side. It is a very tight fit. They come with a seat belt as well as an across-the-shoulder extension, which must be worn for take-off and landing.
Connectivity is via a USB and universal power socket: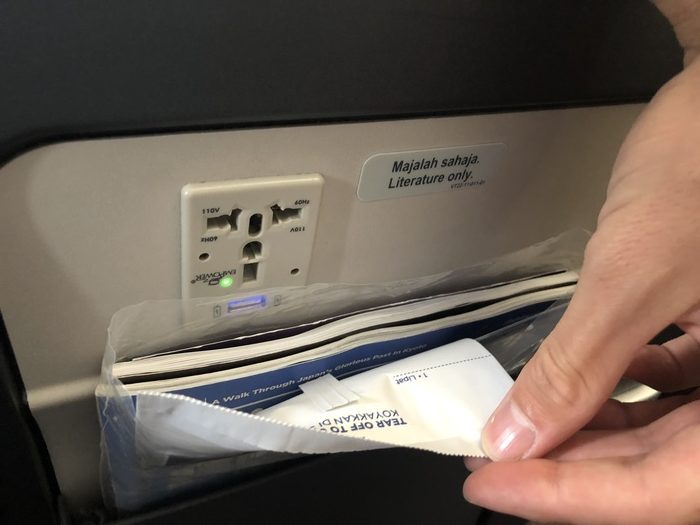 There is also a reading light next to the seat controls and a small cupboard big enough for headphones or something similarly sized: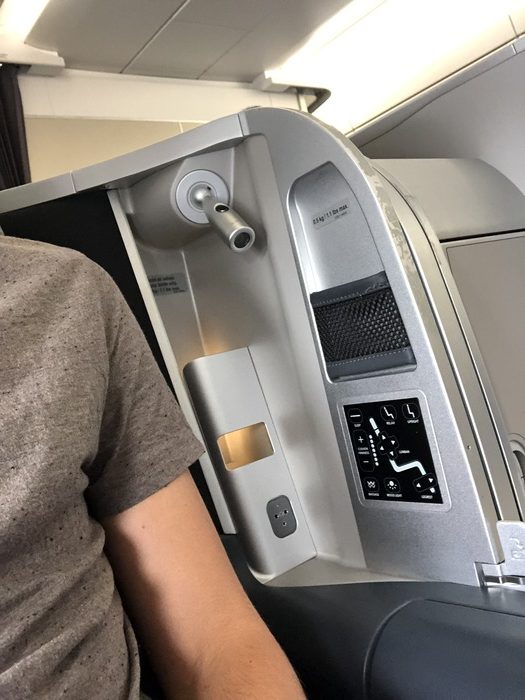 The window shades are the standard A350 pull-down variety, rather than any electronically powered ones. This means that you, and not the crew, get to control whether you have any light coming in.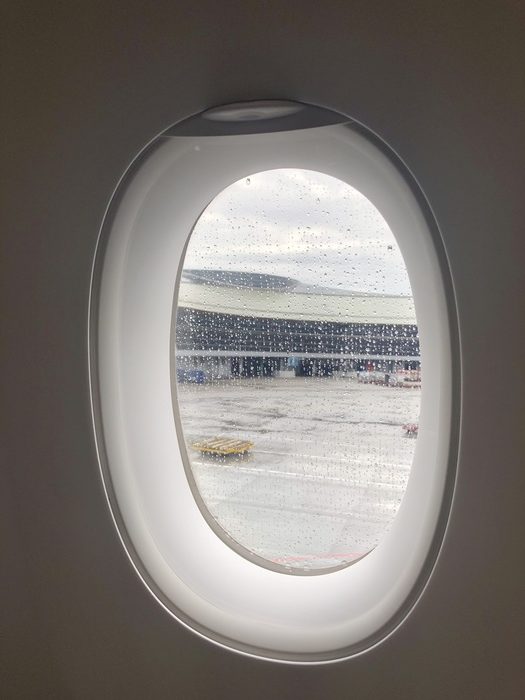 A turn-down service is not provided in business class. Your seat is supplied with a blanket, mattress cover and pillow (although not the down pillow that the Business Suites get). Pyjamas are not provided.
When I wanted to sleep I made the bed myself which took a minute or two. The extremely low light in the cabin at that point meant I could not get a decent photograph of it unfortunately.
Boarding
Once boarded I was offered a drink of orange juice, apple juice or their signature drink – a kind of alcohol-free mojito with pandan syrup, a local speciality. I was not offered champagne, although I did ask for some shortly after because our flight was delayed. This was the same Bruno Paillard Brut Premiere Cuvee that was offered before take off in the Business Suite. You can buy a bottle for around £35.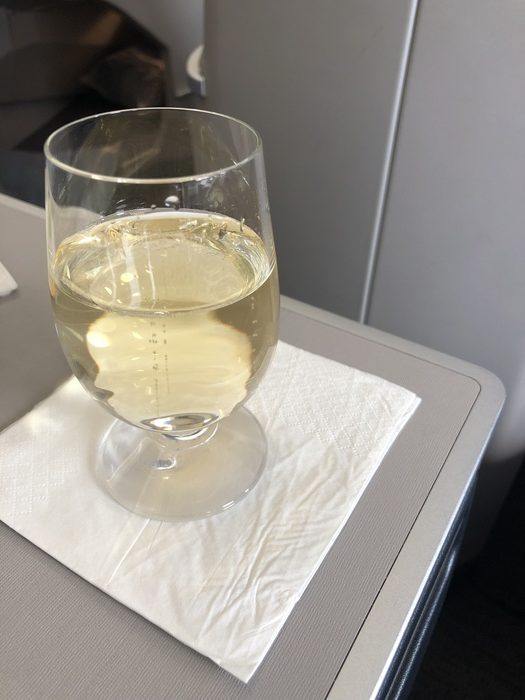 A newspaper trolley also came around, although only Malaysian and regional newspapers were offered. Luckily I had got a copy of The Times and The New York Times in the first class lounge.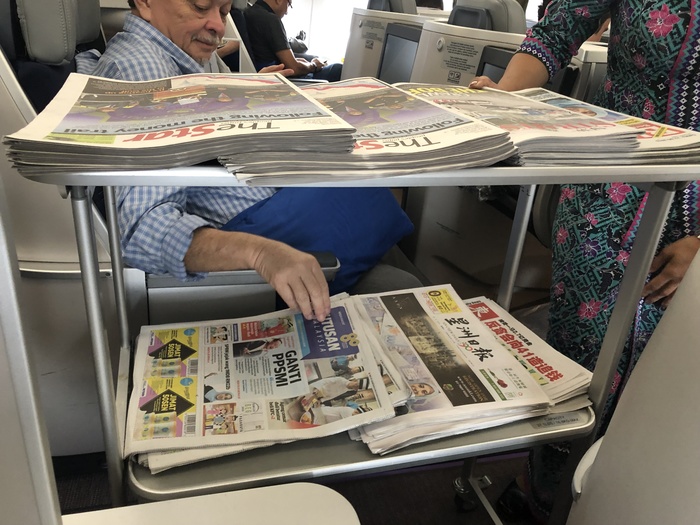 The business class menu was also passed around as well as an Aigner amenity kit with socks, comb, dental kit, mouthwash, body lotion and lip balm and a set of surprisingly sturdy-looking slippers. These were better than many you'd find in a high end hotel.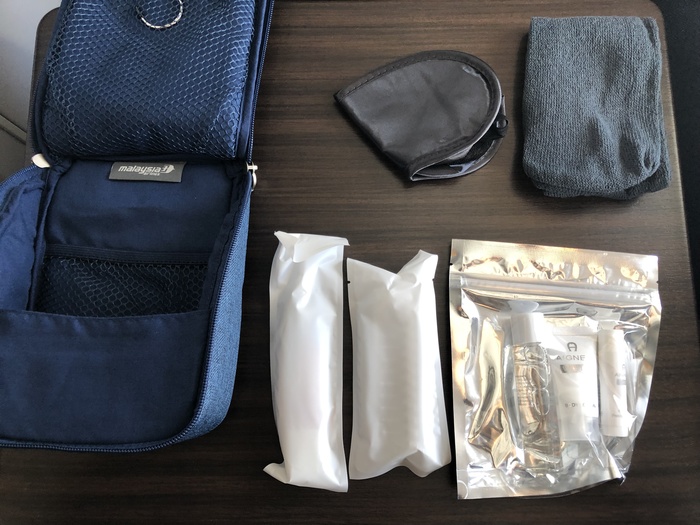 and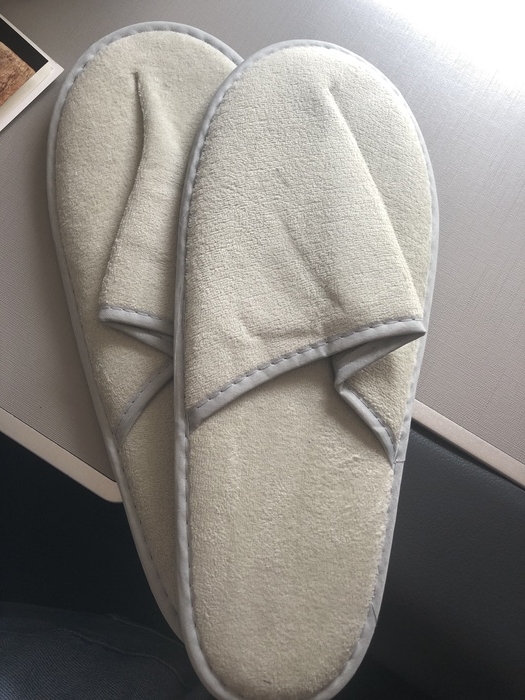 Bathroom
The business class toilets are the same standard size as in economy. Amenities were provided by Acca Kappa, including a green mandarin Eau de Toilette.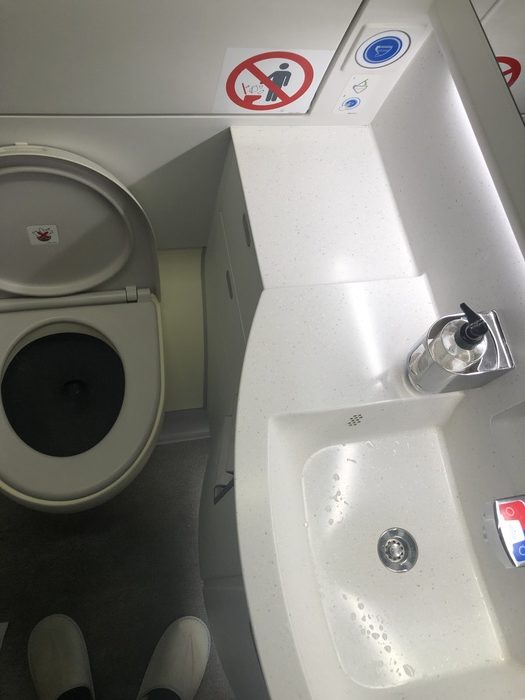 It did have a funky adjustable personal mirror with built-in lighting: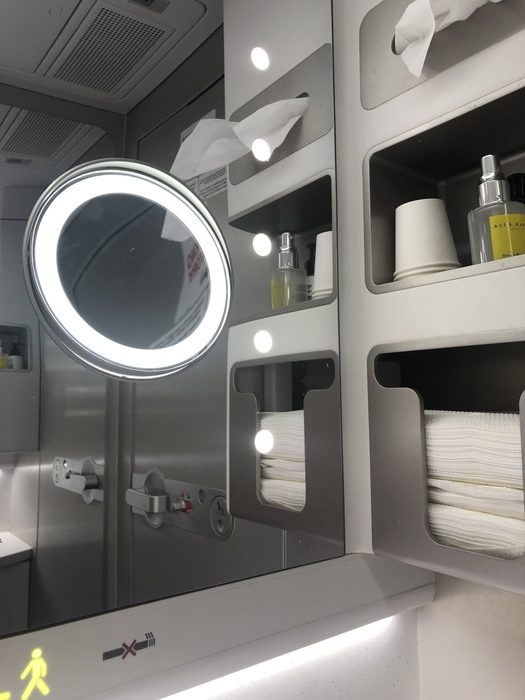 This is the end of Part 1. Part 2 of our Malaysia Airlines Business class review, which focuses mainly on the meal service and in flight entertainment, is also published today and can be found here.
You can learn more about the Airbus A350-900 Business class product on the Malaysia Airlines website here.