Review: Cardiff Airport Executive Lounge (Lolfa Foethus)
Links on Head for Points may pay us an affiliate commission. A list of partners is here.
This is our review of the Executive Lounge at Cardiff Airport.
It is part of our almost-complete collection of UK airport lounge reviews – see them all here.
As we don't often fly from regional UK airports we asked you to help us fill in the gaps. Reader Lewis very kindly sent in this review of the Executive Lounge at Cardiff Airport, which we haven't covered for 18 months or so. Over to Lewis:
"Cardiff Airport upgraded its Executive Lounge offering in 2018 as part of a wider £4 million terminal upgrade. This coincided with the launch of Qatar Airways direct flights to Doha from the airport.
Business class passengers with KLM and Qatar Airways plus Flybe all-in ticket holders benefit from fast track security at Cardiff Airport. Economy passengers are unable to purchase this separately and it does not come inclusive with lounge access. Security at Cardiff Airport does not get huge amounts of traffic all year round but it can save you 15 – 20 minutes when there are a number of early morning departures such as the morning of my flight.
As part of the terminal upgrade the departure lounge was extended and given a new entrance to the Lolfa Foethus (Executive Lounge in Welsh) tucked around the back.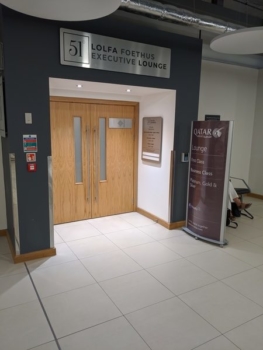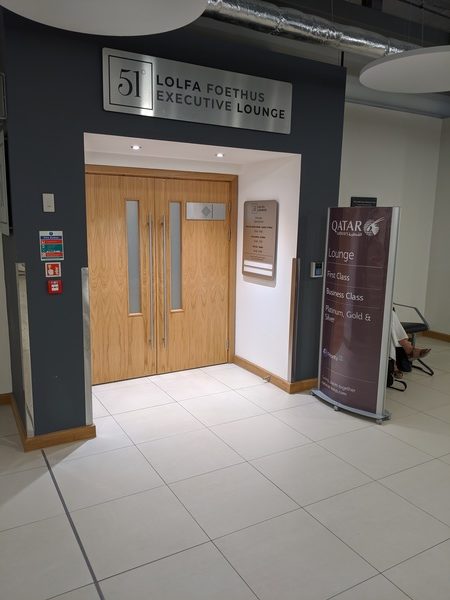 Accessing the Executive Lounge at Cardiff Airport
Most airlines (including KLM and Qatar) use the Executive Lounge for those travelling in business class.
If you do not have lounge access included in your ticket you can book it on the airport website here. It is £23 per person.
Unfortunately the rules for Priority Pass, Lounge Pass, LoungeKey have recently changed. As of 1st October 2019 they are no longer valid for entry, which is a shame. You can still use your DragonPass to get access to the Executive Lounge. Access is subject to availability, as is standard.
Pre booking isn't necessary but recommend for early morning departures in the summer season.
The Executive Lounge
The lounge is open from 5am every morning and shuts at 9pm except for Saturday's where it closes at 5pm.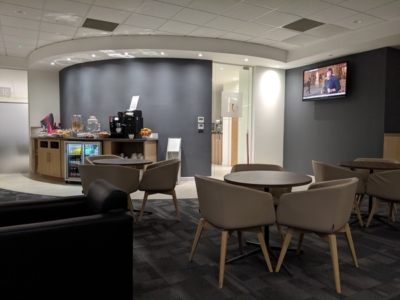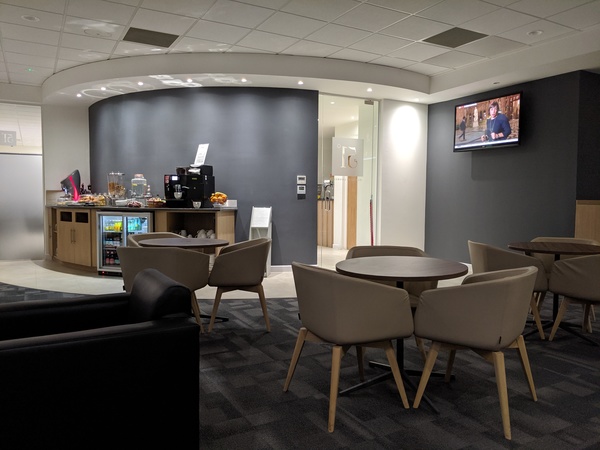 On arrival you enter the main Executive Lounge area for all passengers. There is plenty of seating available, a dedicated work area, a TV and an information board. Usually there are newspapers but I didn't see any this morning. One of the first things you will notice is the lack of windows in this lounge, there is one small window facing the car park. There are no runway views.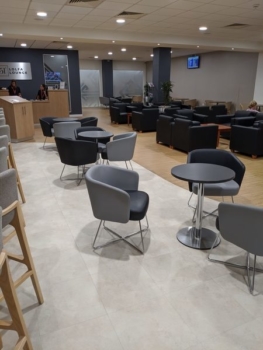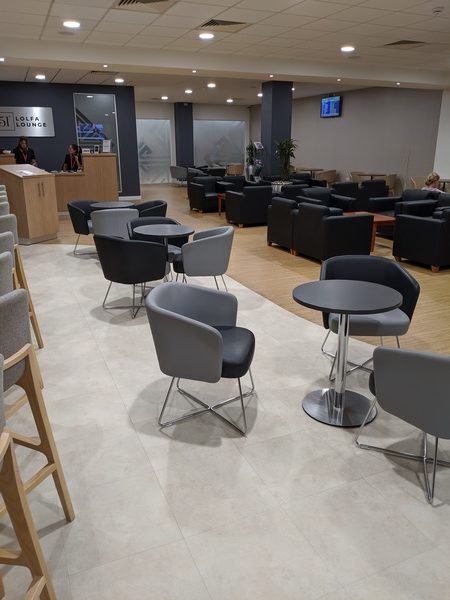 Food and drinks
For the breakfast buffet there is a cold only offering of pastries, Welsh cakes, fruit, cereal, crisps, peanuts, biscuits and pretzels. Clotted cream and jams are also available.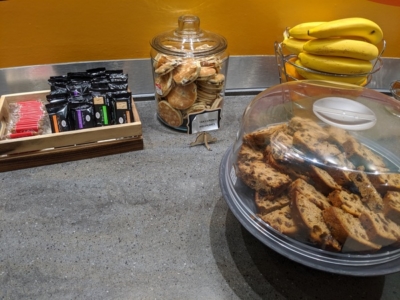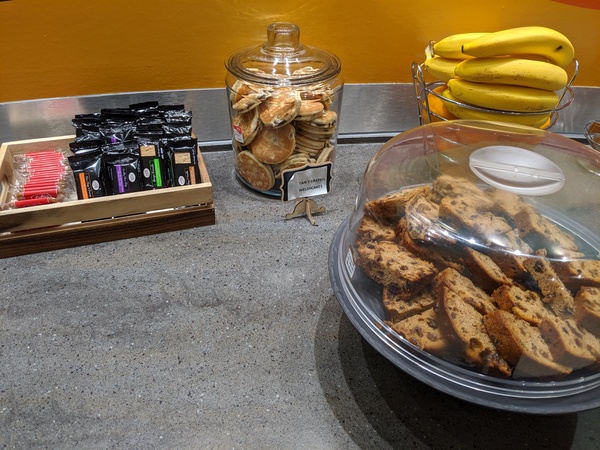 Hot and soft drinks are dispensed from a self service machine.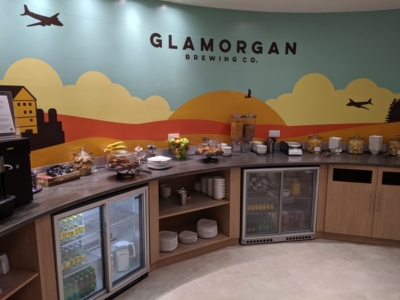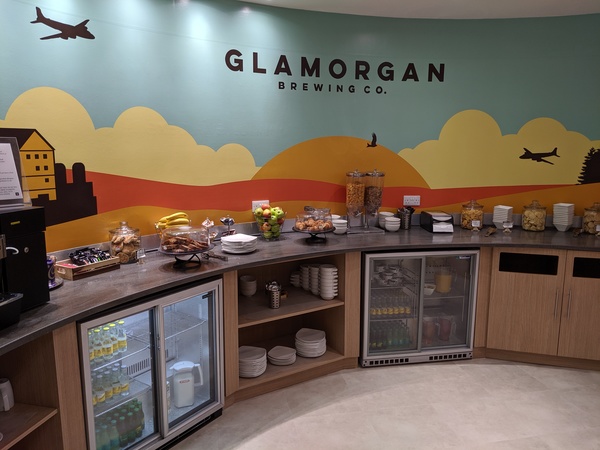 There is a separate manned bar area with numerous beers on offer from the Glamorgan Brewery company (I recommend them!). You will also find other beers such as Becks, wine on tap and numerous spirits including Penderyn Whiskey. The terms and conditions of the lounge do state that there is a two drink per person limit but in reality I have never seen this enforced.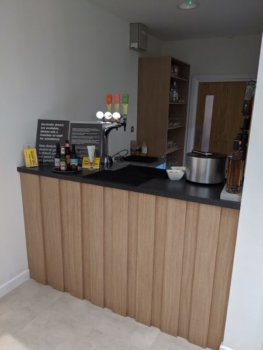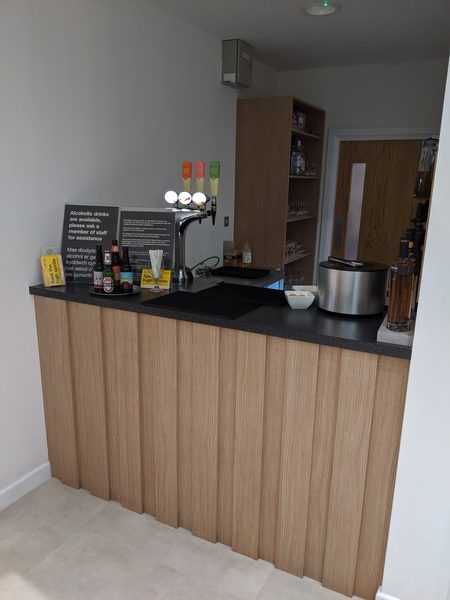 It's worth noting that there are no exclusive use toilets for the main Executive Lounge area. The toilets have been moved to cater for the second area of the lounge, the 51 Degree Business Lounge…
51 Degree Business Lounge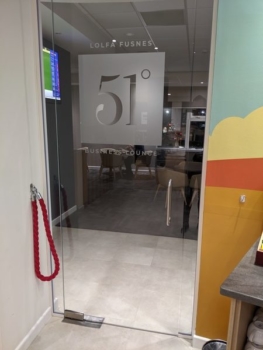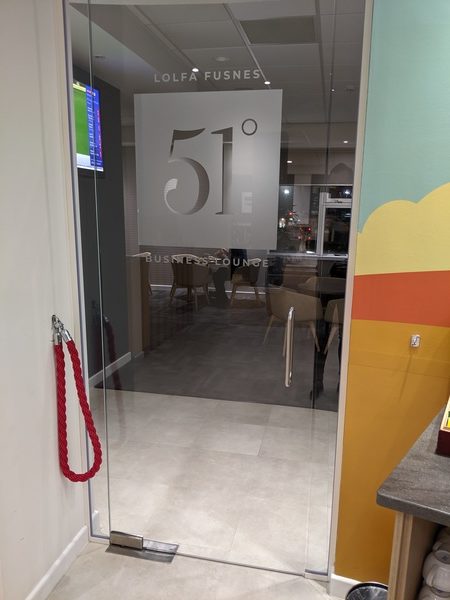 This area is exclusive to business class ticket holders for Qatar Airways and KLM. This area isn't particularly large, I counted around 25 seats but it's a pleasant space with window views of the front of the terminal plus its own TV, information board and buffet station. This space with the exclusive toilets will be mostly beneficial in the summer when the main executive lounge is busy with families. Given the school term has started when I was there, there were more passengers in the 51 Degree Lounge than the main Executive Lounge.
Disappointingly the food offering is similar, if not almost identical, to the main Executive Lounge area. The main difference is that one of the fridges is stocked with beer and some spirits in the corner. It's worth noting that I have seen pictures of hot cawl (Welsh stew) and fresh bread being served to business passengers outside of breakfast hours.
Conclusion
The lounge is a nice area to relax and to get away from a busy departure area. The lack of hot food and runway views does let this lounge down although I do think this is fairly reflected in the £23 charge.
Today I was on a KLM business ticket with a 6.05am departure and I was absolutely fine with a hot tea and some fruit. If I had paid good money to fly business class with Qatar Airways and was presented with this would I be happy? Probably not."
Thanks Lewis. For more UK lounge reviews you can check out our directory here.