My one night river cruise with Paradise Cruises on Halong Bay, Vietnam
Links on Head for Points may pay us an affiliate commission. A list of partners is here.
This is my review of a one night cruise on Halong Bay with Paradise Cruises.
This article is part of our series on Vietnam. You can read more about my trip in Vietnam, including reviews of business class on Vietnam Airlines, a review of premium economy on Vietnam Airlines, the Hilton Hanoi Opera, the MGallery by Sofitel Royal Hoi An and a review of the Sailing Club Resort Mui Ne.
As a reminder, all flights and hotels, and this cruise, were arranged by Vietnam Airlines, whilst HfP paid for all its incidental expenses.
Paradise Cruises operates several different levels of overnight cruises. I was on the Paradise Elegance, which appears to be their mid-tier offering and their most popular option, given they had two boats out. An average nightly rate (all inclusive, bar drinks) is around $300.
I was picked up from my hotel (the Hilton Hanoi Opera) by Paradise Cruises in a small luxury minibus with comfy chairs, water and wifi.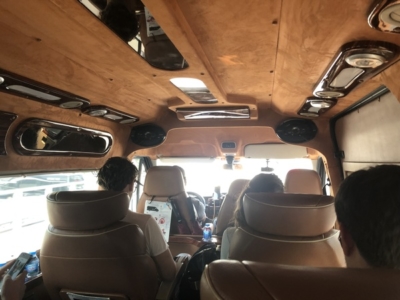 It is about a two hour drive to Tuan Chau island, which is the gateway to Halong Bay. The town itself is currently in the midst of a huge transformation, positioning itself as a resort. The pace of development is incredible to see – although, at the moment, it is more of a ghost town!
I was dropped off at a nice cafe/ boutique clothing / Paradise Cruises check in location. Check in is quick and they take your bags off you.
You are then shuttled by golf buggy to the boat (ship?) which looks like this: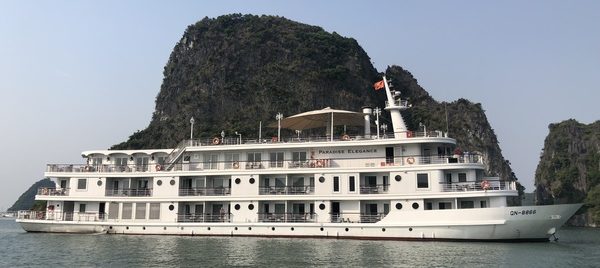 … and board, heading to the restaurant for the safety briefing and welcome dance (!). After that you have about 45 minutes to an hour to unpack and check out your room, before lunch.
The room
This was my room: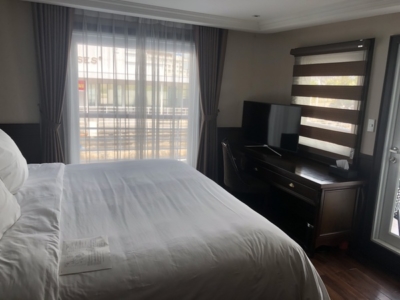 and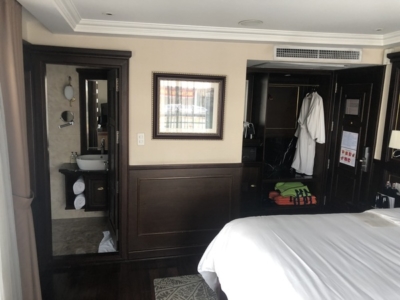 …. which I think was one of the best of the vessel, given it had two windows and a wrap-around balcony: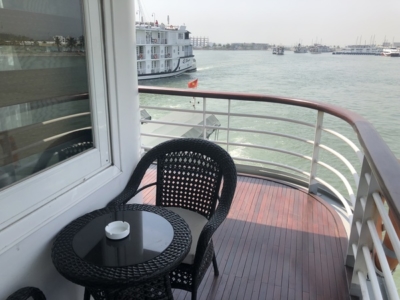 The bathroom comes with a shower AND free-standing bathtub, positioned for the best view out of the window: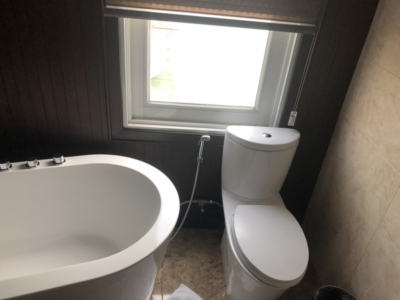 and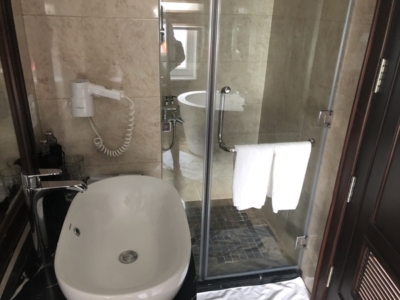 The room has the usual amenities you would expect from a hotel including safe, open wardrobe, mini fridge, kettle, TV etc. The bathroom is fitted with pump-action amenities to be eco-friendly and filtered water is bottled in reusable glass bottles.
Lunch
Lunch is in the restaurant, which is where all meals are served. This is what it looks like: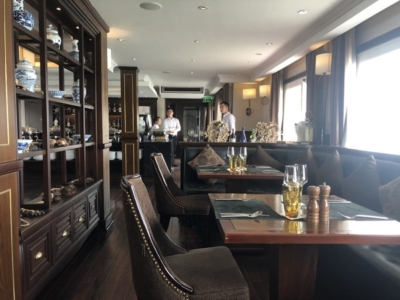 and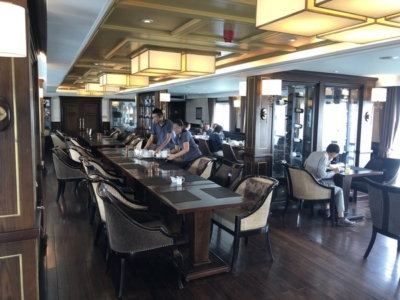 Everyone has an assigned seat, since there are no spare tables. Lunch consists of a buffet: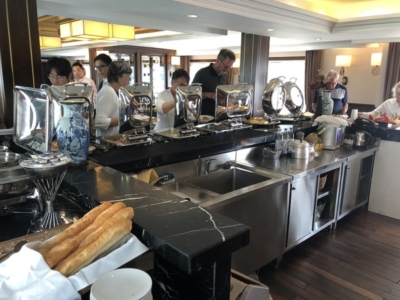 and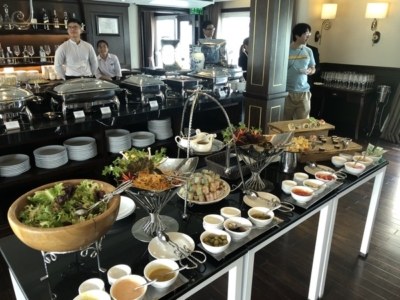 It is not a huge buffet but you are unlikely to go hungry! Here is what I had: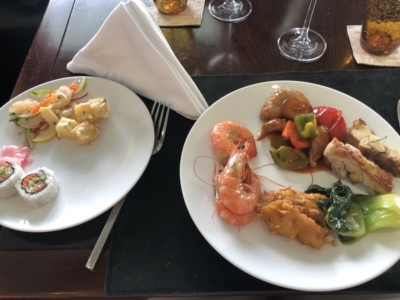 Drinks come at extra expense unless you have a beverage package. These prices are roughly what you'd expect in terms of hotel pricing, so they are not cheap. If you ask for water you are given bottled German water which is weird, given that you could literally grab some bottles from your room for free.
During lunch you enter Halong Bay itself – and can enjoy the magnificent views: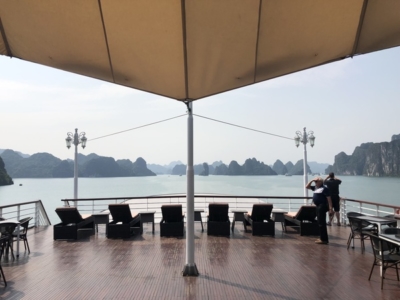 and

Cave excursion
Before long you have the choice to go on the first excursion – a large cave on one of the islands. There are many other boats doing the same tour so it is not a peaceful experience but it is not massively overcrowded either.
Here is the cave: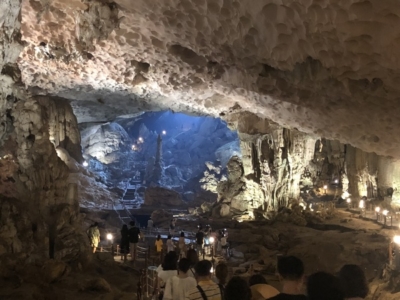 … whilst this is the view from the cave entrance: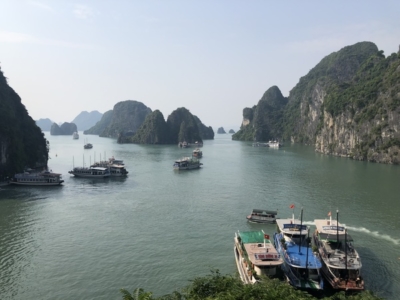 Every time you return to the boat you are offered a cold towel which is much needed after the Vietnamese heat!
Oyster pearl farm
The second excursion is not long after the first, to a pearl farm. You can choose to go kayaking instead for $20 for two people but you are basically limited in where you can go so I thought I'd learn some more about pearls!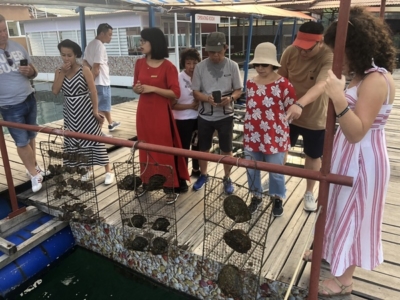 and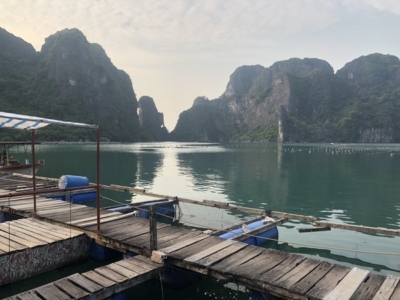 It is an interesting although very short tour. It would have been nice for it to go into a little more depth.
Once you return to the boat you have a few hours before dinner to enjoy the sunset from the sun deck. It really is an unbeatable view: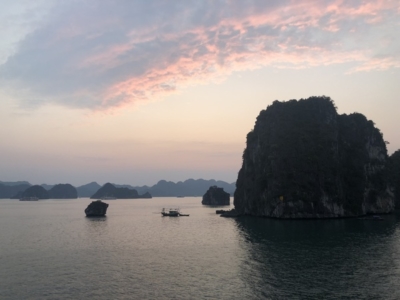 There is also a cooking demonstration with audience participation and you can choose to buy cocktails during happy hour, which comes out at about $3 per drink.
Dinner
Dinner is in the restaurant from an a la carte Menu, split into Asian and western options (you can pick and choose between the two). It is, frankly, a very enticing menu and I spent an age torn between several dishes. In the end I went for the Marinated beef and green banana salad with tamarind dressing: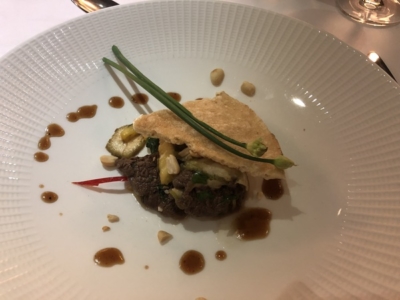 …. which was incredible. This was followed by sweetcorn and chicken soup: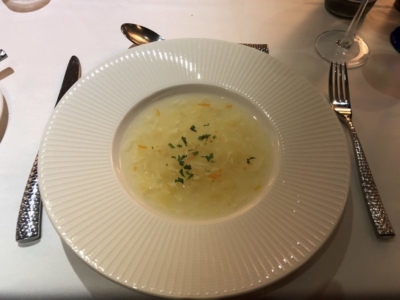 The grilled king prawns with Vietnamese spices served on steamed rice with orange sauce: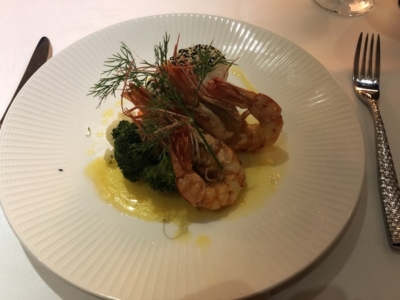 And finally a fried banana with caramel syrup and ice cream: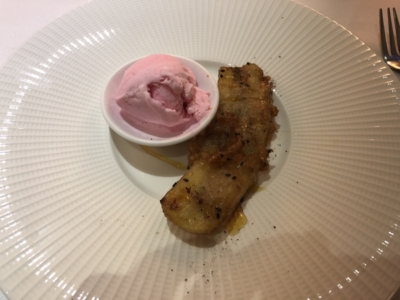 The starter was fantastic. The main was excellent but I thought two prawns was a little stingy, especially since they had all you can eat prawns at the lunch buffet!
From 9pm there is musical entertainment in the piano bar, or you can go squid fishing (!) I decided to do neither and instead had an early night.
Day 2
The following morning starts early with tai chi at 6:30 if you so want. At 7:30 there is an excursion to another island with a climb to a viewing pagoda as well as a small (artificial I think) beach. At 8:30 you are back on the boat for a breakfast buffet, which again has Asian and western options including (bizarrely!) chicken nuggets. You can also order some fresh items, such as eggs, from an a la carte menu:
Following breakfast you must pack and settle your bill, before enjoying the short cruise to port.
Conclusion
The distances cruised are not particularly long – you are always about an hour from the mainland, and can see the coastline lights during the night.
Whilst the excursions are enjoyable they are not particularly special – more of an excuse to get off the boat. The main attraction of the cruise is obviously the view of Halong Bay and the best, by far, is the view from the boat's sun deck.
The quality of the food was great and I was impressed by the amount of choice given, especially for dinner. It's a little ridiculous to charge for water at meal times, however, given they give it out for free the rest of the time!
It would be amiss to visit Vietnam and not see Halong Bay, and these cruises are by far the best way to do it. Paradise Cruises appears to be one of the bigger companies operating in the area and from my experience you can be sure of good treatment!
You can read more about the cruise options on the Paradise Cruise page here.