Review: Sailing Club Resort Mui Ne, Vietnam
Links on Head for Points may pay us an affiliate commission. A list of partners is here.
This is our review of the Sailing Club Resort Mui Ne.
It is part of our series on Vietnam. You can see my review of Vietnam Airlines premium economy here.
You can read more about my trip in Vietnam, including reviews of business class on Vietnam Airlines, a review of premium economy on Vietnam Airlines, the Hilton Hanoi Opera, a Halong Bay cruise, and the MGallery by Sofitel Royal Hoi An
Mui Ne is a beach resort town about 4 hours drive east of Ho Chi Minh City. With strong prevailing winds, it is popular for kite surfing, wind surfing and sailing.
The town's beaches are almost exclusively connected to beach-side resorts, and the Sailing Club Mui Ne is no exception. It is a relatively small resort made up of 31 rooms spread across a main building as well as individual bungalows with garden or beach views.
The resort hotel has recently gone through a rebrand from Mia Resort Mui Ne, and is currently the process of renovating several areas. It is not part of any chains or brands, although the owner operates several other resorts around Vietnam.
Check-in
Checking in to Sailing Club Mui Ne was quick and easy. You are immediately greeted by the reception building, which is open air: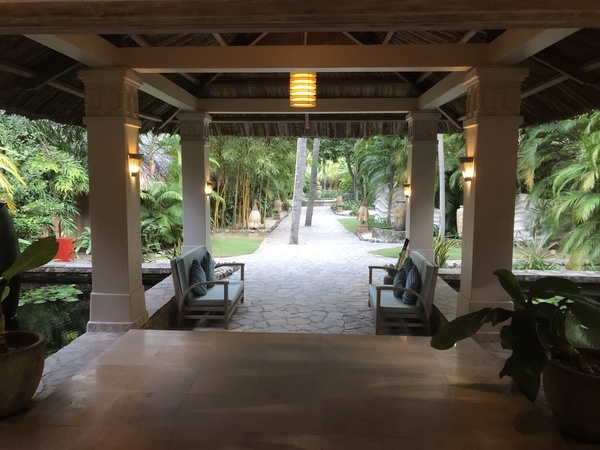 and
Upon arriving you are offered a seat as well as a cold towel and welcome drink and ice cream: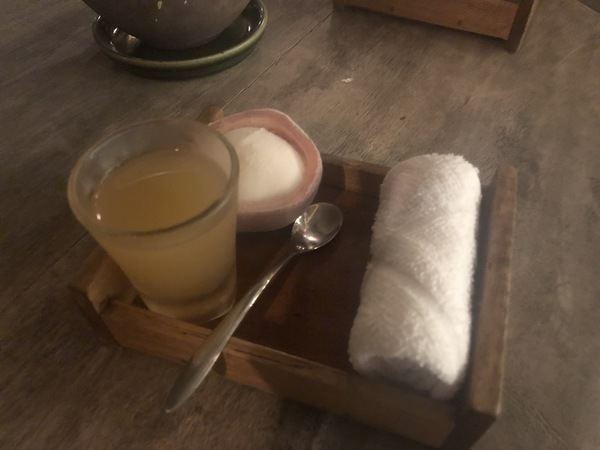 Before being given your key and shown to your room or bungalow. Your baggage is delivered by the hotel staff. Because of the small size of the resort it takes less than a minute to walk anywhere, which is great.
The room
I had a private bungalow (number 31) with a garden view.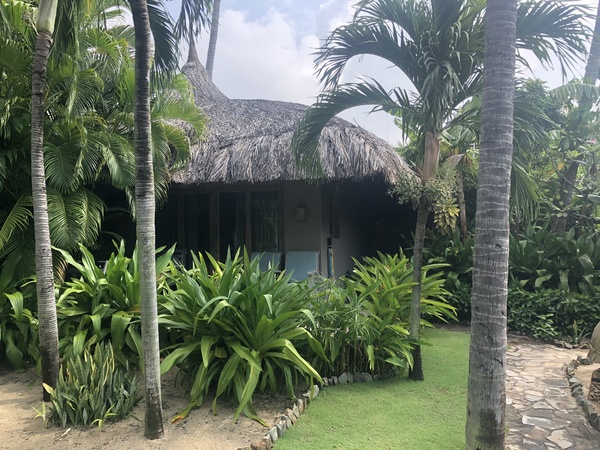 Inside was a large four-poster bed (apologies for the dark photos – I arrived after dark, unfortunately.)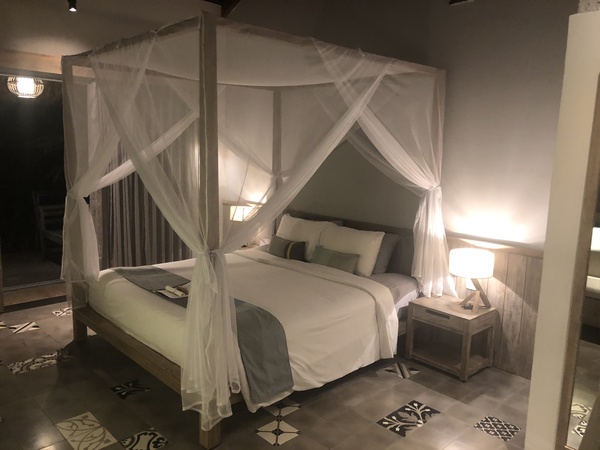 …. as well as a low level wrap-around shelving system and desk space that featured everything from luggage storage rack, wardrobe, mini fridge, tea and coffee facilities as well as various amenities including ear plugs, mosquito coils and an essential oil burner.
It is cleverly designed and offers lots of usable space, which is great: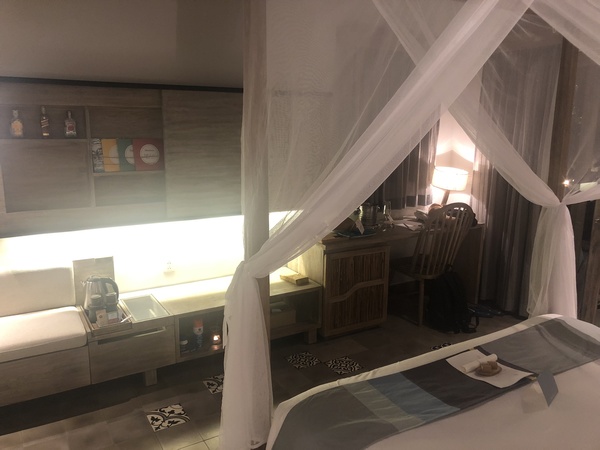 The TV is hidden behind a sliding panel so that you don't have to look at an empty black box if you are not using it.
You also have a semi-outdoor bathroom. It is exposed to the open air but the majority sits under the natural-thatched roof. There is a large stand-alone bathtub, open shower, separated toilet and these beautiful sinks: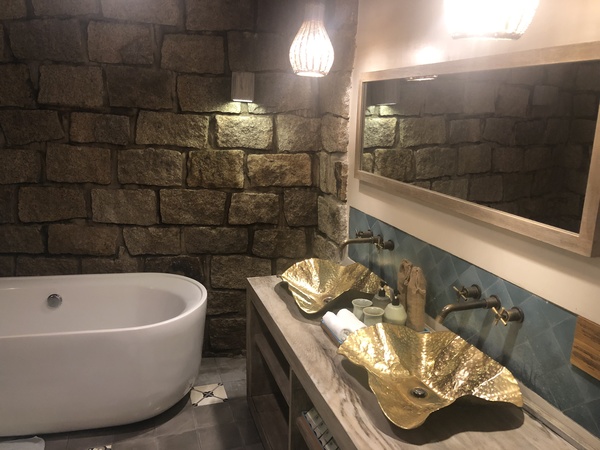 There is also a shower: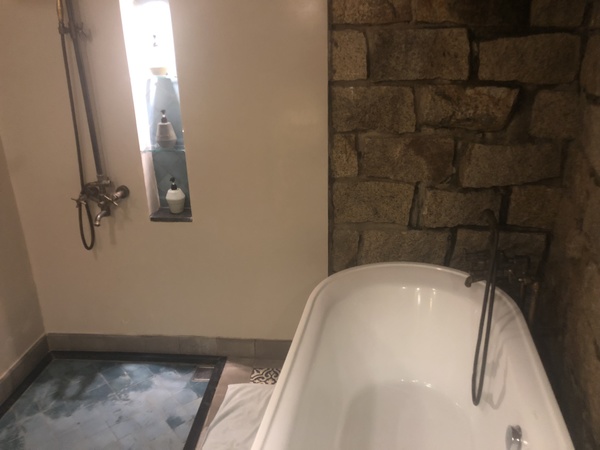 … with shower amenities in stylish ceramic pump-action bottles, which were very classy (& ecofriendly)
The room itself feels large and well appointed, although not ostentatious. It is made primarily of woods and other natural materials, which gives it a very warm bo-ho kind of feel. It was a relaxing rather than boastful, which I really liked.
On my bed was a welcome letter from the GM, two small chocolates as well as a little folded card with tomorrow's weather and activities.
The pool
Most of the communal areas are situated on the beach end of the resort. There is the pool, which is surrounded by plenty of deck chairs: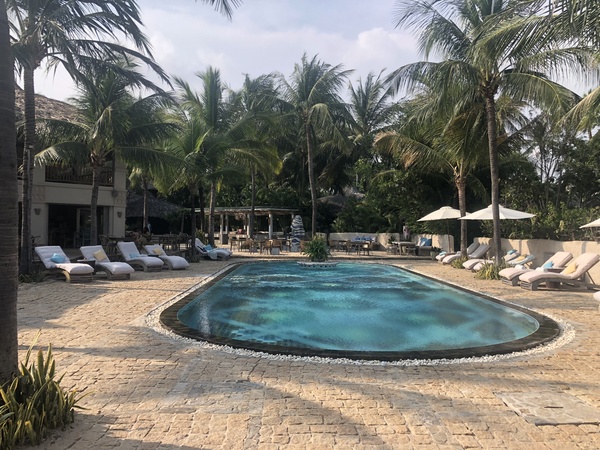 At one end of the pool is casual seating and an open-air breakfast buffet: whilst at the other you have the resort restaurant, as well as a library and relaxation/yoga space on the first floor.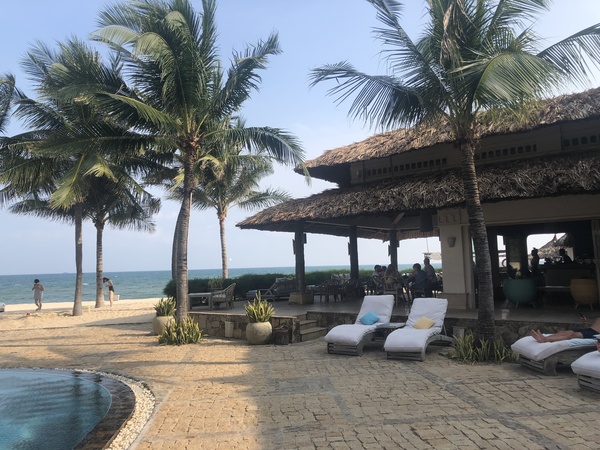 Beyond the pool is the beach, so you can double-dip if you like:

The restaurant
Given the size of the resort there is only one restaurant. However, it features a range of different seating options both indoor and out. It never got crowded or full during my stay.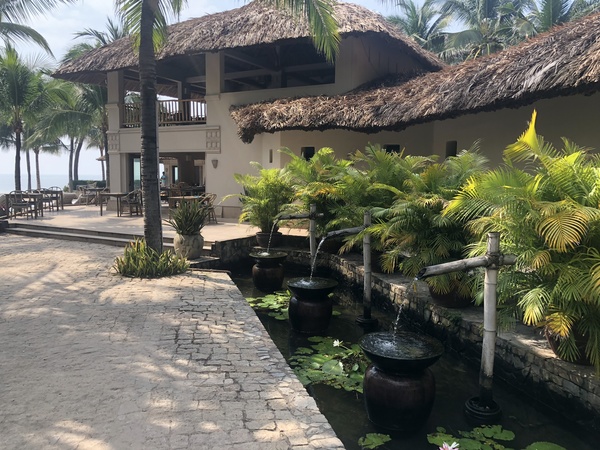 Since this is the only restaurant on site, the menu is quite large to cover all the bases. You can see it here on the resort website. You'll find a whole range of seafood, salads, local dishes, fusion dishes, light snacks, burgers etc. There is plenty of choice, and very good value for money – you will spend less here than on an average dinner out in London (or indeed most of the UK).
On the night of my arrival I had the prawn & mango salsa soft-shell tacos to start: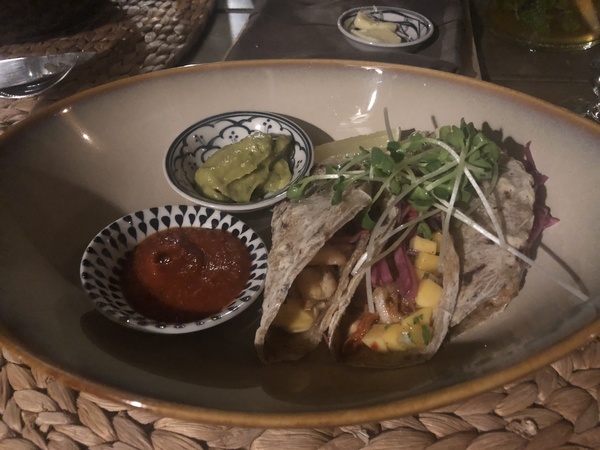 …. which were fantastic. I then had a Vietnamese sharing platter, which I accidentally started before snapping a photo so it's missing a few items: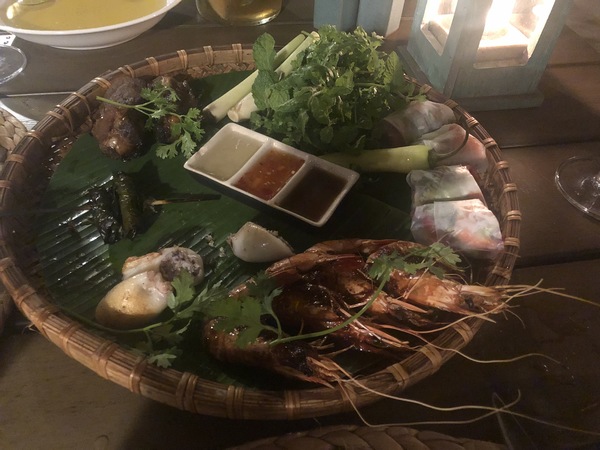 …. as well as a baked brie to finish: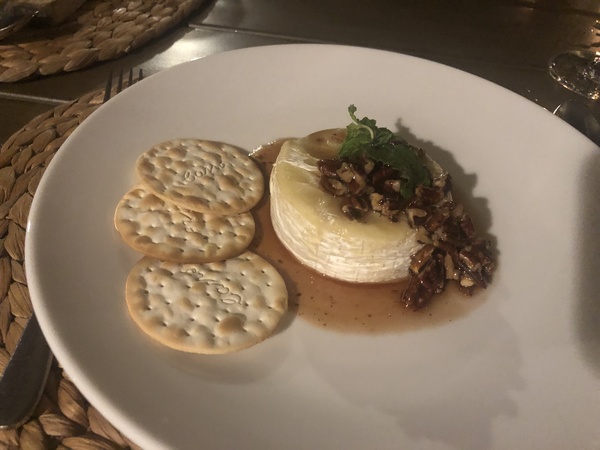 The food is actually quite good. I loved the prawn & mango tacos so much I had them the next day for lunch as well!
Breakfast
The breakfast buffet is served by the pool in a dedicated buffet bungalow: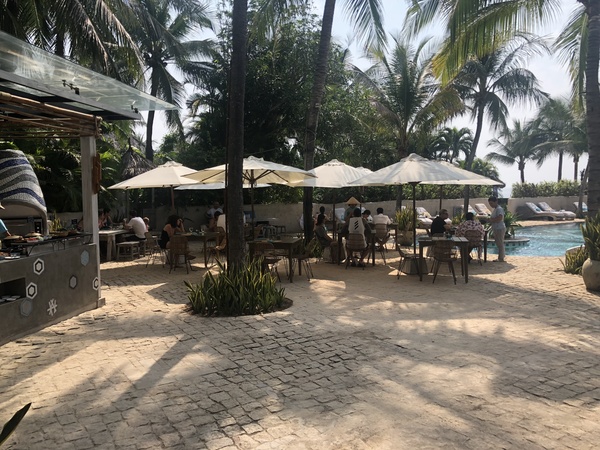 It's got the usual selection of fruits, pastries, hot items etc:
Crucially, however, there is also an a la carte menu. You can select one smoothie bowl and one cooked item for free.
I went for the oaty banana smoothie bowl which was excellent: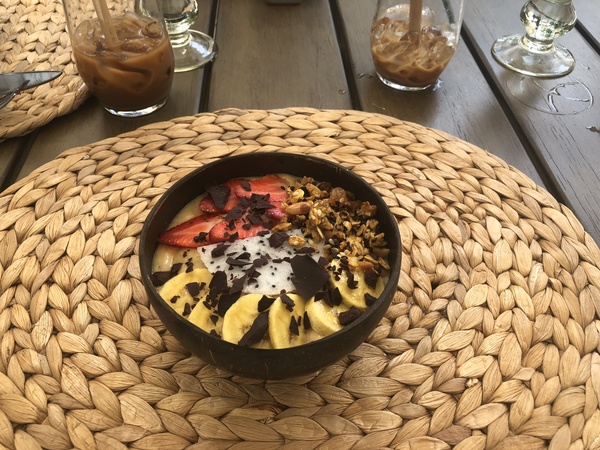 I didn't end up going for a cooked item but eggs benedict, florentine, omelettes, full English etc were all there. Although the buffet is smallish it doesn't matter because in practise you are more likely to get something from the main menu and supplement it with items from the buffet.
Activities
Although I did not have time for any of them, the hotel offers a variety of water sports including kite surfing.
There is a spa as well, although this is one of the things currently being renovated so I was not able to see the spa itself. Spa treatments are temporarily being housed in one of the bungalows, so I enjoyed a very relaxing full body massage there. Again, spa prices are far cheaper than you would find in the UK or in most hotels around the world.
Conclusion
The Sailing Club Mui Ne is a small resort that is all the more charming for it. Because of its size it is very intimate and friendly, which is a big contrast to many of the hotels you'll find in Vietnam's cities. The staff, despite an occasional difficulty with English are wonderful and always ready to help.
I would have loved to have stayed a few more nights and will probably make the trip next time I'm in Vietnam.
You can see more about the hotel on its website here.
How to book the Sailing Club Resort Mui Ne
If you want to book direct, the website link is above. However, as it is not part of any loyalty scheme, I would book it via Hotels.com instead – this is the specific booking page for the hotel – if the price is the same.
This allows you to earn a credit in Hotels.com Rewards. We are big fans of the Hotels.com Rewards scheme at HfP – you can read why in this article.
PS. Hotels.com users have graded the resort 9.4 out of 10, so others clearly share my enthusiasm for the place.