Review of Vietnam Airlines business class from Ho Chi Minh City to London (Part 1)
Links on Head for Points may pay us an affiliate commission. A list of partners is here.
This is our review of Vietnam Airlines business class from Ho Chi Minh City to London.
It is the final part of this series on Vietnam. You can read my earlier reviews of premium economy on Vietnam Airlines, the Hilton Hanoi Opera, a Halong Bay cruise, the MGallery by Sofitel Royal Hoi An and a review of the Sailing Club Resort Mui Ne.
As a reminder, Vietnam Airlines provided all flights and accommodation for me and my plus one whilst HfP paid for all its incidental expenses.
Vietnam Airlines business class on a Boeing 787-9
My flight home was a red-eye, departing at 00:45 local time and arriving at 07:30 in London. It takes about 12 hours to fly direct, which gives you enough time to have a good 8 hours sleep (if you can) as well as two meals.
Tan Son Nhat International Airport is the main airport to serve Ho Chi Minh City and has two terminals: the first is domestic whilst T2 is for international travellers. Vietnam Airlines have their check-in counters in Zone B, separated into business and Skyteam Sky Priority members, Premium and economy. This was the business class check in:
There was no wait and we walked straight up. The check in and bag drop process was easy and we proceeded to border-control (you get a passport stamp upon leaving) and security. The fast track queue is on the far right hand side.
It didn't take long to get through security and find the Vietnam Airlines Lotus Lounge. I reviewed the Vietnam Airlines business class lounge in my previous article – click here.
We boarded from gate 27, which is at the far end of the international terminal. Luckily there are moving walkways to speed you along, although it is still a small terminal – no comparison to the lengths you can walk at Gatwick or Heathrow.
The aircraft was being boarded via both the first and second door, with business through the first and everyone else through the second. I walked straight onto the aircraft and into my seat, which was 1G:
Business class on Vietnam Airlines' 787s is in a 1-2-1 configuration so that everyone has aisle access. The seats are in a reverse herringbone arrangement, which means that window seats are angled towards the window whilst in the centre pair your head is next to the aisle and your feet are angled towards the centre of the aircraft.
The centre overhead bins have been removed to create a bigger sense of space. This means that whilst window seats get adjustable air vents, those sat in the middle pairs do not.
The Vietnam Airlines business class seat
Vietnam Airlines chose the Cirrus seat for its business class. You may recognise some of it from the new Virgin Atlantic Upper Class seat, which is based on the Cirrus NG, an evolution of the older model that Vietnam has fitted. The Vietnam Airlines seat looks fairly standard with little or no customisation, except the seat fabrics: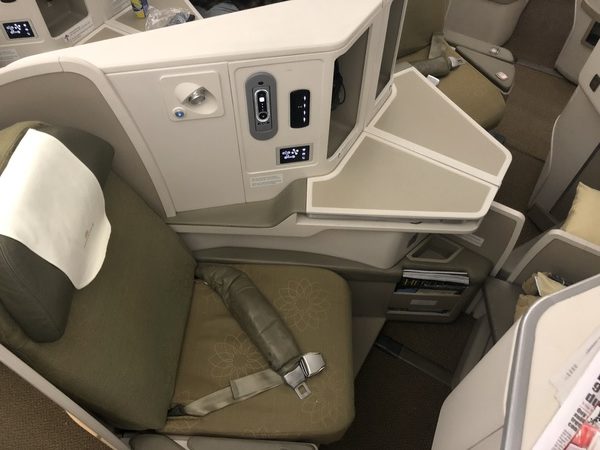 …. which are a sort of green-gold mix. A lot of the seat plastics are a grey-olive colour.
The first thing I noticed on sitting down was how hard the seat was. I'm not sure if it is the age of the seat (it was showing signs of a little wear and tear) or if they have always been like this, but they are a little on the light side when it comes to padding. Having just flown the Virgin Atlantic Upper Class which has some of the best cushioning I have tried, this felt a little thin and uncomfortable. It was probably less cushioned than the premium economy seat I reviewed on the outbound.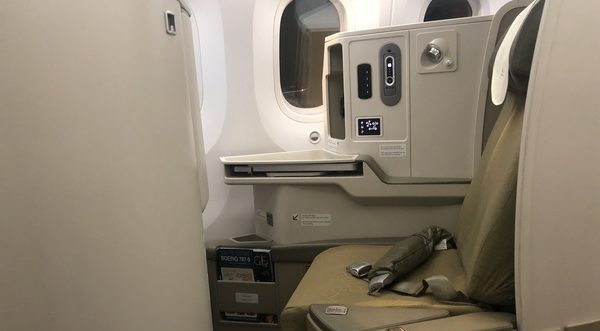 Around your seat you have a retractable arm rest and a small storage box: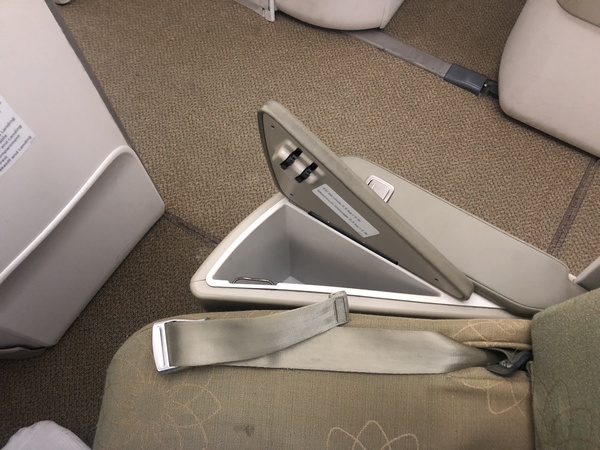 …. an open shelf with headphones, a remote, seat controls, literature pocket and in-seat power socket: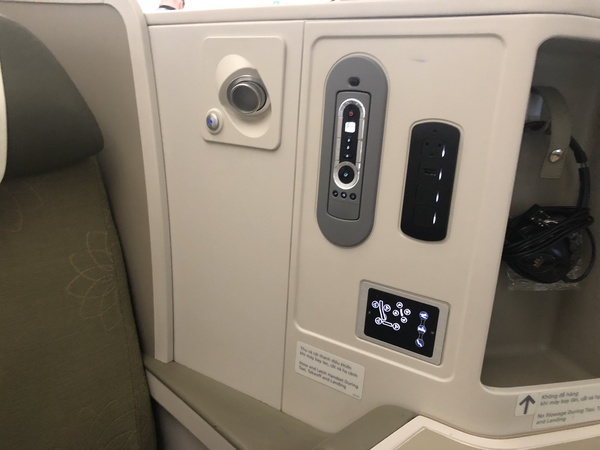 and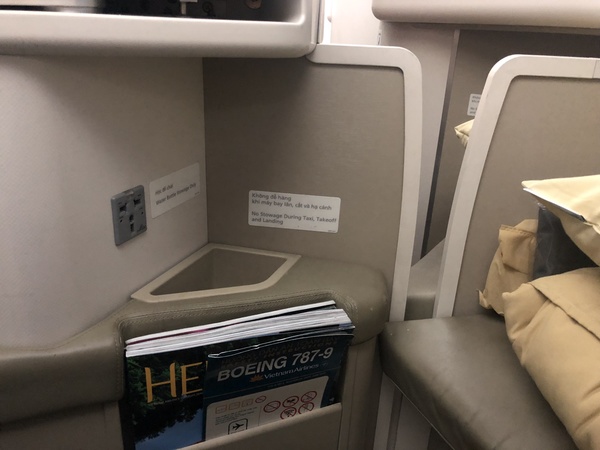 …. as well as the bifold tray table, which slides out of the console. Whilst you can't move the tray table closer or further from you, you can adjust the position of the seat which results in the same effect.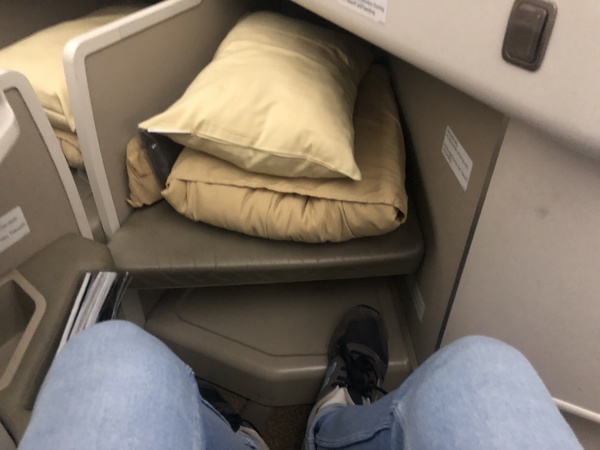 There is also a pillow, quilt and slippers, all in the same yellow tone, as well as an amenity kit. The amenity was surprisingly classy – Cerruti 1881 branded, and includes Acca Kappa body lotion and lip balm, as well as a dental kit, pair of socks, ear plugs and cabin-crew stickers (ie. 'do not disturb' or 'wake me up for the meal service').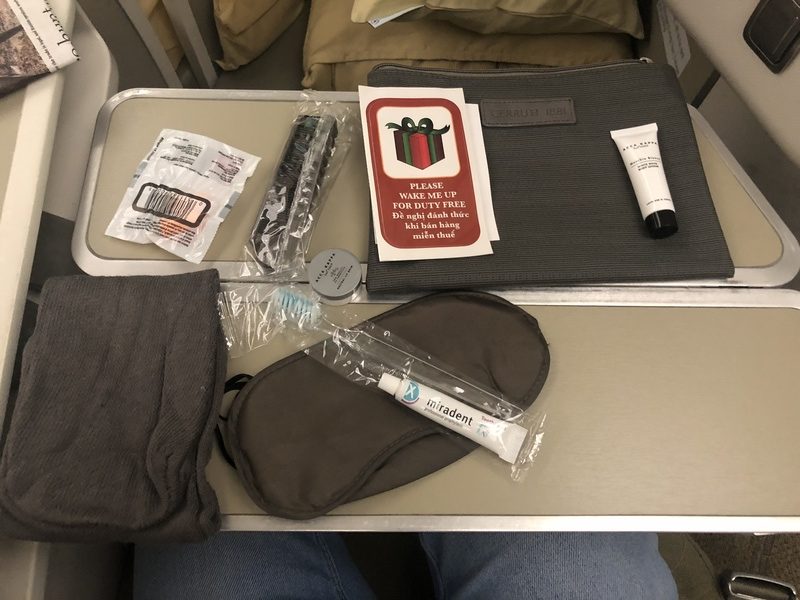 The pop-out IFE screen is not available for gate-to-gate entertainment so you can't start watching until after take-off.
The Vietnam Airlines business class seat also comes with the old fashioned seat belt which features a hefty airbag. Newer seats almost exclusively come with a shoulder strap but Vietnam Airlines has had its 787 for 4+ years.
Service
A range of newspapers are offered on board. The New York Times was the only notable Western paper.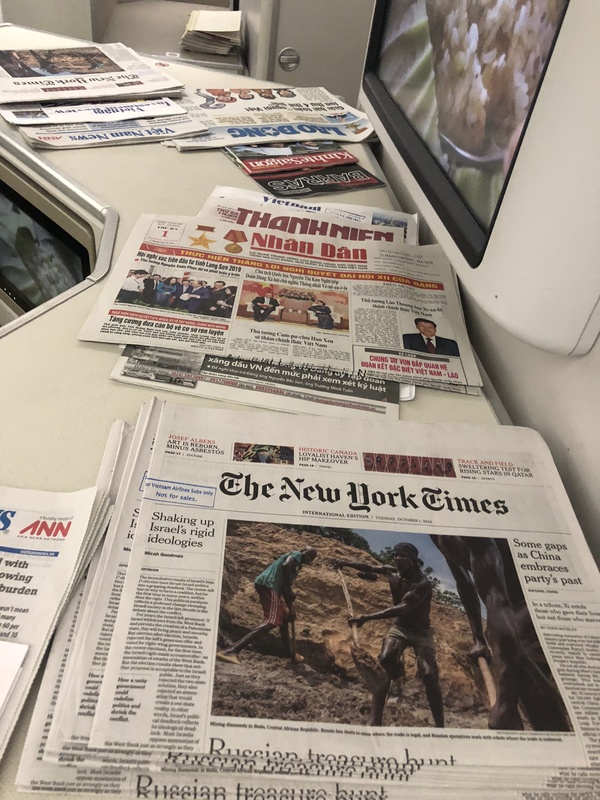 Champagne, water and juice is served when you are settled in your seat. The champagne is Heidsiek & Co Monopole Blue Top Brut, which British Airways used to serve in Club Europe for many years.
The drinks service is followed by a cold towel as well as the menus.
Dinner on Vietnam Airlines business class
As this was an overnight flight dinner was served fairly rapidly after take-off, with cabin crew taking orders.
Vietnam Airlines do a tray service, which includes your starter and dessert and drink. Once you have finished your starter the plate is swapped out for the main course. This is a good way of speeding up service on overnight flights – I'm not sure if there is a different service routine for day flights.
I ended up going for the herb salmon and smoked duck starter: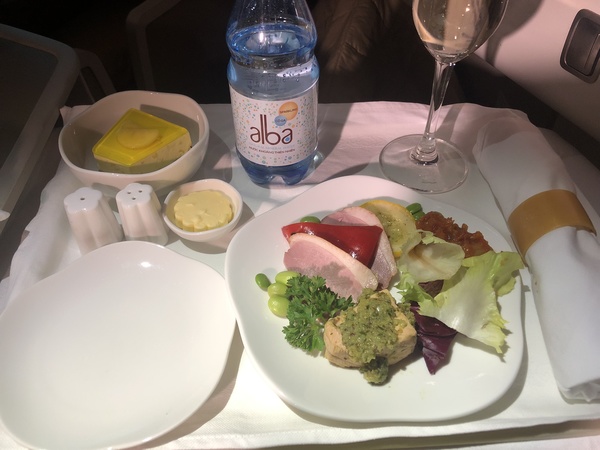 …. which was an unusual combo. The sauce it came with was very good.
For my main course I had grilled salmon with tomato relish and potatoes, in some sort of gratin form: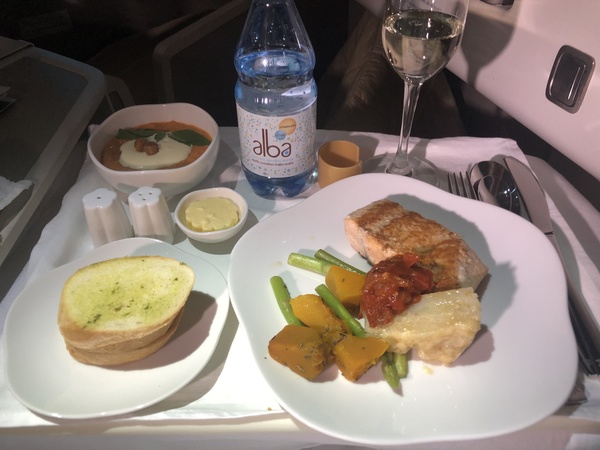 And lastly, the Vietnamese style sweet soup which was very tasty. The crew originally gave me the wrong dessert but I pointed it out and they quickly rectified the situation.
Whilst the food is decent, it is not of the same high standard as the Do&Co catered British Airways flights.
This is end of Part 1. You can find Part 2 of our Vietnam Airlines business class review here.