How you can fly in a Citation private jet for £234 – just like I did last week
Links on Head for Points may pay us an affiliate commission. A list of partners is here.
For most of us, the luxury of a private jet is beyond our reach. They cost millions to buy and thousands to charter and (worst of all) you can neither earn or burn airline miles.
On occasion, however, there is a blip in the matrix that allows riff-raff like me to enjoy something usually only reserved for your average tech billionaire or Premier League footballer. It is one of those bizarre oddities that makes life a lot more fun.
Introducing Hahn Air Lines ….
Hahn Air is a small German luxury travel company. In addition to all sorts of services for airlines and travel agents they offer an executive travel charter service with a grand fleet size of three aircraft.

You've probably never heard of them unless you are a tax-evading German businessman based in Düsseldorf ….
In addition to charter flights, Hahn Air operates two commercial flights each week: from Düsseldorf to Luxembourg and back, every Monday and Friday. During the summer they fly to Palma de Mallorca, which is apparently where your average tax-evading German businessman likes to go when they aren't evading taxes. Who knew?
Crucially, anyone can book these commercial flights. Hahn Air is too small to have their own consumer-facing booking engine so you have to use Expedia.
For £234 one-way you can book yourself on the only flight to fly direct between Luxembourg and Dusseldorf. For the 25 minute flight, you're looking at just under £10 per minute. Better yet, it includes a free checked bag.
My Hahn Air review
If you have ever been to Luxembourg you will know it is a delightfully tiny but modern airport. On my arriving flight from London it took exactly two minutes from stepping off the aircraft to sitting in a taxi and on my way to the city centre.
Departing from the airport is no different. There is one (small) terminal: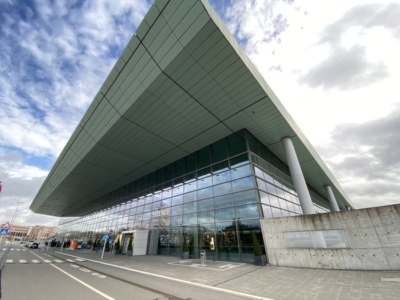 …… and a handful of check-in counters. If you are flying Hahn Air you can use the Luxair business class check-in: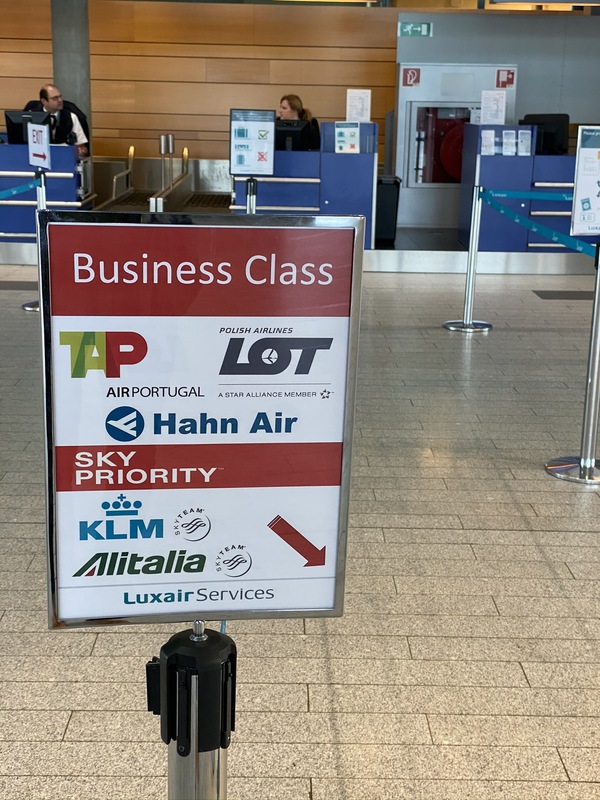 ….. before breezing through security, which had exactly three lanes open. No need for fast track when there're no queues! If you've arrived early for your flight you can enjoy the Luxair lounge which is included in your Hahn Air ticket.
The lounge, though small, is a delight, with a range of seating and excellent views of the tarmac. Compared to the chaos at the Galleries lounges in Heathrow T5 this is a serene oasis of calm: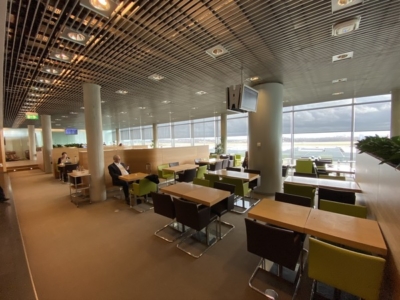 Food options are limited to cold items, but I went to town on the rainbow trout and a generous pour of the Crémant Poll-Fabaire Brut Millésimé 2015: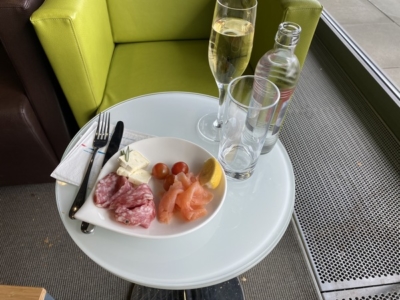 …… which I enjoyed whilst spotting the jet that would shortly whisk me away: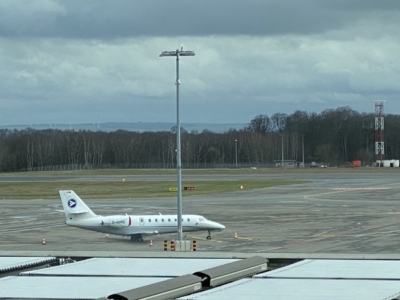 About 20 minutes before departure my gate number was displayed. I was joined by the only other passenger on that flight, who wasn't aware what a special flight she was on until I told her.
Unfortunately there are no jet bridges for this private jet, and Hahn Air does not operate a luxury car for its guests like you might find at Signature or PremiAir in Manchester. We got this giant bus which was a little overkill.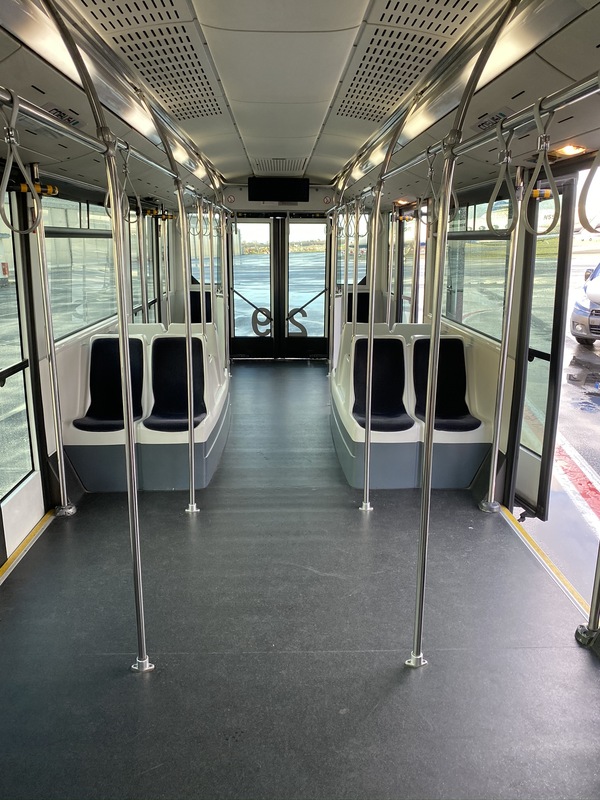 Despite Storm Dennis blowing (and raining) itself out over Europe I still managed to get some decent photos so that I could show off to my friends on Instagram: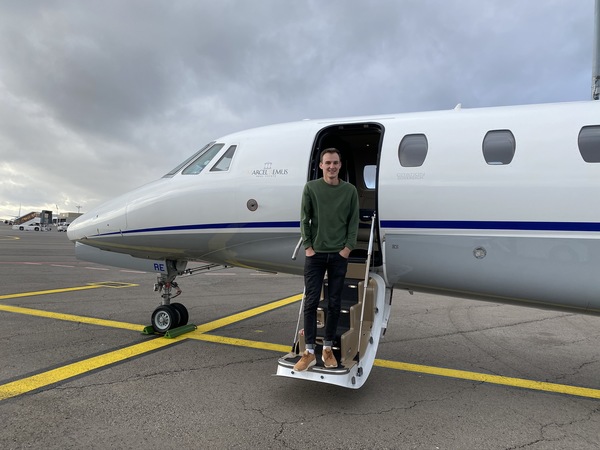 The Cessna Citation Sovereign
If the word 'Cessna' makes you think of small unpressurised propeller planes used in flight schools around the world, think again. The Cessna Citation is a family of more conventional private jet aircraft: ie. faux-walnut interiors, white leather seats and turbofan engines with a maximum speed of 850kmh and approximately 6 hours maximum flight-time.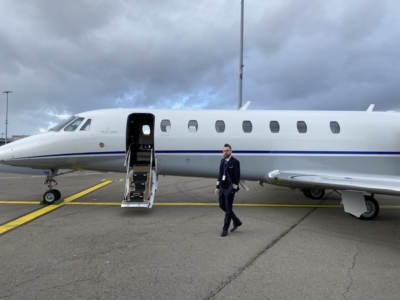 The Citation Sovereign seats up to eight people in two groups of four facing each other: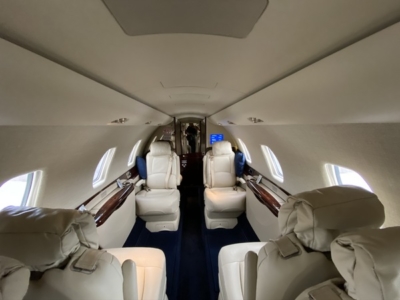 Each seat is kitted out with a refreshing Hahn Air hand towel.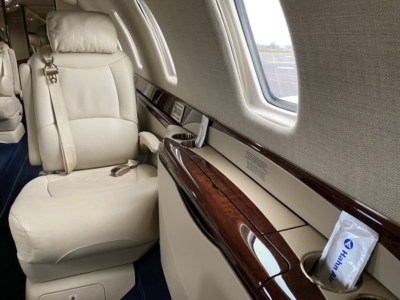 Don't expect lie-flat seats here, though. You'll be sharing your leg room with the passenger opposite in these comfy but conventional seats. I don't even think they recline.
At the rear of the aircraft is a small toilet, although it is still probably bigger than the toilets you would find on an Airbus A320 or Boeing 737. This was out of use for our 25-minute flight.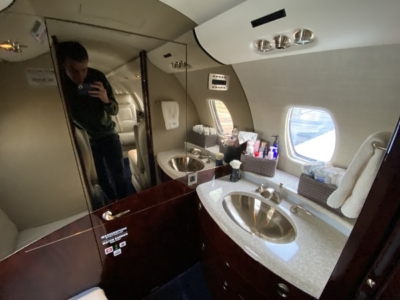 At 6'2″ the cabin ceiling is a little too low for me as you can see above….
There is no meal service on the short hop between Luxembourg and Dusseldorf, although you can help yourself to a variety of snacks (a variety of biscuits, mixed nuts, etc) and (if there is no turbulence) drinks. Unfortunately, due to Storm Dennis, we had to stay seated the entire time.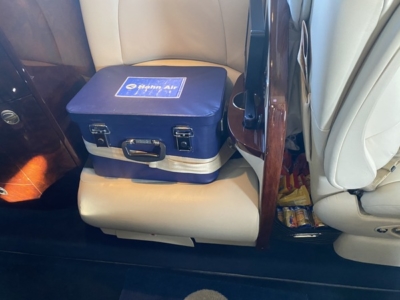 Once on the aircraft we got a very short safety briefing from one of the two pilots before a short taxi to the runway. The cockpit is completely open during the entire flight, so you can watch everything that's going on and even enjoy the view out the front!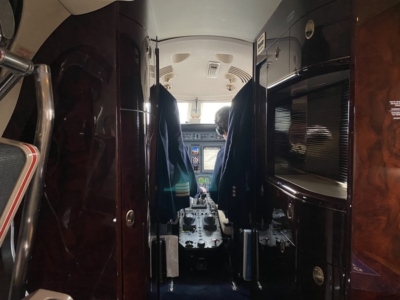 In a matter of minutes we were at cruise altitude following the steepest (and most exciting!) ascent I have ever experienced.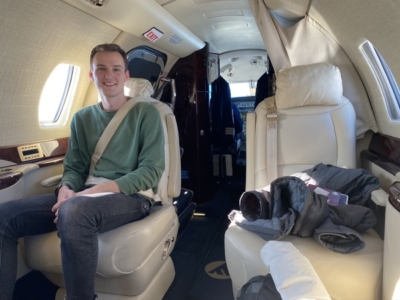 It felt like we were climbing at a 45 degree angle or more: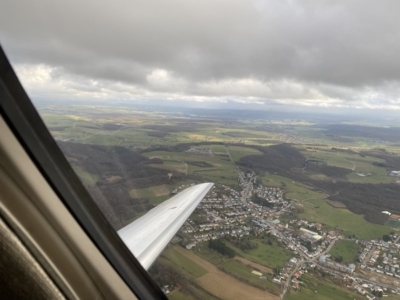 All too soon we were on the descent into Düsseldorf, skirting the bad weather as much as possible and again greeted by an oversized airport bus!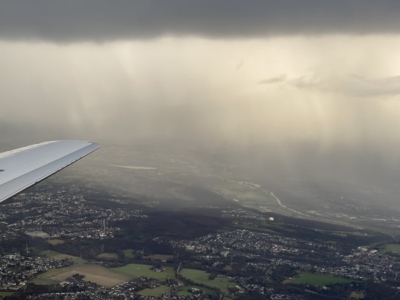 Conclusion
Flying Hahn Air may be the cheapest and easiest way of crossing 'private jet experience' off of your bucket list. For £234 (give or take) one-way it is well worth the novelty, plus you can make a weekend of it and enjoy a day or two exploring Luxembourg.
If you want to join the elite group of individuals who have travelled in a private jet then you can book on the Expedia website here.