Review of the Aspire Lounge at Inverness Airport
Links on Head for Points may pay us an affiliate commission. A list of partners is here.
This is our review of the Aspire Lounge at Inverness Airport.
This is part of our series of reviews of airport lounges across the UK. You can see all of the reviews here.
This is the final article from my short trip to Inverness to check out the new Courtyard by Marriott Inverness Airport hotel, which I reviewed here.
After checking out, I took the 90 second walk back to the airport.  Security was, unsurprisingly, empty as was the terminal.  I was therefore in for a shock when I walked into the lounge and found it virtually full.   Luckily, a few minutes later, the easyJet flight to Gatwick was called and it emptied out.
Here it is tucked away in a corner of the terminal: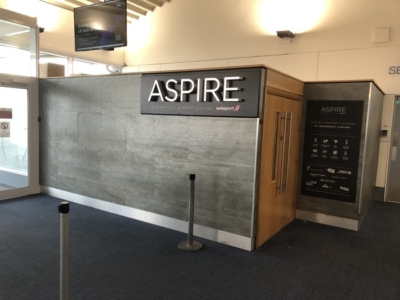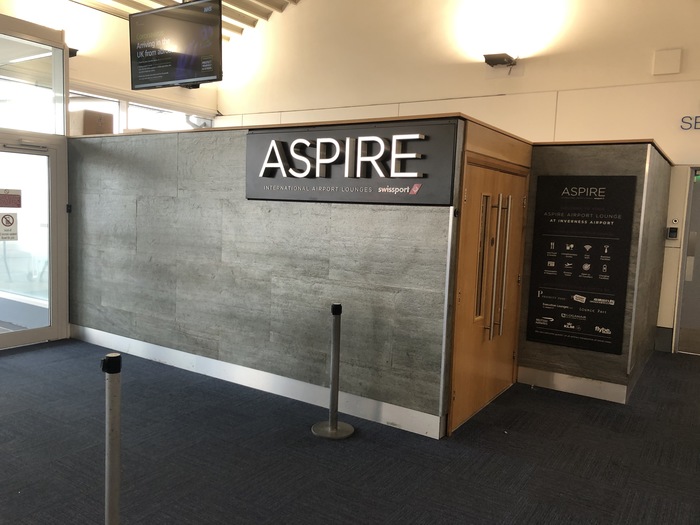 When we ran a reader review of the lounge three years ago, it was described as "a bit like being in someone's living room".  You can't argue with that.
Total seating capacity would be around 25, as long as people were happy to get cosy on the sofas.
This is the best shot I could get showing the whole thing: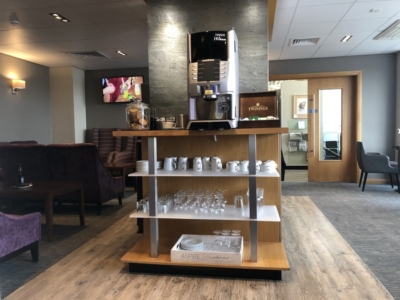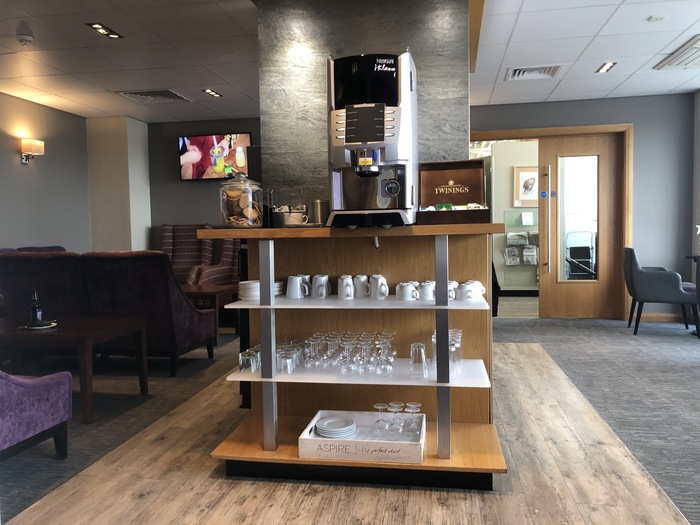 One side is glass walled, which is the saving grace of the lounge.  It floods the space with light, making it feel a lot larger than it is, and lets you watch the aircraft a few feet away.
You may think, looking at the top picture above, that the lounge would have minimal food and drink.  You would be wrong.
It is surprisingly well equipped, although clearly nowhere near what you would expect in a Heathrow or Gatwick lounge.  You need to check the fridges because that is where most of the food is hiding.
At 3pm, there was cake, jam and cream scones, yoghurts, crackers and cheese, sandwiches, pastries, fruit, crisps and soup ('soup of the day' was Highland Vegetable).  I think everyone would find something to suit.
There was no shortage of drink, with a selection of white, red and rose wine, beers, spirits and soft drinks.  Everything is free.
What also surprised me was the huge range of magazines available.  Newspapers were, admittedly, in fairly short supply and well-thumbed at 3pm but there were around 15 different magazines to pick up, albeit only a handful of copies of each.
Wi-fi was strangely weak given that the lounge has its own password-protected network and there only appeared to be two of us using it once the easyJet flight had boarded.  If you need electrical power, be aware that not all seats are near a plug socket.  Where there is a plug, it comes with a USB socket too.
There are, unsurprisingly given its size, no toilets inside the lounge.  The ladies is just outside the entrance in the main area of the terminal whilst the gents requires a 30-second stroll.
That's about it!  It may possibly be the smallest airport lounge you've ever visited, but if I'm honest it did the job perfectly well.
Opening hours vary by season, but it should be open if there are still flights operating.  It opens at 5am throughout the year.  Latest opening during the Winter season is 6.30pm on Thursdays and Fridays, whilst during the Summer season it goes as late at 8.40pm on Wednesdays.
I got in with my British Airways Club Europe ticket.   The Aspire Lounge at Inverness Airport is also part of Priority Pass (buy one here, or get one free with an Amex Platinum card), Lounge Club (two free passes if you get an Amex Gold card) or LoungeKey if you have a HSBC Premier credit card.
If you want to book entry for cash, you can do so via Lounge Pass from £20.99 per adult.