'My Favourite Hotel' review – Fairmont Le Chateau Montebello, Quebec, Canada
Links on Head for Points may pay us an affiliate commission. A list of partners is here.
Today, our 'My Favourite Hotel' review is from the forests of Quebec, Canada, at Fairmont Le Chateau Montebello.
We are currently running this reader-written feature to provide some positivity and inspiration to Head for Points. We hope to run one review per day for the next few weeks. There will be a deliberate mix of European and worldwide properties, super luxury and mid market, branded and independent. You can find all of the 'My Favourite Hotel' reviews so far by clicking here.
Today's hotel is the Fairmont Le Chateau Montebello in Quebec, submitted by Mark. Over to you …..
My favourite hotel is the Fairmont Le Chateau Montebello. It is the only resort hotel where I have stayed twice (apart from Fairmont Chateau Lake Louise, which is also lovely).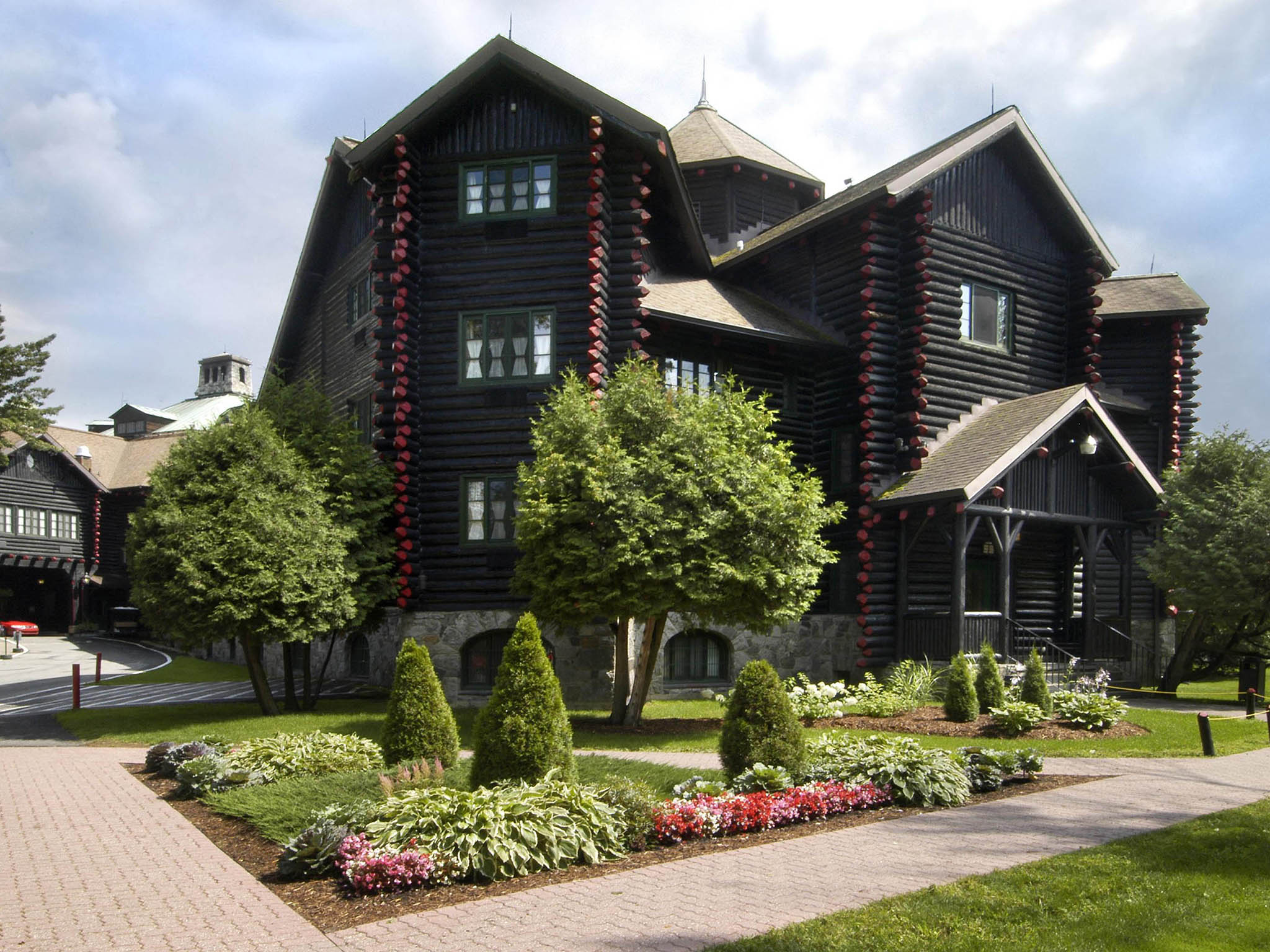 Overview
As with most of the historic Fairmont hotels in Canada, Chateau Montebello has links to the Canadian Pacific railroad company. The hotel was built in the 1920s as a job creation scheme and became a Canadian Pacific (CP) Chateau hotel. CP acquired Fairmont in 1999, rebranded the entire hotels division as Fairmont and a few years ago Fairmont was bought by Accor.
The hotel is an enormous log cabin with 211 guest rooms and suites, situated in the forests of Quebec on the bank of the Ottawa river. It is 60 minutes from Ottawa and 90 minutes from Montreal. You definitely need the use of a car if you come here. It is a popular venue for conferences and weddings.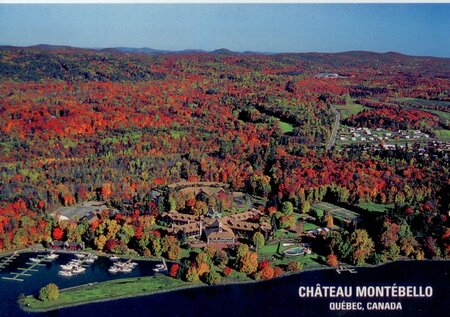 As you can see in the picture above it is laid out as a star with a stone core and the log-built wings radiating out. The centre houses the lobby with an enormous stone fireplace in the centre. It is unlike anything you have seen before.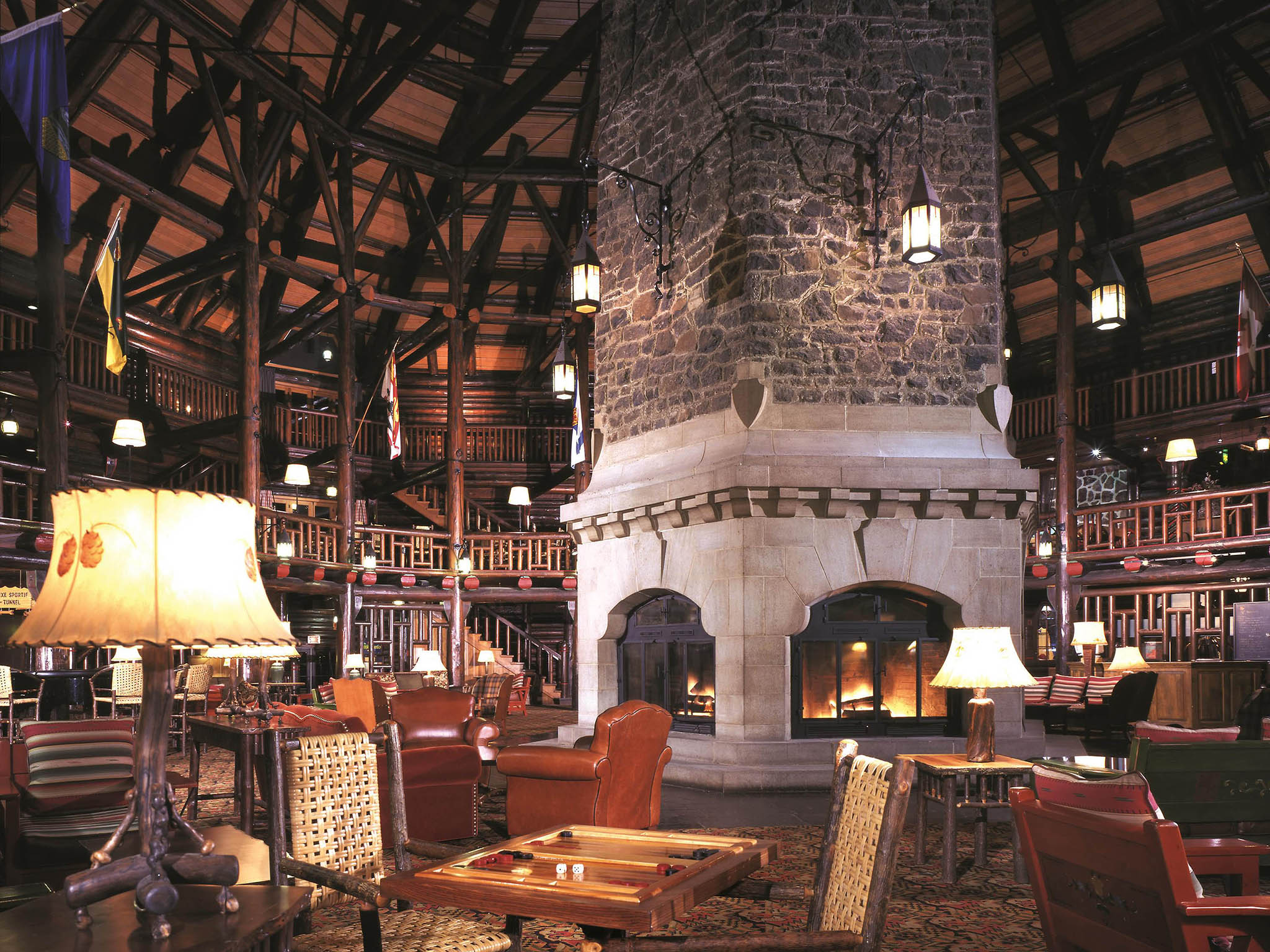 When it is cold outside the fires are lit, burning what we old people call wood – which has now been re-imagined as 'bio mass'. There are pictures available online showing the Christmas decorations which are amazing.
In the lobby there are the usual up-market shops and, unusually, Monte's kennel. All Chateau hotels that are not in city centres have a resident dog who is looked after by the concierge staff and attends management meetings. Guests can bring their pets along, too.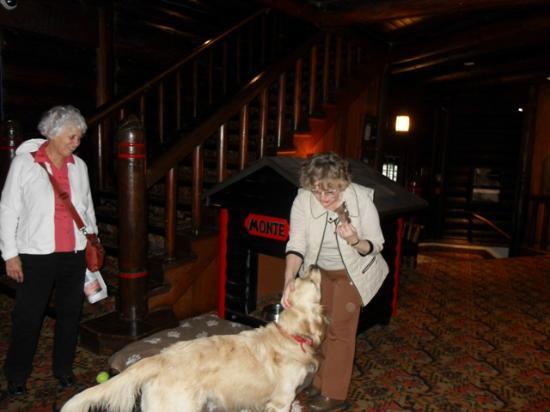 The standard rooms are not as large as in some modern hotels, but this is part of the charm with lots of real wood everywhere.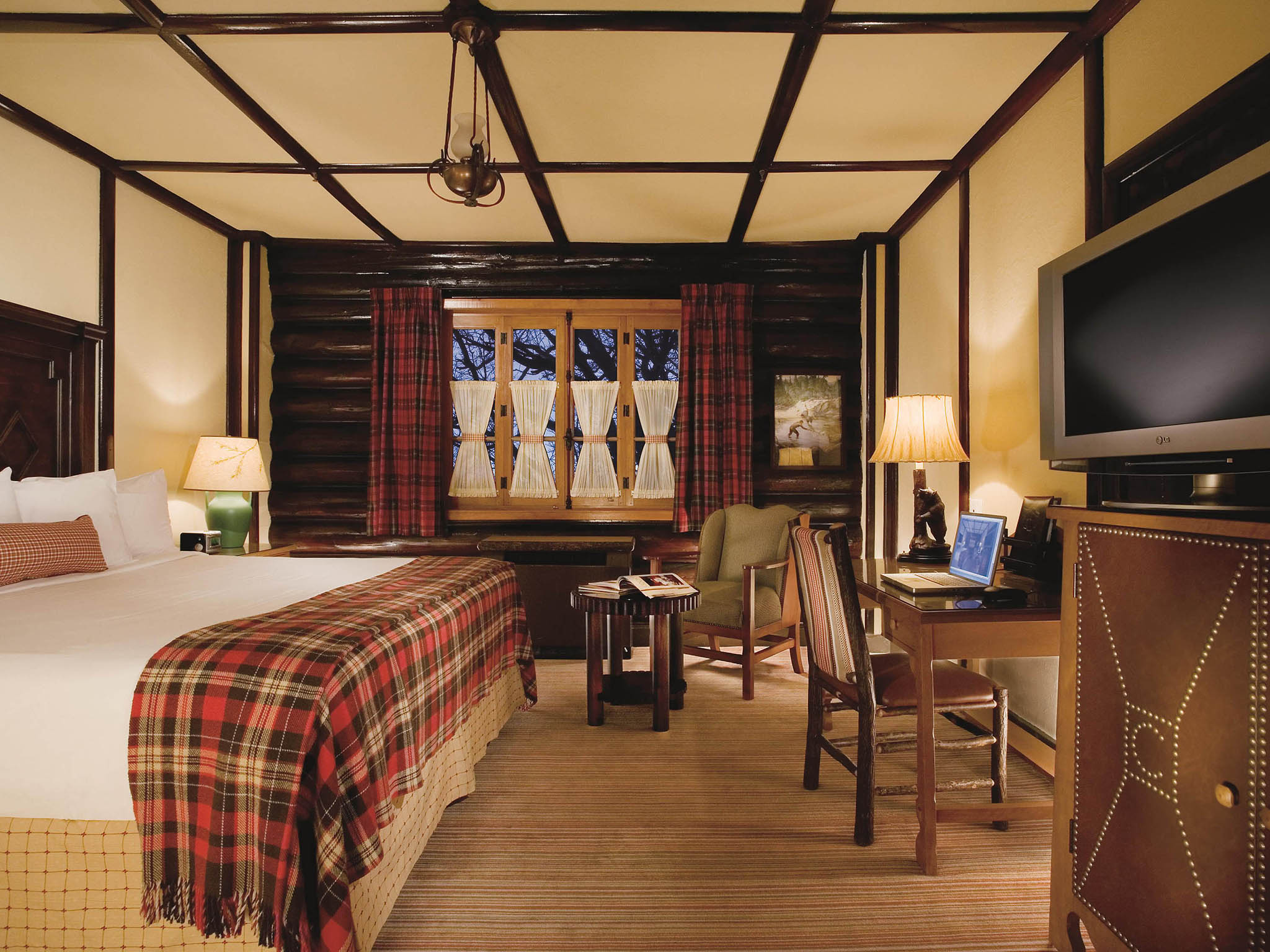 The lift is an experience with a criss-cross sliding door which you have to close yourself, like you see in old films.
The Vignobles restaurant and the bistro are both excellent and there are restaurants in the village.
All of the hotel and the very extensive grounds are immaculately maintained.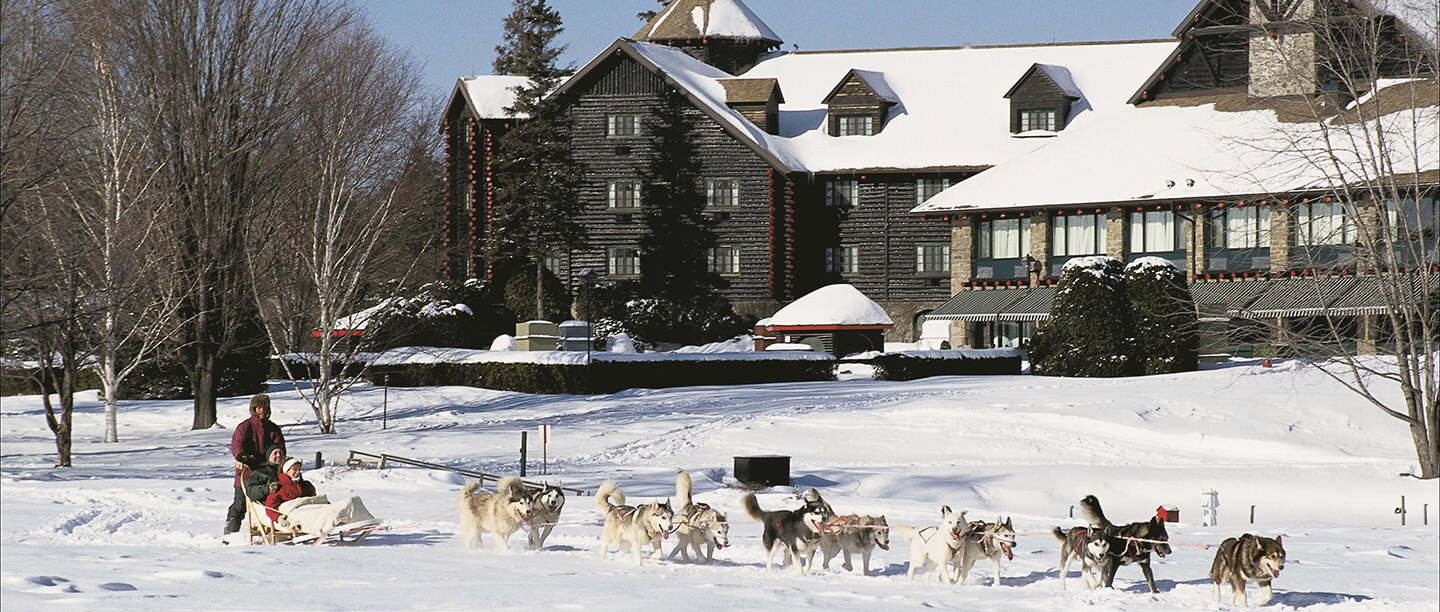 This is an all year-round hotel. We like to go to Canada in the Autumn to see the leaves change colour, but another highlight is the winter as skiing can be done nearby including Mont Tremblant where there is another Chateau hotel.
There are many walks through the hotel grounds with beautiful scenery and wild life. You can also visit the Kanauk forest area, which is twelve square miles of forest and, at extra cost, drive a Range Rover through the forest.
During our first trip to Canada in 1995 we stayed at the Chateau Frontenac in Quebec City, the one that appears on many Canadian tourism posters. In the lobby there was a model of the Chateau Montebello.
Getting to Chateau Montebello
We decided that we had to stay there one day, and our next opportunity was in 2000 for our 25th Wedding Anniversary. We flew into Vancouver using Air Miles, back then collected mostly from NatWest and Sainsburys.
We travelled across the Rockies on the Rocky Mountaineer and stayed for a couple of nights in Chateau Lake Louise before flying from Calgary to Montreal. At the car rental desk, we were given an upgrade to a 2.5 litre V6 Pontiac which unfortunately had not got the performance of my similarly powered Jaguar at home: more like 1.5 litre.
Surprisingly, they asked where we were going and gave us a set of instructions to get to the hotel (this was 2000 pre sat nav) and the adventure began. The instructions were all correct but did not state how far apart the turns were, some being a few hundred yards and others thirty miles.
Motorway junctions in Canada are numbered not sequentially but by the number of kilometres since the start. Except that when we crossed from Quebec to Ontario the numbers started again so that we left at junction 57 in Ontario when we should have left at junction 57 in Quebec ……
We got there eventually and it was worth it. Our friends from Ottawa drove over and showed us round. When they left we had the day to kill before returning to Dorval to fly home. They pointed us towards Parc Omega which is a few miles away. This is a wildlife park that you can drive round with elk, bison etc running loose. You do need to go round in your car and the elk block the road until you give them the carrots which you can buy at the gate …..
When we returned, years later, little had changed. Our Canadian friends picked us up from our hotel in Montreal and we drove back to Parc Omega. We bought some Bison Pate from a roadside farm shop but forgot it in the fridge when we left; hopefully the maid enjoyed it!
Conclusion
You could fill an entire Canadian holiday by visiting the best of the ex-Canadian Pacific Fairmont hotels. Banff (click here) and Lake Louise (click here) are probably the best known, but I strongly recommend that you also consider Fairmont Le Chateau Montebello. It takes some time and effort to get there but it is well worth it.
The hotel website is here if you want to find out more.
---
Accor Live Limitless update – March 2023:
Earn bonus Accor points: Accor is not currently running a global promotion
New to Accor Live Limitless? Read our review of Accor Live Limitless here and our article on points expiry rules here. Our analysis of what Accor Live Limitless points are worth is here.
Want to earn more hotel points? Click here to see our complete list of promotions from Accor and the other major hotel chains or use the 'Hotel Offers' link in the menu bar at the top of the page.