Get airport lounge access with the Santander World Elite Mastercard credit card
Links on Head for Points may pay us an affiliate commission. A list of partners is here.
This is our review of the Santander World Elite Mastercard credit card.
Our main credit card focus on Head for Points is, not surprisingly, cards which earn you miles and points when you spend.  There are other cards on the market which offer travel benefits – but don't offer any points when you spend – and I also like to take a look at those from time to time.
Santander Select is one the least known but offers good value.  The Santander Select current account makes you eligible for a World Elite Mastercard credit card which comes with a chunky fee but also has free airport lounge access included.
Details are here on the Santander website.
I should be clear up front that I don't find this card as good as the HSBC Premier World Elite Mastercard which I reviewed here.  This is because the HSBC card has a similar cost (£195 v £180 for Santander) but comes with 40,000 HSBC points (= 20,000 Avios) for getting the card and a further 40,000 HSBC points (= a further 20,000 Avios) for spending £12,000 in your first year.
What is the income requirement for Santander Select?
As with HSBC Premier, you need to open a current account to get the credit card.
Both have high income requirements.  HSBC Premier wants £75,000.  Santander wants roughly £89,000 (or £60,000 if you are self employed) to show £5,000 per month going in to the account.  Reader feedback in the past has suggested that the £5,000 can come from two combined salaries if you have a joint account.
Alteratively, you can put – and keep – £75,000 in any Santander investment, savings or current account
What are the benefits of the Santander World Elite Mastercard?
The Santander Select World Elite Mastercard has a £15 per month fee.   The representative APR is 49.8% variable, including the annual fee, based on a notional £1200 credit limit.
The key benefits are:
Airport lounge access via LoungeKey for yourself and three supplementary cardholders.  This has an equivalent network to Priority Pass (LoungeKey has over 1,000 lounges) which is not surprising as it is run by the same people who run Priority Pass, Collinson. 
No foreign transaction fees on purchases abroad
0.5% cashback on all spending, capped at £15 per month – so you can offset the monthly card fee if you spend enough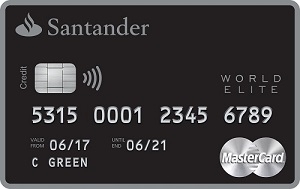 An interesting catch if you have young kids vs adult kids
You can have up to three additional cards for adult family members or friends free of charge.  ALL of these cards are eligible for free airport lounge access since you only need to show the credit card at the desk – there is no separate LoungeKey card.
If you have adult children, this is arguably a very valuable benefit indeed.  You would get unlimited airport lounge access for four adults for just £15 per month.
However, all guests who go into a lounge with you will be charged £20.  This is bad news if you have children under 18 years who cannot get a supplementary credit card as you cannot avoid paying the £20 guest fee.
How do Santander Select current accounts work?
The Santander World Elite Mastercard is only available to Santander Select current account holders.  Santander Private Banking customers are also eligible.
Santander Select current accounts carry a £5 monthly fee and to qualify for this, you would need:
Income of £89,000 per year gross (because £60,000 net must be paid into the account) unless you are self-employed or otherwise paid gross, in which case a £60,000 salary would be OK – this can come from two people paying in their combined salaries, or
£75,000 of savings or investments with Santander
Unless you are self employed, this is now a stricter target than HSBC Premier requires because HSBC has dropped its income requirement from £100,000 to £75,000.
I wouldn't worry too much about the £5 per month account fee.  This can easily be offset by two things:
You earn interest of 0.6% on balances up to £20,000
You earn up to 3% cashback on selected household bills, capped at £5
Conclusion
This card isn't a no-brainer for anyone.  It is attractive if you have adult children – or indeed want to get your own parents free airport lounge access via supplementary cards.
Whilst you may be tempted to put £3,000 of spending through the card each month to generate £15 cashback to offset the £15 monthly card fee, I don't recommend that.
It is better to put your £3,000 of spending through another credit card which offers rewards which are worth more than 0.5p per £1 spent and bite the bullet on the £15 Santander fee!