Flying safely: what we saw on a day with Heathrow and Malaysia Airlines
Links on Head for Points may pay us an affiliate commission. A list of partners is here.
Last week, Malaysia Airlines and Heathrow Airport invited us to take a look at the measures they are taking to make flying as safe as possible.
Below you will find out how Malaysia Airlines and Heathrow have adapted their products and services for your safety.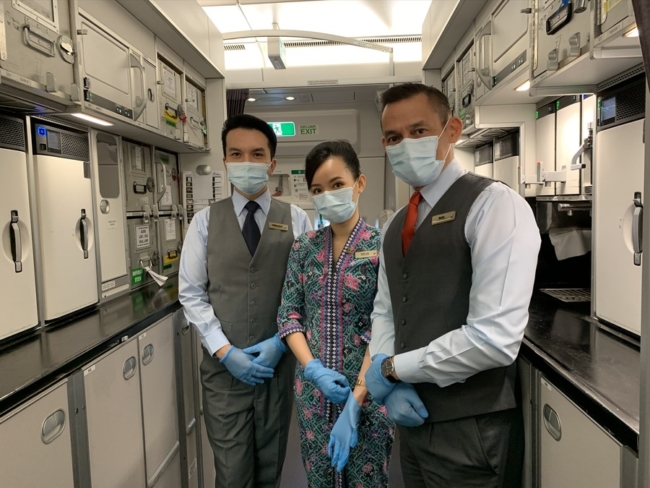 The timing of the trip was a little unfortunate as Boris Johnson had announced a new national lockdown the night before the event. We can only hope that travel restrictions will be lifted promptly in early December.
Malaysia Airlines is a major oneworld partner. Last year, I reviewed the Heathrow lounges as well as their Business Suite and Business class products on an A350 flight to Kuala Lumpur.
As I was in Santorini enjoying the last few days of sunshine and Rob was on his way back from Crete, we asked our friend Caroline if she would attend for us. Desperate to get back into an airport, even if she wasn't flying anywhere, she agreed. Over to Caroline:
"I'm not lying when I say I was over the moon to have a legitimate reason to visit Heathrow. It was a chance to go airside and pretend for just a moment I was off on my travels once again!
Malaysia Airlines and Heathrow hoped to give us a typical experience of both departing and arriving Heathrow with Malaysia Airlines. I could not have been more reassured by my experience.
Hand sanitisers and spare masks are widely available in Terminal 2, in case you forget your own or want to pick up a few spares.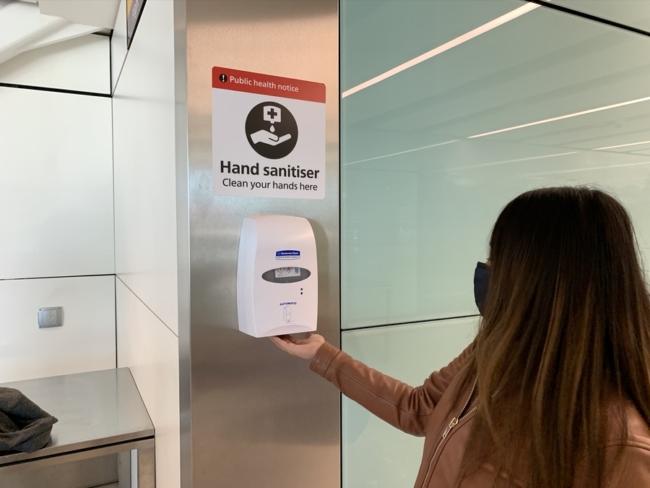 Plaza Premium departure lounge
Given Malaysia Airlines has moved from its home in Terminal 4 to Terminal 2, premium passengers travelling through London are currently not able to visit Malaysian's own Golden Lounge (reviewed here). However, the airline has joined forces with Plaza Premium to offer passengers a quality lounge experience whilst in transit at London Heathrow's Terminal 2.
You can read Rhys' recent review of Plaza Premium in Terminal 2 here.
Plaza Premium offers both a departure and arrival facility for Malaysia's premium passengers. What Rhys didn't cover is the lounge's private showers and 'resting suites' which you can book for up to 6 hours. This is a good alternative to an airport hotel if you are simply connecting at Heathrow.
On board the aircraft
Malaysia Airlines is currently operating one flight per week between London and Kuala Lumpur. This is operated by one of six A350s equipped with three cabins: four Business Suites (a sort of First-lite or Business-plus product, using the previous First Class seat), business class and economy.
The cabin crew demonstrated the new PPE they wear for serving food. The precautions looked robust – akin to a sterile medical procedure rather than the full-on hazmat suits you'd see in a nuclear fallout zone!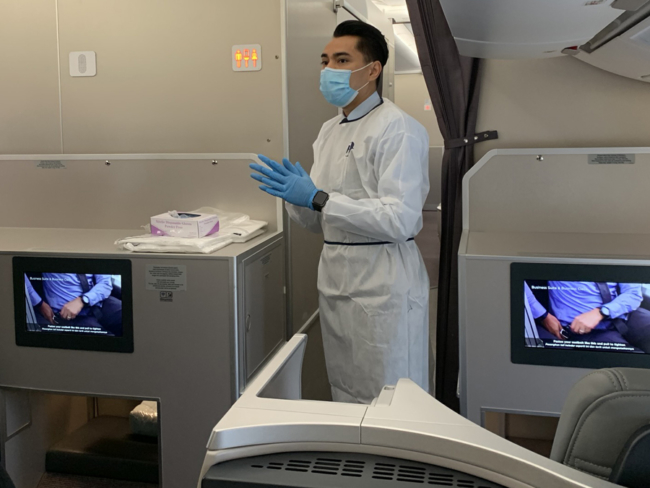 All passengers are welcomed on board with a hygiene kit, comprising two masks, a disinfectant wipe and hand sanitiser gel.
Amenity kits and pyjamas are also wrapped in plastic for extra protection: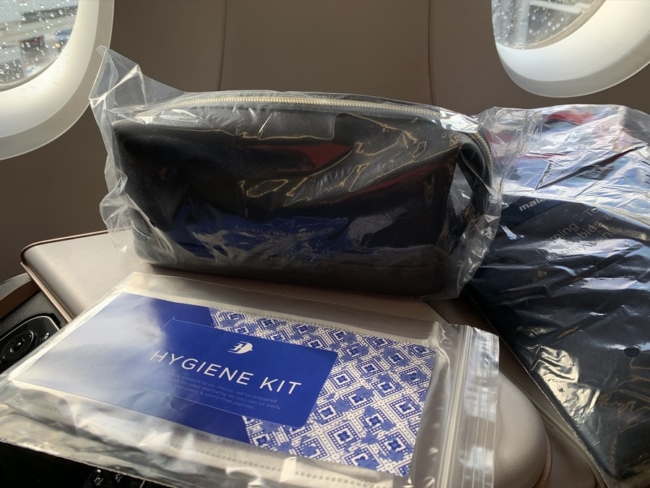 We departed the aircraft around 20 minutes before boarding of flight MH003 was due to commence. On the way out we observed the gate activity which included the contactless temperature checks on the very small number of passengers who were bound for Kuala Lumpur.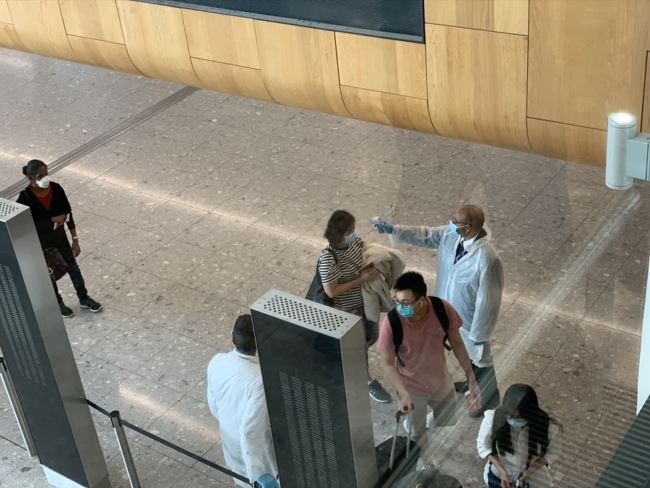 Heathrow Personal Shopper
Our next stop was to visit the personal shopping area of Terminal 2 (there is a similar facility in Terminal 5).
Heathrow wanted to highlight how the Personal Shopper team can help you with your duty free requirements. The suite had just re-opened for business and is unfortunately now closed again until further notice.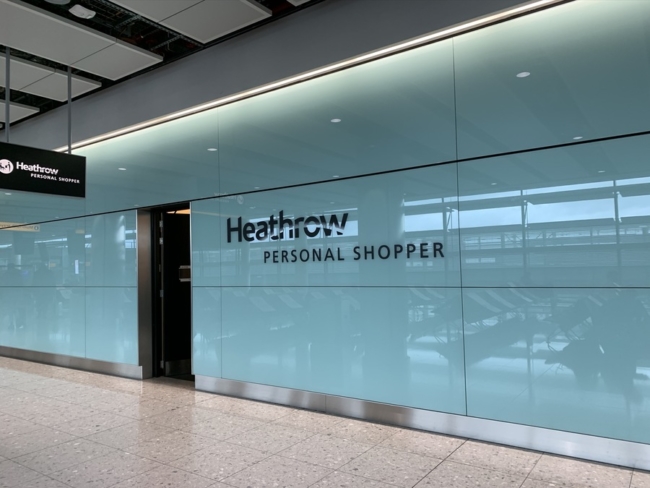 If you are a serious airport shopper seeking a personal styling experience, then it's well worth looking at Heathrow's Personal Shopping service. Anika actually reviewed the service in 2018.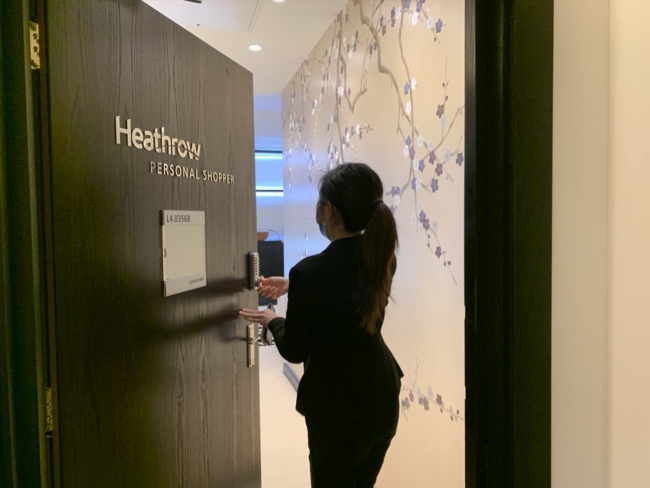 The service lets you try on items from the full gamut of luxury stores in Heathrow without having to enter each shop individually. Instead, the Personal Shopper team select items based on your requests whilst you relax in a mini-lounge with refreshments and champagne: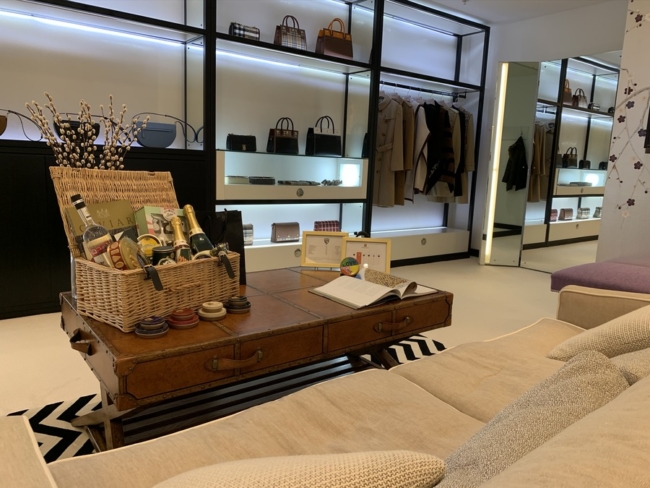 If you have a specific item in mind (eg. a specific designer handbag) you can book your appointment in advance and the team will ensure that the item is available for you at the terminal you are departing from.
They also deal with any tax-free shopping matters if you need to claim your taxes back. The service operates from 9am to 6pm daily and the team speaks a wide range of languages and can help with fashion advice, styling and gift advice for that special someone!
More information and how to book can be found here. The service will hopefully reopen quickly once the current restrictions are lifted.
Plaza Premium Arrivals lounge in Terminal 2
Our final stop was in the Plaza Premium arrivals lounge. This is landside and considerably smaller than the main departure lounge.
Shower and rest rooms are available, like in the departure lounge:
(Rest rooms in the sense of resting, not an American toilet!) Again, the rest rooms come at an additional cost.
The existing spa room is in the process of being converted into a meeting room which Plaza Premium hope will be of more use to arriving business travellers. Since the lounge is landside the room can be booked for meetings with external visitors.
Meet the UV robots
This was also where we met Laura. Laura is one of Heathrow's state of the art Ultra-Violet Cleaning robots. There are two robots at Terminal 2 and two at Terminal 5.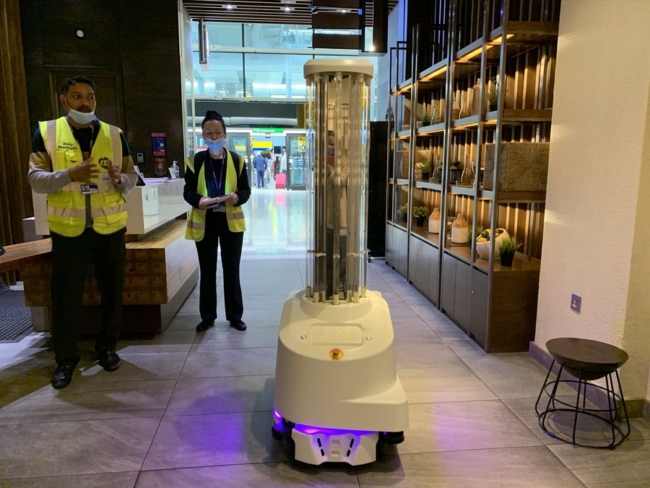 Possibly the hardest working new members of the Heathrow cleaning team, these busy robots can ensure deep cleaning of every inch of the airport and are able to manage the equivalent of two days of human deep cleaning in just an hour. This report by ITV explains how they work in detail.
Conclusion
It's abundantly clear that Heathrow and Malaysia Airlines are working extremely hard to encourage passengers back to travel, and I was certainly reassured. The airport was pretty quiet but it did feel very airy and sparkly clean at every possible touch point.
Ironically since the visit, we're now enduring a further lockdown and flights are being wiped from timetables as we speak. The news on potential covid vaccines looks more promising than ever, however. Once we get back in the air we can all be reassured that every effort is being made to make travel as safe and comfortable as possible for all."