easyJet's controversial new cabin bag policy is now live
Links on Head for Points may pay us an affiliate commission. A list of partners is here.
Last Wednesday was the launch date for easyJet's controversial new cabin baggage policy.
With only a handful of flights operating, and with only a handful of passengers, the launch was reportedly a bit of a damp squib with cabin crew not enforcing the new rules. You shouldn't expect this to last.
If you want to put a bag in the overhead locker, you may be out of luck.
Historically, easyJet has offered more bundled fares compared to its rivals. When Ryanair and Wizz Air reduced the free cabin allowance to a small item only, easyJet was still letting you take on a larger, wheeled cabin bag.
This has all changed. easyJet has aligning its cabin bag policies with Ryanair and Wizz. You are only allowed to take a small cabin bag onto the aircraft which must fit under the seat in front of you.
You can see the new policy on easyJet.com here.

The new easyJet cabin baggage allowance
Here is the new easyJet cabin baggage policy: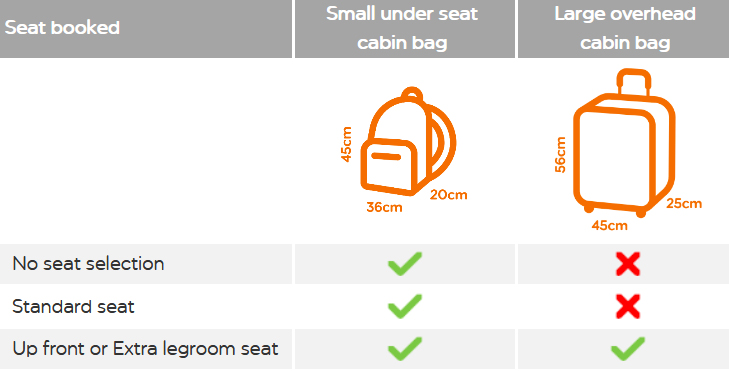 All passengers can bring one small cabin bag on board for free, with a maximum size of 45cm x 36cm x 20cm including any handles or wheels. This bag must fit underneath the seat in front of you (ie. backpacks, handbags, laptop bags etc).
Customers who booked Up Front or Extra Legroom seats will get one additional, larger cabin bag included in their fare. This must be 56cm x 45cm x 25cm or smaller, and can go in the overhead locker. This could be a duffel bag or wheely bag, for example.
easyJet Plus (see our review of easyJet Plus here) and FLEXI fare holders will also be able to bring a larger bag.
Anyone who has not booked an Up Front or Extra Legroom seat will be charged £55 each way to put their larger bag in the hold. It will not remain in the cabin.
Can I pay for the larger cabin bag?
Sort of. Like Ryanair or Wizz Air, easyJet offers a 'Up Front' seating which includes the additional, larger bag as well as Speedy Boarding and use of the easyJet Plus bag drop.
There are typically between 42 and 63 'Up Front' seats on an easyJet flight and you can upgrade from £7.99 each way.
The other option is to purchase easyJet Plus for £215 (more info on that here) or buy a FLEXI ticket.
It is not possible to pay for just the larger cabin bag; it must be part of a larger bundle. If you turn up at the gate with an overhead bin bag it will be taken from you, placed in the hold and you will be charged £55: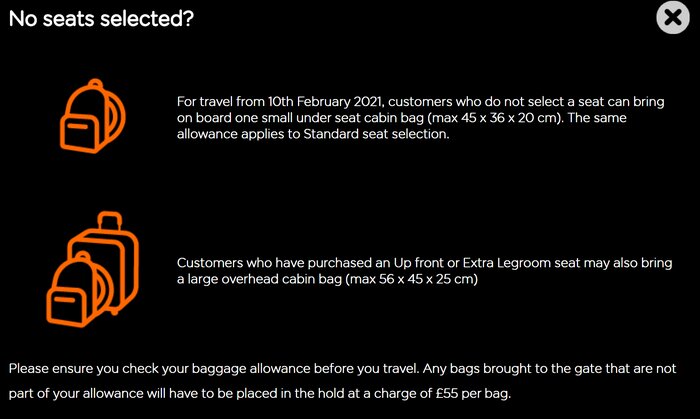 What about hold luggage?
As before, you can add hold luggage, with options in three different sizes: 15kg, 23kg or 32kg. Here are sample prices between Gatwick and Berlin. Note that these prices are ONE WAY, so for a return trip you are paying twice:

Yes, it costs over £40 return for a 15kg checked bag, or £70 for 26kg.
What about existing bookings?
This new policy was announced in early December so anyone who has booked in the last few weeks will know what they are getting.
If you have a booking made before December for later in 2021, you are in for a surprise.
People who booked before the new system was announced will be given the 'Hands Free' product free of charge, which lets you check in your larger sized cabin bag. Note that you cannot get your bag into the cabin even if you are willing to pay. It must be checked in, albeit for free.
Conclusion
Clear water is starting to open up between British Airways and its low cost rivals.
By removing the ability to put a bag in the overhead bins without booking a specific ticket type, easyJet has removed one of the key benefits that set it apart from its low cost rivals Ryanair or Wizz Air.
Meanwhile, British Airways is promoting the reintroduction of free water and light snacks on short-haul flights, along with the launch of the Tom Kerridge pre-order menu.
There also appears to be some strange logic at work here. Since the only people who can put something in the overhead locker are sitting in the extra legroom seats at the front or centre of the plane, the lockers in the rear half of the plane will be empty. It's all very odd.