Air Passenger Duty shaken up in the Budget – are you a winner or a loser?
Links on Head for Points may pay us an affiliate commission. A list of partners is here.
Rishi Sunak, the chancellor, has just announced that Air Passenger Duty will rise even further for the longest international flights as he unveils the annual budget for the country. It isn't all bad news though.
In case you weren't already aware, Air Passenger Duty is already the world's highest tax on flights, adding between £13 and £180 when departing the UK, depending on the distance and class of travel. The tax only applies to U.K. departures which, for domestic flights, means you are paying APD twice.
The top rate from 1st April 2023 will be £200.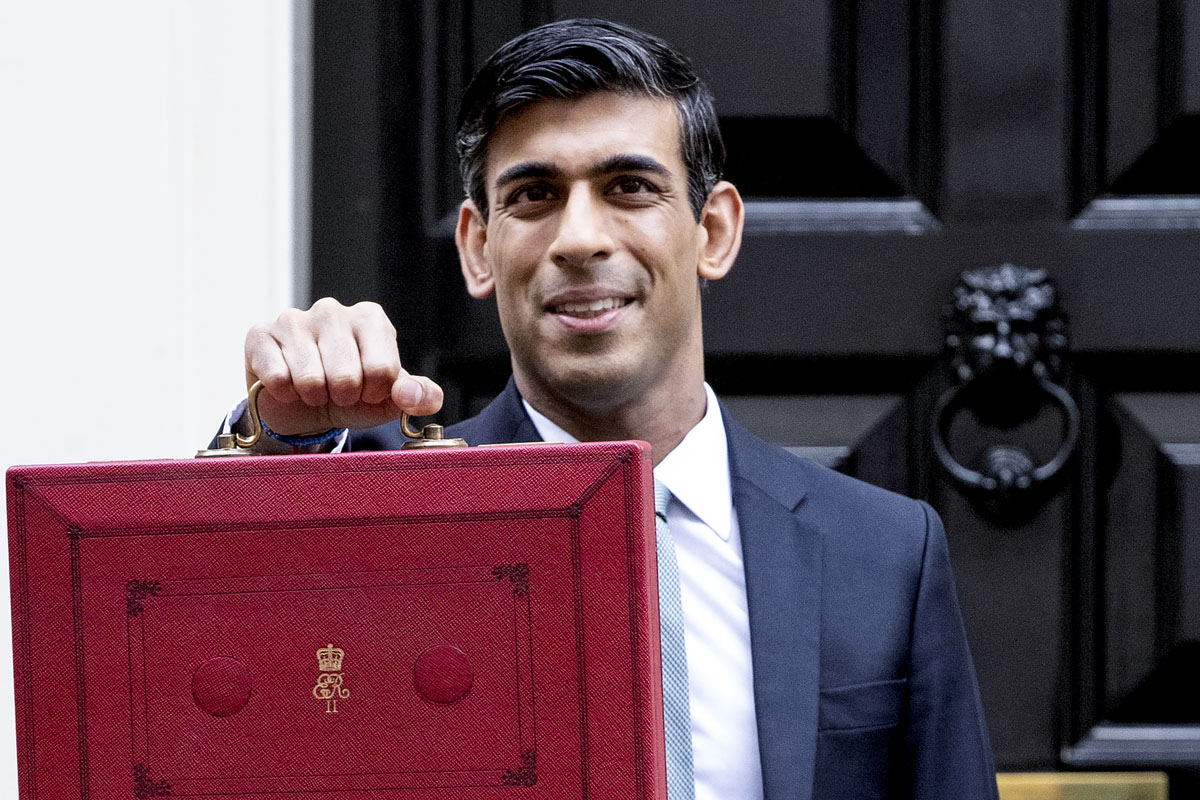 The level of domestic Air Passenger Duty has become a political issue. When Flybe failed, one reason it gave was that the level of APD – £26 on a return domestic economy flight – was wrecking its economics.
It has also became a football in the UK 'levelling up' agenda. With most European countries not having any similar taxes, or not at the same level, it can be cheaper to fly to Munich than Manchester. You would only be paying the £13 economy Air Passenger Duty on the outbound flight rather than on both legs.
What are the current charges?
Whilst APD, which was introduced in 1994, was originally marketed as a green tax that would reduce carbon dioxide emissions, in reality it has just lined the treasury's coffers. The money raised from APD is not ring-fenced on spending to reduce aviation CO2 emissions or otherwise make flying more eco-friendly.
The treasury even admitted this in a 2011 consultation:
"Air passenger duty is primarily a revenue raising duty which makes an important contribution to the public finances, whilst also giving rise to secondary environmental benefits."
Air Passenger Duty, as well as Heathrow's high Passenger Service charges, make the UK one of the most expensive places to fly from. It is one of the reasons we often recommend flying from Inverness, which is free of APD, or Europe first.
The current rates, which came in on 1st April 2021, are as follows:
| | | |
| --- | --- | --- |
| Air Passenger Duty | Cheapest cabin | Other cabins |
| Band A (0 – 2,000 miles) | £13 | £26 |
| Band B (Over 2,000 miles) | £82 | £180 |
From 1st April 2022 it will increase, as announced in the last budget, to:
| | | |
| --- | --- | --- |
| Air Passenger Duty | Cheapest cabin | Other cabins |
| Band A (0 – 2,000 miles) | £13 | £26 |
| Band B (Over 2,000 miles) | £84 | £185 |
Today's announcement covered the increase from 1st April 2023.
APD rates are set to increase – or decrease – or stay the same ….
A rise in APD has been mooted for some time. A consultation earlier this year suggested that the government was looking at increasing APD for longer flights in order to fund a reduction in APD for domestic flying.
Today's Budget makes it clear that this will be implemented, with the new rates taking effect on 1st April 2023.
Here are the new Air Passenger Duty rates: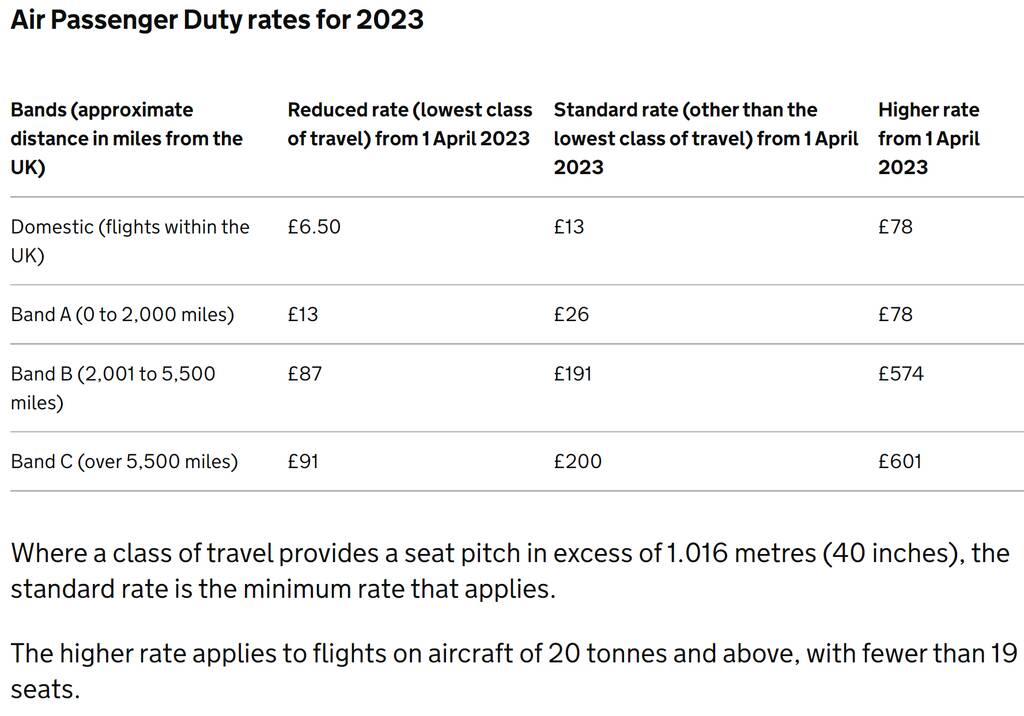 Domestic flights will get cheaper
Let's start with the good news. Domestic flights between England, Scotland, Wales and Northern Ireland will be subject to lower taxes.
These flights will have their APD cut in half, which essentially means the previous 'doubling up' of APD has been eliminated. You will now pay £13 in Air Passenger Duty on a return flight, or £6.50 one-way.
It is not clear if the Channel Islands and Isle of Man are included in the definition of 'domestic'. I am assuming not, because the chart above says it covers only the 'UK'.
Ultra long-haul flights will get more expensive
To compensate for the domestic cut a new ultra long-haul band is being introduced for flights over 5,500 miles.
That includes flights to Southern Africa, parts of South America (although not Brazil), the Far East and Australia Pacific regions. Flights to the USA, the Middle East and the majority of Africa are unaffected.
Here is a map from the government consulation. The new ultra long-haul band is in red: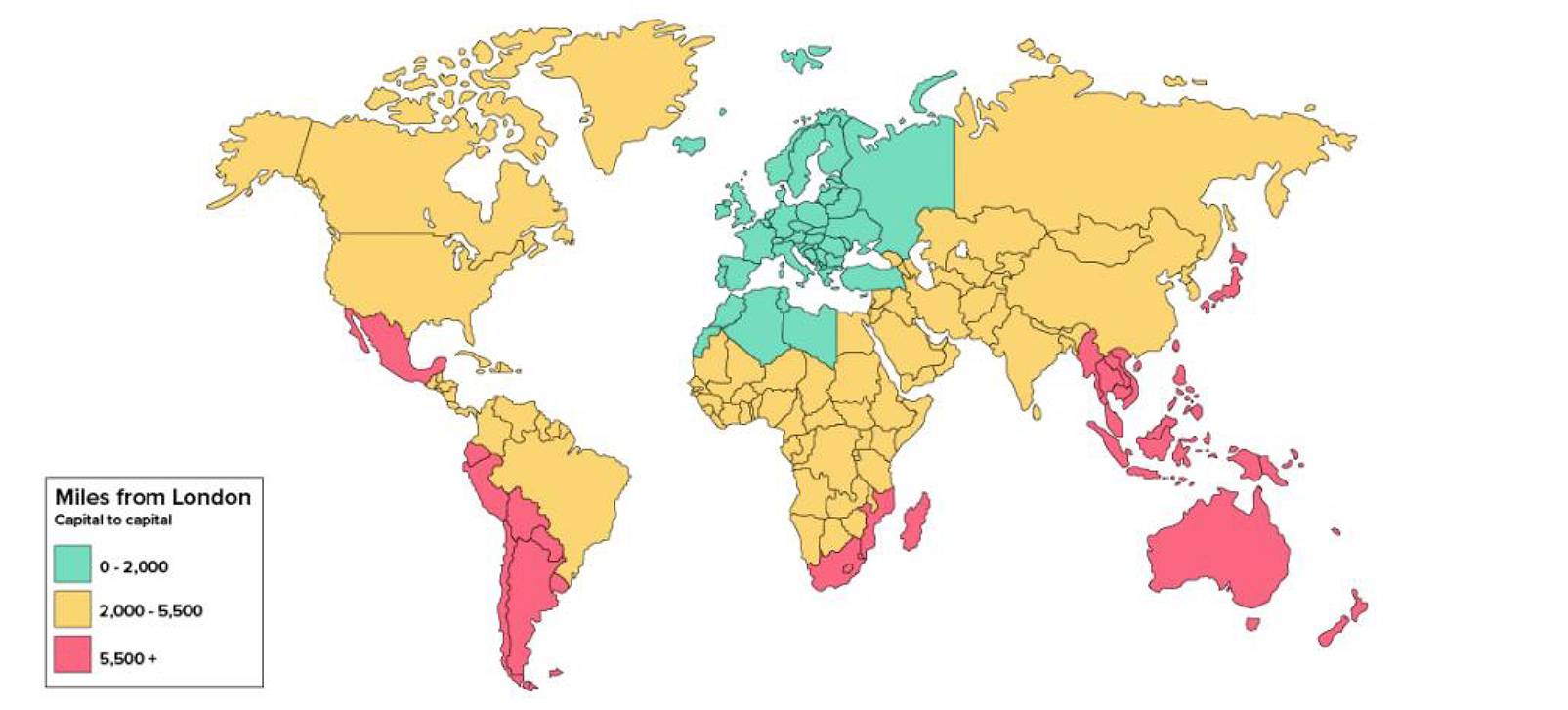 (APD bands are calculated from London to the national capital. That's unfortunate for Mexico ….)
Economy passengers will pay an APD rate of £91 on these flights which is just £4 higher than a standard long-haul flight from the same date.
Passengers in other classes will pay £200. This is just £9 higher than the 2023 standard long-haul rate, which makes you wonder why the Government bothered. The extra money raised will be minimal.
The new APD rates are actually worse for the environment
Somewhat ironically, the new rates will actually be worse for the environment, despite APD being sold as having green credentials.
By reducing domestic APD, the government is actually incentivising domestic air travel over other, more environmentally friendly forms of transport. Taking a flight from (for example) London to Edinburgh will now be cheaper, and more competitive, than taking the train.
Of course, there are many domestic routes where no decent public transport links exist. On these routes a reduction in taxes will be welcomed by those who have to make those journeys on a regular basis and don't have decent alternatives.
These are few and far between, however – the vast majority of domestic seats are available on trunk routes such as those between London and Edinburgh, and according to Cirium over 40% of UK domestic flights are to or from London airports. The proportion of region-to-region flying is much smaller.
Conclusion
With a new top-rate which will be only marginally higher than the standard long-haul rate, most HfP readers are likely to come out ahead. The saving on one domestic return flight each year will be higher than the extra cost of one trip to Asia or Latin America.
Remember that these changes do not come into effect until 1st April 2023. This is 18 months away.