What are the best restaurants at Conrad Maldives – and how can you keep costs down? (Part 3)
Links on Head for Points may pay us an affiliate commission. A list of partners is here.
This is the third part of our in-depth review of the Conrad Maldives Rangali resort by reader Cat. In this part we will take a closer look at the restaurants and bars available at the resort.
Part 1 of our Conrad Maldives Rangali review is here and Part 2, looking at villa options at Conrad Maldives Rangali, is here. If you've got any questions, ask them in the comments – Cat should also be at the HfP party on Wednesday if you're coming along.
The Conrad Maldives Rangali website is here.
Over to Cat:
"With ten bars and restaurants that serve food and three beach dining experiences, private dining options and an in-villa menu, you really are spoilt for choice when it comes to dining at Rangali. The restaurants offer a wide variety of different cuisines, and while none of them are cheap, the quality of food we were served was consistently extremely good, and it was worth every penny.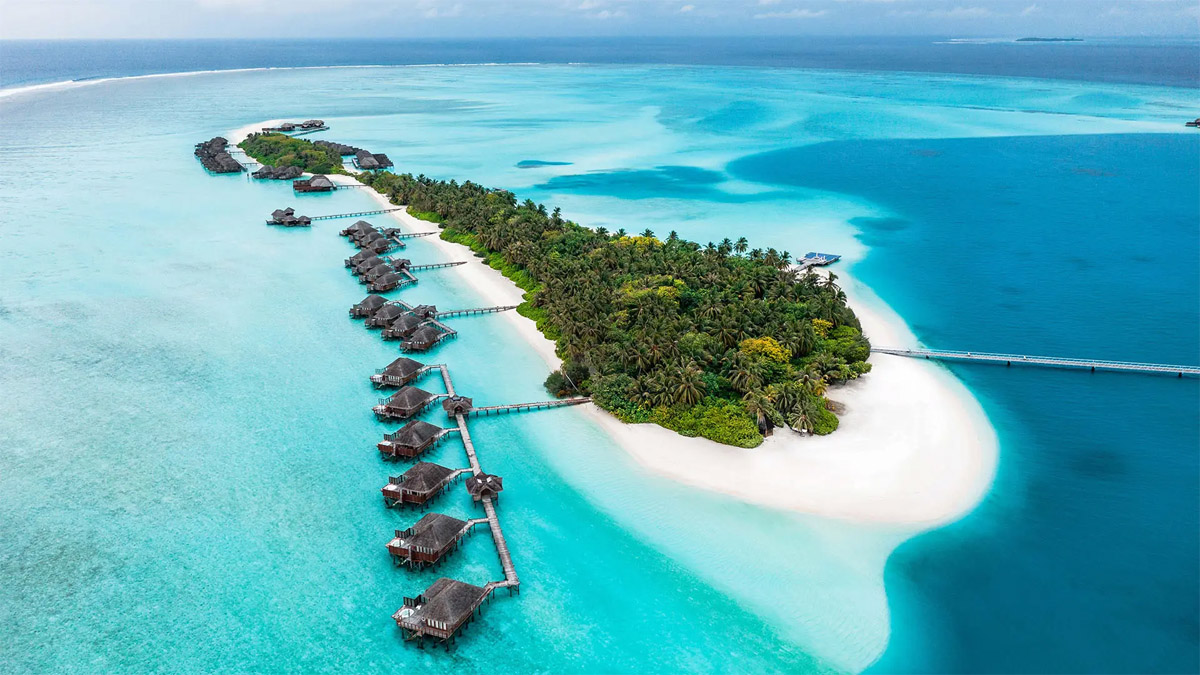 Breakfast at the Conrad Rangali
For breakfast, you have two choices – the buffet at Atoll Market, and the a la carte menu at Vilu. If you are a Gold or Diamond Honors member, breakfast is free (if Gold, double check your 'My Way' benefits preferences on the Hilton website – you definitely don't want to be taking the 1,000 points instead of breakfast here!).
Breakfast at Vilu
Vilu is generally the choice for people travelling without children. This is partly due to proximity (children aren't allowed to stay on the quiet island) and partly due to the ambiance of the restaurants.
You have two options if you are staying on Rangalifinolhu (the family-friendly island) and want to come across to Vilu but walking seems like too much effort. You can either call for a buggy to drive you across from one island to the other or catch the dhoni boat service between the islands. It seems to go every 15 minutes or so, and the dock is right by Vilu.
While it lacks the plethora of choices on offer at Atoll, the Vilu menu had a wide variety of absolutely delicious options to suit any palate, and Em and I never got tired of the choices available. I think the stand-out options for us were the mango sticky rice, the scrambled eggs with crab, sour cream and chives, the smashed avocado with poached egg and the scrambled egg with walnut, asparagus and greens.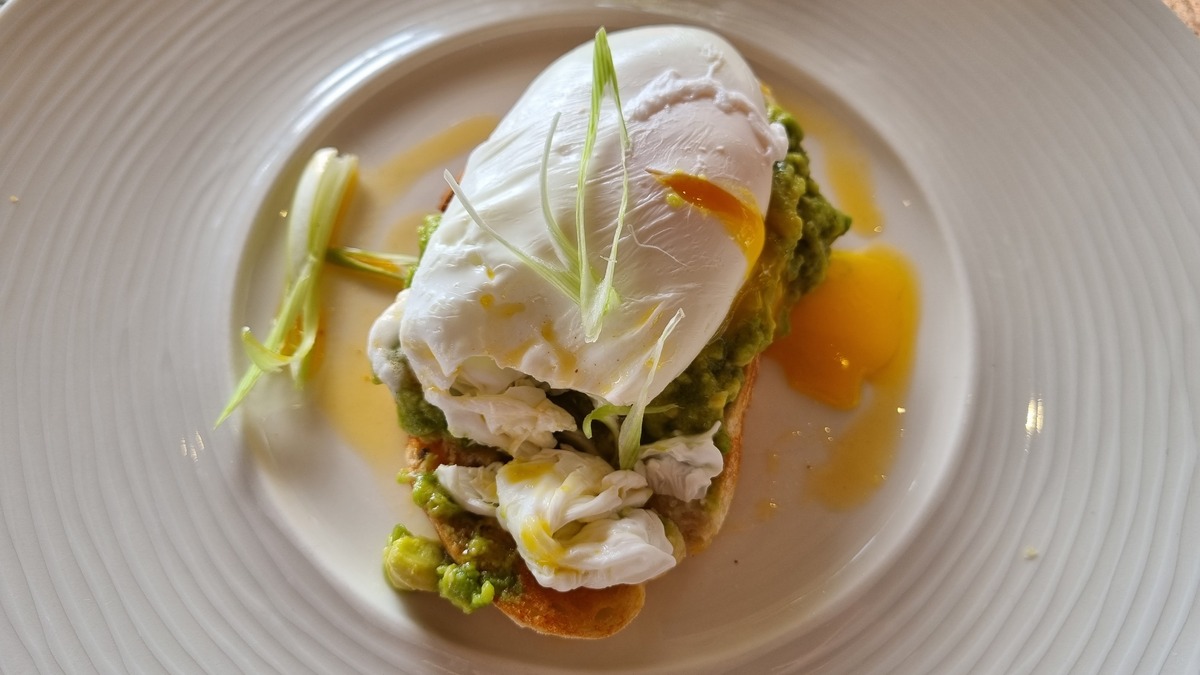 We sampled most of the menu between us, over the course of the nine breakfasts we had there and were delighted to discover that it was considered perfectly acceptable to order two or three dishes. We were absolutely stuffed when we returned to our villa, and perfectly content to subsist on snacks we'd brought with us, Gold Honors amenity snacks left in our villa (a fruit bowl, macaroons and some chocolates) and Gold & Diamond Happy Hour nibbles until our evening meal.
Most mornings, we would choose a table in the pavilion, right by the impossibly turquoise water, but in the shade. Often George, the heron that seems to have made Vilu his home, would pop by to say hi, along with the occasional tern. The atmosphere was one of refined, calm indulgence.
There is a small buffet selection available (pastries, muffins, fruit, cereal and bread) to help yourself to, and if you want extra mango (on top of the slices in your mango sticky rice), that can be provided too, on request.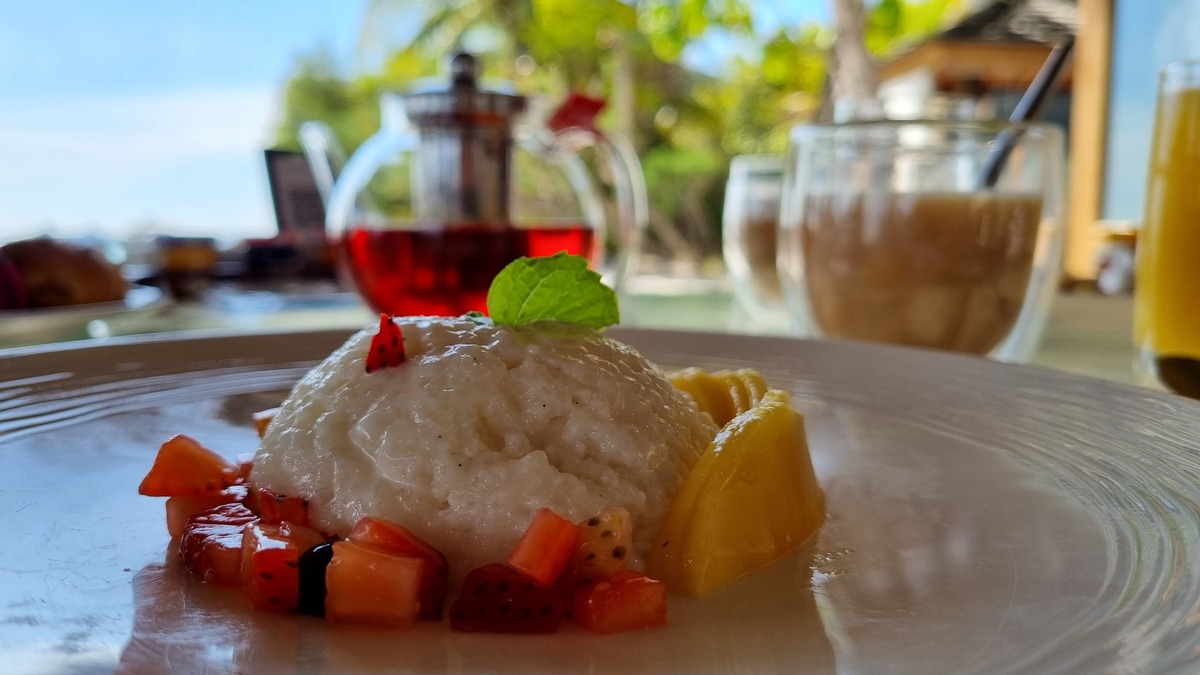 Drink options include freshly pressed juices (the mango juice was incredible), a variety of teas (if you prefer your tea to be strong, I recommend that you request two teabags in one pot, otherwise it's quite tragic and weak!) and coffee options, and if you give them 24 hours' notice, they will make you proper Indian chai! It is worth noting that the milk used for tea and coffee is UHT milk only.
Breakfast at Vilu was nothing short of spectacular.
Breakfast at Atoll Market
Atoll Market offers a buffet breakfast with a wider variety of choice than that offered by Vilu but it lacks the serene, languorous atmosphere of Vilu. Most of the clientele are families, with people constantly leaving their seats to get a second helping. As such, we went once, mainly for the purposes of this review, but opted not to go back again. It was just a bit too hectic, and not in keeping with our lovely, relaxed, pampering holiday vibe.
All of the options available at Vilu seemed to be on offer at Atoll, but with many additional international options like sushi, chorizo, an omelette station, a pancake and waffle station. There were some absolutely wonderful Chinese savoury options ….. that I've sadly completely forgotten the name of!
The mango sticky rice was completely different to that on offer at Vilu, and was nowhere near as good. Ice cream is available, as are smoothies made to order from an astonishing variety of fruit and veg.
I finally tried the Maldivian fish curry (also on offer at Vilu), and it was absolutely incredible, if a bit more spicy than I'm accustomed to in the morning!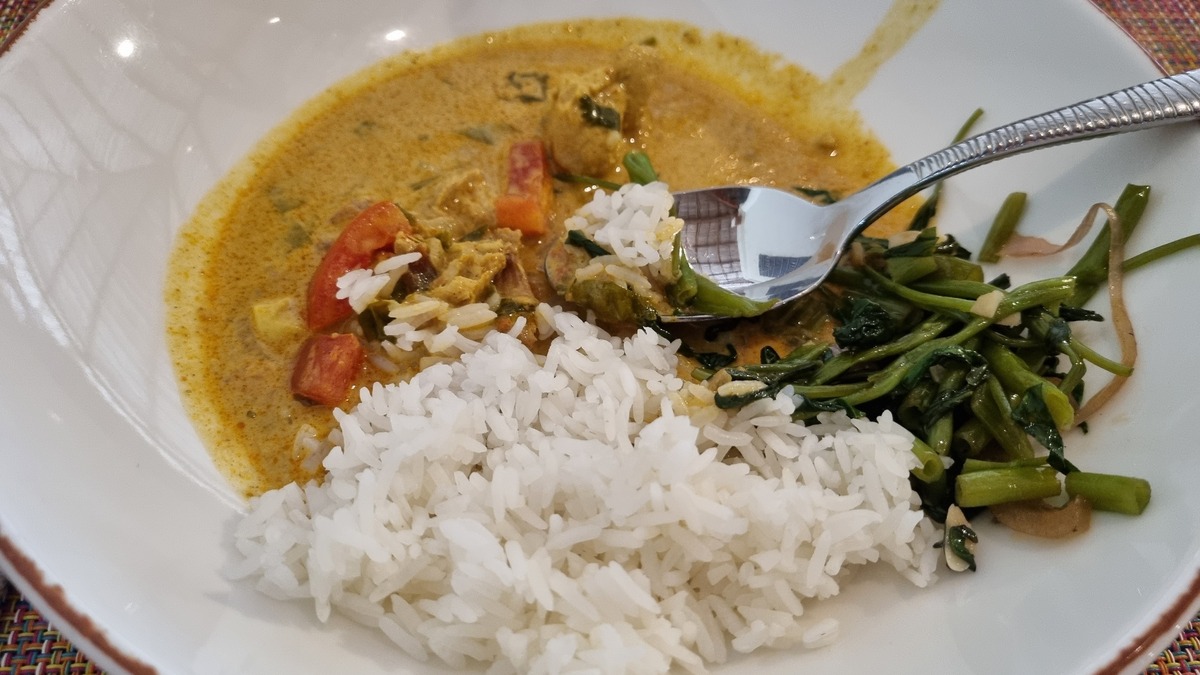 What Atoll lacks in atmosphere, it certainly more than makes up for in choice.
Hilton Honors Gold & Diamond Happy Hour
After our late breakfast, we would skip lunch, then head to the Gold & Diamond Happy Hour held at Vilu restaurant from 4pm – 5pm. The complementary drinks available included sparkling wine, the house red and white, a cocktail and a mocktail of the day, and beer.
The waiting staff would usually come round often enough that you could get a couple of rounds in, and they would also bring hors d'oeuvres, which went some way to preventing you getting too squiffy before dinner.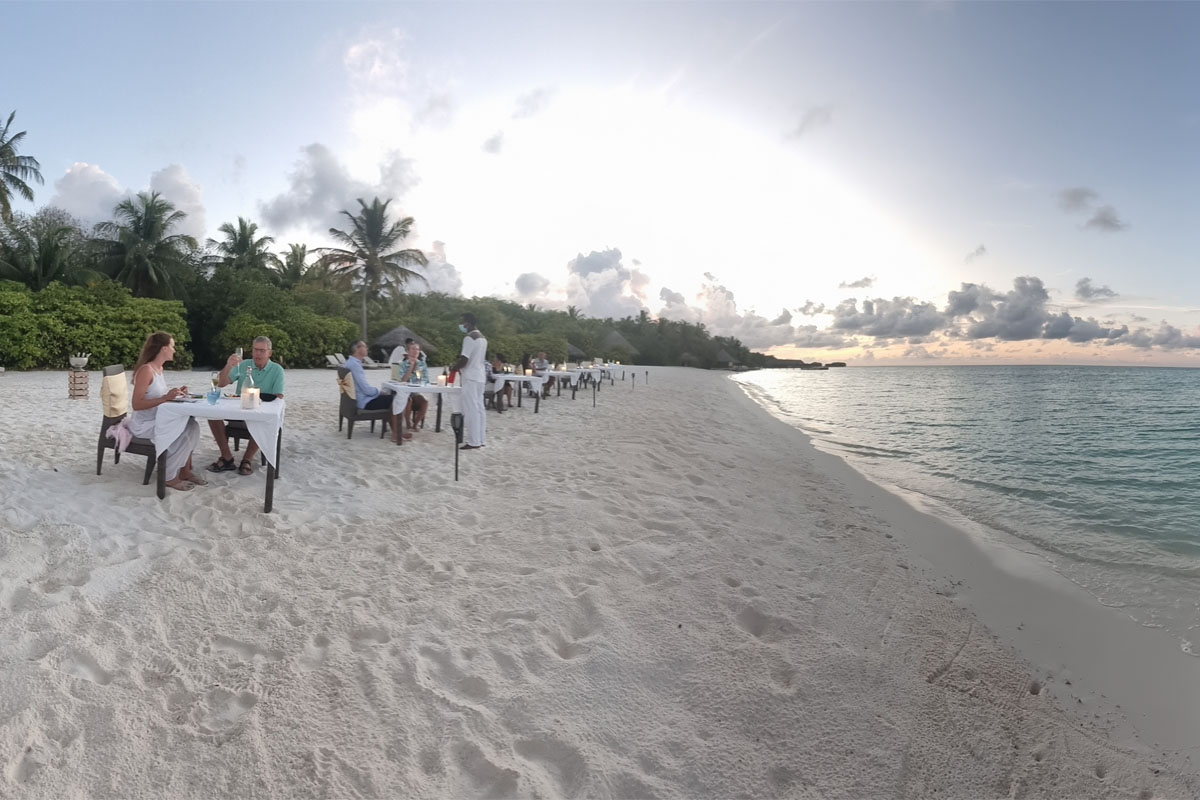 Lobster & Champagne dinner $275 pp
You're right by the water's edge, serenaded by cheesy live music. The array of fresh locally caught seafood – both chilled and grilled (including lobster, obviously) is astonishing. The prawns were huge, the grill featured beef, lamb and sausages as well as lobster and prawns. There was crab, scallops, clams, fish, and much much more. The champagne was free-flowing and marvellous. It was all very, very good (and we did attempt to go back several times to try it all).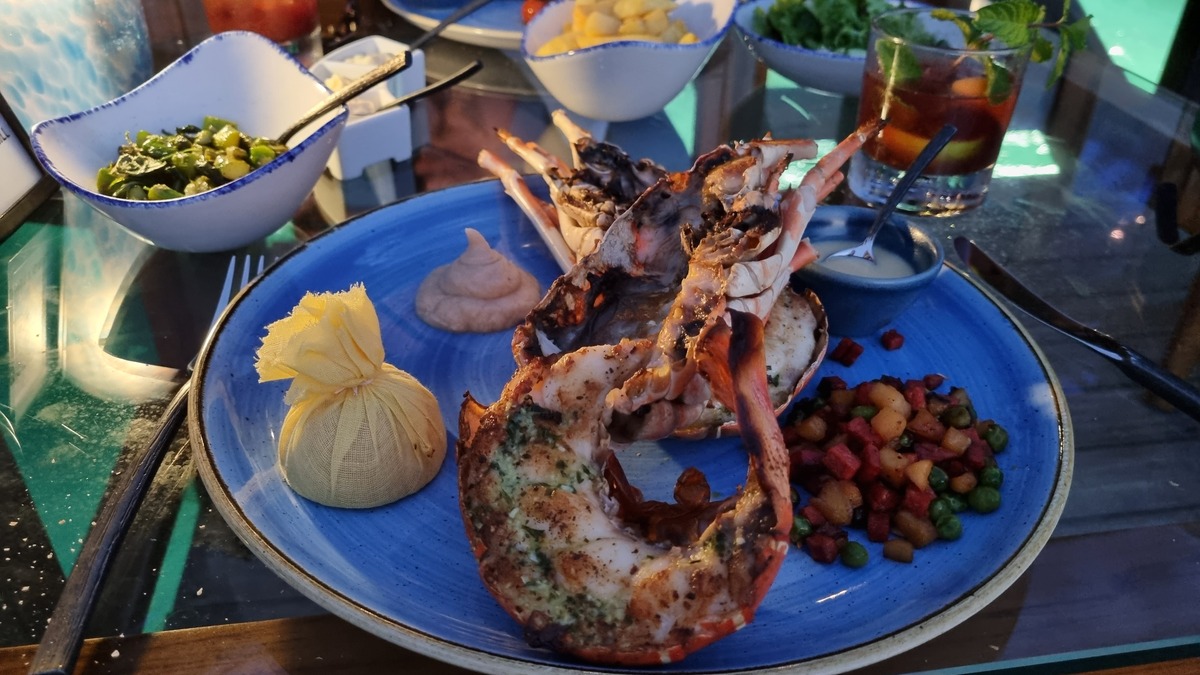 Unless you're badly in need of a sugar hit, I would skip the desserts in favour of another helping from the grill, though. The crème brûlée was more crème and, disappointingly, less brûlée – attempting to crack it with a spoon was a gloopy exercise in futility.
Sunset Grill
Easily my favourite, after the Champagne & Lobster. The views of the sunset over Rangali island were incredible, our table was on a little stilted platform over the water, we saw many, many reef sharks swim past, they (the staff, not the reef sharks) were happy for us to finish our happy hour jug of sangria from the nearby Rangali bar with our dinner, and the bread was glorious.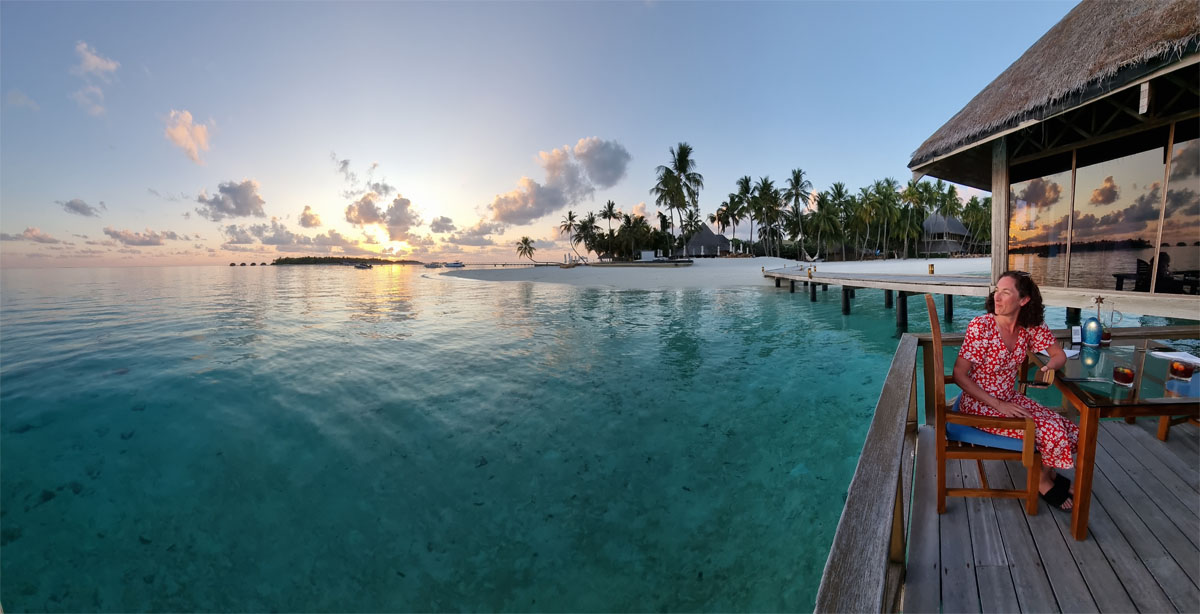 We went there twice, and between us, we tried the rack of lamb, the Maldivian lobster, the yellow fin tuna and the sirloin steak. All of them were absolutely perfectly cooked and divine. We always seemed to time our walk back across to the quiet island perfectly to see the resident manta ray gorging on the thriving ecosystem that exists under the inter-island bridge, which was such an exciting end to a lovely evening.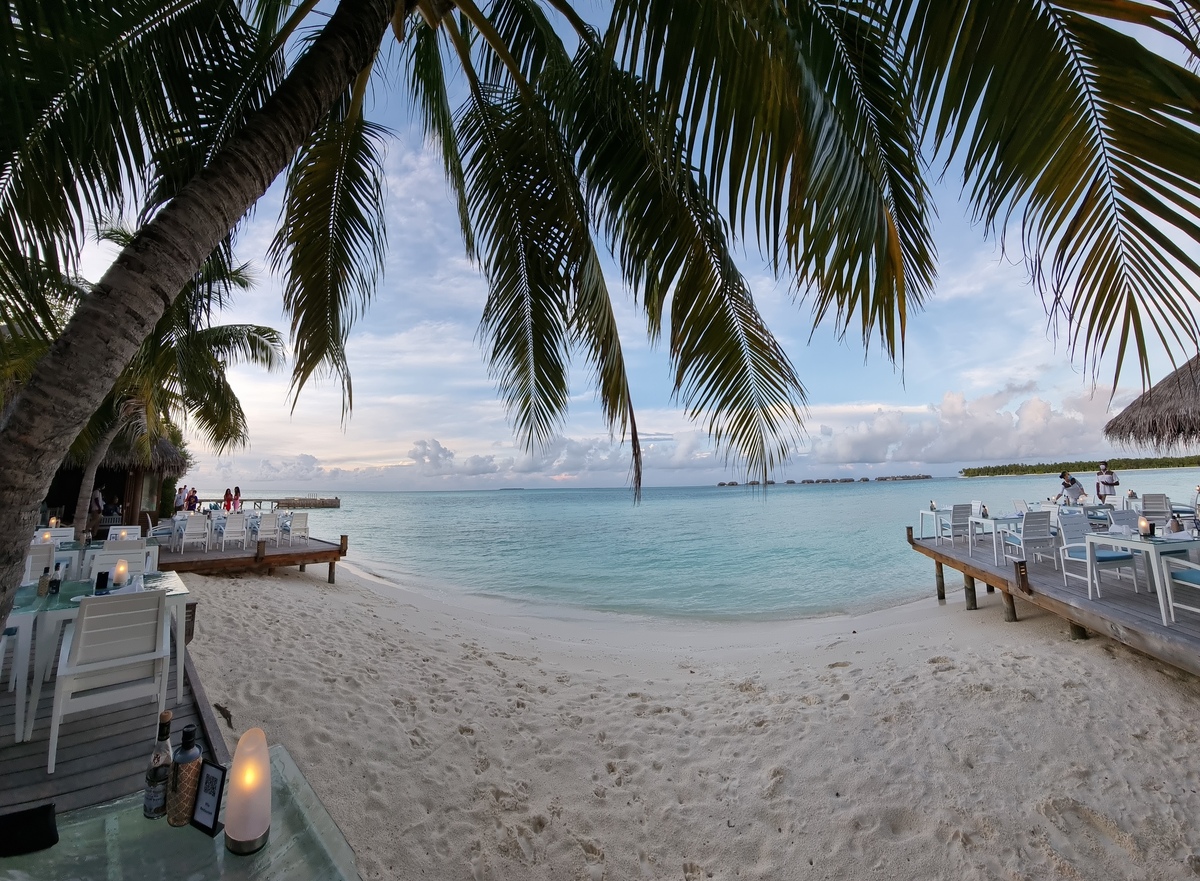 Vilu Restaurant
You'd think we'd have been fed up of this place. We really weren't.
Our haven of tranquillity felt like a different restaurant in the setting sun, and we chose a table underneath a palm tree, rather than in the shade of the pavilion.
The amuse-bouche was absolutely divine here (our bouches were amused):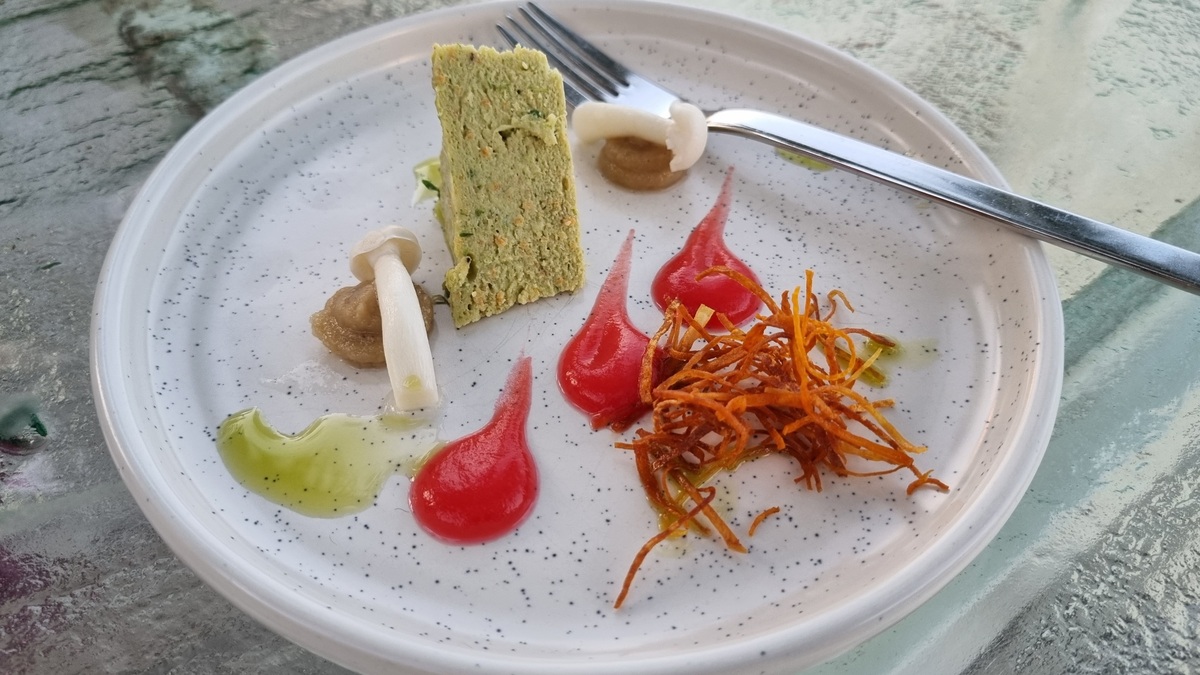 As for the mains – my pork belly was lovely, but the crackling was disappointingly un-crisp (I imagine crackling, much like brulee, is harder to achieve in the humidity of the Maldives) but Em's sea bass was amazing.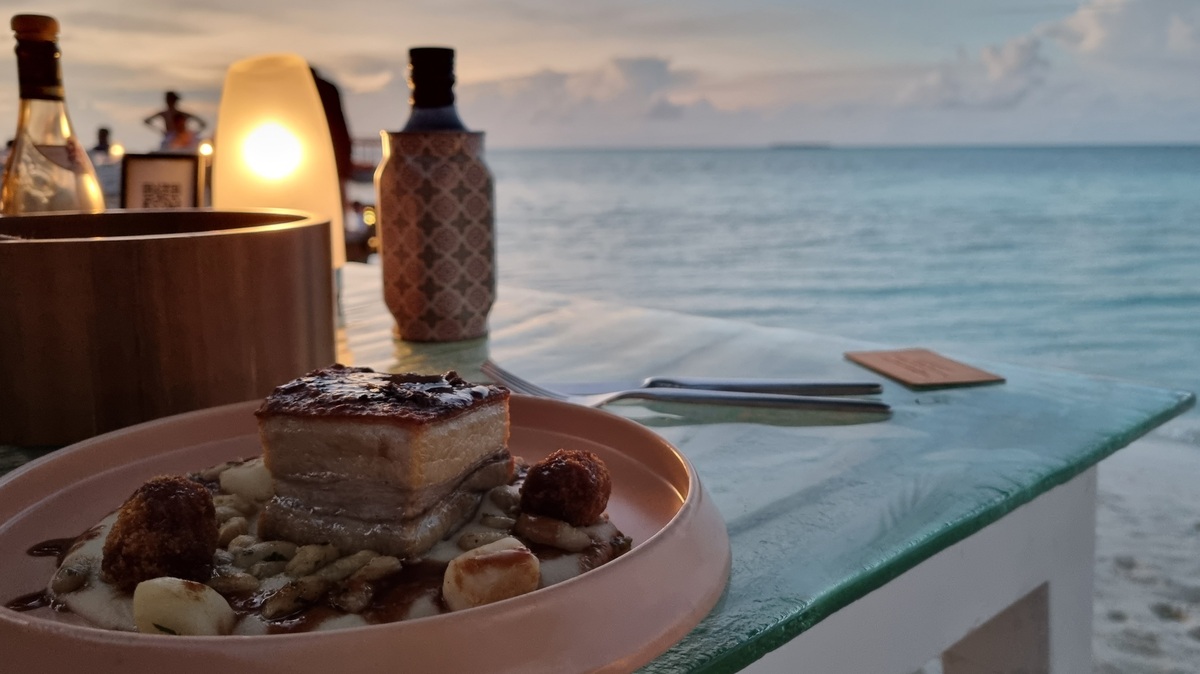 The Quiet Zone and the Manager's Reception
We came here on our first night – we had been planning to go to the Rangali bar, but we were lucky enough to be invited to the Manager's Reception (held every Tuesday – usually only returning guests are invited), and we were too jet-lagged to be able to cope with hopping back and forth between the islands!
I have to admit that evening was a bit of a sleep-deprived blur, but I think I had the club sandwich, and Em had the Mediterranean salad, both of which were perfectly pleasant, but nothing to write home about. The cocktails at the reception went down a treat, but we were far too tired to make small talk with the other guests and after the second cocktail we were ready to collapse and had to retreat to our villa for a much-needed early night. I think I would have preferred to be invited to this event on the second Tuesday of our stay!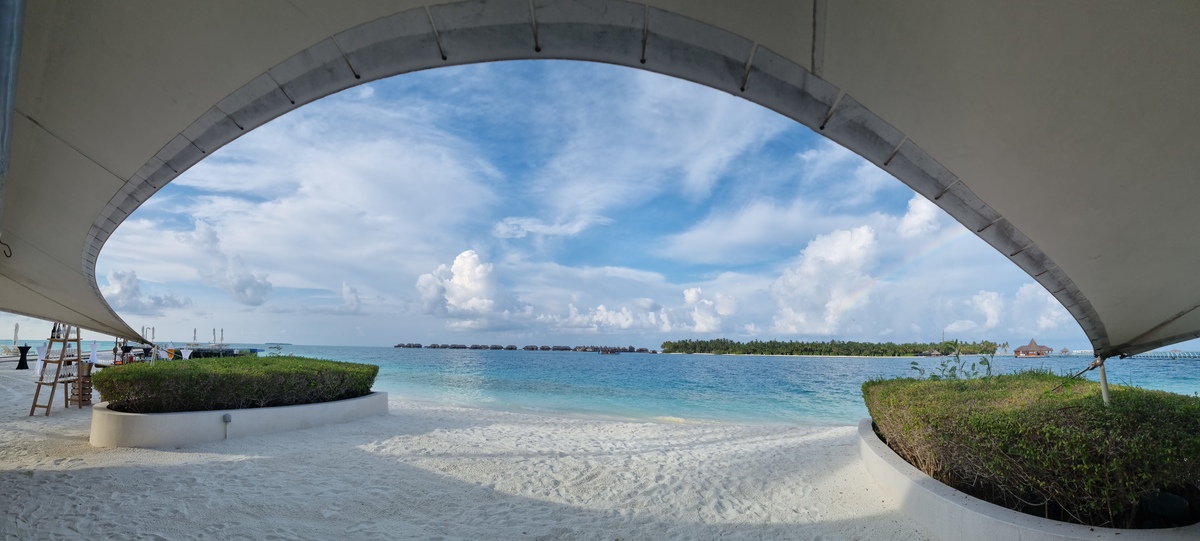 The Quiet Zone, on the quiet island, is one of the options if you don't get a restaurant reservation – they have a very limited lunch menu, which they take last orders from at 5:45pm.
Rangali Bar
Another option, if you have no reservation, is the Rangali bar. The menu here is more extensive, but the bar is much more busy. Again, last orders are at 5:45pm. As 5pm-6pm is half price happy hour, you can also get beer, cocktails or a jug of sangria at something more closely resembling London prices (well, probably more like Oslo prices). Wine is, sadly, not half price.
I had the butter chicken, which was good, but just a bit more spicy than I could cope with. Em had the Caesar salad. The sangria was wonderful!
Other restaurants that we didn't try:
Ithaa – an underwater restaurant, where you eat in a tunnel underwater, surrounded by reef sharks, rays and turtles swimming past. This incredible experience is matched by equally incredible prices – $340 per person.
Koko grill – a Japanese set menu feast, that comes highly recommended for $270 pp
Ufaa – a Chinese restaurant that also gets rave reviews, the menu is à la carte, but relatively reasonably priced.
Mandhoo – the spa restaurant which also gets rave reviews (to be honest, the new age hippy presentation of the menu put me off a bit), the menu is à la carte, but relatively reasonably priced.
The Cheese & Wine Bar – this is supposed to be an excellent option too – their tasting menu is $145 pp, the cheese fondue is $105 pp and the wine cellar dinner, which comes with wine pairings, is $295 pp
Atoll Market – their buffet is, once again, a popular choice amongst families but at $140 pp it seemed overpriced. Nobody seems to sing the praises of the Atoll buffet, so we didn't bother.
There are also various once-weekly options available: the Maldivian night ($195 pp) and the Fisherman's BBQ ($255 pp) both of which seem to have a devoted following.
How to eat cheaply at Conrad Maldives Rangali
At this point in my review, I have a confession to make – Em and I were acutely aware that, as a non-consultant doctor and a classroom teacher respectively, we were definitely on the lower end of the salary scale for Rangali guests.
We were aware that the bill at the end of a 10 night redemption stay is usually in excess of $5,000. We had no intention of remortgaging our homes to pay for a holiday, so we opted to keep our trip as cheap as possible by not partaking in any paid for activities, and keeping our F&B spend well below average.
After trawling the Rangali Flyertalk forum for restaurant advice, and checking out the menus, we decided that, out of the cheaper options, we were most interested in the Sunset Grill, Vilu, and Rangali bar, and maybe indulging in one splurge evening.
After deliberating over the relative merits of Koko Grill, the Maldivian beach dinner, the Fisherman's BBQ and the Champagne & Lobster night, we decided on the Champagne & Lobster night (as we're quite partial to both). We took the unusual decision to bring some dehydrated camping meals (of the type I will eat on a multi-day hike) for 4 of the 10 evenings we were there, requiring boiling water being added to the packet itself – easily do-able with the kettle in our villa.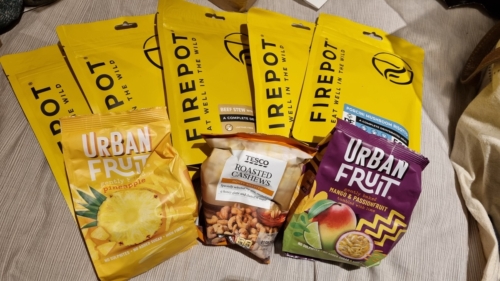 Look – I know this approach to in-villa dining is not everyone's cup of tea (and I'll look forward to reading all of your views in the comments below), but the meals were a step up from the Pot Noodles that Em initially suggested, and at least we didn't bring an electric hob and saucepan with us, like the chap who wrote this InterContinental Bora Bora review!
If we were to do it again, I think I would probably have enjoyed 10 nights eating in the Sunset Grill, Vilu or Rangali bar (and maybe Ufaa and Mandhoo too) more than saving on four nights' meals to justify one night of indulgence. The total cost would have been similar either way. Em would have done exactly what we did again, as for her the Champagne & Lobster beach dinner easily justified four nights of eating like students – and lazy ones at that.
A word of advice – decide which restaurants you want to visit before your stay (the Murahaba app will help with this, as will Flyertalk), and then email two weeks before your stay to make bookings. The restaurants do book up, and friends we made on the island had a difficult time getting tables at the restaurants they wanted to visit.
Conclusion
All of the prices quoted are subject to 23.2% tax and service charge being added on to your bill. It is also worth noting that, while vast quantities of drinking water are provided in your villa free of charge in swing top reusable bottles, this is not the case in restaurants. Any request for water will result in a single use bottle of imported mineral water arriving at your table, for $12 +23.2%. I recommend coming to dinner well hydrated.
As long as you book before your trip, you will not find yourself lacking in choice for food at the Conrad Rangali.
For those that are wondering, our budget approach to the holiday was pretty successful. Our final bill at the end of our 10 night stay was £1,937.75 between the two of us, including our seaplane flights, our dinners at Sunset Grill, Vilu, Rangali Bar and The Quiet Zone, the splurge of the Lobster & Champagne dinner, taxes and tips we'd added to our restaurant bills and my two visits to the resort doctor (for my ear infection and perforated eardrum) and two courses of antibiotics. Not bad …..
For reference, tips that you sign for on your room bill are divided between all catering staff; if you want a tip to go to one particular member of staff you can either give it to them in cash, or leave it in an envelope on departure. We did a mixture of these things, to reward the excellent service we received, but to make sure some of the tip money went to those behind the scenes too.
As a reminder, if you book the Conrad Rangali as a redemption – and frankly you'd be crazy not to, as it's far cheaper to buy Hilton points in a points promotion and book a redemption than to pay cash – you have the choice of a Beach Villa or a Sunrise Water Villa.
Both of these options are available as Standard Room Reward redemptions for 120,000 points per night (or 96,000 if you have Hilton Honors Silver status or above, and book 5 nights for the price of 4). We were lucky enough to book before the redemption rates went up, and managed to book for 76,000 points per night (95,000 points per night, with 5 nights for the price of 4).
Whilst the UK Hilton Honors credit card is closed to new applicants, Hilton is a 1:2 transfer partner with American Express Membership Rewards. For high value redemptions like this, it can also make sense to buy Hilton Honors points to top up your balance when they are being sold at a 100% bonus, which takes the cost down to 0.5 cents each. 0.5 cents x 95,000 points per night is just $475 (£400) per night which is a fraction of the cash cost.
The Conrad Maldives Rangali website is here if you want to find out more or make a booking.
---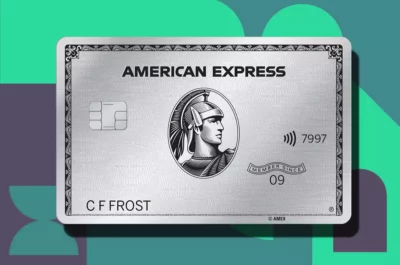 How to earn Hilton Honors points and status from UK credit cards (December 2023)
There are various ways of earning Hilton Honors points from UK credit cards. Many cards also have generous sign-up bonuses.
Do you know that holders of The Platinum Card from American Express receive FREE Hilton Honors Gold status for as long as they hold the card? It also comes with Marriott Bonvoy Gold, Radisson Rewards Premium and MeliaRewards Gold status. We reviewed American Express Platinum in detail here and you can apply here.
SPECIAL OFFER: Until 9th January 2024, you will receive a huge 100,000 Membership Rewards points (convertible to 100,000 Avios) with The Platinum Card. You receive 75,000 points if you spend £10,000 in six months and a further 25,000 points if you hold the card for 15 months. You can apply here.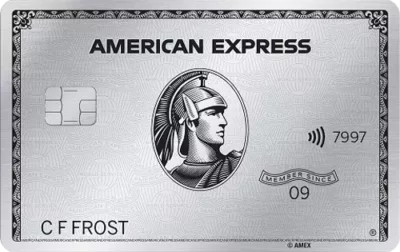 The Platinum Card from American Express
Crazy 100,000 points (TO 9th JANUARY) and a huge range of valuable benefits – for a fee Read our full review
Did you know that the Virgin Atlantic credit cards are a great way of earning Hilton Honors points? Two Virgin Points can be converted into three Hilton Honors points. The Virgin Atlantic cards are the only Visa or Mastercard products in the UK which can indirectly earn Hilton Honors points. You can apply here.
You can also earn Hilton Honors points indirectly with:
SPECIAL OFFER: Until 9th January 2024, you will receive 30,000 Membership Rewards points (convertible to 30,000 Avios) with American Express Preferred Rewards Gold. You receive 25,000 points if you spend £3,000 in three months and a further 5,000 points if you hold the card for 15 months. You can apply here.
and for small business owners:
The conversion rate from American Express to Hilton points is 1:2.
Click here to read our detailed summary of all UK credit cards which can be used to earn Hilton Honors points.
(Want to earn more hotel points? Click here to see our complete list of promotions from the major hotel chains or use the 'Hotel Offers' link in the menu bar at the top of the page.)