Review: No1 Lounge at London Gatwick Airport's South Terminal
Links on Head for Points may pay us an affiliate commission. A list of partners is here.
This is our review of the No1 Lounge at London Gatwick Airport's South Terminal. This is the terminal used by British Airways – if you are flying with easyJet, it is highly likely that you will be in the North Terminal.
It is part of our series of reviews of airport lounges across the UK. You see all of the reviews here.
Overall, I was impressed, despite the capacity constraints.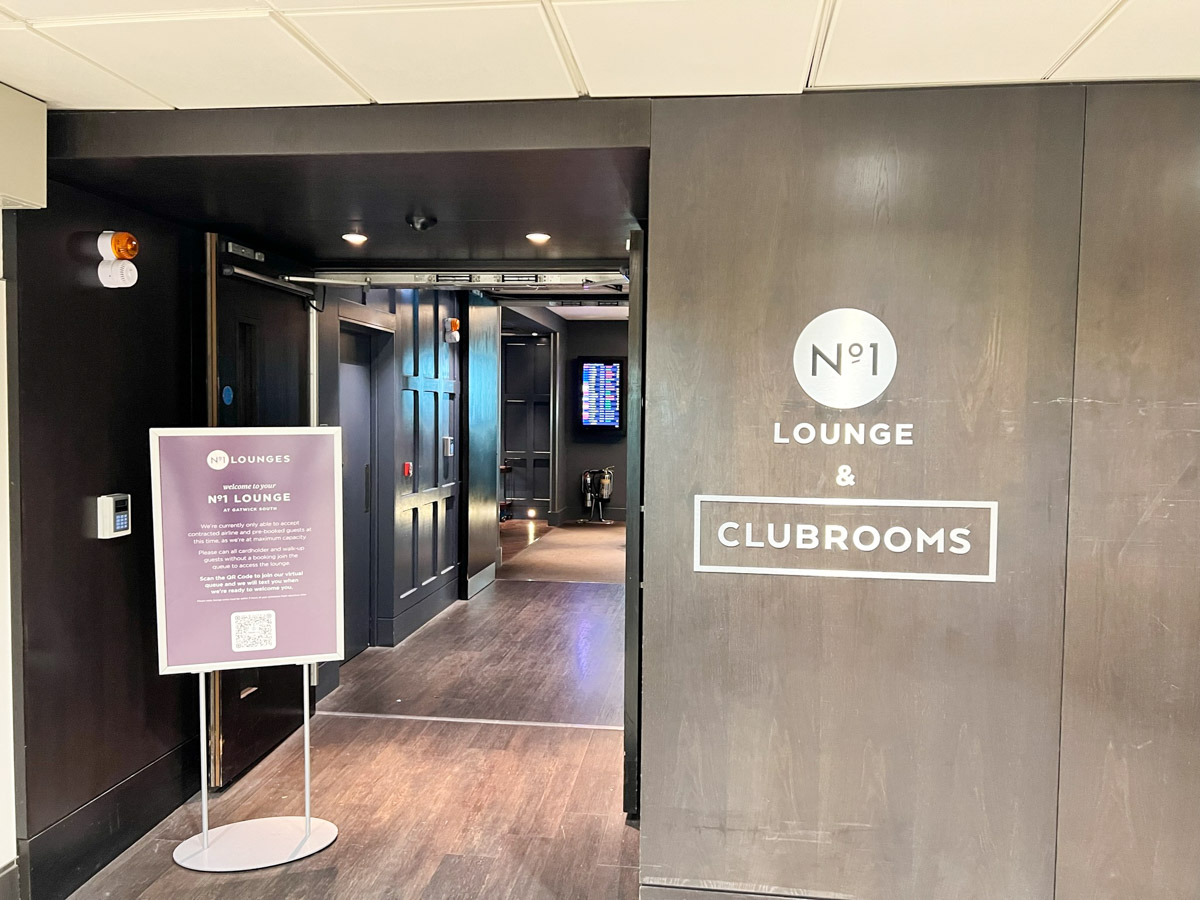 If you are hoping to visit this lounge with a Priority Pass, your chance of entry without paying £6 to prebook via this link is not great at the moment. In recent weeks, it hasn't even been possible to book at full price at short notice. Much of the capacity is being purchased in bulk by airlines who do not have their own lounges.
Remember that paying £6 to prebook also gets you free Fast Track Security access. It is a decent deal if you would otherwise have to queue for the main security line.
How to access the No1 Lounge at Gatwick South
As independent lounges, No1 Lounges are open to anyone willing to pay or with a lounge membership card, regardless of which airline you're flying on.
In my case, I gained entry using the Priority Pass card which comes with my American Express Platinum card. Amex Platinum comes with two Priority Pass cards, each of which also admits a guest for free, so in theory one Platinum card covers a family of four for unlimited visits.
No1 Lounges often refuse access to Priority Pass guests at peak times because the lounge gets overcrowded. This has been particularly acute this year, with staffing issues forcing No1 to close the adjacent Clubrooms lounge and the nearby Club Aspire lounge (all three lounges have common ownership).
I did try to pre-book an entry slot for an extra £6 but the lounge had its pre-booking quota, so I tried my luck on the day instead.
I arrived around 9:30am and was told I had to join the online queue, which at that point was around 30 minutes long. In the end, I got a text around an hour later – about 40 minutes before my flight. I only made a passing stop to take some photos and enjoy a quick drink and snack before heading to the gate.
Where to find the No1 Lounge at Gatwick South
The first thing to remember is that you do NOT head down the escalators after you pass through Gatwick security. There is a doorway to your left which is for anyone who is heading to the British Airways or No1 Lounge, or indeed any of the shops or restaurants on the mezzanine level. If you go down the escalator, you have to come straight back up again ….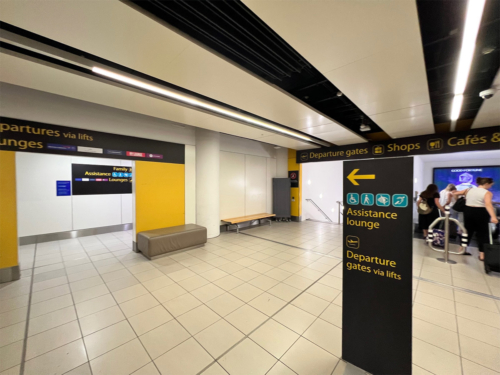 The No1 Lounge is down the same corridor you take when you head to the British Airways lounges at Gatwick (British Airways Business lounge review here, British Airways First lounge review here). It is on the same level, whilst you need to head up a floor for the BA lounges.
You'll see a joint lobby for both No1 and Clubrooms: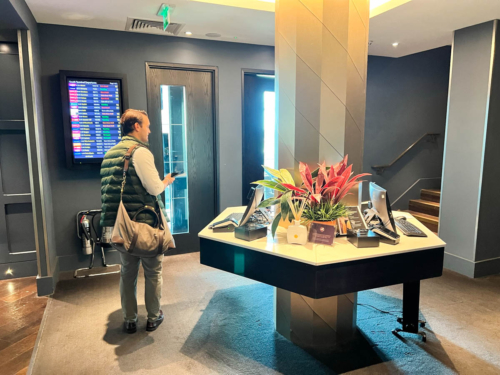 Inside Gatwick South's No1 Lounge
Once you've been checked in by the lounge staff you head up a small ramp into the lounge. It is not a particularly big lounge but it makes a very good first impression thanks to the huge amount of natural light streaming in from full width windows on two sides: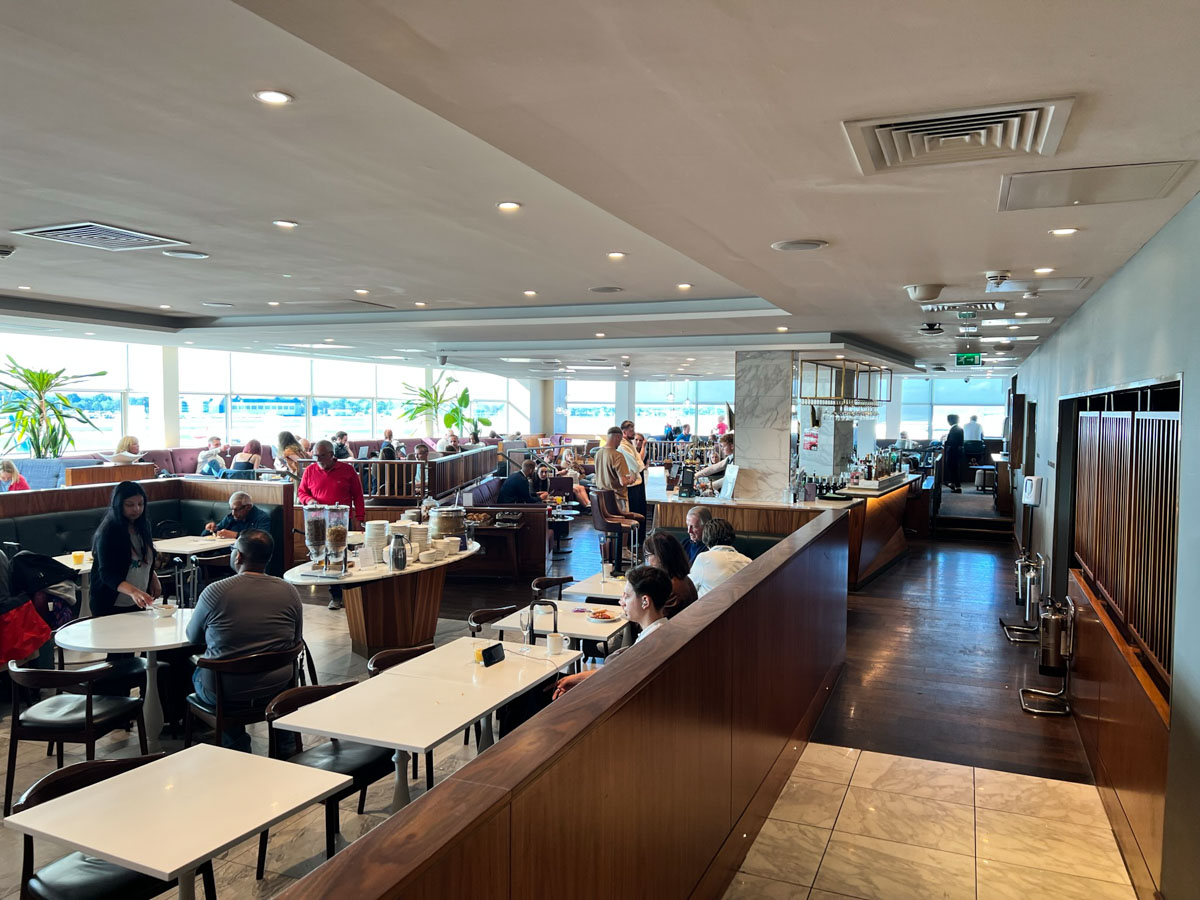 and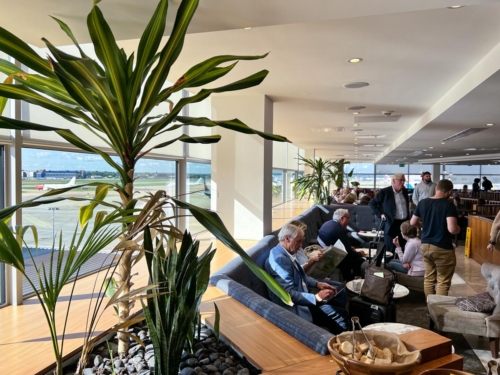 The flip side is that it is very open plan, with few places to hide out and work, for example. Off to the right you'll find a few smaller rooms, including a business centre and 'library':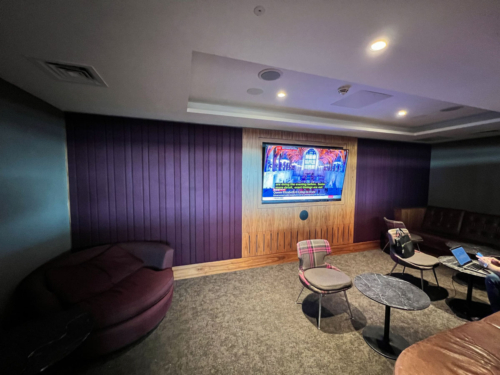 …. and a couple of booths (with a 'reserved' sign on them):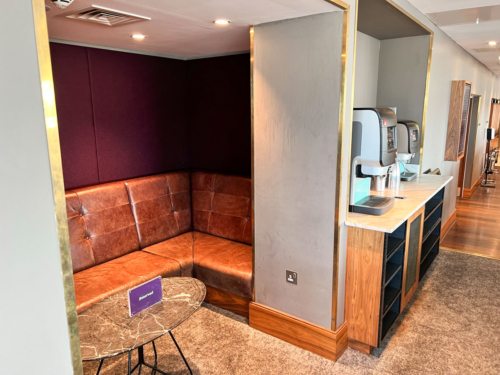 The rest of the lounge features a central section with a wrap-around mezzanine level: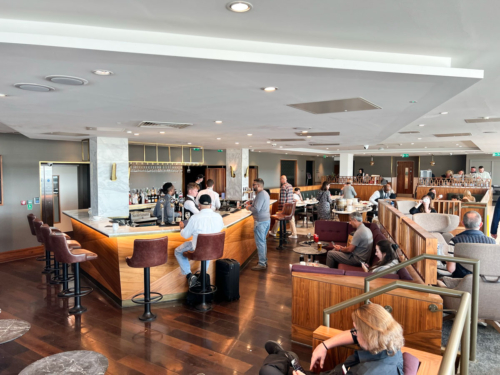 and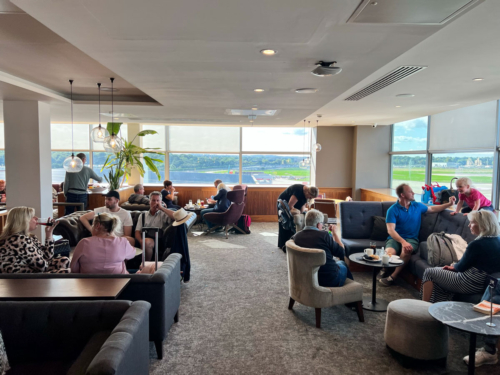 and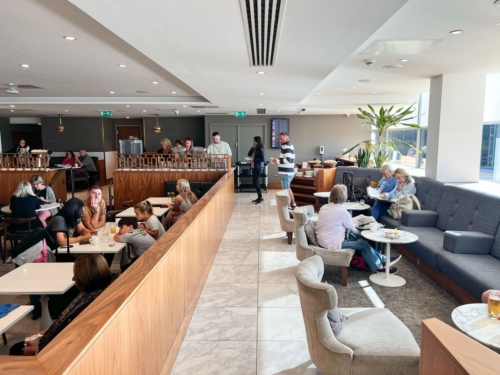 The lounge has its own toilets, although I couldn't find any showers.
Food and drink at the No1 Lounge Gatwick South
The food offering is spread out across the lounge, rather than in one specific area.
Pastries included croissants, pain au chocolats and muffins, whilst there was also a selection of two basic cereals and bread.
Hot food was limited to just three dishes: potato cubes, bacon and what Americans would call 'sausage patties,' which some guests were using to make burgers. This is a substantially reduced offering from pre-pandemic, when you would be given a paper menu on entry which could be exchanged for a hot item delivered to your seat.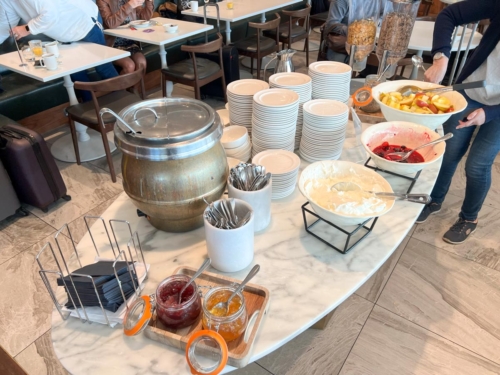 There is also a selection of yoghurts and fruit available, plus porridge.
A couple of coffee and tea stations are located around the lounge whilst you'll have to head to the bar for any alcohol. This is at the centre of the lounge, in a triangle shape: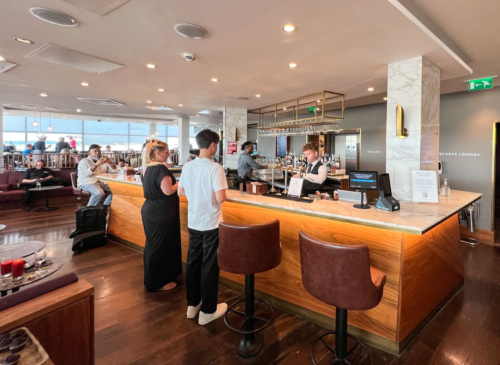 House beers, wines etc are free although you'll have to pay for champagne. Prices start at £8/glass and top out at £50 for a bottle of Veuve Cliquot or Moet.
Verdict – is the No1 Lounge at Gatwick South worth it?
All in all, the No1 Lounge at Gatwick South is an impressive lounge with stylish decor and a fantastic, open-plan design that's flooded with natural light.
It is a much more pleasant place to spend a morning than the restaurants around the main concourse, which more often than not are dark and dingy with few or no windows.
The food offering was admittedly basic and was better before the pandemic. It doesn't make it easy to justify the full cash rate which is £34.
The biggest issue, for now, remains the fact that it is difficult to get into the lounge in the first place due to the high level of demand, even at full rate. At the time of writing, for example, I could not book No1 or My Lounge in Gatwick South at full rate for, picking a time at random, 11.30 on Thursday 29th September. Clubrooms and Club Aspire remain closed.
This will hopefully ease somewhat once Clubrooms and the Club Aspire lounge re-open, as the terminal would then have four independent lounges. Rob's recent review of My Lounge – the only other independent lounge which is currently open in Gatwick South – is here.
If you want to find out more, or pre-book entry for cash, you can do so on the No1 Lounges website here.