Shocking Radisson Rewards devaluation – the value of your points is cut by half
Links on Head for Points may pay us an affiliate commission. A list of partners is here.
Radisson Rewards (the programme for guests based outside North America) has unveiled an astonishing devaluation with no notice.
The value of your points has been slashed overnight, by roughly 50%.
It is the most extreme hotel devaluation we have ever seen – worse than Hilton's jump from 50,000 points to 90,000 points a few years ago. It is made worse by the fact that no advance warning was given apart from a vague email talking of upcoming changes.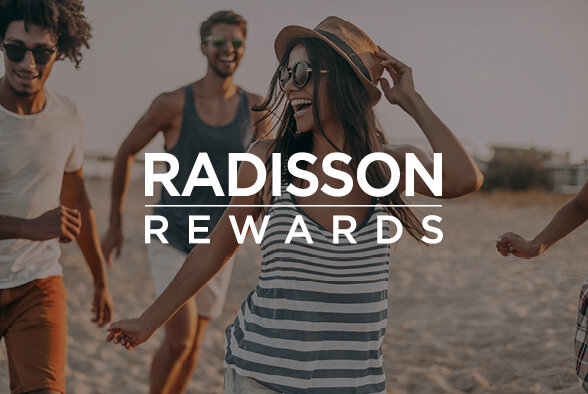 We will get into detail of the changes in a minute – and some of them are decent, but sadly now ignored due to the devaluation – but let's focus on the headline changes to points redemption.
As a reminder, Radisson Rewards split into two schemes earlier this year:
Radisson Rewards Americas
Radisson Rewards, covering the rest of the world including the UK
Members of Radisson Rewards cannot earn or redeem points for stays in North America, and stays in North America do not count for status. The opposite applies for members of Radisson Rewards Americas.
However, you can status match between schemes and move points in both directions to get around most of these restrictions.
What has happened to the Radisson Rewards chart?
Historically, free nights were based on the reward chart below. The most luxurious five star hotels were capped at 75,000 points per night.

Going forward, redemptions are revenue based. 1 point gets you a 0.2p discount on your next booking.
Let's assume that a 5-star hotel sells for £300 – which, in most big cities, is a huge underestimate at the moment. You will now need 150,000 Radisson Rewards points instead of the 75,000 you needed on Sunday. That's brutal.
The only upside is that you can use as few as 10 points per booking. My wife, who has 1,204 orphaned Radisson Rewards points, can at least cash them out for £2.46 saving on her next booking: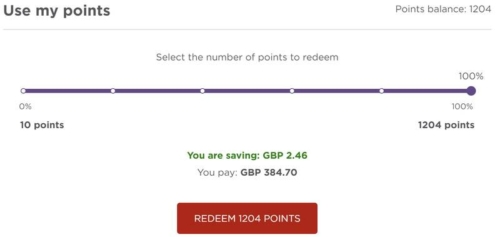 Your existing Radisson Rewards balance has been destroyed
If you were sitting on a large pile of Radisson Rewards points, I feel sorry for you. You have lost at least half of the value overnight, and potentially more.
It's not clear if Radisson is having a laugh when it says on its website:
Our new program has been created with a completely new approach to loyalty in mind.
Obviously transferring Radisson Rewards points from American Express is no longer the best Membership Rewards redemption as we have often written.
If the transfer rate stays at 1:3 then it is now one of the worst, with 1 American Express point getting you just 0.6p of value if you transfer them.
What happens with Radisson Rewards status?
The existing status levels have been replaced with just three.
What is fascinating is that people on the lowest level earn virtually nothing in the way of points. Take a look here:

'Club' members earn 8 points per $1. 'Premium' members earn 27 points per $1 whilst VIP members get 36 points per $.
(Why the programme uses the $ as its base currency when the scheme has no hotels in the Americas is a different question …..)
With $1 worth 88p, a base member gets (8 x 0.2p = 1.6p / 88p) 1.8% back on their ex-tax spending. This is a joke. Why would you take Radisson Rewards points worth 1.8% when Hotels.com Rewards gives you 10% of the ex-taxes cost of your booking back? It's madness.
Obviously it gets better for Premium customers. 27 points per $1 is worth around 6% of your pre-tax spending. 36 points per $1 for a VIP member is worth around 8% of your pre-tax spending.
Note that, even for a VIP member, you are better off using Hotels.com Rewards and getting 10% of your pre-tax spending back.
What is happening to American Express Platinum cardholders?
If you have Gold status from Radisson Rewards via American Express Platinum, you have been moved to Premium status.
What are the other status benefits?
The fascinating thing about the new scheme is that you move from 'Club' to 'Premium' after just five nights or three stays. This unlocks an increase in your points earning of over 3x, albeit it still isn't hugely generous.
Other 'Premium' benefits of note include:
a one category upgrade 'when available'
early check-in and late check-out 'subject to availability', so not worth much
'Discount Booster' (I will return to this)
'My Favourite Hotel' – nominate one property to give you exclusive benefits and/or let you guarantee your favourite room number by adding it to your profile
The only major benefits of VIP status (39 nights, 20 stays) are:
free breakfast for two people
upgrade to best available room
You can see the full list of benefits on the Radisson website here.
Some of these benefits may not actually be terrible but the devil is in the detail.
When a VIP gets an 'upgrade to best available room' does that includes suites or not? It isn't clear.
'Free breakfast' has value, but I doubt Radisson has many members who do enough stays to reach VIP level.
What is 'Discount Booster'?
This is, at least, novel.
Members of Radisson Rewards get a discount when they book, in the same way as member of most other hotel programmes.
If you are Premium or VIP, you can switch on 'Discount Booster' in your profile and save more BUT you receive far fewer points. For a Premium member, your earnings drop from 27 points per $1 to 9 points per $1.
If the extra discount is more than 4% of the pre-tax amount, it makes sense to use 'Discount Booster'. In any event, since there is no real value in sitting on points now, it is worth keeping it on permanently in my view. After all, what is the value in earning points to get a discount on a future stay when you can get a discount on your current stay?
Here's an example. Radisson Blu Hamburg Airport for Sunday 30th October with full points earning:

…. and with 'Discount Booster' enabled, earning fewer points:

I save €15 in return for giving up around €5 of points. This is a good deal. It is also a genuine discount – I booked this very hotel for my wife over the weekend, albeit at a flexible rate, and I recognise the original price.
But does it really matter?
What I don't understand is what Radisson Rewards is playing at by cutting the value of your points balance by 50%.
Those people who woke up yesterday morning to find they are now VIP – do you think they are most concerned by the upside of free breakfast (not even relevant on work-paid stays) or concerned about losing potentially hundreds of pounds from the value of their points?
It is jaw-droppingly stupid. How is Radisson Rewards meant to build customer loyalty when they gut the value of their points overnight? At the very least, giving people a few weeks notice to book stays at the old rates would have been the decent thing – and would still have gone down like a lead balloon.
Alternatively, it could have doubled your existing points balance. This would at least have preserved most of the value of existing balances.
Conclusion
The changes to the status scheme are not necessarily terrible. 'Discount Booster' seems to offer genuine savings for Premium members if you agree to receive minimal points for your stay, and you now easily use up any small balance you have as a discount on your next stay.
The 'best available room at check-in' benefit for VIP guests is also attractive, as is free breakfast. I'd question how many people stay enough at a Radisson to earn this status though.
The 'one category upgrade if available' upgrade for Premium members is a surprisingly good benefit for someone who does just three stays per year.
I don't even have a problem with Radisson moving to dynamic redemptions. I personally think it stinks as a model, and I think removing 'gamification' from the scheme is stupid but it is a model that others use.
What I don't understand is why Radisson is happy to see all this forgotten in the furore over cutting the value of your existing points balance by 50%. Our UK readers may see parallels here in recent political activity …. and I don't see this ending any better.
PS. This change is definitely a kick in the teeth for American Express Platinum cardholders. Not only is Membership Rewards devalued – because Radisson transfers were the most valuable redemption option – but swapping Gold for 'Premium', which only requires three stays, is clearly a devaluation.
PPS. As I mentioned above, you can transfer Radisson Rewards points to a Radisson Rewards Americas account. There has been no change to the Radisson Rewards Americas scheme. If you are planning a trip to North America soon, it makes more sense to use your points for a free night over there (using the standard reward chart) instead of redeeming in Europe for a pathetic amount.
---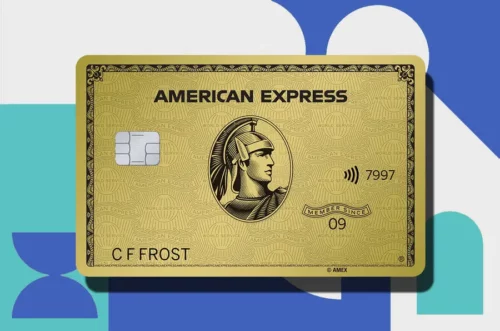 How to earn Radisson Rewards points and status from UK credit cards (October 2023)
Radisson Rewards does not have a dedicated UK credit card. However, you can earn Radisson Rewards points by converting Membership Rewards points earned from selected UK American Express cards.
These cards earn Membership Rewards points:
Membership Rewards points convert at 1:3 into Radisson Rewards points which is a very attractive rate. The cards above all earn 1 Membership Rewards point per £1 spent on your card, which converts to 3 Radisson Rewards points.
Even better, holders of The Platinum Card receive free Radisson Rewards Premium status for as long as they hold the card. It also comes with Hilton Honors Gold, Marriott Bonvoy Gold and MeliaRewards Gold status. We reviewed American Express Platinum in detail here.
(Want to earn more hotel points? Click here to see our complete list of promotions from the major hotel chains or use the 'Hotel Offers' link in the menu bar at the top of the page.)