How I booked Virgin Atlantic's new Retreat Suite
Links on Head for Points may pay us an affiliate commission. A list of partners is here.
A fortuitous swap of an A330-300 to a brand new A330neo for an upcoming family trip to Boston – swapping Virgin Atlantic's worst Upper Class suite for its best – has given me an opportunity to try out the new 'Retreat Suite' on your behalf (!).
This is how you book it.
What is The Retreat Suite?
The Retreat Suite is a brand new concept from Virgin Atlantic and comprises two enlarged Upper Class suites in the centre of row 1.
Virgin Atlantic says it is its "most spacious suite yet" with a 6'7″ (2m) fully flat bed, an expansive 27″ touch screen with Bluetooth connectivity and wireless charging.
Virgin Atlantic has made the most of the extra legroom afforded in the bulkhead row. It opened up the seat footwell – no foot cubby holes here – with the leg rest also acting as an ottoman for buddy dining.
The Retreat Suites also benefit from a huge amount of storage space, with lids from the side consoles popping open to reveal deep storage areas.
Interestingly, The Retreat Suite is only available in the centre pair so you won't be able to sit next to a window if you want the additional space. The window seats in row 1 feature the standard Upper Class seat.
The booking rules for The Retreat Suite are:
it is available for booking from 14 days before departure
it costs £200 per seat, one way
the seats can be booked individually or as a pair
if not booked, the seats will be offered to the highest ranking members of Virgin Flying Club at check in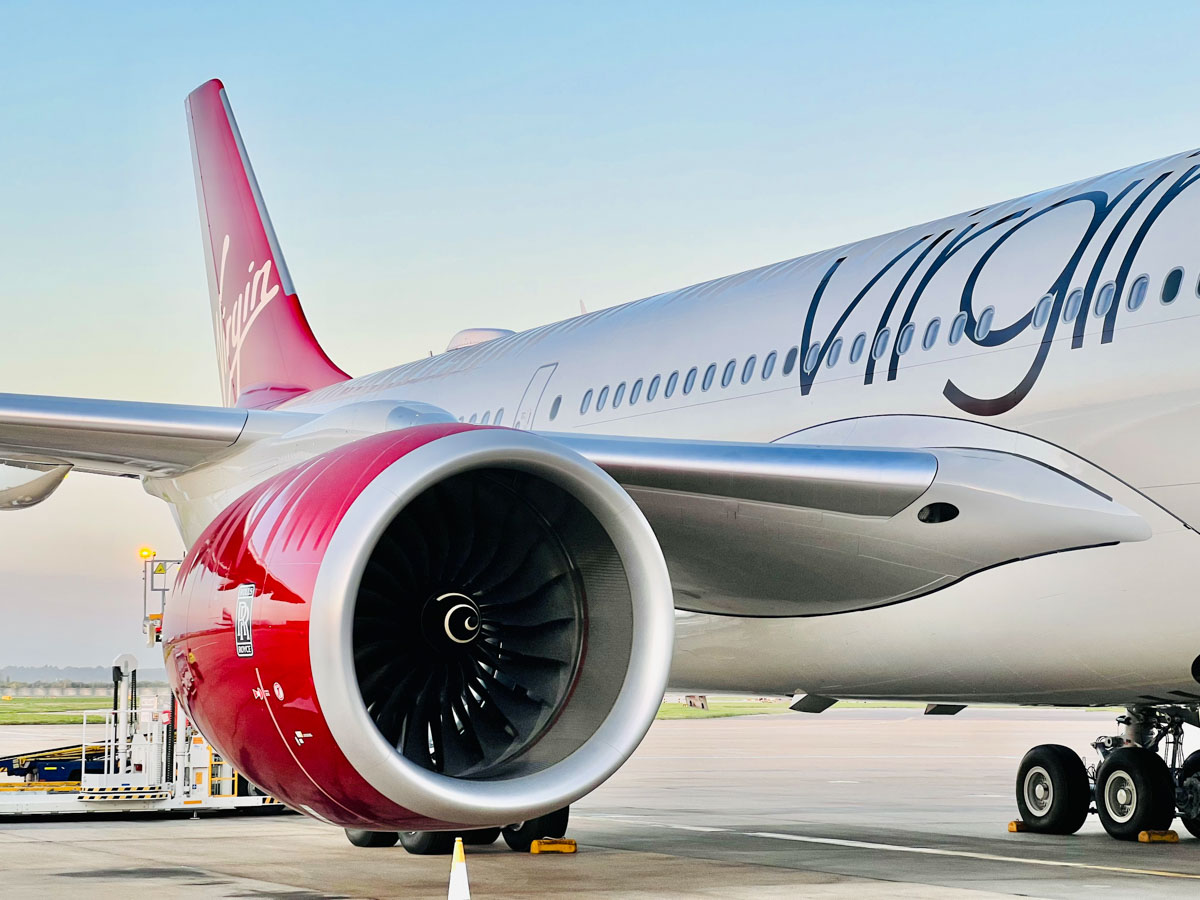 How do you book The Retreat Suite?
The Retreat Suite is meant to be available for booking from 14 days before departure.
Based on my experience, it opened up at 14 days before departure based on the departure time of the flight. It wasn't available in the morning but when I checked again in the afternoon – an hour later than the departure time – it was there.
This may be a coincidence, because a reader told me recently that he could not book it until some hours after departure time, 14 days prior.
This is what you see if the Retreat Suites (1D and 1G) are not yet bookable: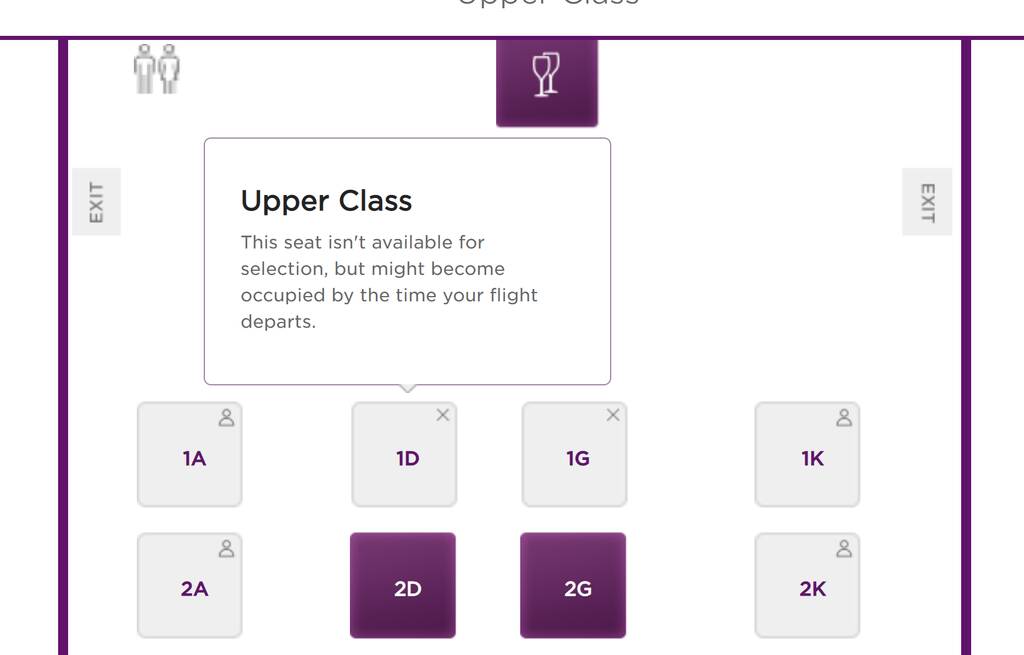 The message you see is "This seat isn't available for selection, but might become occupied by the time your flight departs."
This is not, let's be honest, the most exciting marketing message Virgin Atlantic could have come up with. I suggest something like 'Book our exclusive Retreat Suite from 14 days before departure for £200″.
When The Retreat Suite becomes bookable, the seat map changes to this: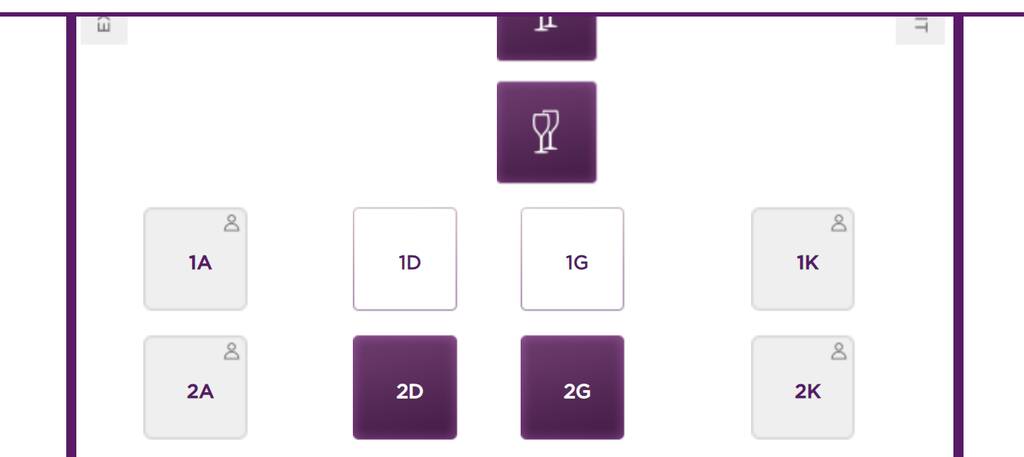 You can then move yourself into 1D and 1G. The fee of £200 per seat shows to the side. (Upper Class seats are usually free to select, so there are no complex issues about refunding anything you have already paid.)
So I did, and clicked 'Pay'.
And I got this:

I spent a long time trying to work around this, and eventually I found the solution. What I was trying to do was move myself and my son into The Retreat Suite and move my wife and daughter into the row behind which we were vacating.
This proved to be too complex for the Virgin Atlantic IT system.
What I ended up doing was:
move myself and my son into The Retreat Suite, leaving my wife and daughter where they were – this worked OK
do a second transaction afterwards, moving my wife and daughter into the second row, into the seats my son and I had freed up
All was then well.
Keep an eye out for a review of The Retreat Suite in a few weeks. Coming home on the A330-300 is going to be tough after this ….
PS. The day after I booked, I received this email from Virgin Atlantic. If you want to ensure you get The Retreat Suite I suggest booking it as near to the 14 day mark as possible, because once the emails go out to other passengers your chances will drop.