How to use your annual Virgin Atlantic credit card voucher for upgrades, companion travel or lounge access
Links on Head for Points may pay us an affiliate commission. A list of partners is here.
This article is sponsored by Virgin Money
One of the key benefits of the Virgin Atlantic Reward and Reward+ credit cards is the annual reward voucher.
This voucher can be hard to get your head around. Is it a companion voucher? Is it an upgrade voucher? Is it a Clubhouse pass? Is it actually all three? And how do the rules change based on your Virgin Flying Club status?
Hopefully you'll have a much better understanding of how to use the Virgin Atlantic credit card reward voucher once you've finished reading this guide.
As a reminder, until 13th June the sign-up bonus on the Virgin Atlantic Reward+ credit card has been doubled.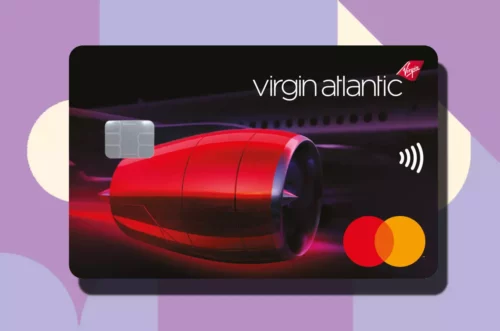 You will receive 30,000 Virgin Points in total – 15,000 after your first purchase and a further 15,000 after spending £3,000 in three months. Click here to apply.
The representative APR is 69.7% variable, including the annual fee.  The representative APR on purchases is 26.9% variable.
How to earn a Virgin Atlantic credit card reward voucher
As a reminder, you receive a voucher:
Vouchers are deposited into your Flying Club account within 30 days of hitting the spending target and can be used immediately.
The voucher is valid for 24 months, and you need to have booked and flown the outbound flight (if that's what you're redeeming for) within that time frame. Your return flight can be after the expiry date.
Unlike a British Airways American Express voucher, the expiry date – two years – is the same irrespective of whether you have the free or paid-for credit card.
What does the reward voucher do?
This is where things can get confusing, because you can use your annual Virgin Atlantic credit card reward voucher in a number of ways. These include:
as a companion voucher, for cash tickets AND redemption bookings
as an upgrade voucher
as a Clubhouse lounge pass if you are a Silver or Gold Flying Club member
Let's go through them one by one: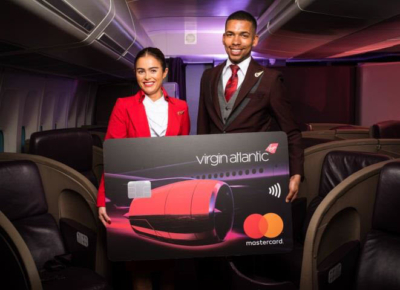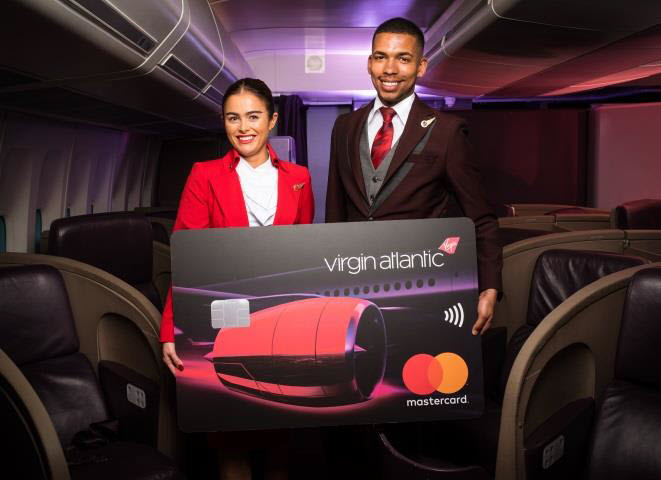 Using the Virgin Atlantic credit card reward voucher as a 2-4-1 companion voucher
One of the best value options is to use your credit card reward to redeem a companion ticket.
This lets you book two Virgin Atlantic tickets for the price (in points or money) of one. It can offer a massive saving on what you would normally pay.
The good news is that you can book the companion ticket for anyone – you do not need to be related or share the same name. You can travel with a friend, partner, parent, child or even a work colleague.
The voucher is non-transferable and can only be used by the person who earned it, unless you have Gold status in Virgin Flying Club. A Gold can gift their voucher to someone else.
Since 2020, Virgin Atlantic lets you use the voucher for a points or cash booking, massively increasing the flexibility of the offer. This is a BIG change that opens up a world of possibilities.
The voucher works in the same way, regardless of whether you're using cash or points to pay for your flight:
there needs to be reward availability for the second seat in the class you want to book. You can check this on the Virgin Atlantic website here but you can see full calendar availability with a service like SeatSpy. This is important – if you have bought a cash ticket, you can only use your voucher to get a 2nd free ticket if a reward seat is available.
you must pay taxes and fees on the second ticket, irrespective of whether the first ticket was bought for points or cash
The second point is worth noting, because the taxes and fees on a reward ticket can be quite steep. On a return flight from London to Los Angeles, for example, you can expect to pay:
£283 in Economy
£464 in Premium
£994 in Upper Class
That said, a companion voucher still offers exceptional value, particularly in Upper Class. Given the sky-high cash prices for flights right now, £994 to take a friend with you in Upper Class doesn't seem bad.
Using the voucher for an Economy booking is poorer value, as cash tickets are often available for little more than the taxes and charges on a reward booking.
There's one other catch. When used for a companion ticket in Upper Class, you'll also have to pay 50% of the points needed for a standard Upper Class reward flight, unless you have Flying Club Silver or Gold status.
That means – in our example above – you'd also have to stump up up to 77,500 Virgin Points for your second ticket to Los Angeles if you did not have elite status. It's really a 'buy one, get one for half price' voucher in this scenario.
This rules does not apply to Economy or Premium cabin flights. Here, you simply pay the taxes and charges on the second ticket – no extra points required – if you don't have Virgin Flying Club status.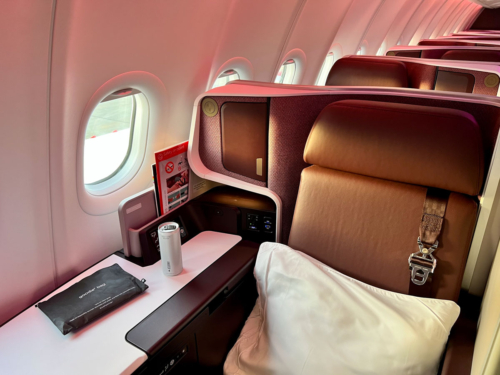 Using the Virgin Atlantic credit card reward voucher as an upgrade voucher
Another great use of your annual reward voucher is to upgrade a flight.
One voucher will upgrade a single round trip – or you can choose to upgrade two one-way flights for two people. The voucher can be used to upgrade to the next cabin, where there is reward seat availability, is available to all Flying Club tiers and can be part used on single leg journeys.
You can only use the voucher to upgrade by one cabin class – so from Economy Delight to Premium or Premium to Upper Class. (The only way to upgrade by two classes, from Economy to Upper Class, is to use Virgin Points.)
You can read our review of Premium on Virgin Atlantic here as well as our review of Upper Class on the A350 here. Our review of Upper Class on the new A330neo fleet is here.
You can upgrade both cash and redemption tickets.
Once again, there are a few ground rules:
there needs to be reward availability in the class you want to upgrade to
there does not (for a reward booking) need to be reward availability in the class you are upgrading from
you need to pay any additional taxes and fees for the upgraded cabins compared to the one you booked
It's easier to NOT think of this as an upgrade voucher but as a 'book a reward ticket and pay either the cash or the 'points and taxes' for the next cheapest ticket class' voucher. I admit that 'upgrade voucher' is snappier though ….
You can upgrade to all classes, regardless of your Flying Club tier. This means even Flying Club Red members can book into Upper Class, so long as you have bought a Premium ticket.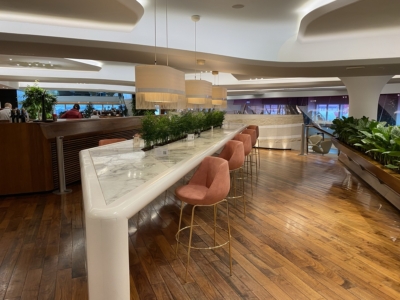 Using the Virgin Atlantic credit card reward voucher for a Clubhouse lounge pass
You can also trade in your credit card voucher for a Clubhouse lounge pass but only if you have Virgin Flying Club Silver or Gold status.
Whilst Virgin Clubhouses are exceptional (our review of the Heathrow Clubhouse is here) this is by far the least valuable way to spend your voucher, not least because there are other, cheaper ways to get airport lounge access.
The Clubhouse Pass is emailed to you as a code that you need to use when you check in to the lounge.
The pass is for one person only, for one visit. It is valid at any Clubhouse worldwide, although you need to be flying Virgin Atlantic, Delta, Air France or KLM internationally.
You cannot guest anyone in with you. If you're a Flying Club Gold member, you get two passes instead of one if you choose this option, although that's slightly redundant as you can use the Clubhouse anyway! It would only benefit a Gold travelling with three guests, as the Gold could guest one person regardless.
How to redeem your Virgin Atlantic credit card voucher
Once you've decided how and when to redeem your reward voucher you'll need to call Virgin Atlantic on 0344 874 7747 to make the booking, as there's no online functionality.
Conclusion
The Virgin Atlantic credit card reward vouchers are incredibly powerful, and very valuable if used strategically.
It is well worth putting £10,000 or £20,000 per year of spend on your card, depending on which credit card you hold, to ensure you trigger one.
It's unfortunate that the wide range of options (upgrade or direct redemption, cash or reward flight, lounge pass alternative) makes the vouchers difficult to explain – and Virgin Atlantic doesn't help by changing the rules for those without status – but hopefully this guide has helped.
Remember that the Virgin Atlantic Reward+ Mastercard has doubled its sign-up bonus to 30,000 Virgin Points if you apply by 13th June.
You can apply here.
Disclaimer: Head for Points is a journalistic website. Nothing here should be construed as financial advice, and it is your own responsibility to ensure that any product is right for your circumstances. Recommendations are based primarily on the ability to earn miles and points. The site discusses products offered by lenders but is not a lender itself. Robert Burgess, trading as Head for Points, is regulated and authorised by the Financial Conduct Authority to act as an independent credit broker.