Is easyJet Plus worth the £215 membership fee?
Links on Head for Points may pay us an affiliate commission. A list of partners is here.
This is our review of easyJet Plus. Is it worth the £215 membership fee?
easyJet has a loyalty scheme, Flight Club, although it no longer appears to be accepting new members. The benefits are also being constantly watered down for new members – just last week the ability to change the name on a ticket was removed.
The criteria for Flight Club used to be:
you had booked and flown on 20 easyJet flights or more in the past 12 months, or
you had booked and flown on 10 flights or more, and spent £1,500 or other currency equivalent in the past 12 months, or
you had booked and flown on an average 10 flights or more for 10 years, with at least one flight every year
Without membership of Flight Club, easyJet Plus is the nearest thing that easyJet has to a loyalty scheme.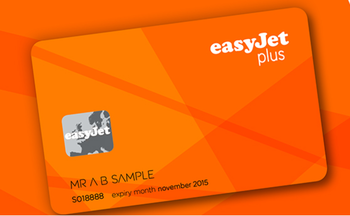 easyJet Plus has been around for a long time now and clearly seems to be working, despite the £215 membership fee. It offers a number of benefits:
Free seat selection – this is a genuine cash saving given that easyJet seating fees can reach £40 per one-way flight. This only applies to the member and NOT to other people travelling on the same booking. It includes premium seats, ie the front and exit rows.
Free speedy boarding – although this is less important if you have a seat selected
Fast track security at selected airports
Access to 'fast bag drop' desks at selected airports
A free large cabin baggage item (maximum 56cm x 45cm x 25cm) – remember that easyJet usually only allows you to bring a small under-seat piece of cabin baggage onto the aircraft (45cm x 36cm x 20cm). This benefit is more valuable following a recent rule change as I explain below.
Free switch to an earlier flight home, subject to availability and only bookable from three hours before departure
These benefits can all be purchased separately for one-off easyJet flights (switching to an earlier flight home is usually £49, for example) so easyJet Plus only makes sense if you are a regular traveller.
There is one extra benefit which is now exclusive to easyJet Plus customers:
Price Promise – if your flight drops in price after you've booked, you can request a refund of the difference. This will be in the form of an easyJet credit voucher. It only applies to your seat and not any family members travelling with you.

easyJet seems to be treating easyJet Plus as a cash cow. Either that, or they are trying to minimise the number of members in order to protect the benefits offered. The £215 membership fee had crept up in recent years – a decade ago it was £149 – although it has remained steady since the start of the pandemic.
Additional cards for partners are £185 (the standard rate of £215 applies for an extra adult who is not your partner) or £135 for children.
Does easyJet Plus make sense?
Potentially, yes, especially if you are taking 5+ flights per year and are likely to pay for priority seating such as the front or exit row.
Recent changes to 'Up Front' and 'Extra Legroom' make it more attractive
On 19th June, easyJet changed the rules for people who buy 'Up Front' or 'Extra Legroom' seats.
These seats no longer come with a free large cabin bag. All you get is the standard small cabin bag. This means that the 'free large cabin bag' benefit with easyJet Plus makes it more attractive.
There is a snag though. easyJet Plus customers still need to tell the airline in advance if they intend to bring a 'free large cabin bag'. If you just arrive with it at the airport without declaring it earlier, you will only be allowed to bring it onto the aircraft if there is still space.
The benefits are just for you
The other snag is that the benefits only apply to you. If you have a British Airways status card, the benefits generally apply to everyone travelling with you and not just yourself (British Airways lounge access is limited to just one guest). With easyJet Plus, whilst my own seat selection would be free I would still need to pay for other family members travelling with me.
Full details on easyJet Plus can be found on their website here.
PS. As per the comments below, code EJMC001 currently saves 15%