Ritz-Carlton Rewards vs Marriott Rewards – what is the difference?
Links on Head for Points may pay us an affiliate commission. A list of partners is here.
I posted a few days ago about the Marriott Rewards Summer promotion but, to be honest, it is rare that I summon up the enthusiasm to spend my own money in a Marriott.  Ritz-Carlton, Marriott's luxury brand, is more my cup of tea, and we spent a pleasant October week at their Penha Longa resort outside Lisbon a couple of years ago.  (Penha Longa – see my photo, taken from our balcony – is not openly branded as a Ritz-Carlton because of the existing Four Seasons Ritz in Lisbon, but is part of the chain.)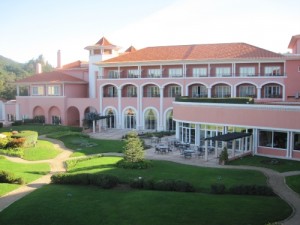 Ritz-Carlton Rewards has launched its own Summer promotion, with 30,000 bonus points for a four night stay between July 15th and October 15th.  That is good for a free night in the cheapest Ritz-Carlton category, a free night at a Marriott up to Category 6 (they go up to Category 8, for comparison) or four free nights in the lowest category Marriott.  They can also be converted to 10,000 airline miles in a variety of programmes, including Avios.  And of course you would also have your base points at 10 points per US$1 from the four nights, although note that Ritz-Carlton Rewards only gives points on room spend and not incidentals, which can make a big impact if you eat in the hotel a lot.
However, before you start booking, look at the rules.  You can only have a Marriott Rewards account or a Ritz-Carlton Rewards Account.  Not both.  And unless you are opening a new Ritz-Carlton Rewards account (which means you don't already have a Marriott account), then you do not qualify for this promotion.  Whilst you can switch your Marriott Rewards account into a Ritz-Carlton Rewards account by calling the service centre (you retain all your stay credit and points, and the programmes are identical apart from the promotions offered), you won't qualify for this promotion as you needed to be a Ritz-Carlton Rewards member on June 14th.
There are ways around this, of course, such as opening a Ritz-Carlton Rewards account for your spouse if she is not a Marriott Rewards member, or using a different address with your name.  However, you won't be able to merge the points with your existing Marriott Rewards account.
I think I will give Marriott a ring and switch my dormant Marriott Rewards account over to Ritz-Carlton Rewards, because I value the Ritz-Carlton promotions more than the Marriott ones given my stay pattern.
(Remember to read our 'Hotel Promos' page for the latest offers from all of the major chains.)