Food and drink in Singapore Airlines A380 First Class Suites – New York Stories #9
Links on Head for Points may pay us an affiliate commission. A list of partners is here.
This is my review of the food and drink on offer in a Singapore Airlines A380 First Class Suite.
On Sunday I explained how I booked myself into a Singapore Airlines A380 First Class Suite for the – admittedly modest – flight from New York to Frankfurt. If you didn't see that article I recommend taking a look before coming back to this part.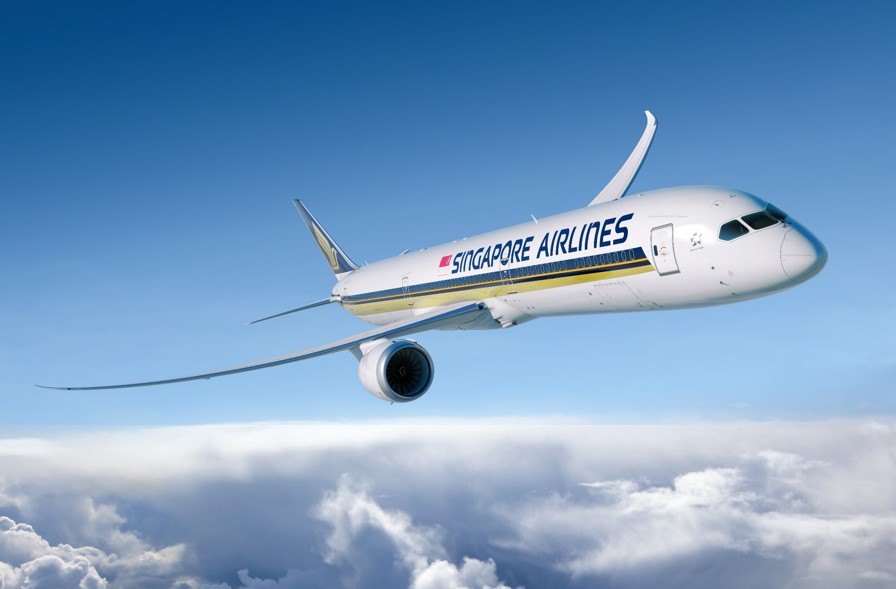 Today I want to run through the food and drink on offer. You need to remember that this was an overnight flight with a 9pm departure, and I skipped breakfast by virtue of being asleep!
It's always good to start with champagne. No photograph as we all know what champagne looks like.
Life is full of tough choices. When you board a Singapore Airlines flight, you need to make a call – Dom Perignon 2004 or Krug Grand Cuvee? To be honest, they would have been happy to let me have both. In the interests of a good nights sleep, I decided to focus solely on the Krug. I forced myself to drink it throughout dinner as well rather than moving on to the wine list.
The tough choices continued with the dinner menu.
Where do you start? Chilled malossol caviar or chilled steamed Maine lobster with cocktail or Thai sweet chilli sauce?
Luckily it wasn't a problem. I was allowed to have both.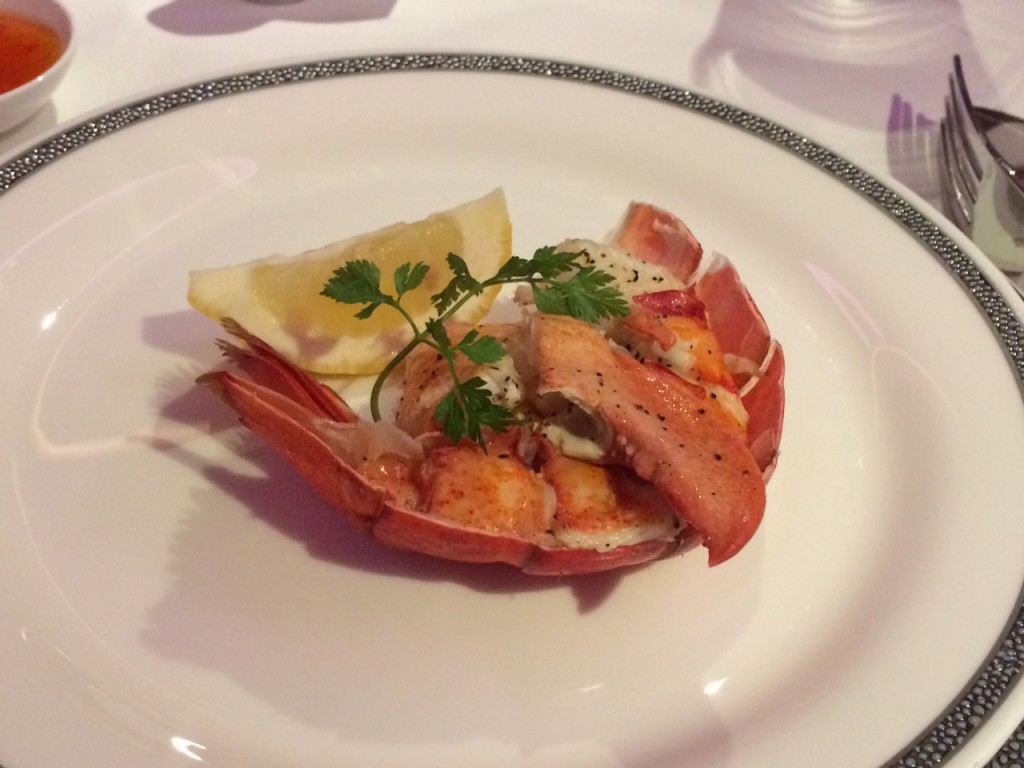 and then ….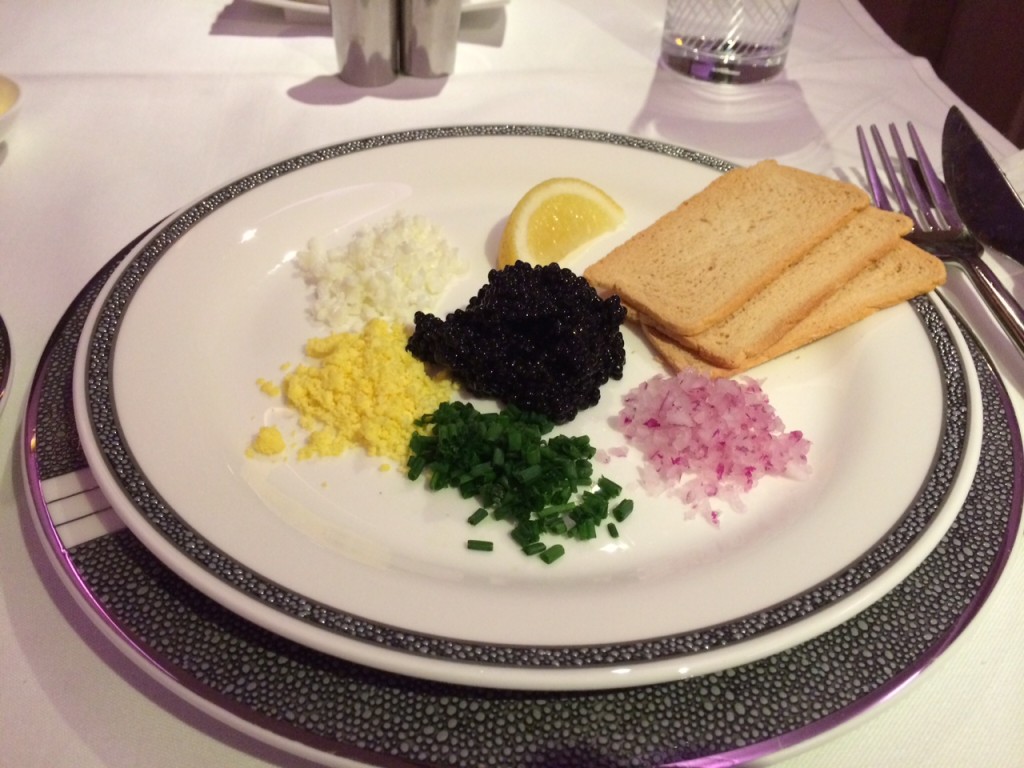 Portion sizes were fairly modest but given the time of night it was not a problem.
I skipped the soup options (leek and potato or the intriguing 'pork broth with snow fungus and black mushrooms') and the Caesar salad.
There were four main course options:
Seared chilean bass with grain mustard vinaigrette, salad of fingerling potato, fennel and red onion
Seared lamb loin with mint jus, broccolini, grilled zucchini, Spanish onion and bell pepper
Chicken in Oriental black peppercorn sauce, leafy greens, carrot, mushroom and fried rice
Beef kway teow soup (rice noodles in rich beef broth garnished with sliced beef and Chinese greens)
In the end I went for: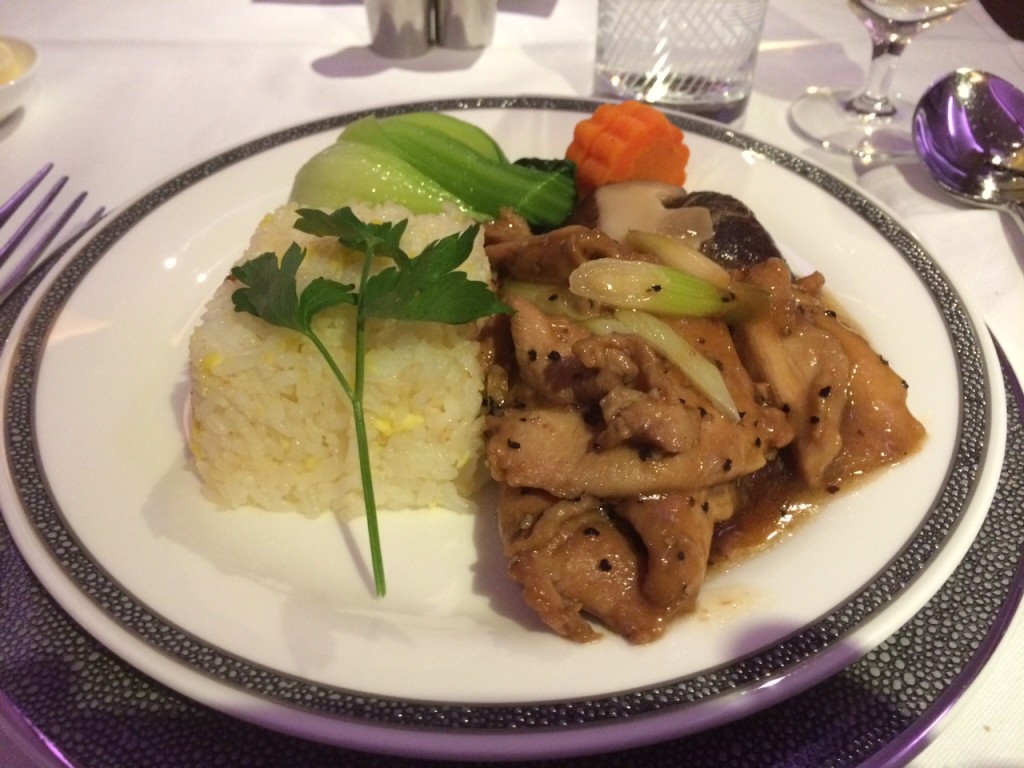 …. the chicken. This wasn't a huge success but I blame myself for taking the 'safe' option due to the time of day.
I also skipped dessert (New York cheesecake, citrus panna cotta, gourmet cheeses or fresh fruits) as I was determined to get at least four hours sleep. I did, after all, have two more flights to take the following day, one of those with my young kids who would be doing their best to wear me out!
I hope this has given you a taste for the Singapore Airlines Suites product. I would love to try it again for a longer flight and/or a day flight. My wife may be in Singapore at a conference next year so I may tag along for a couple of days at the end and try it then.
As I showed on Sunday, if you have a decent pile (or even a modest pile, given that you only need 57,000 for a one-way) of American Express Membership Rewards points then Singapore Airlines is definitely worth considering.