What I saw when I toured an empty Singapore Airlines A380 this week
Links on Head for Points may pay us an affiliate commission. A list of partners is here.
I spent most of this week undertaking a fairly crazy schedule of airline-related events under the general heading of 'Star MegaDO'.  This was three days of activities organised by a US frequent flyer group and involved a trip to the SAS HQ in Stockholm, a visit to the Airbus factory in Toulouse and a tour of Terminal 2 at Heathrow.  All within three days.
I will be running various articles on aspects of this trip over the next week – except, sadly, for the Airbus factory tour where photography was banned.
The final event was a tour of the Singapore Airlines A380 (official page here).  They have an aircraft sitting on the ground in London for six hours every afternoon so it was a great opportunity to get inside the aircraft without any of those irritating passengers in the way!
Whilst the cleaners were still inside, the chief engineer came up to the gate and gave us a talk about the aircraft.  I never knew, for instance, that British Airways provides all of the technical support to Singapore Airlines in London and were maintaining their A380 fleet before BA even had their own!
I DID get to sit in the pilots seat and I did get to visit the crew rest area where up to 12 crew members can sleep at any one time.  Unfortunately, photography was banned here – sorry.  I did take a shot out of the cockpit window though.
Here is the plane sitting on its gate in Terminal 2 waiting for us: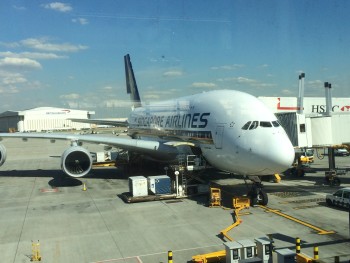 Let's start with the First Class Suite.  I wrote a full review of the Singapore Airlines First Class Suite last year so I won't dwell on it in detail.   I was able to get a good picture of how the 'double beds' look when made into a bed which is, to put it mildly, impressive: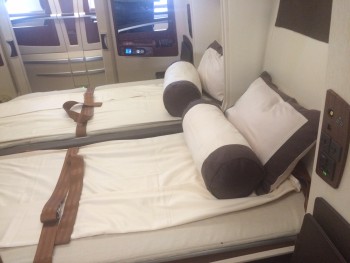 Unusually, the First Class Suites are downstairs, along with economy.  It was therefore easy to pop into the cockpit and test out the pilots seat.  Whilst I cannot show you that, here is a view from the cockpit window!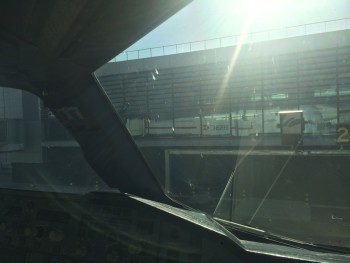 I then headed upstairs into business class.  Singapore Airlines has, on the A380 and Boeing 777 fleet, the widest business class seat in the world.   I am flying this next Friday, as it happens.  The seats are so wide that my 4-year old could sleep sideways …..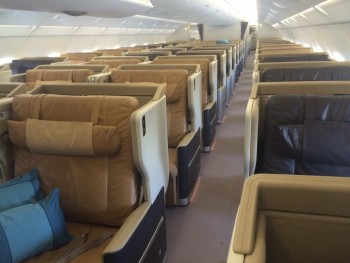 To be honest, I have a problem with the Singapore Airlines colour scheme.   First Class / Suites Class and Business Class are effectively different shades on brown and not hugely appealing, but that is purely down to personal choice.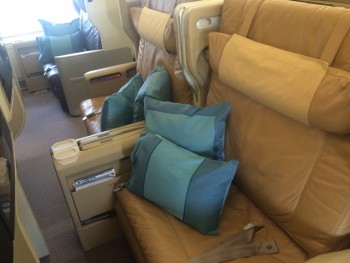 Whilst the seats are wide at the top, they are not so wide when made into a bed.  Your feet need to slot into a small area as you can see below.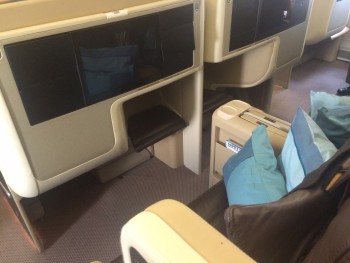 What differentiates the Singapore seat from most others is that it FLIPS OVER into a bed.  The seat itself is leather but the back is fabric.  This means that you get a comfortable leather seat but you are sleeping on breathable fabric.  I then headed downstairs ….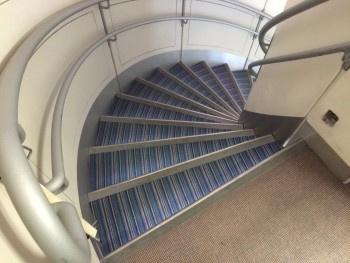 …. into economy.  I have a confession to make.  As far as I can remember, this wass the first time in 15 years that I have actually sat in an economy class long-haul seat!  It is the standard 10 across configuration.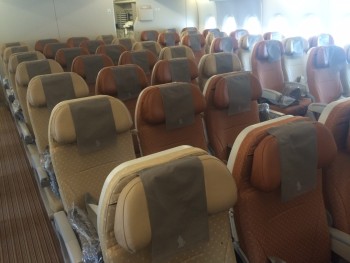 Whilst economy is economy is economy, Singapore is very proud of the quality of its food and the level of service it provides.  They still provide paper menus, for example.  The economy cabin on the A380 is also broken up into three sections which means that you don't feel overwhelmed by a sea of heads.
What was interesting to note is that there are quite a few seats with no seat in front.  If you are lucky enough to get one of those, you have unlimited legroom and it would make the journey substantially more pleasant.  (Look at the 2nd row of seats in the photo – a seat is missing.  This is the emergency exit from the crew rest area.)
Singapore Airlines is about to launch a new premium economy product for the first time. The first A380 is currently being refitted and it will start to roll out later in 2015.
I will be writing a full report of my Singapore Airlines business class experience in a couple of weeks so keep an eye out for it.  In the meantime, you can see my report of my A380 First Class / Suites Class flight here.