My review of the Singapore Airlines business class lounge at London Heathrow Terminal 2
Links on Head for Points may pay us an affiliate commission. A list of partners is here.
This is my review of the Singapore Airlines business class lounge at London Heathrow Terminal 2.
This is part of our series of reviews of airport lounges across the UK.  You see all of the reviews here.
A couple of weeks ago I reviewed the Singapore Airlines First Class lounge at Heathrow.  This was a private visit conducted when the lounge was empty.
I was keen to take a look at the adjacent Singapore Airlines Business Class lounge.  Two weeks I got my chance as we headed down to Singapore on holiday.
I was not hugely impressed.  The space is simply not big enough to handle the number of business class (and Star Alliance Gold) passengers who pass through each evening when there are two departures very close together.
The lounge is L-shaped.  As you enter, the first thing you pass is the food.  There is a good mix of cold food: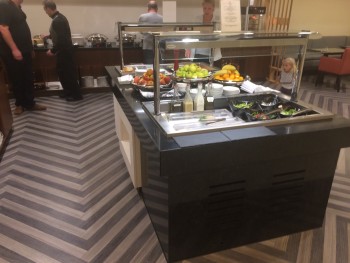 and hot dishes: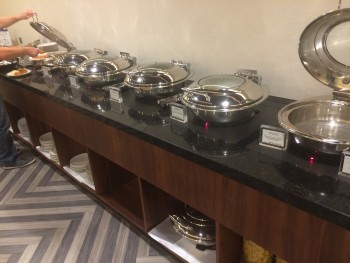 and a number of dining tables:
You then pass the VERY small bar (no helping yourself to the drinks here):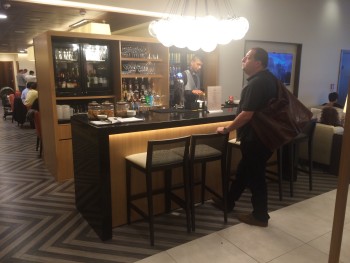 In terms of lounge seating, there are a few pods which are designed for those who want to work: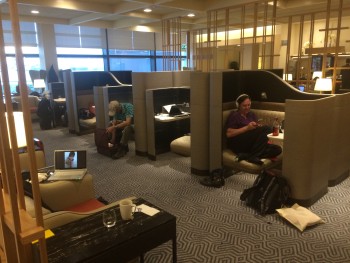 and then a block of normal seats: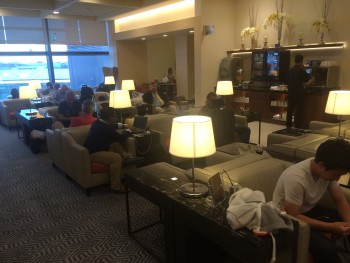 By the end, every seat in the room was taken.  The seating is also very dense and the room began to feel claustrophobic.
The biggest joke was the magazine selection.  It looked like a US airport lounge, with a selection of magazines driven by who was willing to pay be included rather than by what the passenger actually wants to read.  I can think of no other explanation for the large pile of 'What Pool and Hot Tub?' magazines on display.
The one thing I did appreciate, although it is not pictured, was a small kids play area with a selection of chunky Lego and a playmat.  Luckily it kept my two entertained.  As a special treat, as it was their first overnight flight, we had allowed them to travel to the airport (by taxi and Heathrow Express) in their pyjamas!
In a couple of days I will show you the Boeing 777-300ER business class seating.  This is actually more modern than the seating I saw on the Singapore Airlines A380 the previous week and, as you will see, a lot more attractive.