Tucked away in the new issue of 'Departures', the magazine for American Express Platinum charge card holders, is an intriguing new offer.
The 'intriguing' element comes from the fact that Amex has never announced this benefit and because I'm not sure it has any use whatsoever for UK cardholders!
You can now access Plaza Premium airport lounges anywhere in the world simply by showing your American Express Platinum card at the desk.  You can also take in a guest for free.
Plaza Premium operates in 50 airports across the world.  In the UK they run very impressive departure lounges in Terminal 2 (reviewed here, photo below) and Terminal 4 (reviewed here).  They also run an arrivals lounge in Terminal 2.
In the pipeline is an arrivals lounge for Terminal 4, a Heathrow hotel and a large Plaza Premium departure lounge in Terminal 5 (yay!).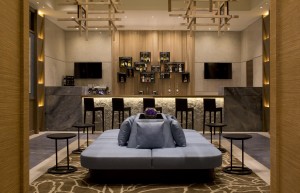 This should be a fantastic benefit.  However, all of the UK lounges are already members of Priority Pass.  As you already get a free Priority Pass with your Platinum card, nothing changes.
The coverage is identical.  You get two Platinum cards (main and supplementary), you get two Priority Pass cards.  You get a free guest when entering using your Platinum card, you get a free guest when entering using your Priority Pass card.
The UK Platinum charge card is more generous than in other countries in terms of how the Priority Pass works.  I get a feeling that this deal with Plaza Premium was made to benefit cardholders in other countries more than the UK.
That said, it is possible that if you trawl through the entire Plaza Premium global network there may be one or two lounges which are not part of Priority Pass.  Should this be the case, you will get some marginal benefit from this new partnership.
There is also a chance that the Terminal 5 lounge will not be part of Priority Pass as the company which owns Priority Pass is a shareholder in the Aspire lounge in T5.  I don't consider this likely however as the Aspire lounge is already turning people away at peak times and Priority Pass knows it needs more T5 capacity.  Aspire will continue to be full with or without Plaza Premium.
(Want to earn more miles and points from credit cards?  Click here to visit our dedicated airline and hotel travel credit cards page or use the 'Credit Cards Update' link in the menu bar at the top of the page.)