Are shared private jets the future of business travel? I take Surf Air's Zurich launch flight
Links on Head for Points may pay us an affiliate commission. A list of partners is here.
If you follow us on Instagram (handle: headforpoints, link here) you might have seen some pictures and videos in our Instastory of my day trip to Zurich. I have decided that Instastories are my new 'thing' so if you want to know what we're up to that's where you can find it.
It might seem a bit odd that we're running another article about a shared private jet company. You wait five years for a private jet review on Head for Points and then two come along at once.
However, I happened to receive an email after Rob's JetSmarter article was published with an invitation from Surf Air to check out their new 'shared private jet' service. It would have been rude to say no and, more seriously, it was a chance to see how a different company is trying to crack the same business problem.
What is Surf Air?
Surf Air is an American membership based private jet company. It launched Surf Air Europe this Summer with flights from London to Ibiza and Cannes. Members had voted for Zurich to be the next destination added to the network and I was invited to join their CEO Simon Talling-Smith – who some of you might know from his time at British Airways – on the company's inaugural flight from London Luton to Zurich.
How does it work?
Currently Surf Air Europe flies from London, Zurich, Cannes and Ibiza with the latter two being Summer-only bases.
The European membership is currently £1,750 plus a £1,000 sign up fee for unlimited flights within Europe up to 600 km. Unfortunately, from London, there are no flights up to 600 km. You are therefore looking at the higher rate of £3,150 per month which covers Zurich, Ibiza and all other future European destinations as well as flights within their US network.
Members can have two open bookings at a time or pay an additional fee to have more open bookings. This is an important point – you cannot book yourself on every scheduled service to your favourite city and then cancel the ones you don't need at short notice.
Looking at the new Zurich route and the target demographic, the most realistic comparison is a fully flexible return flight from London to Zurich in Club Europe. These cost about £900 per return flight, so Surf Air only begins to look interesting if you are flying this route three times or more per month. Add in the odd flight to Ibiza or Cannes and you can see how, for some people, the maths works.
The main caveat, of course, is that there are currently only three flights per week on the Zurich route. This is a lot less than the 10 British Airways London – Zurich flights per day.
Surf Air also offers a pay-as-you-fly membership. This has an annual fee of £2,500 and members pay £1,300 per seat each way.
The experience
I had to set my alarm for 4:30 am which is in my opinion a very inhuman thing to do. Luckily I had a driver picking me up so I could snooze in the car. The early start was also partly my fault as I wanted to spend some time in the Signature Flight Support lounge (which Rob reviewed here) before the flight. As there is no risk of security delays you can arrive as late as 15 minutes before the flight, which would have been 7:10 am.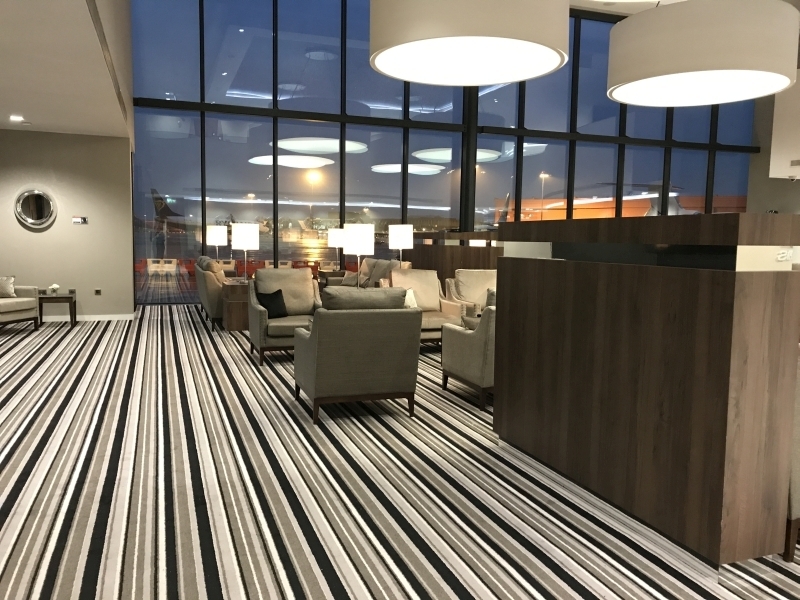 How was the plane?
First of all the plane, a Phenom 300, was gorgeous – I think I've never said that about a plane before.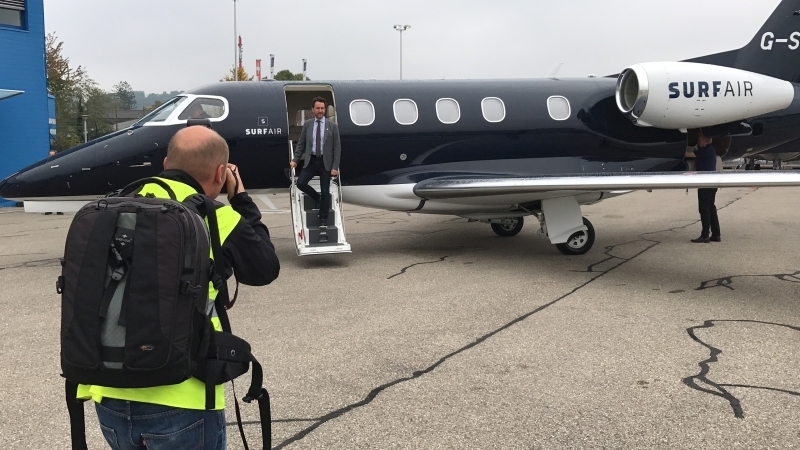 The Phenom 300 is also fairly small. The hold only has room for one bag of 15kg per passenger and you are encouraged not to bring larger handbags on board. There is the option of having more luggage delivered to the final destination, though.
You can see from the pictures that the aircraft is branded Surf Air and is being used exclusively by the company. This is a major difference between Surf Air and JetSmarter, with the latter randomly chartering whatever aircraft are available to meet its schedule.
The Phenom 300 has room for eight passengers, but only six of the seats are 'proper' seats. According to Simon Surf Air aims to have just six passengers per flight although the other two are available for last minute booking.
The interior was elegant and the seats very comfortable with a good amount of leg room. Four seats faced each other with a second row of two behind.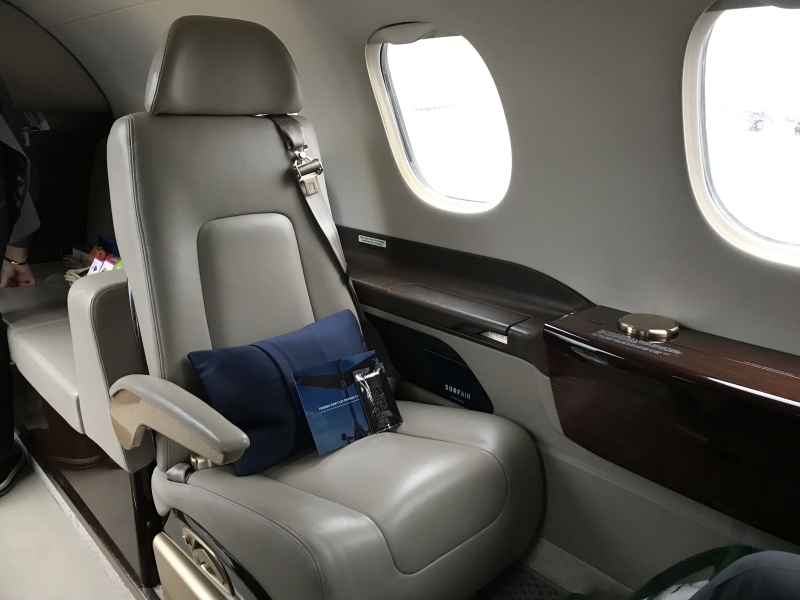 Each seat had a small pillow and hangover pills. Yes, you read that correctly. According to Simon these were supposed to be distributed on the Ibiza flights only. My pack is now living in our kitchen cabinet in case of emergency.
As this was a special service to promote the launch of the route, I didn't get a feel for how the atmosphere between the passengers would be on a normal flight. When Rob flew JetSmarter, he found the best part of the trip to be conversations he had with his two paying fellow passengers.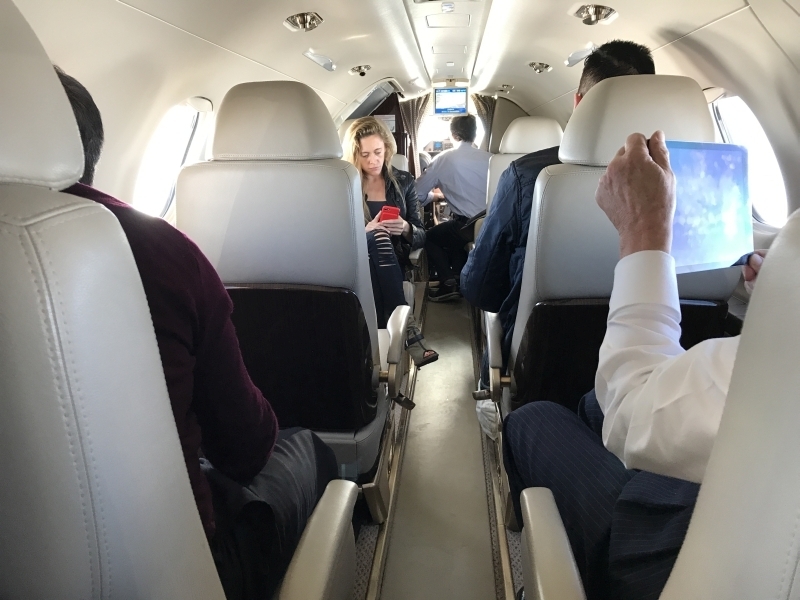 Where is the loo?
I'm glad that I can give a different answer to this question than Rob when he flew to Geneva.
The Phenom 300 actually does have a bathroom at the far back of the plane with a sink and most importantly a door.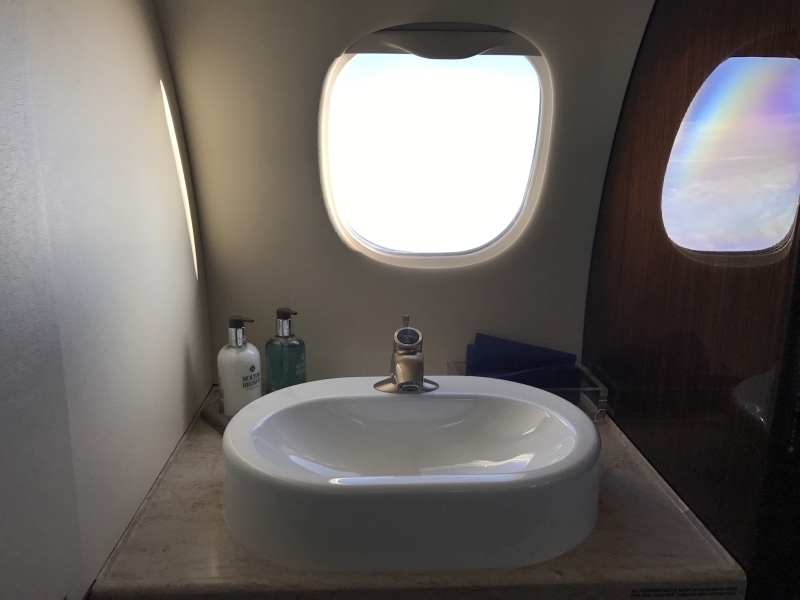 How was the service?
There was no cabin crew. In between the cabin and the cockpit was a cabinet with drinks and two baskets with snacks.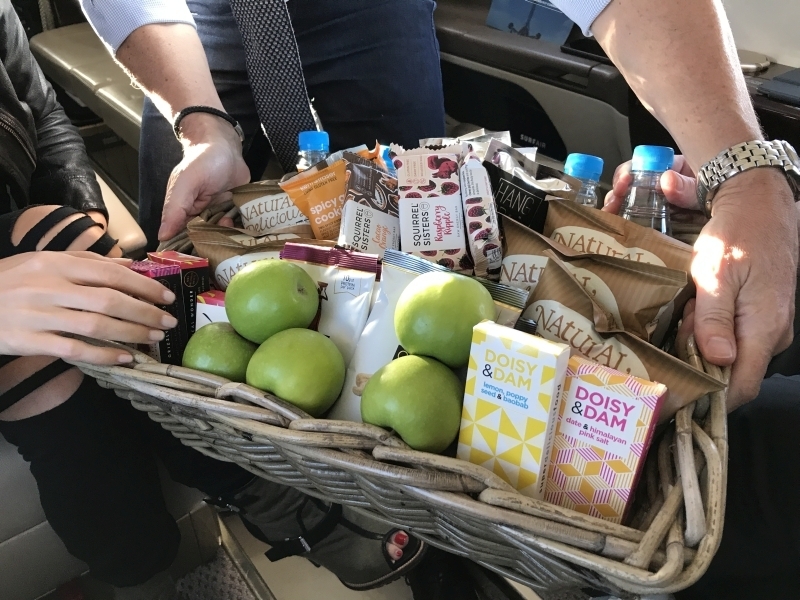 There was no real meal but a good selection of gluten free and vegan snacks. Gummybears and crisps for breakfast anyone?
I was sent a brochure with different meal options that can be booked in advance but need to be paid for. Drinks on the other hand are included and there was plenty in the cabinet.
There were three of us who were up for an early morning drink to accompany the gummybears and we opened a bottle of red.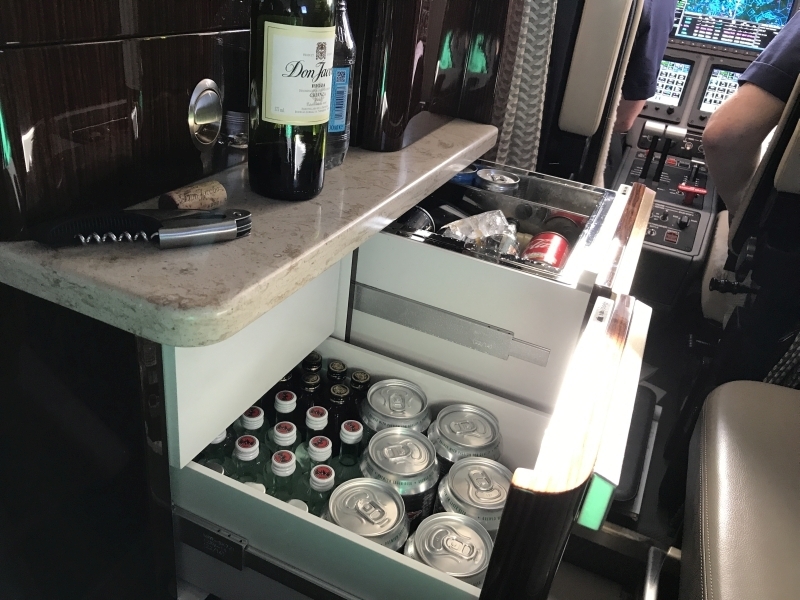 The flight was very short, or at least it felt that way. Upon arrival we were welcomed with a water arch. As I was inside the plane, here is a press image.
The last stop on the schedule was a champagne reception in Zurich to celebrate the route launch with a short speech by Simon about Surf Air and his plans.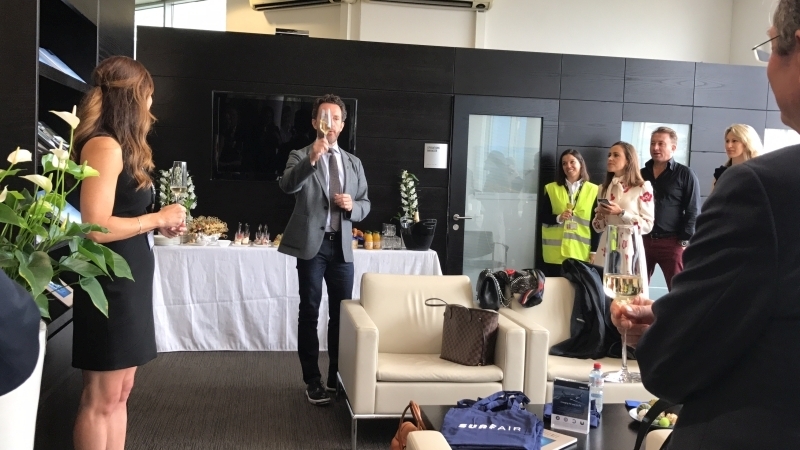 They also had a käseigel (cheese hedgehog) which was definitely a highlight of the day!
My verdict
I personally enjoyed the experience. After all it's pretty cool telling people that you've jetted to Zurich for the day on a private jet.
But does the Surf Air business model work?
Surf Air appears to be succesful in the US with 4,000 members and over 85 flights per day within California and Texas. With the US public transport system poor to non existent, traffic in California's cities terrible and long lines at run-down airports, taking a private jet can make sense.
As a member you book your flight on the app and turn up at the airport 15 minutes before departure. This can save between two to four hours per flight, valuable time that can be spent on other things instead.
But what about Europe?
Let's put it this way. So far no private jet company, including JetSmarter, has proven that the sharing model works in Europe. Simon Talling-Smith and Surf Air are very determined to give it a go.
With the flights being on a schedule it takes away the spontaneity of a private jet which, in Europe, would seem to be the main selling point. Whether sharing a small private jet with up to five other people is more private than sitting in Row 1 in BA Club Europe is up to you. On top of that Luton is not the most accessible London airport unless you live along the Thameslink line or north of Zone 2.
If you travel to Zurich every week it could work for you. However, as you can only have two open bookings at a time, someone else might snatch away your seat before you can book.
At a total cost of just under £40,000 per year you are moving into NetJets territory (€115,000 per year for 25 hours of flying time). The NetJets model gets you an entire plane for yourself at 10 hours notice to go wherever and whenever you want. This is clearly superior and, if you always fly with family or a group of colleagues, not a lot more expensive per seat than Surf Air.
Surf Air does have the opportunity to serve less well connected but still well heeled places in Europe like Cannes. Another option could be focusing on London as an inbound market rather than outbound market – there are already plans to expand the Zurich operation to other cities.
So far Surf Air Europe Europe claims to have signed up 200 members which appears to show that there is interest in a private jet airline that operates with a set schedule. There is a list of potential future destinations that will be added including Berlin, Munich, Barcelona and Luxembourg.
It will be interesting to see how Surf Air Europe develops over the next couple of years. I can imagine how, with a network of 10-15 cities available for a £3,150 monthly fee, it will become more interesting to the high net worth community.
Here is a short video about my Zurich trip if you want to get a better feel for what it is like onboard. If it is not visible, click here to visit our YouTube page. You can also subscribe to our channel via that link.

The Surf Air website is here
if you want to find out more. Thank you to Simon and the team for inviting me.