Links on Head for Points pay us an affiliate commission. A list of our partners is here.
During January and February I am running updated versions of our 'Avios Redemption University' series.  This series is a good starting point for beginners, although I hope everyone will learn something from them. Click here to see the other articles.
This article explains everything you need to know about booking Reward Flight Saver redemptions with Avios.
When British Airways created Avios in November 2011, the one change that came totally out of the blue – and in a very positive way – was the introduction of Reward Flight Saver. This allows anyone who has earned 1 Avios in the last year to book a short-haul Economy reward flight for £35 in taxes and charges, or £50 for Club Europe.
Looking across all frequent flyer schemes EXCEPT Avios, short haul redemptions are a waste of time unless you need flexibility or are travelling at short notice. Lufthansa's Miles & More scheme is the perfect example of this – it is very easy to find M&M European awards where the taxes actually come to MORE than the price of buying a cash ticket! This is because Lufthansa artificially pushes down the taxes on cash tickets if a competitor on a route is charging less.
Whilst British Airways had never got this bad, you were still looking at c £100 of taxes for a short-haul flight to Europe before 2011 which, when added to the 9,000+ miles required, made the redemption very, very bad value.
With Reward Flight Saver, the dynamic changed completely. At 9,000 miles plus £35, a Reward Flight Saver redemption is one of the most valuable redemptions you can get!  A flight to Germany in economy will be at least £125 for prime weekend break timings, so you would be getting 1p per Avios.  That is decent value to me.
Club Europe can also be good value, especially if you have no status – upgrading just the outbound of a trip to Germany would be an extra 4,500 miles (one way) and £7.50. That's a bargain for access to the Heathrow lounges and the Club Europe service, such as it is.
Should we be sceptical about the value of short haul redemptions though?
That said, short haul air fares in Europe are only heading one way – and that is down.  The 'elephant in the room', which I never hear discussed by loyalty executives, is that your air miles are being constantly devalued by the fall in the cash alternative.  The industry is always trying to think of ways of devaluing your points from their side, ignoring the fact that value is already being chipped away every time fares are reduced.
I generally argue that, as long-haul business class seats get better and better, it offsets the regular devaluation in frequent flyer schemes.  You certainly can't say that short-haul seats and service are getting 'better and better', however.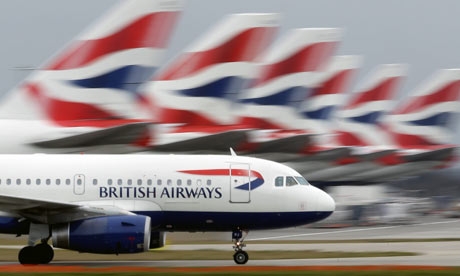 All you need to know about Reward Flight Saver
Here are the key points you need to know about Reward Flight Saver ('RFS'). The official ba.com description of RFS can be found by scrolling down this ba.com page.
Reward Flight Saver redemptions are only available on British Airways flights
Reward Flight Saver is not available on Flybe redemptions or any other BA or avios.com partner unless the partner is a BA franchise (eg SUN-AIR, Comair). You cannot, for example, get RFS pricing on Finnair's Manchester to Helsinki route.
Iberia scrapped Reward Flight Saver in 2013 so you need to pay standard taxes and charges on flights from the UK to Spain, or elsewhere on the Iberia short haul network.  You also cannot get RFS on Vueling.
Reward Flight Saver is available on redemptions under 2,000 miles
The Avios points required for one-way RFS redemptions are:
4000 / 4500 Avios off-peak / peak each-way up to 650 miles
6500 / 7500 Avios off-peak / peak up to 1150 miles
8500 / 10000 Avios off-peak / peak up to 2000 miles
You must double this for return flights.
Club Europe costs exactly double Avios on peak dates and slightly less than double, oddly, on off-peak dates.
The 2018 calendar of peak and off-peak dates for British Airways can be found here.
You will see RFS pricing automatically when you book your redemption
As long as you have earned 1 Avios during the last 12 months, you will see RFS pricing automatically when you search for Avios seats on ba.com or avios.com.
Remember – you MUST have earned 1 Avios point during the last 12 months to see Reward Flight Saver pricing.  I often receive emails from people who think RFS has been scrapped, often when using a family member account, because no activity has gone through it in the previous year.
It is now often cheaper to book RFS redemptions as two one-way flights
Few people realise that taxes are now lower, on many routes, if you book European redemptions as two one-way flights. You can save up to £15 per person.
This is because, as British Airways has dropped fuel surcharges on European flights, the £17.50 one-way RFS fee can be higher than the actual taxes and charges cost on an inbound flight.
I explain more about this odd feature in this article.  A one way from Dublin in Euro Traveller, for example, has tax of only £11.90 – booking a trip to Ireland as 2 x one-ways will cost (£17.50 + £11.90) £29.40 in tax compared to £35 in tax if booking a return starting from London.
Domestic UK connections are no longer free
This was the biggest hit from the April 2015 Avios changes to anyone who lives outside the South East.
It used to cost the same 9,000 Avios + £35 to fly Manchester – London – Berlin as it cost to fly London – Berlin. This is no longer the case.
The domestic leg is now charged at 9,000 Avios + £35 return on a peak day. The Manchester to Berlin example would now cost 18,000 Avios + £70 in economy. When you factor in the hassle required to change planes at Heathrow, it is very unlikely that you would want to do this.
You can get RFS redemptions from South Africa on BA franchise Comair
Comair has a decent network, flying in BA-branded aircraft, around Africa. This may come in handy if, for example, you need to get to Cape Town but can only get a redemption seat from London to Johannesburg. Comair also flies from Johannesburg to Mauritius. Comair has different charges for RFS redemptions which are slightly higher than BA's at £56 for Economy and £64 for Business.
You can get Reward Flight Saver redemptions on BA's Moscow flights, which often use long-haul aircraft
The London to Moscow route is the only sub-2000 mile route from London which uses long-haul aircraft – although not on all flights. This means that you can use RFS to experience the Club World flat bed seat or, depending on aircraft, even BA's First Class service.  However, remember that you need a visa to visit Moscow which can be expensive and time consuming to obtain.

You can get Reward Flight Saver redemptions on BA's 'Fifth Freedom' routes
A 'Fifth Freedom' flight is one where the plane stops en-route to its final destination to drop off passengers, and also takes on new passengers at the intermediate stop. BA uses these so called 'Fifth Freedom' rights to sell tickets on flights which neither begin nor end in the UK.
Here are a few British Airways 'Fifth Freedom' short routes:
UVF (St Lucia) – GND (Grenada) (50 minutes, Wed and Sat)
UVF (St Lucia) – POS (Port of Spain) (60 minutes, Mon, Tue, Thu, Fri, Sun)
ANU (Antigua) – SKB (St Kitts) (45 minutes, Wed and Sat)
ANU (Antigua) – PLS (Turks & Caicos) (2hr 10 min, Thu and Sun)
ANU (Antigua) – TOB (Tobago) (90 minutes, Mon, Fri)
Grand Cayman (GCM) – NAS (Nassau) (90 minutes, Tue, Thu, Fri, Sun)
Club World is 15,500 to 18,000 Avios + £50 return. Turks & Caicos is a longer flight and costs 25,500 – 30,000 Avios + £50 in Club World, return, depending on date.
If you have never tried BA's Club World or First Class service, then this is a cheap way to do so if you are in the region – and possible turn your holiday into a 'two centre' one at the same time.  You can learn more about BA's 'Fifth Freedom' routes in this HFP article.
You can get Reward Flight Saver redemptions on BA franchise SUN-AIR of Scandinavia
SUN-AIR runs a small network of flights from Scandinavia, flying BA-branded aircraft under a franchise agreement.
There are two routes from the UK into Scandinavia:
From Manchester, it flies to Billund in Denmark. Billund is the home of Legoland!
From London City, it flies to Billund
All routes are available as Reward Flight Saver for 9,000 Avios plus £35 in Economy on a peak date. You can also use Reward Flight Saver on non-UK Sun-Air routes, such as Munich to Billund.  You can see the full SUN-AIR route map here.
The official Reward Flight Saver page on ba.com is here if you want to find out more.
(Want to earn more Avios?  Click here to visit our home page for the latest articles on earning and spending your Avios points and click here to see how to earn more Avios from current offers and promotions.)
Click here to join our email list and receive all of the latest Avios, miles and points news by 6am.